The Bigelow Plantation
of Floral Bluff
Page 2

Main business district of Arlington, looking west..circa 1920. Arlington Ferry or Bigelows??

15336.43 Robert 7 BIGELOW, was the son of Benjamin 6 ( Paul 5 , Cornelius 4, Samuel 3, Samuel 2, John 1) and Eunice (AIKEN) BIGELOW, was born 17 October 1797 at Norfolk, Litchfield, CT. He was a graduate of Yale and moved to VA sometime after, for a short time, and then to GA where he engaged in teaching. A move to Jacksonville, FL saw him engaged in the mercantile business. He served as QM in the Seminole War, purchased two plantations on the St. John's River, a slaveholder that treated his slaves kindly and humanely. He took no part in the Civil War, but was a strong southern man in principles. His opinions, regarding law and public affairs, were highly regarded. Prior to his death, he resided on his plantation on the East side of the St. John's River, known as Floral Bluff. He had married, on 03 April 1832 Mrs. Elizabeth Ann Broadalbane, a Florida native, born 12 December 1805. He died 03 April 1868 near Jacksonville:
There is more history of Jacksonville including cemeteries and houses including Robert Bigelow

at jackvill.htm
at jackvil2.htm
at jackvil3.htm
at jackvil4.htm; ; jackvil5.htm; jackvil6.htm; jackvil7.htm; jackvil8.htm ; jackvil9.htm ; jackvi10.htm; jackvi11.htm ; arling1.htm ; arling2.htm ;
arling3.htm ;arling4.htm ; bluff1.htm ;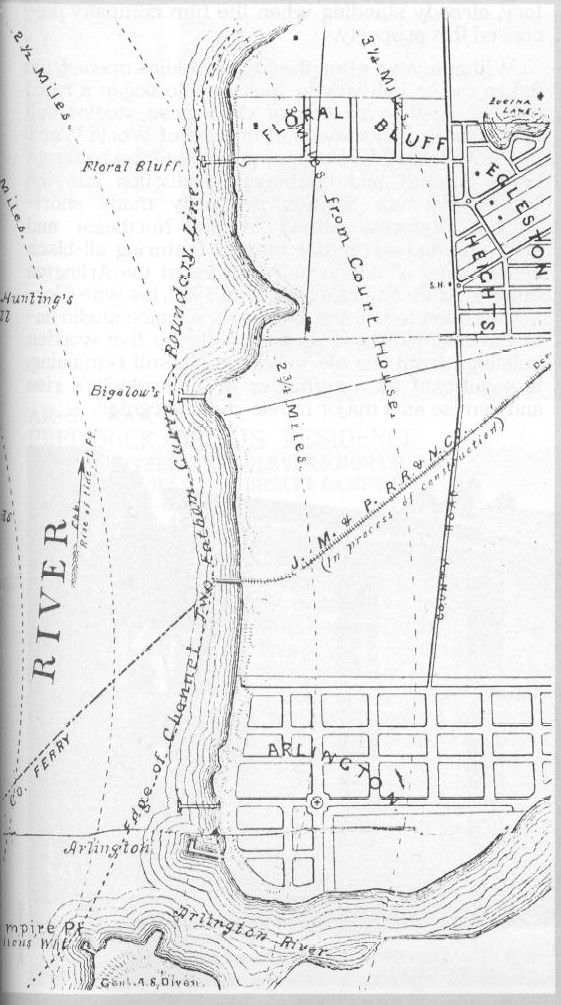 This is a map of Arlington/ Floral Bluff area. There is at least 1 error pointed out by a past resident of the area:
"Bigelow's" notation is in the wrong spot. This is the Arlington Ferry Dock.
The Bigelow Ferry Dock is the one labeled "Floral Bluff"
(bobmap3.jpg)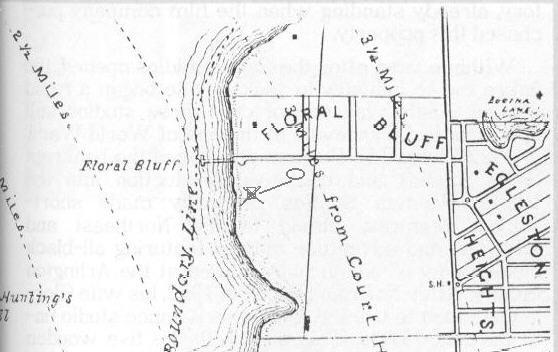 (bobmap4.jpg)
The original site of the Bigelow Plantation house is marked by an "X"
cemetery by "OVAL"; there was a path from house to cemetery, but little remains
There is also little left of the Bigelow Ferry Dock, just a point of land with an old trailer
and houseboat at the end of the road.
go to bluff3.htm ....

---
Modified - 01/19/2003
(c) Copyright 2003 Bigelow Society, Inc. All rights reserved.
Rod Bigelow - Director
< rodbigelow@netzero.net >
---
Rod Bigelow (Roger Jon12 BIGELOW)
P.O. Box 13 Chazy Lake
Dannemora, N.Y. 12929

< rodbigelow@netzero.net >

BACK TO THE BIGELOW SOCIETY PAGE

BACK TO BIGELOW HOME PAGE