Robert 7 BIGELOW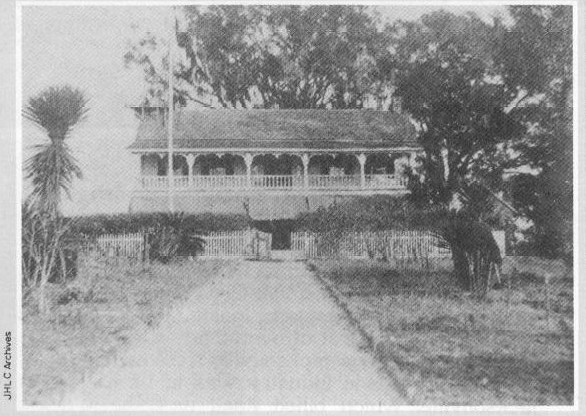 Bigelow Plantation House River Front. circa 1920 Floral Bluff (bobman1.jpg)
---
15336.43 Robert 7 BIGELOW, son of Benjamin 6 ( Paul 5 , Cornelius 4, Samuel 3, Samuel 2, John 1) and Eunice (AIKEN) BIGELOW, was born 17 October 1797 at Norfolk, Litchfield, CT. He was a graduate of Yale and moved to VA sometime after, and was a professor in a college. After a few year's residence in Virginia, he moved to Georgia where he engaged in teaching. A move to Jacksonville, FL saw him engaged in the mercantile business. He served as Quarter Master in the Seminole War, purchased two plantations on the St. John's River, a few miles from Jacksonville. He was a slaveholder that treated his slaves kindly and humanely. He took no part in the Civil War, but was a strong southern man in principles, and believed that the southern states had many causes for discontent. He did not approve of secession, but thought the remedies could be obtained otherwise. He was a highly intelligent man, a great leader and possessed a remarkable memory. He was very familiar with county, state and international law, and his opinions, regarding law and public affairs, were highly regarded. He was highly respected, honest and just in his dealings. He was kind and affable to all. Prior to his death, he resided on his plantation on the East side of the St. John's River, known as Floral Bluff. He had married, on 03 April 1832 Mrs. Elizabeth Ann Breadalbane**(see pic below), a Florida native, born 12 December 1805. He died 03 April 1868 near Jacksonville.There is an interesting oral history about Jacksonville that mentions the Bigelow Plantation. **The wife was Elizabeth Ann Brown according to new sources and she was daughter of Rebeckah Hart Richard and John B. (Juan Batiste) Richard. She was born 02 December 1805 on the South bank of the St Johns River, East Florida. She was previously married to Thomas Brown, Jr. according to LDS records. (see below) Also see below for cemetery recordings taken 27 April 2000 by ROD.



See link for 2006 information
on Richard Family:
/rod2006/richard6.htm

See link for 2006 information
on
Arlington Tour 2006

See link for 2005 information on Bigelow cemetery and documents pertaining to property, etc.


see cemetery link: http://jaxgen.home.comcast.net/bigelow.htm
See link for 2004 information on Bigelow cemetery and plantation: /rod2004/bigcem1.htm
See link for 2002 information on The Bigelow Plantation and Floral Bluff for 2003
Children of Robert and Elizabeth Ann (Mrs. Brown?) (Richard) Bigelow, all born at Jacksonville:
15336.431t Minerva, b 21 July 1833; d 07 Dec 1868; m 04 Sept 1861 George B. Turknett (1819-1868); 1 child.
15336.432t Robert John, b 14(18?) Jan 1835; d Ocoee, FL; m ca 1871 Stella Ward; 2 children.
15336.433t Eugene, b 11 July 1837(38?); d 09 Feb 1893 Jacksonville, FL; m (1) Anna F. Turknett, (2) Lillie F. Summerall; 5 children.
Robert's daughter, Eugenia Bigelow (1837-1898), taught at the Egleston Heights public school in 1890. (this might be a twin of Eugene, not previously known..ROD)
15336.434 Benjamin, b 10 Jan 1839; d__ Dec 1840 Jacksonville.
15336.435 Annette Rebecca Richard?, (Jeanette 1850 census), b ca 1841(one source 01 Nov 1846); m 02 Aug 1876 Martin Baker (William?) Cleveland; 2 daughters, Maude B.Cleveland, b 1886; Rosalie Cleveland, b 1889;
15336.436t Lucien Benjamin, b Sept 2, 1849(8?); d 05 Feb 1891; m 1877(?) Ella Spears; res. Joplin, MO; 2 children.
15336.437 Alexander Graham, b ca 1845 (one source 03 Feb 1850); m ca 1873 Mary Porter; res. Lake City and Jacksonville, FL; no children.
Sources:
Bigelow Family Genealogy Vol II , p 83;
Howe, Bigelow Family of America, p 323-324;
1850 census FL;
correspondence between descendants and Bigelow Society historian/genealogist;
In the History of Duval co, FL , by Pleasant Daniel Gold; page 115 (Religion)
"The parish organized by Reverend Alphonzo Henderson in 1834 had now grown to the point that the Protesant Episcopal Church of Jacksonville was incorporated by the Legislative Council on Feb 23, 1839. The Act provided "that William J. Mills, Samuel L. Buritt, and Robert Biglow, Wardens, and .....""
Robert Bigelow obtained his land from Francis Richard and it was near Strawberry Creek (Strawberry Hill?)
In the History of Duval co, FL , by Pleasant Daniel Gold; page 89 (Spanish Grants)
"Francis Richard secured grant for 200 acres near Pottsburg Creek from Z. Hogans. Richard also obtained title in 1817 of a mill grant for 16,000 acres on Pottsburg Creek. He built a sawmill, operated it for many years. He also bought 350 acres from R. Hogans at "Strawberry Hill", which was granted in 1817................"
Forge, The Bigelow Society Quarterly; vol 29, no3; July 2000; pg 48:
"Bigelow Cemetery; Floral Bluff, FL; Near Arlington, FL in Floral Bluff there is an old Bigelow graveyard. This branch of the family lived in that area for many years. Descendants, whether from nearby or a distance, still look after the graveyard on a regular basis (I found it quite overgrown and hard to find on 27 April 2000.....ROD) In this cemetery, there are a lot of graves that date from the turn of the century when there was a yellow fever epidemic. The graveyard is fairly large, approximately 150 feet square. Contributed by Rick Clarke, Arlington, FL via Janis Pahnke, Chicago, IL."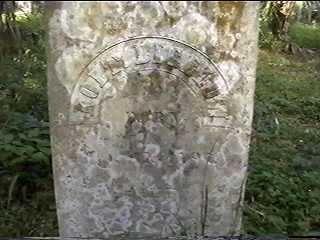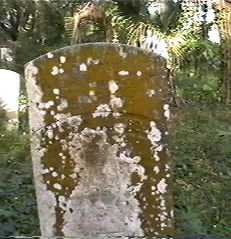 (robt7b.jpg) Robert 7 Bigelow (liz3.jpg) Elizabeth Bigelow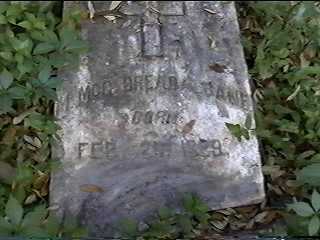 M. McG BREADALBANE
BORN
FEB. 21?, 1829?

Note1:
These are my cemetery recordings of 27 April 2000, I have video of this cemetery, and some stills.................ROD
(front row)( ; = next line)
Eugene Bigelow; born July 11 (14?), 1837; died Feb 9, 1893;
Lee Eugene Richard; Bigelow; Dec 2, 1872; May 28, 1940;
(Richard is last name of original owner of land and also maiden name of grandmother?)
Anna Eugenia; Bigelow; Sept 20, 1868; June 18, 1945;
(behind Bigelow stones)
George A. Turknett; born; June 18,1819; died; Sept 20, 1868;
Elizabeth Hobence Turknett; born; Jany(or May) 21, 1866 died Sept 13, 1867;
Our own Little Baby; Boys; Turknett; illegible
Rebecca E. Reed; born ____ ; died June 6, 1851
Robert Bigelow; illegible dates d ....1868
In memory of; Elizabeth Bigelow; illegible dates
(To the right of Elizabeth (the first wife))
M. McG Breadalbane; born Feb 25?, 1829 (1889?); died illegible
(Behind Robert Bigelow)
Lucien B. Bigelow; born Sept 2, 1849; died Feb 5,1891
(Right next to Lucien)
Merle Allen; Bowlin; Aug 15, 1889; April 11(14), 1940. (see below)
Rosalie G.; Bowlin; Nov 14, 1892; March 6, 1976. (wife of Merle above) (see below)
(In front of Robert and Elizabeth)
George Mongin Bigelow; born; Mar 8, 1863; died; Sept 29, 1868
(To the left of George)
Our Baby; Bigelow; died; Oct 22, 1887
Mary Tallulah; Bigelow; Feb. 4, 1866; June 28, 1906
Lillie Victoria; Dixon; Aug. 25, 1858; Nov. 4, 1918
John Marion; Dixon; Dec. 27, 1848; Jan. 3, 1915
(Off to the left corner of cemetery, away from Bigelow stones above)
Mother; Sarah J. Brenanan; born May 14, 1845; died May 17, 1917
This is some of my research in the spring of 2000. More can be found on jackvil2.htm.........ROD 9/3/2000.
......................The original plat for Floral Bluff was filed March 1, 1887 by Gilbert Shepard. The plat contained merely four blocks, which ran east from the landing in the St. John's River along the north edge of what is today Arlington Road. The principal early nineteenth century resident of Floral Bluff was Robert Bigelow (1797-1868), a trustee of the Francis Richard estate, who constructed a large residence on the heights, overlooking the river. An extensive orange grove surrounded his house, extending to the water's edge. Bigelow's house and plantation, later called the Bacon Place, provided the location for many moving pictures filmed in Jacksonville and Arlington during the short period between 1915 and 1920 when the industry prospered in the two communities. His daughter, Eugenia Bigelow (1837-1898), taught at the Egleston Heights public school in 1890. (this might be a twin of Eugene, not previously known.....ROD)
........Arlington's Cemeteries: The 1995 historic survey recorded eight historic cemeteries in Arlington. The origin of three of the cemeteries, the Sammis Family Cemetery in the Clifton area, The Bigelow Family Cemetery along Floral Bluff Avenue, and the Parsons Cemetery north of Fort Caroline Road, date to the pre-Civil War period. Surviving headstones and grave markers feature the names of many of Arlington's early residents, some of whom played instrumental roles in the history of Jacksonville and Florida. The Parson's Cemetery, for example, is the final resting place of Mary Dorcas Parsons Broward, mother of early twentieth century Florida Governor Napoleon B. Broward.

Descendant note:
Posted by Ann White
February 20, 1999
Thanks for your information in response to my inquiry. I have researched the spouse's family for about three years and would like to respectfully submit some clarifying information in relation to Robert & Elizabeth Bigelow and their families.
Per the marriage license/record on microfilm at the Haydon Burns Main Library,Florida History Room in Jacksonville, FL, Robert Bigelow married Mrs. Elizabeth A. Brown (not Broadalbane).
The marriage license was obtained on 25 Feb 1832; the marriage took place on 26 Feb 1832; S.J. Eubanks, JP, performed the service; the marriage was recorded and filed 28 Mar 1832.
This information is also found on page 34 of Duval County Florida Marriages 1823-1867, compiled and published by Aurora C. Shaw, 1983, ©1969, 1970 SG ED.
Robert Bigelow's spouse, Elizabeth (Betsey) Ann, was the daughter of Rebeckah Hart Richard and John B. (Juan Batiste) Richard. She was born 2 Dec 1805 on the South bank of the St Johns River, East Florida. She was previously married
to Thomas Brown, Jr. according to LDS records.
I have been stumped by the appearance of M. McG. Breadalbane who was the administrator of Rebeckah Read's estate, and who is buried between Rebeckah and her daughter, Elizabeth Bigelow, in the Bigelow Family Cemetery. This is probably the "Broadalbane" referred to in your family history as Betsey's surname at the time of her marriage to Robert Bigelow.
The 1860 Duval County, Florida census lists a "McGregor Breadalbane," age 35 who is an Engineer, born in Florida. There is also a "Macomb Breadalbane" in the same census, age 30 and a Labourer, also born in Florida.
There is no record in Florida or Georgia of a marriage between Elizabeth and a Breadalbane. However, the burial placement in the cemetery and a Breadalbane appearing as Rebeckah's executor gives strong circumstantial evidence that Elizabeth or her mother had a connection to that family name. Had Elizabeth married a Breadalbane, the two males listed on the 1860 census would likely be her sons. Can you provide me with a reference to the "Broadalbane" listed in your records?
I am focusing my research on Elizabeth's mother, Rebeckah, and have diligently searched primary and secondary records for the past three years. The Breadalbane character has me stymied and I would gratefully appreciate any help you can offer.
Finally, a few interesting facts: I have visited the Bigelow Family Cemetery and found local genealogical/historical data which records the information on the headstones at the cemetery. Eugene Bigelow, son of Robert and Elizabeth, is listed as a "Confederate Soldier." He and his first wife, Anna, along with three of their children, are buried in the family plot.
Robert Bigelow, his daughter, her husband and a five year old grandson all died within a few months of each other. Since my focus has been on Rebeckah, I haven't researched the cause of the deaths but speculate that they're connected.
Robert Bigelow died 8 Aug 1868
Minerva B. Turknett died 7 Dec 1868
George A. Turknett died 20 Sept 1868
George Mongin Turknett died 20 Sept 1868.
Geo. M. was the son of Eugene Bigelow and Anna F. Turknett Bigelow.

I hope you can shed some light on the Breadlbane connection. And I hope I have helped with this information. Ann White

One last request: do you know of any living descendants of Robert Bigelow in Duval County or Florida - or anywhere for that matter - that I might communicate with for additional information? Thanks again :-)
More Elizabeth:

This was what Meredith Tano put together and "performed" at the Bigelow Cemetery as Elizabeth Bigelow on one of the tours of Old Arlington. She cited her sources at the bottom. It was really well received by the tour goers.
My name is Elizabeth Bigelow. I was born right here in Arlington, on the southern end, by Strawberry Creek and Silversmith Creek, in the year 1805 on the 2nd of December, to Rebeckah Hart Richard and Juan Batiste Richard. My grandfather was Francis Richard, a pioneer settler here in Florida, and was granted some of the land that was later to become the Bigelow Plantation. I was first married to a nice man named Thomas Brown Jr., Tragically, he passed on. There are so many threats to our health out here in this Florida wilderness. I learned about the toll it can take through my mother's life. My mother, Rebeckah Hart endured so much sorrow and so many obstacles in her life, all of which she overcame. My mother is buried here in the cemetery under the name of Rebeckah Reed (the last name being her third husband's). She was the second person buried at this cemetery.

<>

My mother's life began in a year of strife. She was born on June 5th, 1784, the same year that the British left East Florida and the Spanish began their second rule of the territory. She lived to see her 67th birthday. She was the eldest of twelve children, the notorious Isaiah Hart being one of only two of her siblings that survived. She was married three times, and widowed three times. She was a character; she and my father, John William Richard, ran off to Georgia to have a Protestant marriage done (as it was forbidden in Spanish Florida-all marriages were to be performed by Catholic priests). They were arrested, but released. My father passed in 1810, leaving me, my sister, Clarissa and brother John. I was five years of age. Her second husband, David Jones, owned land in LaVilla. They had two sons together. Her third and final husband, whom she married later on in life, gave the village of Mandarin its name from the oranges he grew. My mother survived the Patriot Revolt, yellow fever, small pox, the second Seminole War raid on Mandarin, and the "Great Freeze" in Mandarin which decimated her husband's groves. She was an amazing woman. I look to her example for strength to carry on in my life when tragedy strikes.


After my first husband passed, I started to fear I was doomed to the same fate as my mother. However, that was not the case. I met Robert Bigelow. Robert was born on the 17th of October in 1797 in Connecticut. He is a graduate of Yale University. Upon graduating, he became a professor at the college in Virginia. Then he moved to Georgia to teach. Later, he decided to move here, to Florida, to engage in the mercantile business. As you can tell, he is quite a catch! And, he gave me a second chance. We were wed on the 26th of February in 1832; I was 26 years of age.>
<>

Robert owned two plantations on the St. John's River. He had slaves, but was always very kind to them. We lived together on this plantation, Floral Bluff, in the lovely house on the hill. We planted orange trees and it has grown into a beautiful orange grove. It overlooks the river, and I love to sit on the porch and watch the ships go by. As my husband was a merchant, I liked to wait and watch for his ship to come back when he was away.


We enjoy 36 years of good times and hard times together in marriage. A few months after we celebrated our one year anniversary, we had our first child, Minerva Bigelow, on July 21, 1833. Five years later, on July 11th, 1837, we had twins, a boy and a girl: Eugene and Eugenia Bigelow. Benjamin Bigelow was born June 10, 1839, but passed away before his first birthday in the winter of 1840. It was sad, but common in these times, so we kept trying. The next year, in 1831, Annette Rebecca was born; I named her after my mother, Rebecca Hart Richard. Our last child, Lucien Benjamin, was born on September 2, 1849.>
<>

In its territorial period, Florida was in a state of unrest. Robert was very loyal to the Spaniards who had treated my father and himself so well. In the Seminole War, Robert served alongside the Spanish as a Quarter Master. However, he did not fight in the Civil War. He believed that the southern states had many causes for discontent, but he did not approve of secession, he thought the remedies could be obtained in other manners besides war. Even though my husband felt this way, our son, Eugene, did become a soldier and fought in the Civil War as a Confederate soldier.


In 1868, tragedy hit. Our family and friends got sick. The whole community was wracked with disease. On August 8th, 1868, my beloved Robert passed on. As if that wasn't enough, on September 20th, we lost our grandson, Eugene's son, George who was only 5 years old, along with our son-in-law, George Turknett. Our daughter, and George's wife, Minerva, also passed later that year, on December 7th. I believe the disease was only part of it; Minerva had lost hope with the deaths of her daughter and then her husband. There were dark times. I was so devastated by the death of a second husband. I vowed to go on for my children, and with the support of family and friends. But, faced with my losses, I never married again; I never wanted to go through the pain of losing again. Unfortunately, that is something I later found out I do not have control over. This Florida wilderness is unforgiving and brutal. In the wake of my sorrow, I loathed it for what it had done to my family. Despite all that happened, I do love it, for it is my home.><>


Sources:

>
Rod Bigelow
Ann White
"Rebeckah Hart-A Survivor"
---
Note3:
Subject: Bigelow Sugar Plantation
Date: Fri, 10 Nov 2000 22:25:40 -0500
From: "Marcus S. Andersen" < msaent@QuixNet.net >

My mother In-law lives on a old lot with an old cemetery on it. All the grave stones have the last name Bigelow on it and I
was wondering if we could get any Information on this lot. The person who sold the house to her said it was an old sugar
plantation. I believe one of the stones said Ann Bigelow and the dates I believe are eighteenth century or older I'm not sure. If you can give my any type of information please e-mail me at darkchylde1_98@yahoo.com.
I believe the Plantation was a citrus or ships' stores plantation in Floral Park..........ROD

---

Note4:
Subject: Floral Bluff Cemetery
Date: Sun, 18 Nov 2001 16:25:27 -0600
From: Janis Pahnke < janis222@core.com >

In reference to the cemetery on Floral Bluff Road, in the old
Arlington area of Jacksonville, Florida. that you were able to connect
to the family of Robert Bigelow, 15336.43. (Forge, Volume 29, #4,
October, 2000, page 64), I got a phone call from my cousin, Rick
Clarke. He had been out walking in the area, and saw a group of young
boys, and an older man working diligently at cleaning up the cemetery.
He discovered they were Boy Scouts, doing a "Community Service"
project. Rick told the man that he was connected to the Bigelow
Family. He meant very distantly, but the man assumed he was a closer
relative, and suggested that the property would be best if it were
leveled, and sold. Rick got the feeling that the man was interested
himself in this possibility.
This is a small (about 1/4 acre lot) surrounded by a waist high
chain link fence, but overgrown most of the time. Rick believes there
was a burial there about 10 years ago, but none since. It consists of
many more burials than stones, but the stones (Bigelows) are old. In
checking an old map of the area, it appears that part of the cemetery
has been "annexed" by the owners of property that is on the side where
there used to be an entrance.
It would be a shame if this cemetery were destroyed, to make some
unrelated person a profit, and instead of a memorial to these Bigelows,
became a condo, or mini mart.
Do you know of any present descendants of this family, that perhaps
have the Deed to the cemetery, and can protect it from being destroyed?
Or are there any Bigelows that you know of, perhaps connected with a
Historical or Genealogical Society in Jacksonville, that might be
interested in preserving, and maintaining this cemetery? As you
mentioned in your article, there are "many of Arlington's early
residents, some of whom played instrumental roles in the history of
Jacksonville and Florida" buried there.
Janis

---

Note5:
Name: Annmarie Benavidez
E-Mail: inhim@mediaone.net

Comments:
We live one block away from the Bigelow
family gravesite (on Plantation Dr). We didn't even know it was
there until a week ago when they cleaned up the lot, we thought
it was just an empty lot. My daughter is a history freak, and
studied about this area when we moved here a year ago. When
we saw the graves and saw whose names were on them, she was
so excited! We think there should be a historical marker on the
site. The family was too much of an influence here to overlook it!
She got online to do some research after we "found" the graves,
and was thrilled to find they were married by Isaiah Hart. To
whoever cleaned up the property, thanks, you brought a piece of
history into our neighborhood we didn't know existed!
Note6:
Subject: The cemetery
Date: Wed, 12 Dec 2001 10:10:17 -0500
From: "R. Clarke" < rainproof@toad.net >
Rod,
Glad to see that there's some interest in "guarding" the Bigelow cemetery on Floral Bluff. My cousin Janis Pahnke passed some info from me to you on the recent clearing of the cemetary. While I'm a distant Bigelow descendant, I'm not one of the Jacksonville Bigelow set. Cousin Janis is a "double" Bigelow through her grandfather and grandmother, so is more into the group.
Anyway, my family, the Clarkes, moved to the Floral Bluff area in August, 1941. My older brothers and sister recall much more about the Bigelow plantation than I do, but I very clearly recall it burning on New Years Eve of 1950/51. It was a big place and a BIG fire. It was sort of an apartment building at the time with two or three families in it. Some effort had been put out to fix the place up, but not much.
Our own property is about a block south of the Bigelow property, so we have some old documents pertaining to it that peripherally show the properties owned by some of the people in the graveyard. Turknett is one I recall. The Dixon family members buried in the cemetery are of a local family that, when I grew up in the 50s, still lived 2-3 blocks east of the cemetery on a small lake called Lake Lucina. There is a Dixon Road there named for them.
Janis sent you a drawing that my oldest brother Jerry did of the Bigelow mansion. He, my brother Bill, and my sister Shelby all recall the old house. We all recall Bill running into the burning mansion to see who he could help - no one as it turned out. Shelby, as a child, was surreptitiously inside the house and recalls that it was a fantastic place. Brother Jerry is in NYC and is easily reached via his e-mail; he, too, likely will recall some useful details:
Jerrny54@earthlink.net
Hope this helps,
Rick Clarke
P. O. Box 355
Royal Oak, MD 21662
The following is a message I got from my cousin Jerry Clarke (Rick Clarke's brother) . I thought you'd find it interesting. It adds a little more info. on the cemetery, besides what Rick sent to you............Janis
.................
Janis:
Not to labor the point, I hope, I think I mentioned to Rick, that Shelby, our sister, also walked over to the Bigelow Cemetery a week or so later, and her impression of the man leading the Boy Scouts, who were working hard toward their merit badges, was that he was really benign, not covetous of the real estate, though he thought the Bigelows should be maintaining the cemetery and he was of the impression that those Bigelows must have a lot of money to do things like that.
As to historical societies I wish I could help, though I have a lead that I don't know how to follow. Jacksonville University is just a mile north on University Boulevard. Maybe I noted before that they are the repository for the Jacksonville Heritage group's collection of photos of buildings. JU is, I judge, not the caliber of the state universities, but it is striving, I know, in much more than basketball. For instance, they run a high-class looking arts program including a classical music series. Brother Bill sent me one of their programs. JU also took the the composer Frederick Delius's house when it was about to be torn down in Mandarin, way south on the St. John's river. English, though he was, he learned most of his compositional rudiments in late 19th century in Jacksonville. It was another famous story about a young man who fought his father's push into practicality, in this case, managing an orange grove rather than becoming a musician. JU seems to have the sort of proximity and maybe more important, the benefactors, who might be interested in helping out on recognizing an "historic" cemetery. I think JU is on property just outside the Bigelow share of the Richard grant, but that part of the matter is nearly irrelevant and if it seems interesting, the subject should be easily researched by someone in Jax.
I visited Jacksonville U. Library in Jan 2000 and had very little sucess.
visited in 2003, much more cooperation................................ROD

---
Subject: Bigelow Cemetery, Jacksonville,FL
Date: Fri, 13 Sep 2002 20:12:27 -0400
From: "Dean Bird" <DSBird@msn.com>
Retired History teacher, Jax, FL. Do some Civil War reenacting. Girlfriend mentioned old cemetery nearby.
Checked it out...the Bigelow Cemetery. Your website great!!

Some tidbits of info:

Jacksonville City Council 2002, considering ord. to place "granite marker signs" on four cemeteries...."Bigelow
Cemetery" is one of them. (Ord# 2002-425, I believe)

Eugene Bigelow noted on your web pages as a "Confederate". He joined the "Bartow Cavalry" under Captain
John W. Brady on 14 Oct 1861, as a private. This unit became attached to the 1st Cav, Reg. Florida State
Troops. (What happened then, I will leave to someone else. If anyone finds out...please notify me.)

Odd, four of the people died in 1868. Our "big" epidemics were Yellow Fever in 1877. Small Pox in 1883, and the
worst... Yellow Fever in 1888 which caused armed guards to be posted, the politicians to desert town, threats
against refugees from neighboring towns, mail to be fumigated, etc... (Perhaps there was a lesser epidemic in
1868.)

Regards,
Dean Bird
Jacksonville dsbird@msn.com

---
Note7:
Subject: Bigelow
Date: Sat, 18 Jan 2003 15:03:37 EST
From:Shirley R. Snedeker SnedekerShirleyR@aol.com
Dear Rod,
Merle Alexender Bowlin, son of Merle & Rosalie Bigelow Bowlin died Aug 15, 1994.
His widow, Macy Lotz Bowlin died 12/29/2002 and she had many papers of his relating to the Bigelow Plantation, etc. I gave those to the Jax Historical Society as I did not know there was a Bigelow Society. I found out about it quite by accident.Anyway, I have the Bigelow & Richards coat of arms. They are quite fragile They are 10 x 14. Merle and his first wife, Betty had one daughter named Elizabeth but, when they divorced and she remarried, he allowed her new husband to adopt Elizabeth. She still lives in the Jax area and I know someone who knows her but do not know if she is interested in that side of the family. I look forward to hearing from you.
Shirley R. Snedeker
(see cardfile)
Through Shirley's graciousness, I now have the pieces she mentioned............ROD

---

Note8:
Received: 1/26/03 1:07:56 PM
From: "Dorothy Green" <dorothyfgreen@earthlink.net>
My name is Dorothy Fagg Green. I live at The Willows of Westborough, MA, 1 Lyman
Street, Apt.#323, Westborough, MA 01581-1440. I was born in Jacksonville on
Herschel Street in Riverside, February 29, 1916 to Laura and Marcus C.Fagg. "Daddy
Fagg", as my father was affectionately called around the State of Florida, was
Superintendent of The Children's Home Society of Florida for 40 years.
My husband, Ellis Jackson Green from Providence, R.I. was a chemical engineer at
Stone &Webster in Boston for 25 years. We lived in Winchester, MA for forty years.
When he developed Alzheimer Disease, we moved to this retirement community in
1990. He passed away a few weeks ago on Christmas Evening.
He and I were married April 15, 1944, in Jacksonville. Our reception was held at my
parents' home in the Clifton Section of Arlington, facing the St.John's River, across
from Commodore Point. This is probably enough to help you understand why I have
enjoyed your History so much . I am missing Part One, but I have printed out 5 copies
of Part 2, Part 3, and Part 4, and was expecting to read with interest and print Part 5,
until I came to your OOPS message....five copies: one each for our four sons: Jon,
Chris, Steve, and Fred Green...and for ME!
URL: http://bigelowsociety.com/rod8/jackvil5.htm
See: http://bigelowsociety.com/rod2000/jackvil5.htm
Those four sons spent memorable weeks in Florida for several summers, visiting my
parents, two at a time. One of those sons, Steve Green, is Information Manager for
the Western Folklife Center in Elko, Nevada. As Archivist, he specializes in the
preservation of old folkmusic, among other interests. He has worked on
collections at Berea, Kentucky; Chapel Hill, N.C.; and Orono, Maine. His original
interest started in Vermont when he had a grant to record old fiddler music. It was
Steve who sent me your URL :, since your work has so much meaning for us all.
Your HISTORY tells me all kinds of things, at this late date, that I have wanted
to know. Fascinating!
For instance, one Halloween, my sister, Mary Louise Fagg, six years older than I,
dressed up in a sheet and stretched out in one of the graves in the cemetery just
back of our place. The gravestone said SAMMIS. When that `ghost' rose up out of
the Sammis grave, I had the shock of my young life, much to my sister's delight.
NOW, at last, I know something about SAMMIS, after all these years. My short term
memory is poor these days, but my memory of a wonderful childhood, at Floral
Bluff and in Arlington's Clifton, is working pretty well. Thank you and your family for all
the interesting historical information you have managed to gather together for
others to enjoy.
Happily yours, Dorothy Fagg Green (Mrs.Ellis J.Green)
--- dorothyfgreen@earthlink.net

---
Modified - 05/03/2013
(c) Copyright 2013 Bigelow Society, Inc. All rights reserved.
Rod Bigelow - Director
< rodbigelow@netzero.net >
---
Rod Bigelow (Roger Jon12 BIGELOW)
Box 13 Chazy Lake
Dannemora, N.Y. 12929

< rodbigelow@netzero.net >