SAMUEL 2 BIGELOW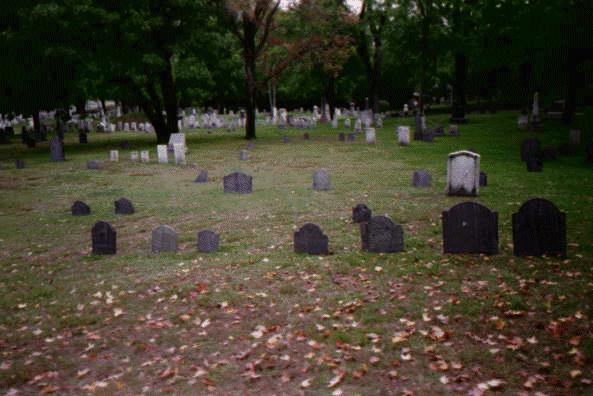 These stones found in Grove Hill Cemetery, Waltham, MA. In Sept. 1996. The stones left to right are: Isaac (son of Thomas and Mary); Uriah 1734; Lt Thomas 1756; Samuel; Mary Flagg (his wife); Lt. Thomas again; and his wife Mary.
---
15 Samuel 2 BIGELOW, fifth child and fourth son of John1 and Mary (WARREN) BIGELOW, was born 28 October 1653 in Watertown, Massachusetts. On 03 June 1674 he married Mary FLAGG, daughter of Thomas and Mary (maiden name unknown (Gershom (see below))) FLAGG. Mary was born in Watertown 14 January 1658.( There is some confusion on date of birth of Mary (FLAGG) BIGELOW. Pauline Landers mailto:< paulcoltey@earthlink.net > wrote me in Dec 1997 and offered a very reasonable explanation. If Mary was born 14 June 1653, she would be 67 yrs and 3 mos on her death on 07 September 1720, which is clearly marked on headstone. Therefore we can conclude that Jun was confused with Jan, and 1653 with 1658, both common mistakes.)
Also see following link done by Don Bigelow: http://bigelowsociety.com/Samuel_Bigelow.html
Also link by Michael Roman: http://freepages.genealogy.rootsweb.com/~mroman/bigelow.htm#Samuel2

Howe's Bigelow genealogy gives no death date for Samuel, stating that the will was probated 21 February 1731. However Waltham town records clearly give Samuel's death as 01 February 1732, and since Samuel's son Thomas lived in Waltham from 1720 onward, we assume that Samuel and wife spent their declining years in Thomas' home. Mary,wife of Samuel died 07 September 1720; her death is recorded both Watertown and Waltham. Their headstones are still visible in Waltham in 1996 (ROD).

Samuel and Mary (FLAGG) BIGELOW had ten children, all born Watertown, MA:

151 John, b 09 May 1675; died Marlborough 08 Sept 1769; married 12 June 1696 Jerusha GARFIELD. Resided Marlborough. 12 children.

152 Mary, b 12 Sept 1677; died 1707 Sudbury; married (1) 02 Feb 1700 David BRUCE, who died within a few months, and (2) 1701 Thomas READ jr. 5 children

153 Samuel, 18 Sept 1679; died about 1734 Marlborough; married (1) 28 Mar 1705 Ruth WARREN, his second cousin, who died 1716; (2) 04 Dec 1716 Mary GLEASON. Resided Marlborough. 9 children.

154 Sarah, b 0l Oct 1681; died before 1713; married 11 Dec 1706 Josiah HOWE. Resided Marlborough. 3 children.

155 Thomas, b 24 Oct 1683; died Waltham 06 Oct 1756; married 12 July 1705 Mary LIVERMORE. Resided Marlborough to 1720,then Waltham. 9 children.
This is the Liut. Thomas and Mary (LIVERMORE) Biglo buried with Samuel

156 Mercy(Martha), b 14 Apr 1685; all other references to her are as "Mercy"; died Weston 23 Feb 1745; married 02 Jan 1707 Thomas GARFIELD. Resided Weston, which was set off from Watertown in 1713. 11 children.

157 Abigail, b 07 May 1687; died unknown date at Colchester or Killingly, CT; married 01 Aug 1710 Jonathan CUTLER. Both Bigelow and Cutler genealogies state that Abigail was mother of Jonathan's 3 oldest children, baptised in Lexington, MA, but she may have died soon after her father, and that Jonathan remarried. He had 6 children in all.

158 Hannah, no birthdate; died at Westborough about 1717; married 24 May 1711 her second cousin Daniel WARREN jr, who married (2) about 1717 Mehitable GARFIELD. Hannah had 3 children.

159 Isaac, b 19 May 1691; died 11 Sept 1751 Colchester, CT; married 29 Dec 1709 Mary BOND. Resided Colchester, CT. 11 children.

15A Deliverance, b 22 Sept 1695; died unknown date at Worcester, MA; married 10 Aug 1715 John STEARNS. Resided Worcester. Howe's Bigelow genealogy alleges that she left many descendants, but the writer cannot identify more than 5 of her children.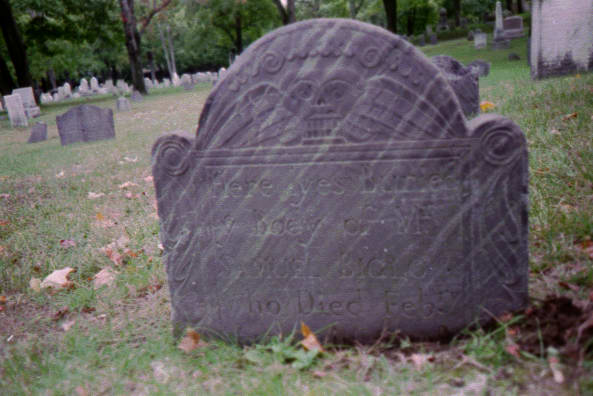 " Her lyes buried
y Body of Mr.
Samuel Biglo
who died Feb ry
1 , 1731.
in 81 st (year?)
For an even larger and detailed picture click below
samuel2x.jpg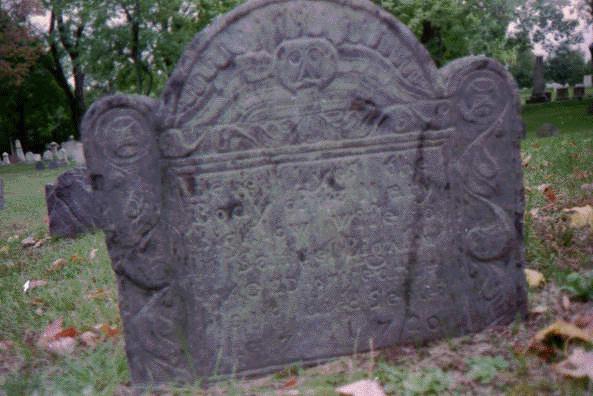 " Her lyes the
Body of Mrs Mary
Bigalow wife to
Samuel Bigalow
Aged 67 years
3 mo died Sept.
the 7 th 1720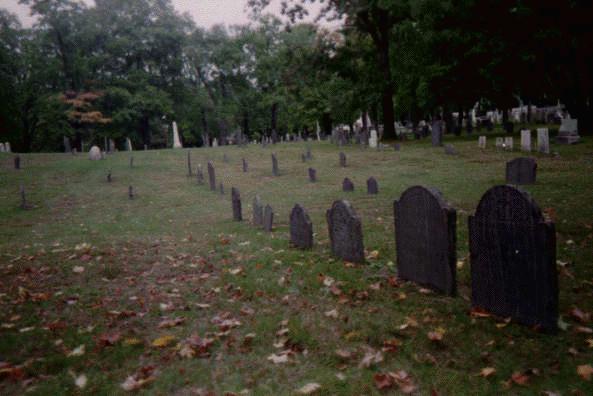 Another view of stones found in Grove Hill Cemetery, Waltham, MA. In Sept. 1996. The stones left to right are: Isaac (son of Thomas and Mary); Uriah 1734; Lt Thomas 1756; Samuel; Mary Flagg (his wife); Lt. Thomas again; and his wife Mary.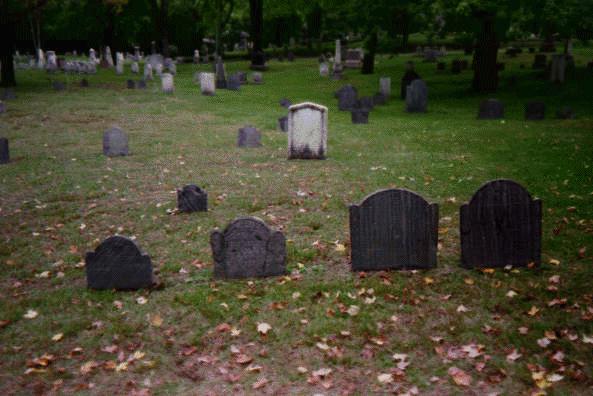 Another view of stones found in Grove Hill Cemetery, Waltham, MA. In Sept. 1996. The stones left to right are: Samuel; Mary Flagg (his wife); Lt. Thomas their son ; and his wife Mary.
Howe's Bigelow Family in America states that Samuel Bigelow "was an important man in Watertown", an innholder from 1702 to 1716, and represented the General Court from 1708 to 1710. Bond's History adds that he was also a carpenter, and in 1686 received from his father a .gift in-deed for 16 acres and a house. Thumbing through the third volume of Watertown town records, which covers the period from 1680 to 1727, we find Samuel's name appearing frequently. Following are a few extracts, which show Samuel's role in,village politics, taken verbatim, including original spellings.
27 September 1687.

Samuel Begaloo chosen survayer.

7 Novovember 1692.
Samuel Begalo chosen Cunstabel [tax collector].
21 December 1696
Samuel Bigelow appointed to the committee to hire or procure housing for the Rev. Samuel Angier, and to take effectual care of the moving of Mr. Angier and family to Watertown.

20 January 1697.
Samuel.Begelo issued his@accounts,.as he was constable, by his receipts and payments before the selectmen
.

February 1697.

Samuel Begelo elected selectman(town council member].
March 1701.
Samuel Bigelow given approval to keep a publick house.
7 May 1708.
Mr. Samuel Bigelow chosen representative for the year ensuing. [The title "Mr." implies that his rank is above that of an ordinary "goodman", perhaps a sign of respect for his new office, and was henceforth used in referring to him.]

15 February 1709.
Mr. Sam'll Biglow on committee to carry on the work of building a schoolhouse.
10 May 1709.
Mr. Samuel Bigelow chosen representative.
6 Mar h 1710.
Mr. Samuel Biglo chosen representative; his nephew Joshua jr appointed hayward.
5 January 1711.
Samuel Biglo one of several signing an agreement that Nathaniel Green was to be a town charge [i.e.,receive welfare assistance].
2 March 1713.
Samuel Biglow appointed tithing-man.
1 March 1714.
Samuel Biglow chosen selectman.
8 April 1714.
Sam'l Biglo appointed to a committee to take care that Nicholas Wyeth and wife be provided with work and kept at it according to their ability.
18 July 1714.
Town treasurer to pay Samuel Biglo nine shillings for corn provided Nicholas Wyeth and wife
10 August 1714.
Mr. Samuel Biglo to be paid 18 shillings from town treasury.
15 February 1715.
Mr. Samuel Biglo chosen selectman
9 Sep tember 1715.
Mr. Samuel Biglo and Samuell Stearns to prepare answers to the petition of the Eastern congregation, which wishes to form a separate town.
20 March 1716.
Samuell Biglo to bargain with John Cutting to entertain[i.e.,board] Wyeth & wife, and provide them house room, with four cords firewood at reasonable rate-for the ensuing year.
20 February 1716.
Mr. Samuell Biglo's account for Joseph Cutler's.funerals coffin, 6 shillings; for drink, 8 schillings; grave-digging, 6 shillings. ordered paid by Zachariah Cutting.
27 November 1716.
Mr. Samuell Biglo to be paid 4 shillings for timber to make over the bridge by the brook by Widow Flagg's.
25 December 1716.
Mr. Samuell Biglow to provide a shirt for James Holland in his needy condition, at the town's expense. [Note that our Puritan forefathers did not observe Christmas,and that the town council met as usual on December 25.].
There were no further entries in Watertown records, in which Samuel Bigelow's name appeared. His will was drawn up 30 Sept 1720,and mentions sons John, Samuel, Thomas, and Isaac; daughters Mercy Garfield, Abigail Cutler, and Deliverance Stearns, sons-in-law Thomas Read, Josiah Howe, and Daniel Warren; grandchildren David Bruce, Nathaniel Read, Isaac Read, Thomas Read, Catherine Read; Phinehas Howe, Abraham Howe, Rachel Howe, Samuel Warren, Daniel Warren, and Hannah Warren. The three daughters received L17 each.

Sources:
Bigelow Family Genealogy Volume. I ; first pages;
Howe, Bigelow Family in America; pg 26-27;
Bond, Genealogies and History of Watertown
Watertown town records, vol. 3
Cutler Family genealogy
Warren Genealogy;
Register of Ancestors of the National Society of the Colonial Dames of America in the Commonwealth of Mass. 1975 edition page 15;
vital records of various Massachusetts towns
Cemetery headstones in Waltham, Mass. September 1996.
New Note: Sunday 08/21/2005 9:50:24am
Name: David J. B. Latour II
E-Mail: davydd2@email.com
Comments: I am a decendant of Samuel Bigelow and Mary Flagg. Her mother's Maiden name is Gershom


---
This page about Samuel Bigelow provided by the Bigelow Society. Scanned July 1996 by Don Bigelow and edited by Rod Bigelow October 1996.
---
Modified - 12/10/2009
(c) Copyright 2009 Bigelow Society, Inc. All rights reserved.
Rod Bigelow - Director
rodbigelow@netzero.net
---
Rod Bigelow (Roger Jon12 BIGELOW)
Box 13 Chazy Lake
Dannemora, N.Y. 12929

< rodbigelow@netzero.net >