John 3 BIGELOW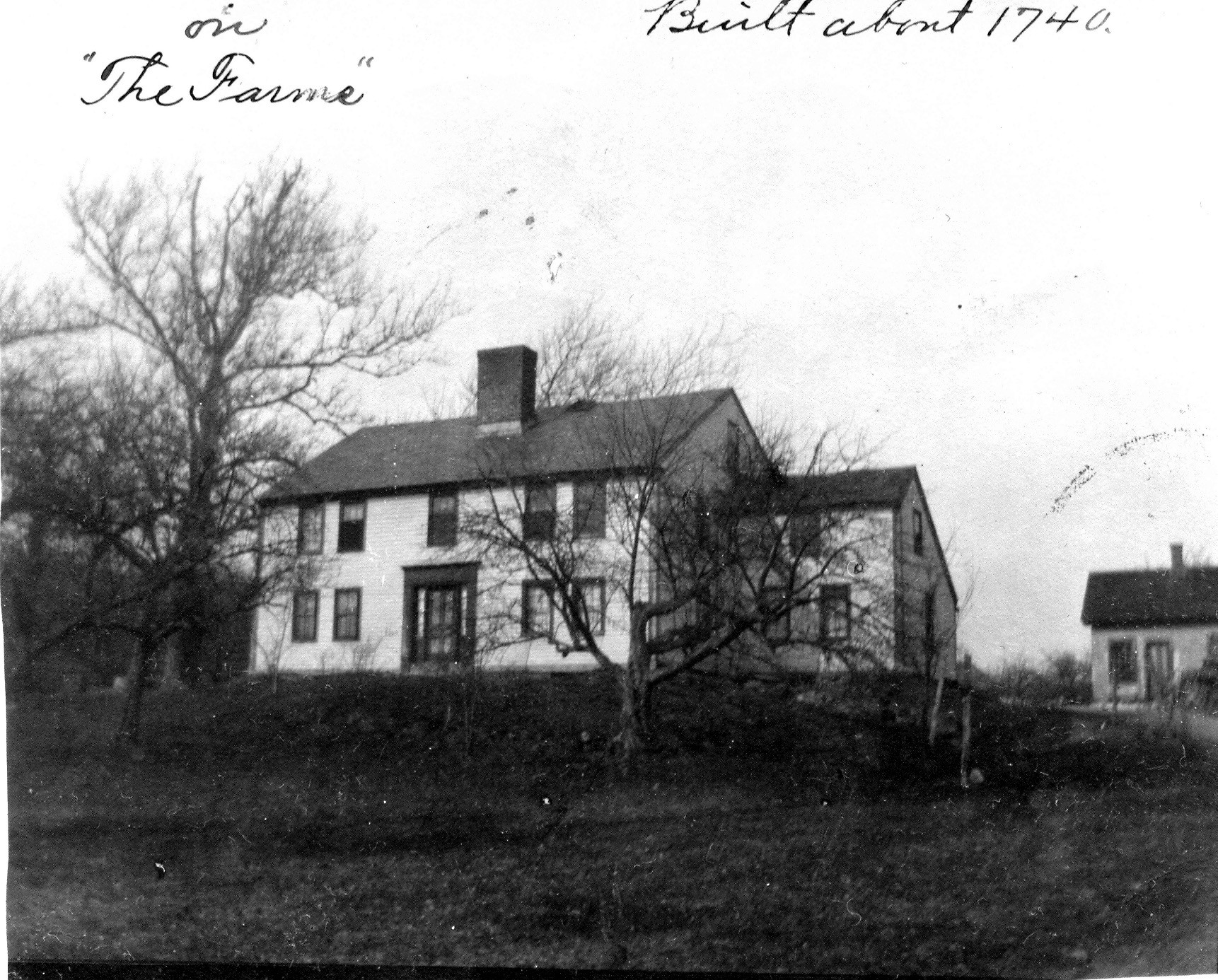 (farme1.jpg reduced)(see below)
---
151 John 3 BIGELOW, oldest child of Samuel 2 (John 1), and Mary (FLAGG) BIGELOW, was born 09 May 1675 at Watertown, Middlesex co, MA. He was married there on 12 June 1696 to Jerusha GARFIELD, daughter of Joseph and Sarah (GALE) GARFIELD. She was born 06 June 1677 at Watertown. They moved to Marlborough, MA, in the western part of the county, known as "The Farme". They were among its earliest settlers, first of the name in Marlborough. On his wedding day, a friend surnamed DORR gave them a present of two chairs which he claimed had been in the DORR family for three generations and were made in England about 1620. These chairs at the turn of the 20th century were in the possession of Mr. W. Williams of Chicago. (They were seen in the 1930's in the possession of a dentist) Another interesting story is below the children listings. John died 08 September 1769; and Jerusha died 16 January 1758.

Children of John and Jerusha (GARFIELD) BIGELOW, all born Marlborough, MA:

1511 Jerusha, b 17 May 1697; d ___ ; m 11 Dec 1718 John MATTHEWS; res Southborough, MA. 10 children

1512 Thankful, b 08 June 1699; died 18 Oct 1756 Marlborough, MA; m 11 Feb 1724 John HOWE; res Marlborough. 4 children.

1513 Joseph, b 01 Jan 1703; m 22 Feb 1725 Martha BRIGHAM; d 24 Jan 1783; 10 children.

1514 John 4, b 28 Oct 1705; d circa 1783, probably Cummington, MA; m 04 July 1728 Rebecca HOWE; res Holden, Goshen, and Cummington, MA. 6 children.

1515 Comfort, b 23 Sep 1707; d circa 1750 Marlborough, MA; m 26 Aug 1728 Joseph BRIGHAM; res Marlborough. 10 children.

1516 Freedom, b 14 Feb 1710; d ___ ; m 07 June 1732 John BOWKER; res Westborough, Shrewsbury, and Southborough. 11 children.

1517 Anna, b 25 June 1712; d 04 Dec 1793 Marlborough; m(1) 13 Apr 1731 Matthias RICE, and after his death,(2) Abraham RICE. No issue. (see below)

1518 Gershom, b 13 Nov 1714; d 03 Jan 1812 Marlborough; m, unknown date, Mary HOWE; res Marlborough. 4 children.

1519 Jotham, b 21 Sep 1717; d 08 Apr 1786 Guilford, Windham co, VT; m (1) Persis TEMPLE;(2) 23 May 1750 Mrs. Mary RICHARDSON;(3) 20 Jan 1778 Hannah KING; res Holden, MA, but after 1761 at Guiford. 10 children.

151A Benjamin, b 17 Oct 1720; d ___1772 Worthington, MA; m 17 Jan 1744 Levinah THOMAS; res CT and MA. 10 children.

151B Sarah, b 20 June 1724; d ___ ; m 09 Jan 1746 John LANGDON.
---
On 05 October 1705 John Biglo, with Thomas Sawyer and his son Elias Sawyer of Lancaster, were at work in that part of Lancaster now in Boylston, and were surprised by the Indians, made prisoners and taken to Quebec, where they were held by the French governor. Sawyer and Bigelow were good mechanics, the former a blacksmith, the latter a carpenter. they proposed to the Governor that if he would release them they would build a sawmill, there being yet none in that part of Canada. The offer was accepted, a sawmill built on the river Chamblay, and after some delay Biglow and the elder Sawyer returned home, the younger man left behind to run the mill and train workmen. While in captivity, John's wife Jerusha wrote him, and a copy of that letter, dated 22 Aug 1706, was included in the Bigelow genealogy as follows:
"Dear and loving husband, In much grief and tender affection, greatly lamenting your miserable condition, hoping in the mercy of God who has prospered you and kept you alive hitherto and who will in his own due time work your deliverance, that these few lines may find you in good health as I am at present and the children, blessed be God for it and for all his mercy bestowed on you and on myself.

This may aquaint you that I received your letter dated January the 6th on the 6th of Aug. Last and for which though I am in much sorrow and grief, thankful to you. And I do most humbly and importunately petition the governor to have pity and compassion on yourself and me.

Lamentations 3:25. The lord is good to them that wait for him, to the soul that seeketh him. It is good that a man should both hope and quietly wait for the salvation of the Lord, for the Lord will not cast him off forever, but though he cause grief, yet will he have compassion according to the multitude of his mercies. Wherefore should a living man complain, a man for the punishment of his sins. Let us search and try our way, and turn again to the Lord.

I remain your loving wife, greatly sorrowing for you.

Jerusha Bigelow

I do further acquaint you that brother Samuel and Thomas is well and the rest of our relations."
(see below)
As an expression of gratituude for his release, John Biglo named his next two children Comfort and Freedom. In 1712 the town of Marlborough voted to employ John Bigelow to superintend, with James Taylor, the finishing of the new meeting-house. In 1711, for the better protection of the town's inhabitants, certain families were assigned to different garrisons; the families of John, Samuel, and Thomas Bigelow were assigned to the garrison of Joseph Morse.

Sources:
Bigelow Family Genealogy Vol I pages 25-27;
Howe, Bigelow Family of America; pages 34-37;
History of Chesterfield, MA;
vital records Boylston-Shrewsbury;
NSDAR applications of descendants of Samuel Hastings and Isaac Moore.


Find a Grave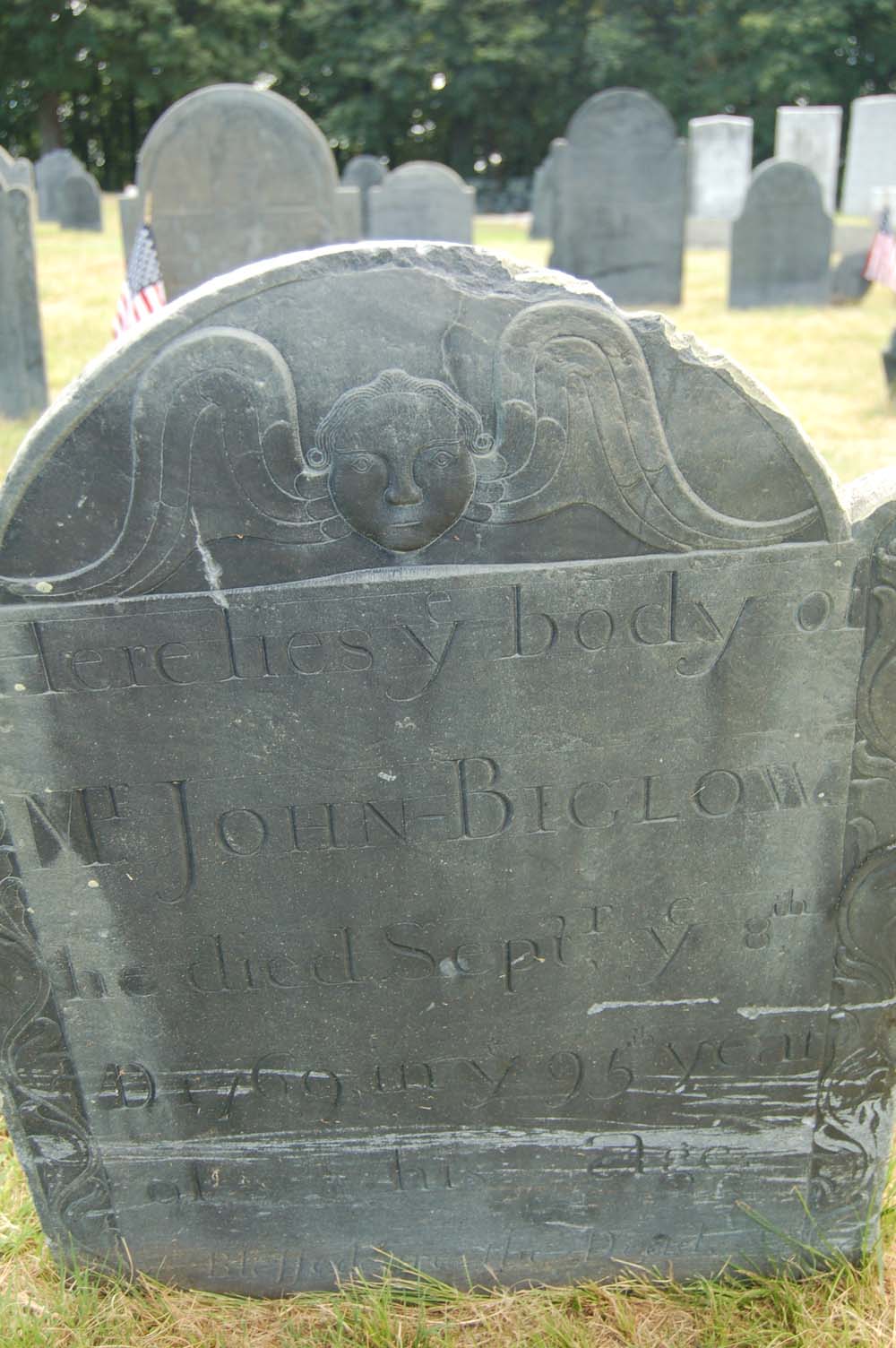 Spring Hill Cemetery; Marlborough, Middlesex County, MA
Here lies ye body of
JOHN BIGELOW
died September 8, 1769
in his 95th year

Note from Rice genealogy:
vii. Deacon Matthias was born on 4 April 1706. He married Anna Bigelow, daughter of John Bigelow and Jerusha Garfield,, Anna of Marlboro. He
died on 13 February 1764 at Northborough, Worcester Co, MA, in his 58th year, without issue.
Matthias, child of Benjamin Rice and Mary Rice born at Marlborough, Middlesex Co, MA.
Note2:
Subject: Jerusha Garfield Bigelow
Date: Fri, 21 Sep 2001 19:41:39 -0700
From: "Nancy Lanni" < nancylanni@yahoo.com >
Dear Rod: I am enjoying your Bigelow Society website. Very well done!
I understand that there are skeptics about the letter that Jerusha Garfield Bigelow sent to her husband during his
captivity in Canada. Do you know of the whereabouts of that letter? Are there facsimile copies of it in existence? Do
you believe that Emma Lewis Coleman took some literary license when she told his story?
Nancy Lanni

---

Note3:
Subject: John Bigelow Home
Date: Tue, 5 Mar 2002 11:29:35 -0500
From: "John Buczek" < buczek@attbi.com >
Rod...
Found the attached picture on a post card. The card is posted Sept 9, 1905 and is written to a Mr. L. B. Lawrence of
Northboro, Mass.
I thought that this may be of interest to you. I will send a second email which I have scanned in what is written.
Both scans are at 150 dpi and the resolution is 300% so both files are large, however you can reduce them I am sure.
I have added this to my web site on the history of Marlborough. If you have any comments to add, I would appreciate them
so as I can add them to the site also.
............john buczek
Rod, here is what is written on the card, see attached .....john



(jbighom2.jpg)
From: http://freepages.history.rootsweb.com/~historyofmarlborough/familybigelow.htm#BIGELOW


The Bigelows came to Marlborough between 1690 and 1700. The first to settle here was John Bigelow.

John "Baguley" Bigelow, was born in England. The spelling of the last name "Baguley" was that which was used in England and it's transference to "Bigelow" occurred when the name came to the New World. There were several variations of the families last name... Bigulah, Biglo, Biglow and the now Bigelow, which were recorded in Watertown. His children, of which he had twelve, six boys and six girls, settled in various parts. John and Jonathan removed to Hartford, Connecticut; Daniel moved to Framingham, Massachusetts; Joshua received a grant of land in Worcester, Massachusetts; Samuel and James remained in Watertown, Massachusetts.

John Bigelow - bap. Feb. 15, 1616/7, Wrentham Parish, Suffolk, England; d. Jul. 14, 1703, Watertown, MA. Rev. John PHILLIPS of Wrentham and of Dedham, MA testified that he was the John BAEGELY baptised Feb. 16, 1617, Wrentham Parish, the son of Randal Bigelow and Jane ?. The first record in America is his marriage at Watertown, followed by many entries beginning with his name on the list of those who took the oath of fidelity at Watertown 1652. Surveyor of Highways 1652 and 1660; constable 1663; selectman 1665, 1670 and 1671; soldier 1675; and freeman Apr. 18, 1690. John appears to have purchased land in 1649 and entered the blacksmith trade about 1651. Married first Oct. 30, 1642, Watertown, MA. Married second Oct. 2, 1694 Sarah BEMIS, daughter of Joseph and Sarah.

Samuel Bigelow, son of John "Baguley" Bigelow. I mention Samuel only to link the Bigelow family to Marlborough. Samuel along with John Bemis, Joseph and Samuel Morse bought of Ephraim Hunt, land known as "The Farms" or "Alcock Farm" 350 acres of land. At that time, the land was located on the southeasterly part of Marlborough, was not officially part of Marlborough. The land became part of Marlborough in about 1717 or 1718 and this is the area that three of his sons, John Samuel and Thomas settled.


John Bigelow, first son of Samuel and Mary (Flagg) Bigelow, moved to Marlborough when it was a frontier town. He, under the Command of Captain Wadsworth, was one men who were called to the Garrison house of Thomas Sawyer, in Lancaster in 1675 to help protect it from raiding Indians. John, along with Thomas Sawyer and his son Elias (Note: Bigelow site indicates that it was Elias Sawyer Sr. and Jr. not as Ella Bigelow's book states), were captured by the Indians and taken to Canada and held as prisoners of the French Governor. John was a carpenter and Thomas a Blacksmith, through their knowledge they were able to gain their freedom by committing to build a saw mill on the River Chamblay. Upon the completion of this task and after much delay they were allowed to return to their homes. It was about 1706 that John returned to Marlborough to continue on with his life as a farmer and carpenter. The birth of his third and fourth daughters was celebrated by naming them "Comfort" and "Freedom" as an expression of his ordeal in Montreal as a prisoner. The house that John resided in is located on Farm Road in Marlborough and still stands today. It's construction is not well documented and may have been built as early as 1695.

---
Modified - 12/28/2021
(c) Copyright 2007 Bigelow Society, Inc. All rights reserved.
Rod Bigelow - Director
rodbigelow@netzero.net
---
Rod Bigelow (Roger Jon12 BIGELOW)
Box 13 Chazy Lake
Dannemora, N.Y. 12929

rodbigelow@netzero.net