John Helmer 10 BIGELOW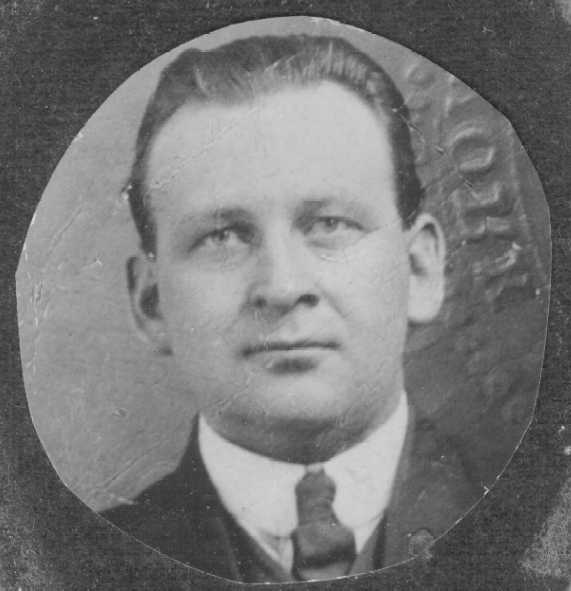 This is a photo of John Helmer 10 as he appeared in a photo in living room of old homestead.
---
# 16314.13521 John Helmer 10 BIGELOW, son of John 9, ( John 8, Jared 7,Ezra 6, Ezra 5, David 4, Lt. John 3,Joshua 2,John 1) BIGELOW and Susie T. KENT, born 30 July 1886 Ellenburgh Center, Clinton, NY; died 1930 Dannemora, Clinton, NY; married 13 Nov 1904 to Pearl Eleanor(Ellinore) HOFF (HAFF) in Ellenburgh Center, Clinton, NY. Pearl was the daughter of Orson and Addie (HALL) HAFF; she was born 22 Oct 1885 Ellenburgh Center; and died 30 June 1969 Plattsburgh, Clinton, NY. I don't have any memories of John Helmer, except the description I was given of his death. It must have been a wrenching moment for everyone, as he appears to have died from an embullism. He was just returning from milking the cows and collapsed in the kitchen before anybody else was up in the morning. My grandmother awoke and saw him on the floor with blood and milk mixing together. Quite a picture!! My father was only 13 yrs old and had to quit school to help support the family. I heard that part many times. There are pictures of him with the kids below, with the homestead on Smith Street in the background. The house still stands but in horrible disrepair. He was a prison guard in Dannemora.(see below)

Wedding announcement: copy from Arlene Reynolds of Brainardsville:"A very pretty wedding was solemnized on Wednesday, Nov. 13th, at the residence of the bride's father Orson Haff, at Ellenburgh Center, the contracting parties being Mr. John Bigelow and Miss Pearl Haff, both of Ellenburgh Center.Bridesmaid, Miss Flossie Haff, sister of bride. Wm. Baker was best man, ushers Bennie Hobbs and Millard Delong. Bride's father in poor health, bride given away by uncle M.L. Reed. Double ring ceremony performed by Rev. C.W.S.Becker . Presents were costly and beautiful, $130. Cash, silver, and Japanese ware,bed spreads and linens. Mr.& Mrs. Bigelow went to different parts of the East on their wedding trip."??( That's the way it was written, which implied they went their separate ways)
Notes from oral history of my grandmother Pearle (Haff) Bigelow..................ROD
John Helmer 10 attended school in Ellenburgh center, NY, to the eighth grade, the highest schooling possible in Ellenburgh. From there he went to Burlington, VT to medical school. He was doing very well but was very young and homesick and so he went home. He wanted to return to medical school after visiting his parents, but his father wasn't sympathetic. John Helmer was too stubborn to bring subject up again, so he never went back, to his lifetime regret.

Children Of John Helmer and Pearle Ellenor (HOFF) BIGELOW:

16314.13521.1 Claude Alton 11; born 27 July 1910 Dannemora, Clinton, NY; died 22 Dec 2001 Yucaipa,, CA; m (1) Mary Louise White ; m (2) 30 Dec 1947 Ardith Louise "Lee" BAILEY; she born 03 Dec 1927 at Lehi, Utah co, Utah; 2 children: Claudia Lee, (b 24 Feb 1949 in San Pedro, Los Angeles co, CA); and John Claude, (b 05 Aug 1950 at Oceanport, Monmouth co, NJ.

16314.13521.2 John Arthur 11, born 28 Apr 1912 Dannemora, Clinton, NY; died 06 Feb 1986 Saranac,Clinton,NY, ; married to Loretta (LYNCH) CHURCHILL; 2 children: John Arthur (Sonny), born 11 1940; died 12 Jan 1996; and Beverly Joan who still lives in Plattsburg (2004).

16314.13521.3 Ruth Florence 11, born 22 Aug 1915 Dannemora, Clinton, NY; died 13 March 2004 Fountain Valley, CA; married Arthur Cecil (Bud) WARREN on 30 Nov 1935 in Dannemora; Bud died of cancer 22 Aug 1966 Plattsburgh, Clinton co, NY.; m (2) 28 nov 1968 Delbert (Del) BANKS ( he born 18 Oct 1926 and died 16 Aug 1981); No children- although she was expecting a son in ?? but lost him after 7 months of pregnancy. Ruth lived in California (Nov 2000) with Everett E. Fitzpatrick.

16314.13521.4 Roger Lynn 11 BIGELOW, born 02 July 1917 Dannemora, Clinton, NY; died 26 Nov 2003 Bristol, CT; married 27 Apr 1942 Dannemora, Clinton,NY to Ruth Loretta MCGEE, born 21 Feb 1922 Keeseville, Clinton,NY (actually born after midnight on 22 Feb 1922, "all 2's"); parents: Ernest MCGEE and Marie Beatrice (GAGY) LESPERANCE ; 4 children including me: Roger Jon (Rod), Sherry Lynn (Sheri), Candace Marie (Kandi), Kelly Jean (Kelli). My mother and 3 sisters now live in CT (2005).

16314.13521.5 Russell Everett 11, born 05 Feb 1919 Dannemora, Clinton co, NY. Married Helen DONAHUE on 08 May 1946; (she born 23 Oct 1921 and died 14 Jan 1982); Russell died 10 May 1998; 4 Children : Brenda, Russell Everett (Rusty), Darlene, and Debra.

Sources:
Family records and memories;
Latter Day Saints microfiche records
Census records;
Cemetery inscriptions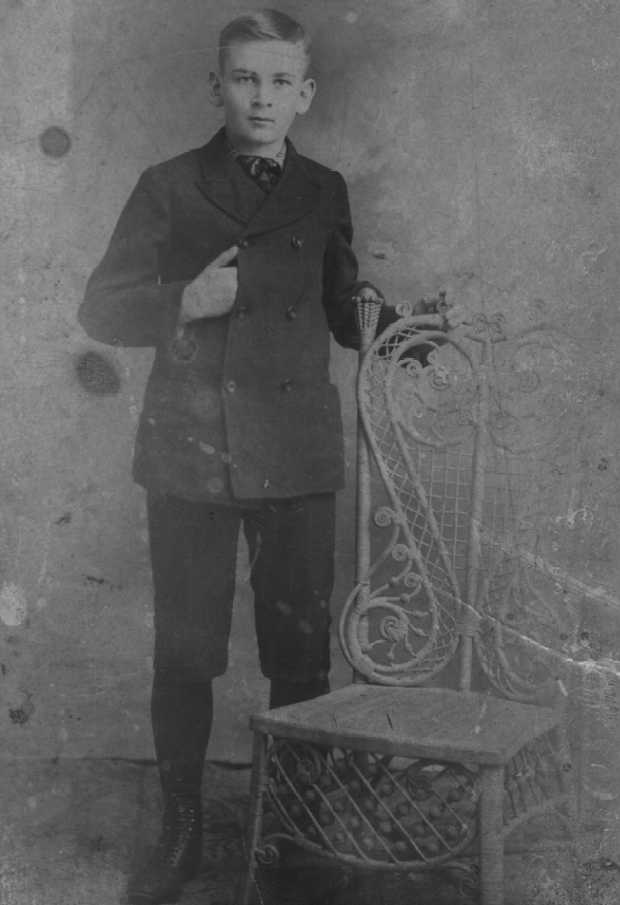 (john10b.jpg)Written on back: "John Helmer Bigelow, Your Dad at 14 1899(?)"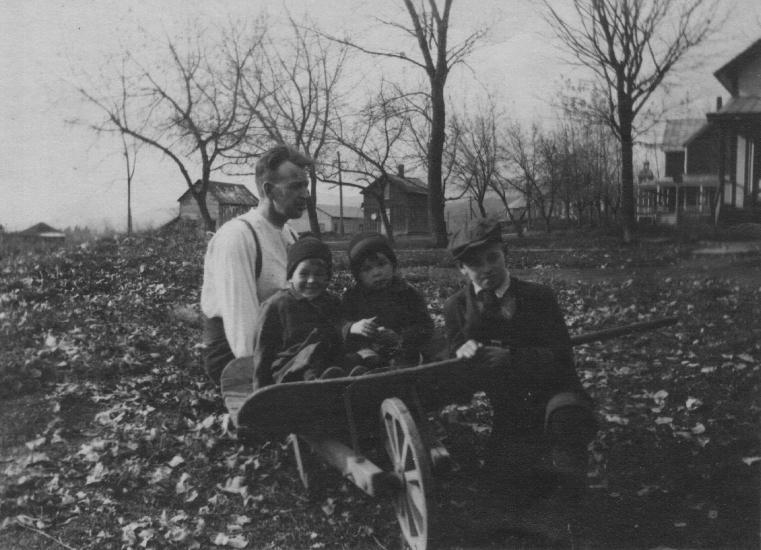 These are pictures of John Helmer with some of the kids in Dannemora at the old Homestead on Smith Street.
[left-to-right] John 10, Roger 11, Russell 11, and Claude 11.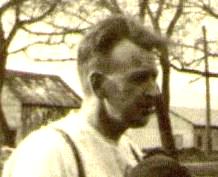 Closeup of John in picture above.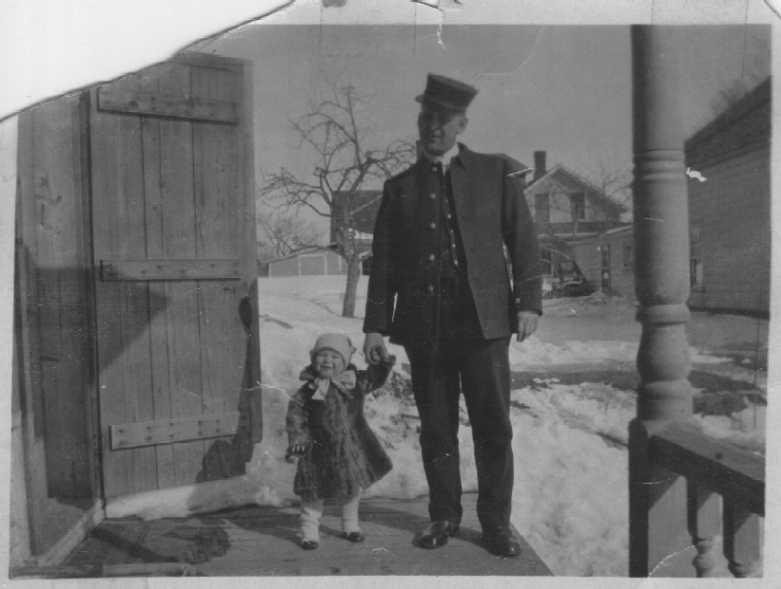 "This is a picture of Ruth with her Dad when she was 3 years old".
This was written on the back by her mother in 1965.
John Helmer 10 is in his prison guard uniform in Dannemora.
see Page 2 for more pictures.
---
Modified - 02/08/2005
(c) Copyright 2005 Bigelow Society, Inc. All rights reserved.
Rod Bigelow - Director
rodbigelow@netzero.net
---
Rod Bigelow (Roger Jon12 BIGELOW)
P.O. Box 13 Chazy Lake
Dannemora, N.Y. 12929

< rodbigelow@netzero.net >