Marie Beatrice LESPERANCE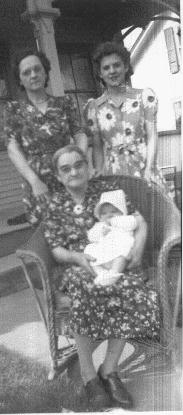 The above photograph is of "Gagy" in the back row left, my mother Ruth is to the back right, and Exelda YOUNG (my great grandmother) is sitting holding me as an infant in summer of 1943 . This is the ancestral research on my maternal grandmother. She turns 95 this year on Oct 28, 1996, so it's about time.

Marie Beatrice LESPERANCE was born in Keeseville, Clinton, NY on 28 Oct 1901, on West Pleasant Street to be exact. She was the daughter of Joseph LESPERANCE and Exelda (Exilda) YOUNG. She married Ernest McGEE on 28 Dec 1919 in Plattsburgh, Clinton, NY at St. Peter's Catholic Church. He was born in 1887? in Peru, Clinton, NY, the son of William I. McGEE and Josephine Seraphina? (Phia) SIBLEY. Josephine was reported to be an Indian Princess?
Ernest died in June 1930? Keeseville, Clinton, NY (suicide), so I never met either of my grandfathers. Ernie had a son from a previous marriage named Kenneth who lived with my grandmother and the 4 children they had together. My grandmother lived on the hill on Pleasant Street for 28 yrs. She lived on Ausable St. after that. I was the first grandchild and because I already had a "Granny" Bigelow, my maternal grandmother became "Gagy", and everybody in our family has called her that ever since. She is an amazing woman and I told her and all the relatives at her party this year. I can remember her coming up to Chazy Lake in the 60's and 70's , and how she worried about us young people with our water skiing and other activities. She has always been young at heart though, doing things you never figure for someone her age. I have always been proud to be her grandson, when somebody mentioned they saw her in a bar in Keeseville drinking her Genessee. She says she can only have one a week now, but up until a few years ago she'd have more than that sitting on a barstool. (To be continued)

Children of Gagy and Ernie all born Keeseville, NY:

1..... Herman Ernest McGEE, born 18 Oct 1920, died 7 June 1970 in Plantsville, CT, married Joan WESTNOWSKI circa 1940. No children.

2 ..... Ruth Loretta McGEE, My Mother, born 22 Feb 1922 , married Roger Lynn BIGELOW on 27 Apr 1942. 4 children including me.

3 ..... Doris Antoinette McGEE, born Sep 1923?, died 13 Nov 1967, married circa 1945, Warren BARBER, 2 children: Marsha (BATT), and Keith.

4 ..... Jean Exilda McGEE, born 9 Dec 1925, married 10 Jan 1948, to Carlton PERRY, 3 children: Kim, Carla, and Ricky.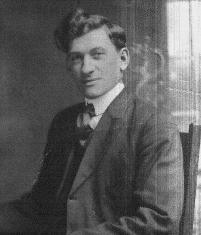 This is Ernie circa 1930.
Rod Bigelow (Roger Jon)
8 Prospect Circle
Massena, N.Y. 13662

bigelow@slic.com Rod Bigelow at SLIC

BACK TO THE BIGELOW SOCIETY PAGE

Back to Genealogy Home Page
BACK TO BIGELOW HOME PAGE