John Helmer 10 BIGELOW
Page 2
---
# 16314.13521 John Helmer 10 BIGELOW, son of John 9, ( John 8, Jared 7,Ezra 6, Ezra 5, David 4, Lt. John 3, Joshua 2,John 1) BIGELOW and Susie T. KENT, born 30 July 1886 Ellenburgh Center, Clinton, NY; died 1930 Dannemora, Clinton, NY; married 13 Nov 1904 to Pearl Eleanor(Ellinore) HOFF (HAFF) in Ellenburgh Center,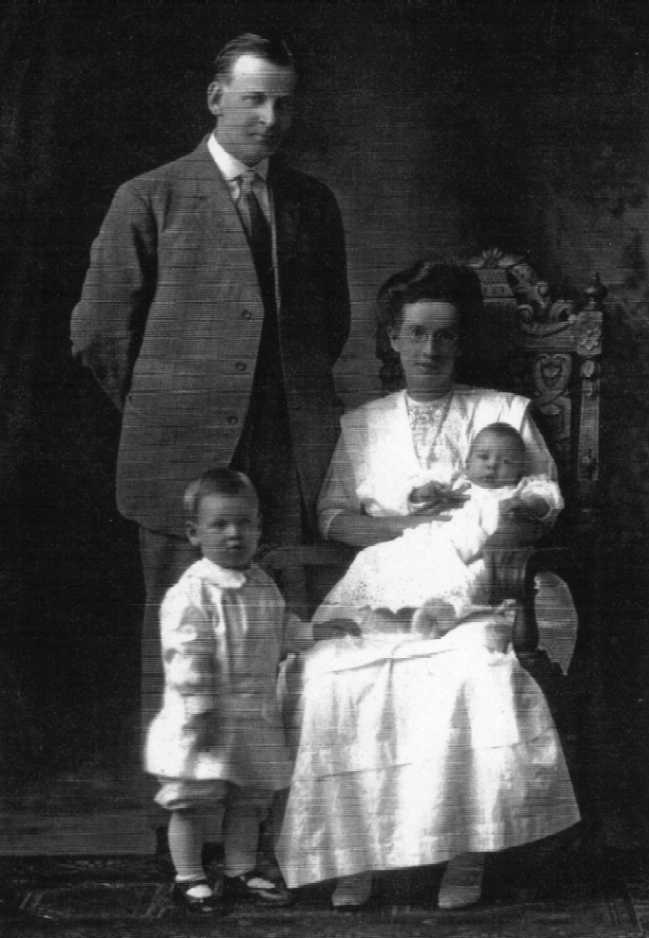 This is a photo of John Helmer 10 and wife Pearl holding new son Arthur.

Older son Claude, age 2, is standing (circa 1912)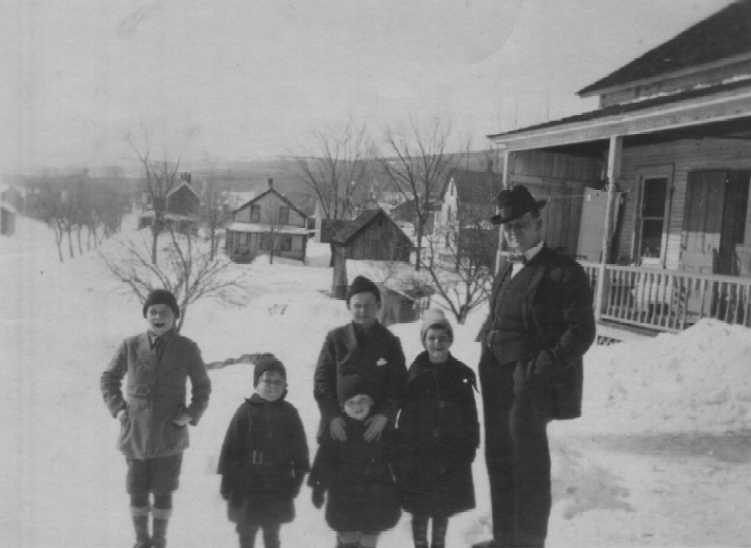 These are pictures of John Helmer with some of the kids in Dannemora at the old Homestead on Smith Street.
[left-to-right] Arthur 11 , Roger 11, Russell 11, in front of Claude 11, Ruth 11, and John 10.
Russell was 4 yrs old.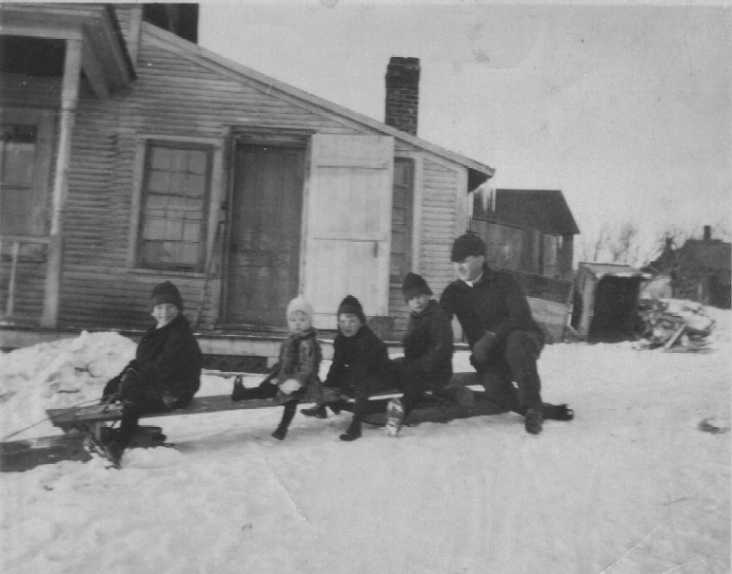 This is Arthur, Ruth, Roger, Claude, and John Helmer; (l-r)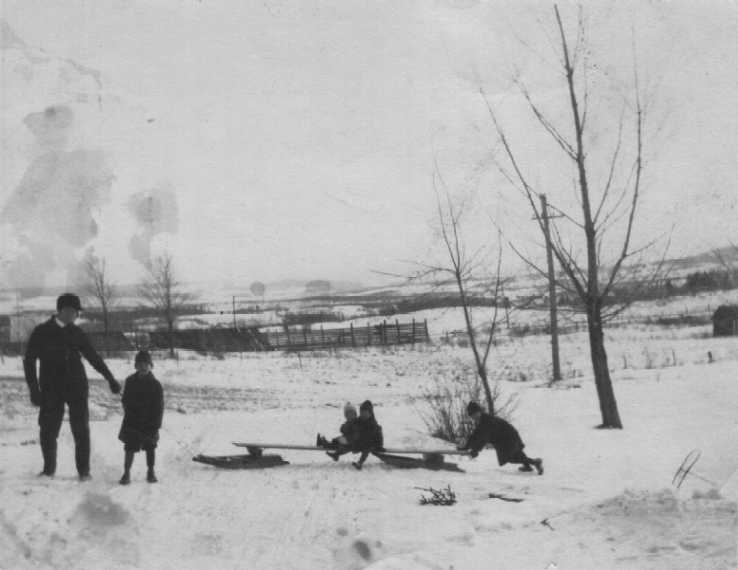 (sled10c.jpg) This is John Helmer, Arthur, Ruth, Roger, and Claude pushing.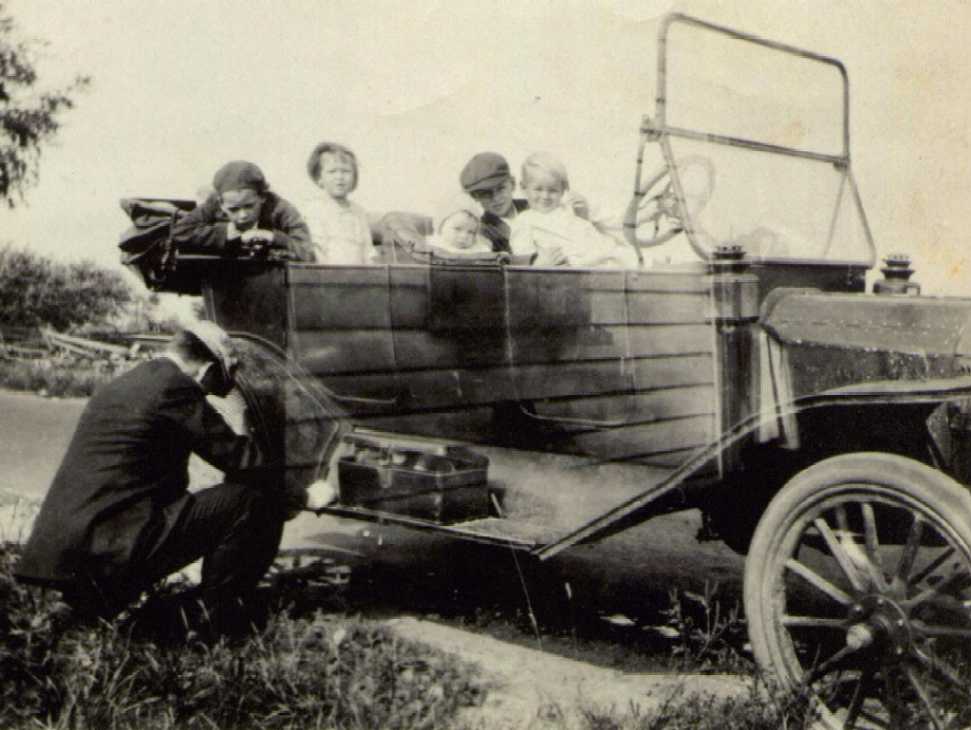 This is John Helmer working on his car (he did this quite frequently)
In the car: (l-r) Arthur, Ruth, Russell, Claude, Roger.
More pictures of Homestead on Page 3.
---
Modified - 11/12/2003
(c) Copyright 2003 Bigelow Society, Inc. All rights reserved.
rod Bigelow - Director
rodbigelow@netzero.net
---
Rod Bigelow (Roger Jon12 BIGELOW)
P.O. Box 13 Chazy Lake
Dannemora, N.Y. 12929

< rodbigelow@netzero.net >
BACK TO THE BIGELOW SOCIETY PAGE

BACK TO BIGELOW HOME PAGE