Lieutenant John 3 BIGELOW
---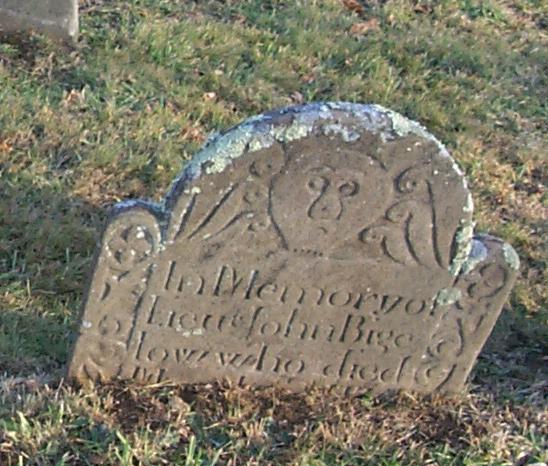 (johnlt3.jpg) closeup of Lt. John Bigelow's grave by Frank Grimes 2002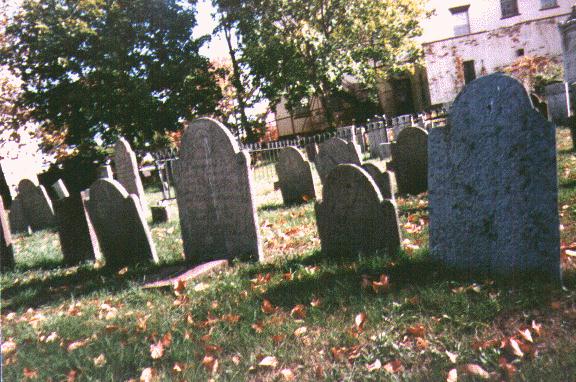 This photo shows Abigail's stone to the far right.
Then Lt. John to the left, then Sarah,
and then Asa 4 son of Lt. John and Sarah
163 Lieutenant John 3 BIGELOW, son of Joshua 2, John 1, and Elizabeth (FLAGG) BIGELOW was born 20 Dec 1681 in Watertown, Middlesex, MA. John had 2 sons with first wife Hannah _____. Her grave found in Cemetery Rd Cemetery,Colchester 110494.RJB with her grandson John 5son of John 4.(this grave of Hannah appears to be a wife of John 5, not Lt. John) Lt. John born in Watertown,early moved to Hartford,CT, his grave in the Colchester Common Cemetery found 110494.RJB. Also stones for Hanna Munn, other Munns and Bigelows including children of Asa and Dorothy. When John moved to Hartford he followed his uncles John 2 and Jonathan 2 BIGELOW.
He married (1) at unknown date, Hannah _______. Following the birth of their first child, they moved to Colchester,CT in early 1709, and there his wife Hannah's death is recorded 31 Mar 1709. John then married (2) 4 Nov 1709, his cousin Sarah BIGELOW, daughter of Jonathan 2 and Rebecca SHEPHERD BIGELOW, born unknown date. Sarah buried in Colchester Common Cemetery, near Lt. John. Sarah was born Hartford, Hartford,CT unknown date. She is said to have been a tailoress by trade, and to have brought John as dowry a bushel of silver coins earned with her needle. With this money, they built "the most elegant house on Bulkeley Hill" bringing 12 men from Hartford, 25 miles through the woods by a blazed trail. There was not sufficient skilled labor to be found in Colchester. The house stood until the 1870's. Sarah died 13 Oct 1754 in an epidemic fever which claimed also her son Asa and 2 of his children, all within 6 weeks. John then married (3)Abigail ________,whose headstone states she died 1 Aug 1760 in the 58th year of her age, as John's 3rd wife. (Addenda: Abigail identified in Joshua Hempstead diary as follows: "Wed, Sept 17,1775. Afternoon I went to Capt. John Miller's and married his mother [Abigail) to Mr. John Bigelow and he carried her away about 3 o'clock." Hempstead was a justice-of-the-peace in New London, CT. Abigail said to have probably been nee Lewis, and a widow of Jeremaih Miller.)
He then married (4) Hannah Munn, of whom no records. May be headstone in Colchester Common Cemetery, where a lot of Munns are buried. John died 8 Mar 1770 in Cochester, New London, CT. He made his will 1769, bequeathing the house and part of his personal property to Hannah, lands and property to sons David & John Jr. and 6 shillings apiece to children of his deceased son Asa, whose children he had raised.
Headstone in Colchester Common Cemetery " In Memory of Mrs. Sarah ye wife of Lt. John Bigelow who died July 13,1754 at age 75.""So Pious,Prudent, Patient and Kind. Perhaps he Equal may not be left behind." (Age may be wrong or misread) John's headstone reads"In Memory of Lt. John Bige(cont. on next line)low who died March ys 1770."
Headstone to the right of Lt. John in Colchester Common Cemetery reads " Abigail wife of Lt. John Bigelow died Aug 1,1760 58th yr""She was a vir____ among women.""
Headstone in Colchester Common Cemetery near Lt. John's looks like Hannah, may be male Isaiah Munn "d. Sept 23, 1799 60 yrs old"..Next to that stone is Mr. or Mrs. Abi, consort to Hannah or Isaiah MUNN died Oct 3,1823. Age 80. These stones are also near Asa 4 BIGELOW, whose children John raised after Asa died.
Children with Hannah_______:
1631 David 4 son of Lt. John3 and Hannah______, born before 22 Sep 1706 Hartford,Hartford,CT. Married (1) about 1726 Editha (Edith) DAY, daughter of John and Grace SPENCER DAY, who died 19 Jan 1746 in Colchester,New London,CT. They had 8 children. Married (2) 21 Jan 1747 Mary (Mercy) LEWIS KELLOGG in Colchester?,New London,CT, daughter of Stephen and Lydia BELDING KELLOGG. No children. She died 5 Jan 1795. David died 2 Jun 1799, both in Colchester,New London,CT.
1632 John 4 son of Lt. John3 and Hannah_______, was born 25 Mar 1709 in Colchester,New London,CT. Married (1) 23 Oct 1736 Anna BATE, bapt 29 Jul 1716 in Colchester?, New London,CT, daughter of James & Anna (TILLOTSON) BORDON. She died 2 Sep 1737, leaving 1 son John born 2 Sep 1737. John4 married (2) 2 Feb 1738, Sarah Bate, sister of his first wife, She was born 9 Apr 1711 Haddam,CT. They lived in Cochester where they both died, he on 17 Jan 1789, she on ? Feb 1796. John drew up his will 22 Jun 1787, mentioned his wife Sarah, son John, daughters Sarah BIGELOW, Anna BIGELOW, Lydia HUNGERFORD, and daughter Mary (Mercy). No mention was made of daughters Aimee and Hannah. Administration of the estate of Sarah Bigelow, widow of John, was granted 12 Apr 1796 to Capt. Zechariah HUNGERFORD, Mercy wife of Joseph ARNOLD, Anne and Sarah BIGELOW, and heirs of Ephraim BIGELOW (deceased). Again, no mention of Aimee and Hannah, leading to the assumption they died unmarried before the parents' deaths.
1790 Census: CT-New London-Colchester-Sarah BIGELOW: 0-0-4-0-0.
Children with Sarah BIGELOW:
1633 Sarah 4, daughter of Lt. John 3 and Sarah 3 BIGELOW, born 17 July 1712 in Colchester, New London,CT. Unmarried?. Died 30 Nov 1741 in Colchester,New London,CT. No other information available at this time 08/04/96. RJB.
1634 Jonathan 4, son of Lt. John 3 and Sarah 3 BIGELOW, born 12 May 1714 in Colchester, New London,CT. There is a headstone in Colchester Common Cemetery that states: "Jonathan; son of John; died Aug 11, 1730 (1720?)"; see picture below . No other information at this time 8/4/96 RJB.
1635 Asa 4, son of Lt. John 3 and Sarah 3 BIGELOW , born 3 Sep 1720 in Colchester, New London,CT. Died 3 Oct 1754 in Cochester of a fever. Married 13 Dec 1737 to Dorothy OTIS, "while fitting out for college he met Dorothy Otis, and it caused him such a headache he was obliged to give up his studies and marry her, and they went to live with his parents, both being yet of tender years". She survived to marry twice more. 9 children, the last born posthumously. Asa died in fever with mother, and 2 children. Headstone "Asa Bigelow 35 yrs old Oct 9,1754." Afa ?" It was near the Munn stones and a broken one nearby may have been Dorothy OTIS? Daughters:Delight & Betty buried nearby with son Jonathan & Elizabeth OTIS (his wife)and their children and grandchildren. Asa's Headstone found in Colchester Common Cemetery with Lt. John and about 50 others, Sarah,Abigail,etc.by RJB 110494.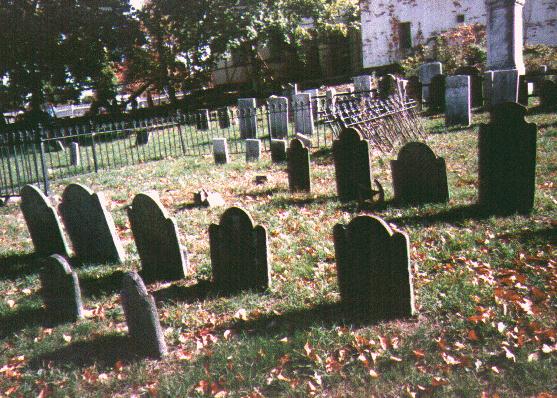 This photo shows Jonathan 4 to the right with the star emblem over it. This stone says: " Jonathan; son of John; died Aug 11, 1730(1720?). No real evidence this is Jonathan 4
Sources:
Bigelow Family Genealogy Volume. I page.33;
Howe, Bigelow Family of America;
Wm. H. Bigelow, Genealogy of a Branch of the Bigelow Family, 1877;
vital records and cemetery inscriptions Colchester;
Barbour, Index of Vital Records Early Connecticut;
also see article below found on the web by Don Bigelow at:
http://wuzzup.com:80/hometown/archives/vol6/quarter2/20BIGEL.HTML
---
Colchester Settler Lieutenant John Bigelow
Lieutenant John Bigelow and His Family
Local History by Kevin Tulimieri
COLCHESTER - In 1864, Charles M. Taintor described the first settlers of Colchester in the Preface of the Extracts From The Records of Colchester as: "a body of men of the highest respectability, and of the first families from different parts of the country.... " The group was indeed a company of distinguished families, many members the descendants of New England's first colonial leaders. These prominent men were led to Colchester in 1698 by Quarter Master Nathaniel Foote, also from an important colonial family. Foote was a leader in the early Connecticut militia and the grandson of a founder of Wethersfield. The Footes' celebrated reputation attracted many members of New England's leading families to the new plantation "at or near the place Called Jermiah's farme upon the Rode to Newlondon."

Among the list of early Colchester settlers who followed Foote into the Connecticut wilderness was "John Bigloo a son of Joshua Bigloo of Watertown, which John Bigloo now dwells in Hartford on the east." The Bigelow family, as the name has been adjusted to over the years, settled early in Colchester and played an important role in town for generations. Lieutenant John Bigelow arrived in Colchester between the years 1706 and 1709. He was the grandson of John Bigelow, a proprietor of the early Massachusetts Bay Colony at Watertown. Lieutenant John Bigelow, the son of Joshua, must have been in Colchester by 1709, when town clerk Miceall Taintor recorded the birth of his son and resulting events: "John bigelow son to John bigelow b. March 25th : 1709 - hannah the wife of John bigelow Dyed March 31t: 1709 - John bigelow.... & Sarah Bigelow m. November 4th: 1709."

After what appears to be a tragic start in his new home, Bigelow persevered and continued to be involved in the early Colchester community. He had his second child in Colchester on July 17, 1712, a daughter named Sarah. Later that year, on December 31, 1712, John "biglo" was entered in Taintor's Record of Colchester as being elected as a "lestor," or lister. The lister was the colonial equivalent of a tax assessor, a person who would list the value of each person's property for tax purposes. A symbol of success, town offices such as "lestor" were reserved for the most respected members of the community. This was the first of many important positions Bigelow would hold, a tribute to his popularity in Colchester over many years.

The Bigelows soon added another child to their family, a son Jonathan, on May 21, 1714. John Bigelow remained involved in town affairs and on "Decembr ye 27, 1714," he was elected for two positions, "Inspecter" and "Surveyer." However, less than a month later, he was elected to his most important position yet. On "Jenewary the 4th, 1715," Bigelow was elected as a member of the seating committee for the Meeting House. In the early days of Colchester, as in most New England towns, the pews in the Meeting House were arranged according to your prominence in town. First, the status of the seats had to be established. The initial design seems to have caused some controversy and was revised less than a week later. Taintor reported the final layout on "Jenewary ye 10th.... the pue next to the pulpitt to be the first - 2d in dignety is the 2d pue & the fore seat to be equall In Dignetie. 3d in Dignety is the second seat - 4th is the third seat equall with ye third Pue - 5. is the fowrth seat equall with the fowrth Pue - next the fifth seat: next: 6th - 7th - 8th - " The rules for seating the congregation instructed the committee to consider: "first the 12d & 3d Rate for buelding the meeting hows to be Considered in Conjuction with the present List of estates - further in the next place age with other quallefiecations to be considered.... further it was voated that the seators shall also Consider the last years List with ye other abovementioned....." Bigelow and five other highly respected men in the community were elected for this important job. Unfourtunately, the final arrangement of seating in the Meeting House was not recorded, so we don't know where Bigelow seated his own family. However, over the next few years, Bigelow continued to serve in Colchester's most distinguished town offices.

The Bigelow family celebrated their own success with the birth of Asa on September 3, 1720, the third child of John and Sarah. Then it was back into community service a few months later. On December 27, 1720, "sergt ebenr Dible Sargt Nathaniell foot & John biglow ware chosen to Inspect into the encroachments made by persons: by fencing & takeing into thayr Improvement further & more then was layd out to them: in their other Devisions of land: & said Comittie shall give such persons Reasonable notice to thro up or Remove thayr fence - that so the town in generall may be benefited there by - & if any person or persons shall neglect to lay to the Comons : such land : so Incroached : eigther in the town street or in : devisions of land thay are hearby Impowered to prosecute : any such person in the law for thayr so doing." Bigelow's new position, with the power to adjust boundaries and prosecute violators, was a very powerful office. Sharing committee work with Sergeant Foote, the son of the original Colchester settler Nathaniel Foote, also shows the continued rise in Bigelow's status.

A few years later, Isaac Bigelow becomes active in Colchester and begins to appear in Taintor's Record. It is unknown exactly when Isaac entered town or his exact relation to John Bigelow. But he must have been in Colchester for a while before December 1723, when he was elected to the position of "Colecteror," or tax collector. Without doubt, dealing with the town finances was taken very seriously and reserved for the most trusted and respected members of the community. Although Isaac doesn't appear in Colchester's earliest records, he quickly earned a prominent position in town. The next December, Isaac was again elected to serve the town, this time as a "waywarden," taking care of the town roads.

The next year, John Bigelow re-appears in Colchester's town records. He is now listed with the title of Sergeant, reflecting a promotion in the militia. The first entry bearing Bigelow's new title is on December 13, 1725, when he is elected to three different positions. First, "Sergt John biglow" and "Isaac biglow" are both elected as "howards," supervisors of the town's animal population. Seargeant Bigelow was also elected as one of the "Tithingmen," to collect money for the support of the church and preacher. The third position was with "ensign Wells" and "serg Ephream foot" in the important work of the "Choole Comittie," creating the town's first district schools.

The 1725 entry is the last surviving record of John Bigelow's work in Colchester. He continued to rise in rank in the militia, eventually reaching the high level of Lieutenant. Liuetenant John Bigelow died in 1770, leaving two children from his first wife and five by his second wife, Sarah. His son Asa would also become involved in town affairs and the local militia. During the Revolutionary War, Asa served as Assistant Commissary to Commisary General Champion of Colchester. It is reported that Asa himself drove a heard of cattle to General Washington's starving troops at Valley Forge. He was a carpenter by trade and in 1794, Asa shingled his barn with the first cut nails seen in Colchester. Asa Bigelow became a large land holder in Colchester, owning about 700 acres. Following his father's interest in education, Asa was one of the original trustees of Bacon Academy. He had a total of 11 children: three sons and seven daughters survived to adulthood. Three of his daughters married respected ministers and his son Asa became a successful New York merchant.

The influence of the Bigelow family continued to be felt in Colchester for many years. Looking through Taintor's Record, it is clear that John Bigelow, and later Isaac, played important roles in the community. Even among the distinguished group of Colchester settlers, Lieutenat John Bigelow maintained a proud family tradition of leadership and earned the respect of the community he served.

Sources:
Biographical Review of New London County, Asa R. Bigelow, by Beers 1880
Taintor's Record of Colchester, Transcribed by Charles Taintor 1864

Corrections contributed by Anne Bigelow, Forge Editor: You mention Asa, Lt. John's son, near the end of the article, whom you say served during the Revolutionary War and in 1794, used the first cut nails in Colchester. Your information is correct ; however, this Asa is Lt. John's grandson, not son. I can easily see how the mistaken connection was made - let me explain.
Lt. John's son, Asa, died 3 Oct 1754, Colchester, from a fever which also claimed the lives of his mother, Sarah, and two of his children within the space of six weeks. This Asa had nine children, the eldest was also Asa and died of the same fever on 18 Sep 1754. His youngest was a posthumous child, born 12 May 1755, and was also named Asa (after his dead father and dead eldest brother!) This is the Asa in your article. He lived with his grandparents, Lt. John and new wife until age 14 so it is easy to see how he is confused with his father, Asa.
You wonder in your article how Isaac Bigelow is related to Lt. John. He is John's first cousin, (Isaac was the son of Samuel Bigelow, a brother to Joshua, Lt. John's father). They had the same grandfather, John Bigelow of Watertown. Our records say that Isaac first bought land in Colchester in 1712 and was admitted as an inhabitant in 1717. You also state that Lt. John had five children by his second wife, our records indicate only three (Asa is the youngest).

---
Modified - 01/21/2009
(c) Copyright 2009 Bigelow Society, Inc. All rights reserved.
Rod Bigelow - Director
< rodbigelow@netzero.net >
---
Rod Bigelow (Roger Jon12 BIGELOW)
Box 13 Chazy Lake
Dannemora, N.Y. 12929

< rodbigelow@netzero.net >