Asa 4 BIGELOW
---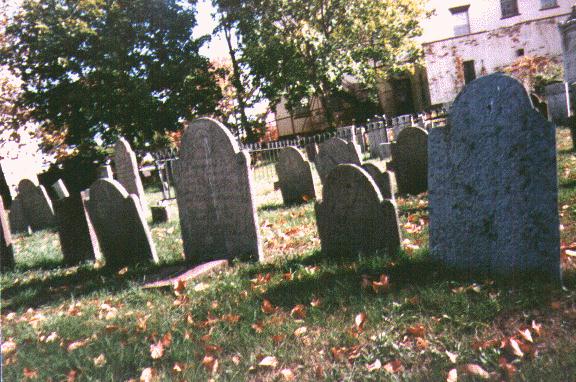 This photo shows Abigail's stone to the far right.
Then Lt. John to the left, then Sarah,
and then Asa 4 son of Lt. John and Sarah
1635 Asa 4 BIGELOW, third and youngest child of Lieutenant John 3( Joshua2, John1) BIGELOW, by his second wife Sarah BIGELOW was born 03 September 1720 at Colchester, New London, CT. Family tradition says that "while fitting out for college he met Dorothy OTIS, which caused such a violent headache that he was obliged to give up college and was married 13 December 1737 -- he being 17 years of age and she 16 -- and they went to live with his parents." Dorothy, daughter of Nathaniel and Hannah (THATCHER) OTIS, was born 16 April 1721 in Scituate, MA. She was a Mayflower descendant through John HOWLAND.
Asa died 09 October 1754 of a fever which also claimed the life of his mother and two of Asa's children within 6 weeks. He died intestate; Dorothy was appointed adminstrator and property distributed among the three sons, and daughters Sarah and Betty. Dorothy married (2) 12 October 1762 Isaac DAY, a widower with 7 children. By him she had a son, Charles, born 14 July 1763, although two of Isaac's sons by his first marriage are often erroneously assigned to Dorothy. Isaac died, also intestate, and his property distributed among all his children, including Charles. Dorothy then married (3) _ December 1768 Joseph LANGRELL, another widower with 5 children. At his death he left Dorothy one-third his personal property and the use of his house during her lifetime. His children descend from Richard WARREN of the Mayflower
Dorothy died 10 November 1794 at Lebanon, CT. Her will provides for her BIGELOW children, Charles DAY having inherited through his father. She is buried in Lebanon, with all three husbands named on the headstone.
Headstone "Asa Bigelow 35 yrs old Oct 9,1754." Afa ?" It was near the Munn stones and a broken one nearby may have been his first child Asa (16351) who died in the same time period of the same fever. Daughters:Delight & Betty buried nearby with son Jonathan & Elizabeth OTIS (his wife) and their children and grandchildren. Asa's Headstone found in Colchester Common Cemetery with Lt. John and about 50 others, Sarah, Abigail, etc.by RJB 110494.
Children of Asa and Dorothy (OTIS) BIGELOW, all born Colchester, New London co, CT:
16351 Asa, b 31 Oct 1738; d 18 Sept 1754.
16352 Jonathan 5, b 10 Oct 1740; d 13 Jan 1823 Colchester; m 24 May 1759 Elizabeth OTIS; res Colchester. 8 children.
16353 Dorothy, b 02 Sept 1742; d 27 Dec 1761; m 16 Mar 1761 Jonathan ROBBINS (b Wethersfield 05 Apr 1737, son of Jonathan and Sarah (WELLS) ROBBINS). No issue.
16354 Sarah, b 13 Nov 1744; d 10 Aug 1831 Amherst, Erie co, NY; m (1) 19 Nov 1761 Elias RANSOM, and (2) 28 Apr 1774 Ichabod HOPKINS; res CT, MA, & NY. 15 or 16 children.
16355 Otis, b 24 Jan 1747; d 10 Sept 1832 Lebanon, CT; m (1) 1766 Lydia LOOMIS, and (2) 18 Dec 1777 Betsy BARTLETT; res Lebanon, CT. 10 children.
16356 Betty, b 08 Feb 1749; d 28 Jan 1752.
16357 Delight, b 25 Feb 1751; d 28 Sept 1754.
16358 Betty, b 21 Mar 1753; d ____ ; m 19 June 1777 Capt. Simon ABELL; res Goshen and Lebanon, CT. 7 children.
16359 Asa, b 12 May 1755, a posthumous child; d 28 July 1830 Colchester; m 05 Feb 1783 Lydia NEWTON; res Colchester. Served Rev. War. 11 children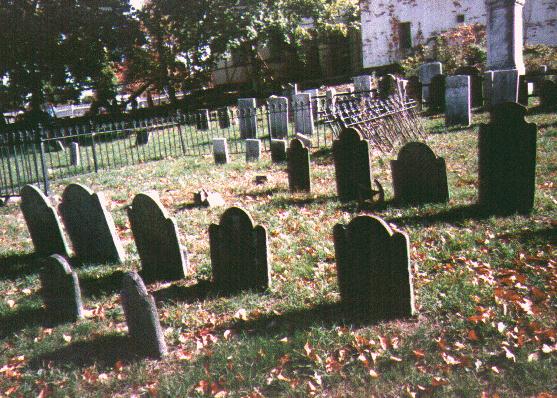 This photo shows headstones of children of Asa 4 and Dorothy (OTIS) BIGELOW. The stone to the far left says: "In memory of; Delight; dau of Asa & Dorothy Bigelow; d Sept 28, 1754; age 4 yrs." Next right is unreadable but is probably Betty (16356), also died young. Next right says: "Mary; dau of Asa & Dorothy Bigelow." Next is unreadable and the next with star is "Jonathan; son of John; died Aug 11, 1730(20?)".
Sources:
Bigelow Family Genealogy Volume. I page.33;
Howe, Bigelow Family of America;
Barbour, Index of Vital Records of CT;
Mayflower Quarterly, 1985, pp 77-79;
correspondence with descendants.

---
Modified - 09/13/2009
(c) Copyright 2009 Bigelow Society, Inc. All rights reserved.
Rod Bigelow - Director
< rodbigelow@netzero.net >
---
Rod Bigelow (Roger Jon12 BIGELOW)
Box 13 Chazy Lake
Dannemora, N.Y. 12929

rodbigelow@netzero.net

BACK TO THE BIGELOW SOCIETY PAGE

BACK TO BIGELOW HOME PAGE