Jonathan 5 BIGELOW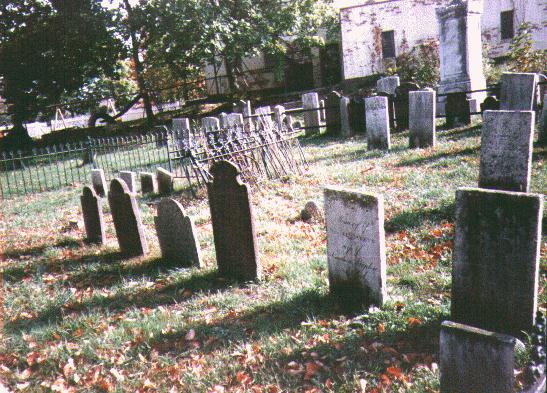 This photo was taken in the Colchester Common cemetery on 10/20/95. The headstone on the right edge is Jonathan 5 (died Jan 13, 1823; 83rd yr of age); to the left is Elizabeth (OTIS) his wife; to the left of her is Jonathan 6 (their son who drowned 22 May 1793); to the left again is Mrs. Sarah OTIS; consort to Mr. James OTIS (this appears to be Elizabeth's mother Sarah (TUDOR) OTIS); next left is Mary OTIS ; died July 4, 1778, age 31.; and last left is daughter of Jonathan & Elizabeth Bigelow; Elsey (Alice); b 27 Mar 1766; d 13 Jun 1776. Behind her are the stones of children of Guy 6 and Sarah Ann BIGELOW(16359.2)

---

16352 Jonathan 5 BIGELOW, son of Asa 4 ( Lieutenant John 3, Joshua2,John 1) , and Dorothy (OTIS) BIGELOW, was born in Colchester, New London co, CT on 10 Aug 1740. He was married there on 24 May 1759 to Elizabeth OTIS, daughter of James and Sarah (TUDOR) OTIS, born 1736 Colchester. They lived in the old house that his grandparents (Lieutenant John 3 and second wife Sarah BIGELOW) had erected on Bulkeley Hill. Jonathan was admitted as a freeeman 13 Apr 1761. In 1774 he was made Corporal in Capt. Eliphalet Bulkeley's 3rd Co, 12th Regt., Connecticut militia. He was drafted out of Capt. Bulkeley's 2nd Co, Regt militia in Apr 1777, and paid a fine of 5 pounds for not joining the army when drafted. He signed the oath of loyalty 16 Dec 1777, and admitted freeman 13 Apr 1778. Jonathan served as surveyor of highways in 1782, as lister (tax assessor) in 1786, and as tithingman in 1787 and 17888. He was innholder for many years, as we learn from the Connecticut Gazette, which mentions him as such in 1782. Again, the elisha Niles Diary, on 6 Jan 1807 notes that the writer, Niles, stayed the night at Jonathan Bigelow's inn. Jonathan was a member of the Wooster Lodge of Masons, and held office in 1818.
The 1820 tax list of 1st Society, Colchester assessed among Jonathan's possessions, half a dwelling, $200; 60 acres, $1020; 1 horse, 2 neat cattle, 1 clock, no polls ages 21-70. His will was drawn up 4 Apr 1822, and gave son James the barn, the great steelyards, the old loom, and farming tools; to daughters Dorothy BROWN, Betsey GREEN, Sarah T. WING, and Eunice BARDWELL "all my personal estate" including notes against Benjamin GREEN; and the
residue to son James. He died 13 Jan 1823, his wife Elizabeth on 31 Aug 1821. Distribution
was made 9 Jan 1824.
1790 census: CT - New London - Colchester - Jonathan Bigelow: 1-1-4-0-0.

Children of Jonathan and Elizabeth (OTIS) BIGELOW, all born Colchester, New London, CT:

16352.1 Delight, b 24 Dec 1759, d ___ ; m John FISKE of Deerfield, MA. No issue.

16352.2t Dorothy, b 3 Feb 1761; d 14 Feb 1854 Whately, MA; m May 1778 Lieut. John BROWN. 4 children.

16352.3t James 6,b 16 Mar 1764; d 23 Nov 1840 Colchester; m 13 Nov 1783 Anna DAY; res Whately, MA and Colchester, CT. 8 children.

16352.4 Elsey (Alice), b 27 Mar 1766; d 13 June 1776 Colchester.(see below)

16352.5t Betsey, b 14 Jun 1768; d _____ ; m 25 Dec 1787 Benjamin GREEN of East Haddam. 8 children.

16352.6t Sarah Tudor, b 2 Mar 1771; d age 82 yrs--where?; m 1 Jan 1792 Roger WING of Williamsburg, MA. 4 children.

16352.7t Eunice, b 3 Jun 1773; d 23 Apr 1841 Whately, MA; m Chester BARDWELL. 9 children.

16352.8 Jonathan, b 11 Aug 1775; drowned 22 May 1793 while dipping sheep in mill-pond near his father's house.(see below)

Sources:
Bigelow Family Genealogy Volume. I page.165-166;
Howe, Bigelow Family of America;
cemetery inscriptions Colchester;
probate records and miscellaneous data from Connecticut Historical Society;
Crafts, History of Whately, MA, 1661-1899, pub 1899.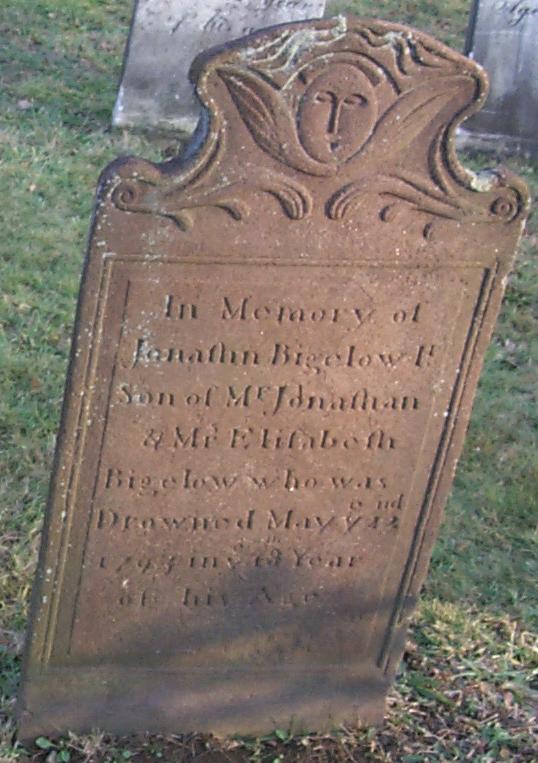 (jon6pic.jpg) Jonathan 6 Bigelow (#16352.8) grave by Frank Grimes 2002
http://www.findagrave.com/cgi-bin/fg.cgi?page=gsr&GSln=Bigelow&

---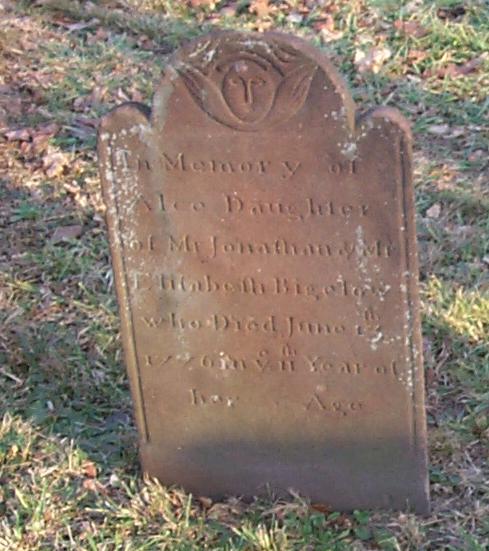 (elsey6.jpg) Alice 6 Bigelow (#16352.4) grave by Frank Grimes 2002
Birth 1765
Death: Jun. 13, 1776
Inscription:
Elsey "Alice" BIGELOW daughter of
Jonathan and Elizabeth Otis Bigelow
in 11th yr
---
Modified - 01/28/2003
(c) Copyright 2003 Bigelow Society, Inc. All rights reserved.
Rod Bigelow - Director
< rodbigelow@netzero.net >
---
Rod Bigelow (Roger Jon12 BIGELOW)
P.O. Box 13 Chazy Lake
Dannemora, N.Y. 12929

< rodbigelow@netzero.net >

BACK TO THE BIGELOW SOCIETY PAGE

BACK TO BIGELOW HOME PAGE