Guy 6 BIGELOW
---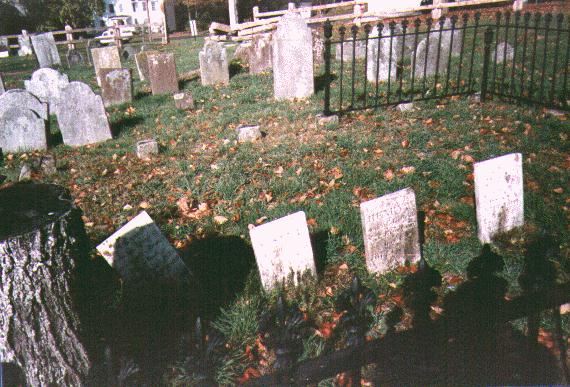 This photo shows the headstones of four young children of Guy and Sarah (WAITE) BIGELOW, in the Colchester Common Cemetery, surrounded by the iron grating. You can also see the footstones. (right) Infant son of Guy and Sarah Bigelow; b Apr 15, 1833; d same day;; To the left is son of Guy and Sarah ; Henry b 15 Jul 1836; d 22 Feb 1838;; to the left is dau. of Guy and Sarah; Susan Lydia; b 10 July 1831; d 7 Apr 1832;; the one next to the stump I read as dau. of Guy and Sarah Ann and only could make out partial dates which match Asa Remick (16359.21) b Jun 25, 1828; d Apr 29, 1829; I also recorded one other word on stone "Bountiful". Picture taken 10/20/95. ROD
---

16359.2 Guy 6 BIGELOW, son of Asa 5 ( Asa 4,Lieutenant John 3, Joshua2,John 1) and Lydia (NEWTON) BIGELOW, was born 21 Aug 1785 at Colchester, New London, CT. He married, on 8 Mar 1827 Sarah Ann WAITE, daughter of Remick WAITE and sister of Henry Matson WAITE (he was Chief Justice of CT at one time, and father of Morrison Remick WAITE, formerly Chief Justice of the U.S. Supreme Court)(see below). She was born 29 Oct 1796 at Lyme, CT. She was living in 1888. Guy BIGELOW was a prominent man in Colchester and a Colonel in the militia, served in the state legislature in 1854, held various town offices, and died 21 June 1868. (Guy and Sarah buried in Linwood cemetery, Colchester CT; "Bigelow, Guy, died Jan. 21, 1868, age 82 yrs; Bigelow, Sarah A., died Sept. 21, 1891, age 94 yrs.")

Children of Guy and Sarah A.(WAITE) BIGELOW, all born Colchester, New London co, CT:

16359.21 Asa Remick, b 27 Mar 1828; d 29 Apr 1829.

16359.22t Asa Remick, b 17 Jan 1830; d 31 Dec 1904; m 13 Sep 1855 Anne Putnam Brown. 4 children.

16359.23 Susan Lydia, b 10 July 1831; d 7 Apr 1832.

16359.24 a son, b 15 Apr 1833; died same day.

16359.25 Jonathan Edwards, b 8 Oct 1834; d 23 Sep 1908; unmarried.

16359.26 Henry Waite, b 15 July 1836; d 22 Feb 1838.

16359.27t Henry Waite, b 1 Feb 1838; d 12 Mar 1895 Toledo, Lucas co, OH.

Sources:
Bigelow Family Genealogy Volume. I page.336-337;
Howe, Bigelow Family of America;
Colchester vital records;
cemetery inscriptions, Colchester;
history of Lucas county, OH;
Descendant Note:
Subject: Waite Family
Date: Wed, 23 Dec 1998 23:19:50 -0800
From: "Robert E. Wilkins" < rwilkin1@ix.netcom.com >
CC: "Waite, greg" < greg1053@fyiowa.infi.net >
Mr. Bigelow;
My name is Bob Wilkins, and I found your page containing reference to Morrison R. Waite, and Henry Matson Waite via the Family Tree Maker Virtual Index.
My mother is Priscilla Waite Wilkins, whose father was Ralph Blaine Waite, and grandfather was Henry Clay Waite. Henry
Clay's father was Alvin, and his father was William, or possibly Charles William. According to Priscilla, Morrison was a cousin
of her grandfather Henry Clay Waite. I have a picture of Morrison in robes as 7th Chief Justice.
I don't know how much you've found about the Waite side of your family, but I would be appreciative of information about
William/ Charles William per above. I'm sending a copy of this to Greg Waite, who is also researching Waites.

---
Modified - 05/22/2008
(c) Copyright 2002 Bigelow Society, Inc. All rights reserved.
Rod Bigelow - Director
< rodbigelow@netzero.net >
---
Rod Bigelow (Roger Jon12 BIGELOW)
Box 13 Chazy Lake
Dannemora, N.Y. 12929

< rodbigelow@netzero.net >