Jared 7 BIGELOW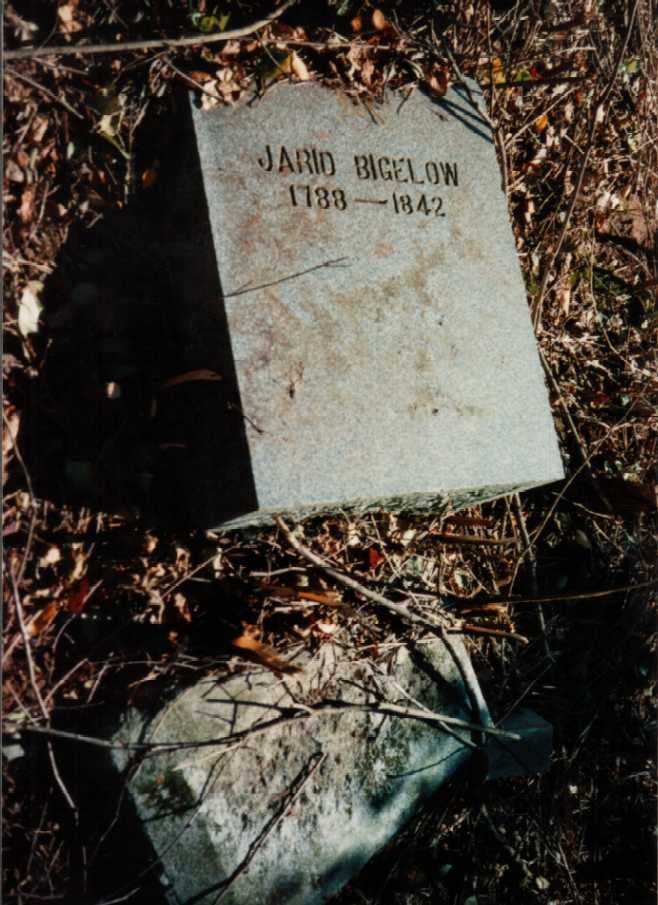 This is Jared's new stone, inscribed: "JARID BIGELOW ; 1788-1842".
(A newer headstone placed over the old one, which was broken in many places and buried under this one.)
# 16314.13 Jared7, son of Ezra6, (Ezra5,David4,Lt. John3, Joshua2,John1) BIGELOW and Rachel (WHEELER) BIGELOW, was born at Manchester, Bennington,VT on 07 March 1788. About 1803, the family moved to Clinton county,NY There in 1806, Ezra was named in his father's will. In 1810 at Peru,Clinton co, NY, Jared married Sarah BEAMAN, known as Salley, a Mr. Cochrane, Justice of the Peace, officiating. She was born 1786 and was living in 1870. Sally died; Feb 1, 1876; AE 89; see headstone picture and info (below)
Jared served as an army teamster in the War of 1812 and his widow tried to claim pension, but was rejected because teamsters were not considered part of the armed forces. Jared died 18 April 1842 at Schuyler Falls, Clinton,NY. Big. Soc. had no dates for Sally.
* Headstone for Jared found in Turner-Roberts Cemetery. This stone is laying down, face up, and looks like a recent copy of an older one. This new one has inscription:"Jarid Bigelow; 1788-1842." There is a second stone to the east, very close, laying face up:"J.IRAD Bigelow;died Apr 18, 1812; in 51 year" The date is most likely 1842 which would agree with Big. Soc. information. This second stone was found by the Historical Society, buried under the first stone and moved to it's present location.second headstone picture below.
The following is an estimate by the Bigelow Society and my additions "*" through research of the family of Jared and Sarah (BEAMAN) BIGELOW:
16314.131 a daughter, born cir 1812 (age 15-20 on 1830 census).
16314.131* Tamson 8, b cir 1813?, Schuyler Falls, Clinton co,NY; died 12 Sept 1874 Plattsburgh,Clinton co, NY; m cir 1830 to Isaac T. AYER, who died 23 Mar 1889; they are buried next to "Sally Beman wife of Jerrey Bigelow" in the West Plattsburgh Union Cemetery, Morrisonville, NY; see headstone picture below. There is no mention of Tamson in Bigelow Society records as of this date.
16314.132 Amy 8 , born circa 1814 (age 10-15 on 1830 census);married (1)*Hiram FRENCH and possibly (2) Stephen CALKINS; was living in 1870; *Amy born circa 1812, died 22 Aug 1896 Plattsburgh,Clinton,NY; *(headstone information found in West Plattsburgh Union Cemetery,Morrisonville,NY, buried next to Stephen CALKINS, who died in Civil War?)see link *Headstone of child "Jared;son of;Hiram & Amy FRENCH;died June 27,1843;age 4 yrs; 6 mo". see link
16314. 133 Hiram 8 , born 10 July 1817; died 27 June 1879 Chateaugay, Clinton,NY; married Mary Ann _______; residence Brainardsville,Clinton,NY. *10 children.
16314.13? *Ezra, 1880 Census Chateaugay lists Uncle Ezra 64 yrs old staying with Harmon (son of Hiram(8));Ezra b. ca 1816 would fit, have to be born Schuyler Falls?; Ezra b. 1818,,NY. was listed in the 1850 Census as a farmer in town of Burke,Franklin Co.,NY.(Bigelow Family Genealogy Vol II, page 535)with children: Laura b.1840,Eli b.1842, Polly b.1844, and William b.1847; There was Ezra with Hiram in Chat.in 1840 Census and in Burke 1850 Census and then later age 64 with Harmon 1880. which would be birth ca 1816. Could use some help on this!!
16314.13? *Fanny 8(Fannie) BIGELOW, born 3 Feb 1819; died 13 Feb 1915 Plattsburgh,Clinton,NY;(Stone is inscribed wrongly as 1945);married Stephen RICE on 29 Nov 1845 in Peru,Clinton co, NY; he was born 04 Sept 1821 Manchester, Bennington co,VT;and died 28 Oct 1904 Plattsburgh,Clinton co,NY; they are buried in the West Plattsburgh Union Cemetery, Morrisonville, NY; Stephen RICE..#16314.126 was son of Isaac RICE and Mercy BIGELOW, and brother to Laura M. RICE BIGELOW ( my great, great grandmother, wife of John8) Not sure if Fanny is daughter of Sally Beaman BIGELOW, their headstones are just a short ways apart. see headstone picture below.
16314.134 a daughter, (age 5-10 in 1830)..
16314.135 John 8, born cir 1824 (age 5-10 in 1830);married 29 Jan 1846 in Pownal, Bennington,VT to Laura Mercy RICE, daughter of Mercy (BIGELOW) and Isaac RICE; Laura was first cousin, her mother Mercy was sister of Jared; Laura was born 18 May 1814 in Bennington, Manchester,VT; John died Cir 1902?; Laura died 14 Jan 1894 Plattsburgh,Clinton,NY; she is buried in West Plattsburgh Union Cemetery,Morrisonville,NY with her son Hiram; Marriage place found in LDS file Cornwall(microfische)4/26/95 RJB.
16314.136 a son,(age 5-10 in 1830).
16314.137 Alzina, born cir 1825 (under age 5 in 1830census); d 12 Dec 1913 Plattsburgh; m (1) _______ DAVIS; she was a widow, as was her sister Amy in 1850, both living with their mother Sarah; probably born in Schuyler Falls; m (2) 15 Sep 1864 Peter Roberts of Plattsburgh; (see below)

16314.138 Eliza B., b ca 1829; d 03 Aug 1868; wife of Rufus B. Haggett; d Aug 3, 1868; AE 39; possible? child of Jared; buried near Fannie and Stephen Rice above;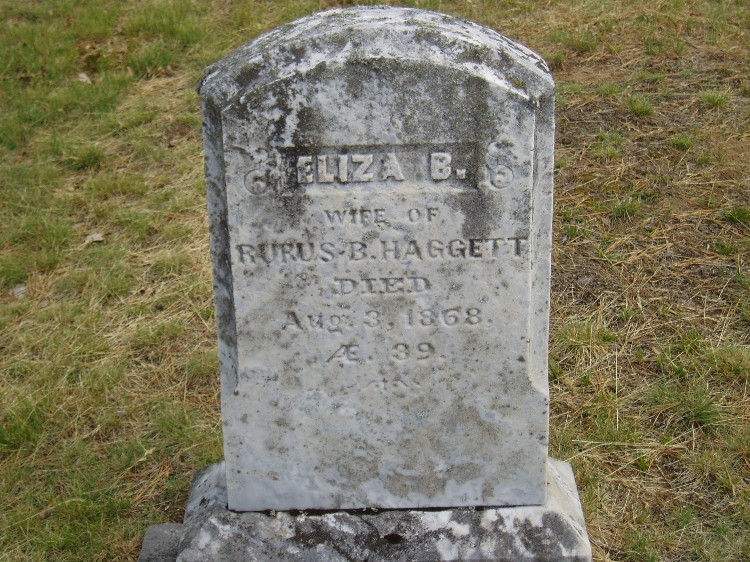 Eliza B.; wife of Rufus B. Haggett; d Aug 3, 1868; AE 39
Sources:
Bigelow Society,The Bigelow Family Genealogy Vol I,pg 325.
Bigelow Society,The Bigelow Family Genealogy Vol II,pg 233.
1830 census records;
pension application Jared Bigelow's widow Sally;
Note:
Subject: Jared's Daughter Alzina
Date: Mon, 2 Sep 2002 21:34:23 -0400
From: John Weingarden < johnvw@a-znet.com >
Mr. Bigelow,
Had some earlier correspondence about Roberts Connections in Schuyler falls and the markers @ the Turner-Roberts House. This time a query regarding Alzina Bigelow, I know that your site lists her as having married a Mr. Davis and I came across something of interest on the1910 census in the town of Schuyler Falls. A Mr. Harvey Davis age 64 is listed with his wife Mary, age 59 Residing in the same household is his mother age 85 a widow, her name listed as Alzina Roberts. This Harvey Davis checks out with the fact that she married a Davis but I am trying to track down what Roberts she may have married....in checking I have a listing for Nathan D. Roberts in Chateaugay NY who married an Alzina with no surname listed but not sure if the ages fit.
Nathan is the son of Alanson Roberts of Chateaugay and i'm just wondering if Alzina may have had connections there....P. J. Roberts in Schuyler falls would have been a cousin to Nathan.
John Weingarden
More: 6 and 13 Sep 2002
I have found some information pertaining to Jared Bigelows daughter Alzina and the identity of her
second husband and I thought it would be of interest to you, also some additional data on Amy's second
husband Stephen Caulkins. First this started with the 1910 census data from Schuyler Falls where I found
Harvey Davis and his wife with an Alzina Roberts listed as Mother. I went back and did a search through
all the Census data for Schuyler Falls from 1850 through 1910. The results led to the following
information. Amy & Alzina living with their mother Sally through 1860 in Schuyler Falls, both married
between 1860 & 1870. Amy appeared on the 1870 and 1880 Schuyler Falls census with her second
husband Stephen Caulkins, He obviously was not killed in the Civil War but may have been a casualty
(wounded). After 1860 thru 1910 Alzina is not in Schuyler Falls. Checking through some notes from old
searches and material found the following.........Married Peter Roberts of Plattsburgh and Alcina Davis of
Schuyler Falls on 15 Sep 1864 this is a listing from the Plattsburgh Newspaper either from Microfilm or
from 10,000 vital records of Eastern NY. A check of the 1870 Plattsburgh census Pg 32 show Peter Roberts
listed as farmer with Wife (I had written Almyra, writing was tough to decipher) Alzina and her Davis
children, all of the names and ages fit Peter had been on the 1860 census in Plattsburgh with Ethan
Roberts both listed as Blacksmiths. I have not yet finished checking the 1880 Plattsburgh census material
but obviouly IF Peter is listed he will have died between 1880 and 1900
I have taken the liberty of attaching some scans of the census (Did not do all) that I
felt could be of help to you. Have also referred this to some Roberts descendants. Randy
and Bob this I believe ties in to the Davis connections you referred to previously and for your info Jared
& Hiram Bigelow have markers in the Turner-Roberts cemetery in Schuyler Falls. I found it interesting that
the Bigelow site referred to Amy's wedding to her first husband Hiram French was performed by none
other than P.J. Roberts. Please feel free
to comment as still trying to follow through on material. I neglected to mention that I had also looked at
the Peru census for 1840 (Prior to Schuyler Falls becoming a TWP in 1842)
searching for listings for Davis families two came to the fore, one Gardner Davis the other a George
Davis. Gardner dies before the 1850 census and George is there on aat least two more looking at the
individuals and ages and this is only a guess my money would be on Alzina married to a son of Gardner,
she may have even been in the 1840 household.
More from John:
Earlier in the week went to the library to check out the NYState Vital Records index to check fro a death record for Peter
Roberts, unfortunately found no record; however found the following listing for Alzina Roberts, Plattsburgh, died 12 Dec 1913 #
56447.
John

---
Headstones: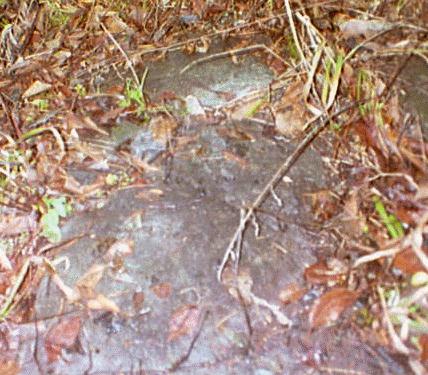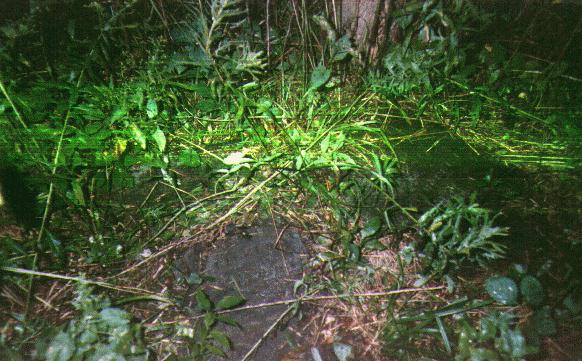 These are 2 pictures of Jared's Headstone found under the new stone in Turner-Roberts Cemetery in Schuyler Falls, Clinton, NY. It was moved to it's present location by the Historical Society and is resting just east of new stone, face up. It is badly broken, but is inscribed: "Jarid Bigelow; died April 18, 1842; in the 54 year of his; Age." Polly (Bigelow) Roberts' stone is to the right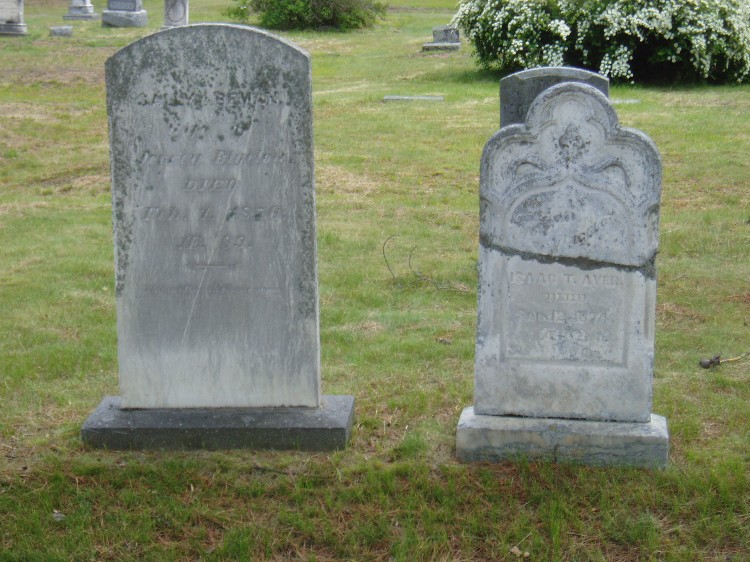 The stone to the left says "Sally Beman (see below); wife of; Jerrey Bigelow; died; Feb 1, 1876; AE 89; Thy mother shall rise again." To the right is: "Tamson Bigelow; (broken)wife of?; Isaac T. Ayer; died; Sept 12, 1874; AE 62" To the right of Tamson is: "Isaac T. Ayer; died; Mar 23, 1889; AE 81"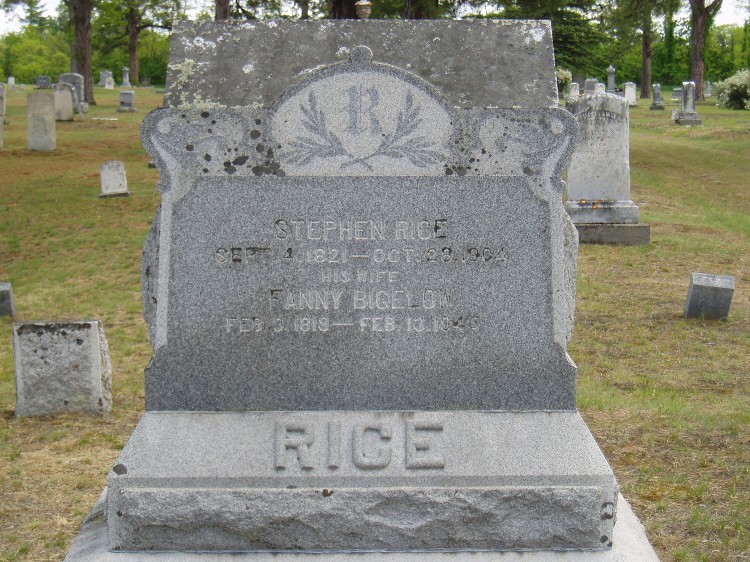 There is a stylized "R" at the top and the inscription is:" Stephen Rice; Sept 4, 1821 - Oct 28, 1904; his wife; Fanny Bigelow; Feb 3, 1819 - Feb 13, 1925." There are more pictures on the fanny.htm page.
---

Sally Note:
Subject: Sally Beaman
Date: Sat, 21 Sep 2002 16:07:53 -0700
From: "Jean Marston" <jmmarston@hotmail.com>
Thanks for your site. I appreciate it very much.
I am a Beman researcher and I believe Sally was the daughter of Nathan Beman and Jemima Roberts. Nathan was a
pioneer settler of Chateaugay, NY and served in the Rev. War.
I have some Bemans listed---I am still adding information.
http://worldconnect.rootsweb.com/cgi-bin/igm.cgi?op=GET&db=jm3490&id=I32
Thank you again.
Jean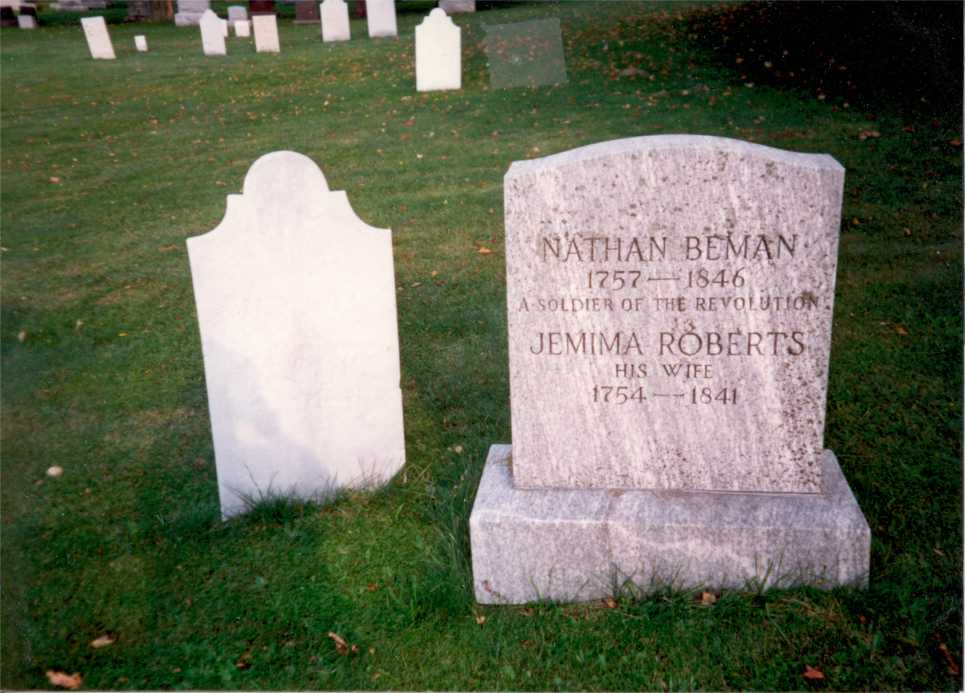 (bemans.jpg)

More:
Thank you again for the photos and the information. It is helpful! I had
Sally---and Bigelow and that's it.
Here is a photo of the headstone for Sally's parents. I believe they were
in unmarked graves until sometime in the last century. Photo credits go to
Hal Beman.
Nathan Beman and Jemima Roberts are buried in the Riverside Cemetery in
Plattsburg, NY. There are other Bemans buried there also.
Samuel Beman---Nathan's father is buried nearby. There has been and
continues to be confusion over one headstone---Sibbil Thompson---often
thought to be wife of Samuel Beman (b 1732/3) and Nathan's father. Instead
she was wife to Samuel Beman---son of Nathan. There are so many Samuel
Bemans in this family. They get mixed up. Unfortunately the DAR still uses
the incorrect information.
I am not a descendant of Nathan Beman--he would be my distant uncle. My
line goes from his brother Samuel (yes another Samuel). Nathan has many
descendants---all qualify to be in DAR if that is an interest. He filed
pension papers.
Thank you again for the information. Jean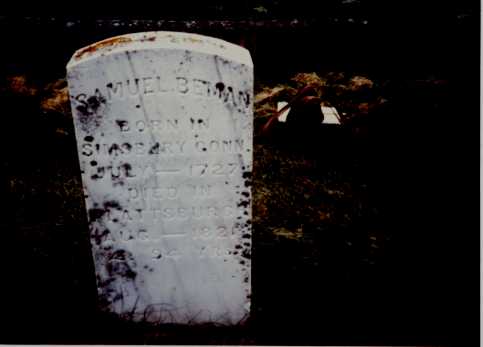 Here is Samuel Beman's gravestone from Riverside Cemetery, Plattsburgh, NY. He is Nathan Beman's father. Vital records say he was born in
Simsbury, CT in 2 Feb 1732/33 and died 20 July 1821 and was 89 years.
The back of the grave stone says: Sam'l Beman/ Warner's/Vt. Mil./Rev. War
Photo by Hal Beman.
Jean

---
Modified - 06/02/2004
(c) Copyright 2004 Bigelow Society, Inc. All rights reserved.
Rod Bigelow - Director
< rodbigelow@netzero.net >
---
Rod Bigelow (Roger Jon12 BIGELOW)
P.O. Box 13
Chazy Lake
Dannemora, N.Y. 12929

< rodbigelow@netzero.net >