Amy 8 BIGELOW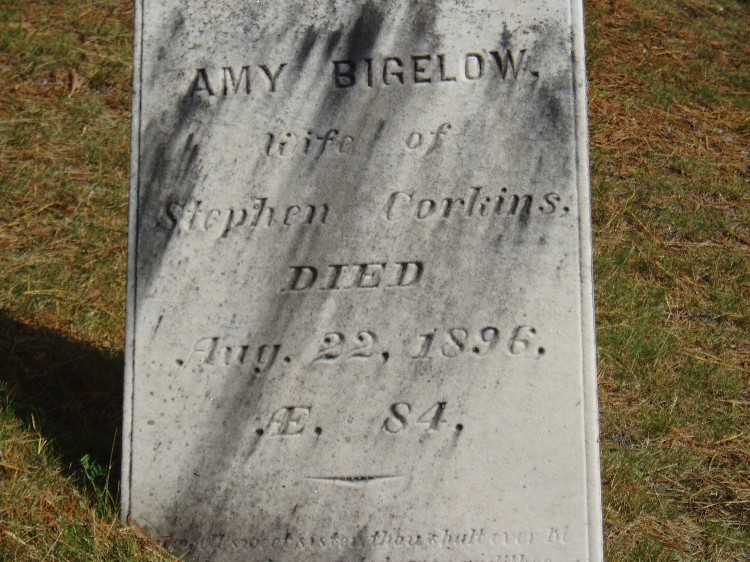 The large stone above says "Amy Bigelow; wife of; Stephen Corkins;
died; Aug. 22, 1896; AE 84; Farewell sweet sister; thou shalt ever be;
(a) star to guide me up; to heaven and thee."
A smaller stone to the right says "Corp'l; Stephen Calkins; Co G.; 15th Brig INF."
---

# 16314.135 Amy T. 8 BIGELOW, daughter of Jared7 ( Ezra6,Ezra5, David4,Lt. John3, Joshua2,John1) BIGELOW and Sarah (BEAMAN) BIGELOW, was born circa 1812 (age 10-15 on 1830 census). She married (1) 29 December 1837 Hiram A. French (see below); and had at least one child who died young (son Jared French (see below) . Husband Hiram must have died around 1840-50, as Amy married (2) 23 February 1868 Stephen Calkins (see below) in the Baptist Church, Morrisonville, Clinton co, NY. Stephen was born about 1813, the son of Benjamin Calkins and Rhoda Signor.
On 30 August 1861 Stephen had enlisted as a 1st Corporal in Company C of the 15th Regiment of Ohio Foot Volunteers at South Woodbury, Morrow Co., OH. He was described as being 5 ft 8 inches tall, gray hair and blue eyes. In April 1862, he became ill near Nashville, TN from drinking bad water in the vicinity. He never quite recovered and was discharged from the service on 05 May 1862. In his Declaration for a Pension of an Invalid taken on 03 April 1878, Stephen indicated he had lived in Peru, OH for 2 years after he was discharged. He then moved to Schuyler Falls, Clinton co, NY, where he married Amy.
Stephen had married previously Anna Osborn, dau of John and Hannah (Thew) Osborne. She was born 10/16 October 1814, probably in Peru, Clinton co, NY. Stephen Calkins (37) and wife Anna (35) appear on the 1850 census in the Peru Township, Morrow co, OH. With them were Benjamin (14), twin girls Celia and Celinda (9), Harvey (6) and Cornelius (2). They were all born in NY. Anna died 13 September 1856 and was buried in the Alum Creek Friend Cemetery, Peru Township, OH with her mother Hannah. The 1860 census reports Stephen (47) with Benjamin (24), twins Celia and Celinda (18), Harvey (16), Cornelius (13) and twin boys Dorus and David (5) in Peru, OH. Anna may have died when the last set of twins were born or shortly thereafter.
Stephen died 29 September 1894 and Amy died 22 August 1896. Both were buried in the West Plattsburgh Union Cemetery in Morrisonville, Clinton Co.,NY.
*(Headstone information found in West Plattsburgh Union Cemetery, Morrisonville, NY, buried next to Stephen CALKINS, in Civil War) ** Headstone picture above


Plattsburgh Republican, Jan. 13, 1838: Marriages
"In this town, on the 29th inst. by P.J. Roberts, Esq.
Mr. Hiram A. French of Williston, VT. to Miss Amy T. Bigelow, of this town."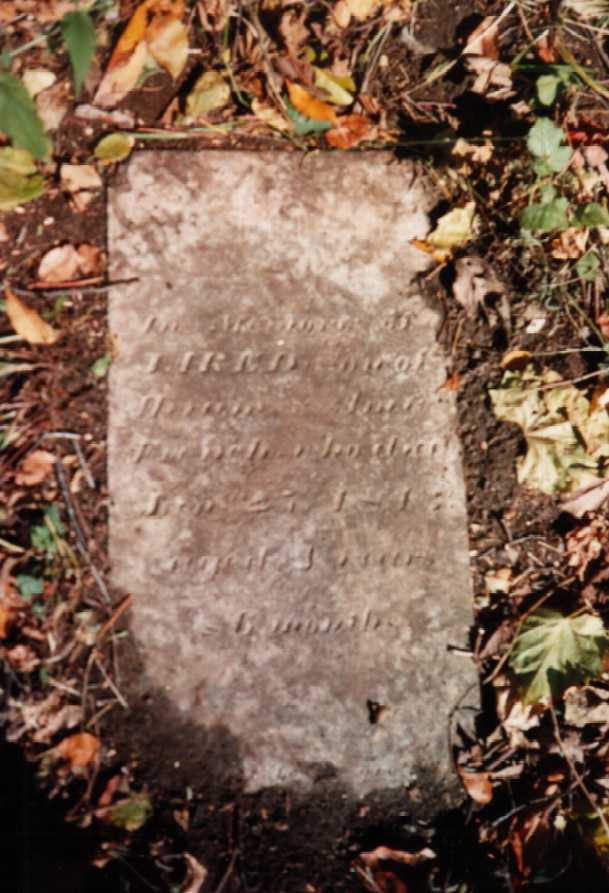 *Headstone of child found in Turner-Roberts cemetery near Schuyler Falls, NY.
Child is buried next to Hiram7and Hannah BOSTWICK BIGELOW. Inscription:

In memory of

Jared son of

Hiram & Amy

French, who died

Jan 27, 1843

aged 4 years


6 months

Also a J.F. footstone. I found this cemetery on 8/26/1996. It is very overgrown and in need of repair. The Plattsburgh area Historical Society has done some work, but more is needed.)

Sources: Bigelow Society,The Bigelow Family Genealogy Vol I, pg. 325.
Latter Day Saints microfiche records
1830 census records;
Headstone inscriptions and census: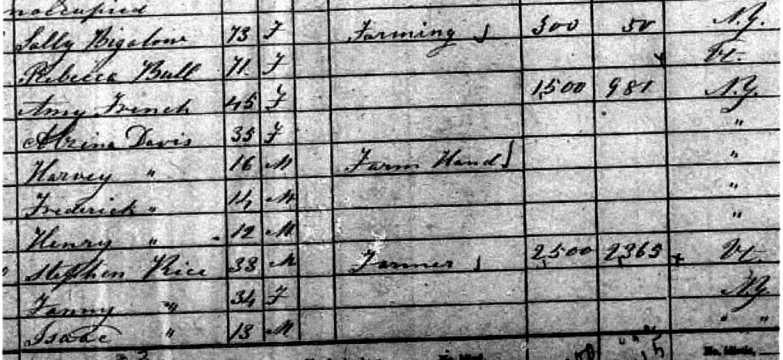 (alzina4.jpg) 1860-S. Falls's Bigelows

Amy French 45 in 1860, living with mother Sally Bigelow
From: John Weingarden < johnvw@a-znet.com >
also some additional data on Amy's second
husband Stephen Caulkins. First this started with the 1910 census data from Schuyler Falls where I found
Harvey Davis and his wife with an Alzina Roberts listed as Mother. I went back and did a search through
all the Census data for Schuyler Falls from 1850 through 1910. The results led to the following
information. Amy & Alzina living with their mother Sally through 1860 in Schuyler Falls, both married
between 1860 & 1870. Amy appeared on the 1870 and 1880 Schuyler Falls census with her second
husband Stephen Caulkins, He obviously was not killed in the Civil War but may have been a casualty
(wounded).I have taken the liberty of attaching some scans of the census (Did not do all) that I felt could be of help to you.
---
Our Thew Family Heritage; by Diana G. Bastian and Linda G. Carver; Family Hist Pub 2005; pg 104-105:
Stephen Calkins, b ca 1813; d 29 Sept 1894; m (1) Anna Osborn (1814-1856?) 10 children; m (2) 23 Feb 1868 Amy Bigelow (1812-1896)

94. Anna (5) Osborn (Hannah 4, Garret 3, John 2, John 1 Thew) was b. 10/16 Oct 1814,(431; 432 probably in Peru, Clinton Co., NY. Anna was the daughter of Hannah Thew and John Osborn.(434) She m. Stephen Calkins b. ca.1813. He was the son of Benjamin Calkins and Rhoda Signor.(437: 438) Stephen Calkins (37) and wife Anna (35) appear on the 1850 census in the Peru Township, Morrow Co., OH. With them were Benjamin (14), twin girls Celia and Celinda (9), Harvey (6) and Cornelius (2). They were all born in NY.(439) Anna d. 13 Sep 1856 and was buried in the Alum Creek Friend Cemetery, Peru Township, OH with her mother Hannah.(440) The 1860 census reports Stephen (47) with Benjamin (24), twins Celia and Celinda (18), Harvey (16), Cornelius (13) and twin boys Dorus and David (5) in Peru, OH.(441) Anna may have died when the last set of twins were born or shortly thereafter.
On 30 Aug 1861 Stephen enlisted as a 1st Corporal in Company C of the 15th Regiment of Ohio Foot Volunteers at South Woodbury, Morrow Co., OH. He was described as being 5 ft 8 inches tall, gray hair and blue eyes. In Apr 1862, he became ill near Nashville, TN from drinking bad water in the vicinity. He never quite recovered and was discharged from the service on 05 May 1862. In his Declaration for a Pension of an Invalid taken on 03 Apr 1878, Stephen indicated he had lived in Peru, OH for 2 years after he was discharged. He then moved to Schuyler Falls, Clinton Co., NY. On 23 Feb 1868, Stephen m. 2nd wife Amy Bigelow at the Baptist Church in Morrisonville, Clinton Co., NY.(442) The 1870 census lists Stephen Calkins (56), Amy (56), son Dorus (15) and Sally (85) Bigelow living in Schuyler Falls, NY.(443) Stephen (67) and Amy (66) were still residing in Schuyler Falls in 1880.(444) Stephen d. 29 Sep 1894 and Amy d. 22 Aug 1896. Both were buried in the West Plattsburgh Union Cemetery in Morrisonville, Clinton Co.,NY.(446)

Children of Anna (5) Osborn and Stephen Calkins:

343. Benjamin S.6 Calkins b.ca. 1836+
344 George W. Calkins b. 13 Aug 1838, d. 13 Feb 1843. .
345. Celia A. Calkins b. ca. 1841.
346. Celinda Calkins b. ca. 1841. .
347. Harvey G. Calkins b. ca. 1844+
348. Cornelius Calkins b. ca. 1848+
349. Dorus Calkins b. Sep 1855+
350. David Calkins b. Sep 1855+


---
Modified - 12/12/2008
(c) Copyright 2008 Bigelow Society, Inc. All rights reserved.
Rod Bigelow - Director
< rodbigelow@netzero.net >
---
Rod Bigelow (Roger Jon12 BIGELOW)
Box 13 Chazy Lake
Dannemora, N.Y. 12929

< rodbigelow@netzero.net >