Roger Lynn 11 BIGELOW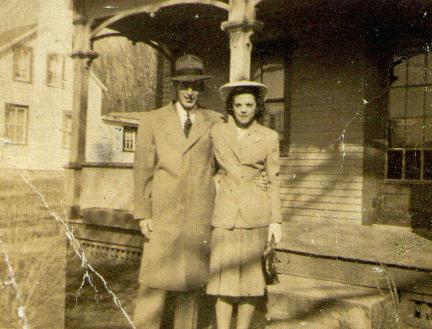 This is Roger and Ruth in front of Ruth's home in Keeseville. Wedding day 27 April 1942.

---
16314.13521.4 Roger Lynn 11 BIGELOW, son of John Helmer 10 ( John 9, John 8, Jared 7, Ezra 6, Ezra 5, David 4, Lt. John 3, Joshua 2, John 1) BIGELOW and Pearl Eleanor HOFF (HAFF), was born 02 July 1917 Dannemora, Clinton co, NY. Married 27 April 1942 Dannemora, Clinton,NY to Ruth Loretta MCGEE, born 21 Feb 1922 Keeseville, Clinton,NY (actually born after midnight on 22 Feb 1922, "all 2's"); parents: Ernest MCGEE and Marie Beatrice (GAGY) LESPERANCE ; My father was only 13 yrs old when his father died and had to quit school to help support the family. I heard that part many times. My parents and 3 sisters all live in CT (1998).
Roger died on 26 November 2003 Plainville, CT. See Obituary below.

Children of Roger Lynn and Ruth (McGee) BIGELOW, all born Plattsburgh, Clinton co, NY:

16314.13521.41 Roger Jon (Roddy, Rod), b 5 Mar 1943; m 09 Aug 1969 Christine Ann Brennan; 2 sons: Jeffrey and Matthew.

16314.13521.42 Sherry Lynn (Sheri), b 06 June 1946; m (1) 03 June 1965(divorced) F. Kelly Anderson; 3 daughters; m (2) 23 Oct 1972 David William Thompson; 1 son.

16314.13521.43 Candace Marie (Kandi), b

16314.13521.44 Kelly Jean (Kelli), b 16 Oct 1966; m 14 Feb 1998 Kevin Klemonski

Sources:
Family records
Latter Day Saints microfiche records
Census records;
Cemetery inscriptions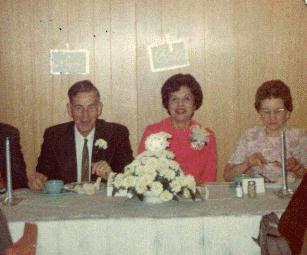 This is a picture taken in 1967 Dannemora at Roger and Ruth's 25th Anniversary.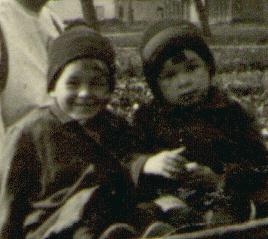 Roger and Russell: ca 1922

---
Obit


Mr. Roger Lynn Bigelow
July 02, 1917 - November 26, 2003
Bigelow, Roger, 86, of 147 Marconi Ave., Bristol, husband of Ruth L. (McGee) Bigelow died Wednesday, November 26, 2003 at Plainville Healthcare Center, Plainville. Born in Dannemora, NY on July 2, 1917 a son of the late John and Pearl (Hoff) Bigelow he lived in Bristol for several years. He was a corrections officer for the State of NY for 36 years retiring in 1976. He was a US Army Veteran of WWII and a 31 year member of the BPOE #1010 and a 57 year member of the American Legion. Besides his wife he leaves one son Roger Jon Bigelow of Chazy Lake, NY, three daughters Sheri Thompson of Bristol, Kandi Banko of Wallingford, CT and Kelli Klemonski also of Bristol; a sister Ruth Banks of Fountain Valley, CA, 11 grandchildren, 13 great grandchildren and several nieces and nephews. The funeral will be held Saturday 2 pm at DuPont Funeral Home, 25 Bellevue Ave., Bristol, with Rev. Dr. Mark Hansen, Pastor of St. John's Episcopal Church officiating. Visitation will be Saturday 1 hour before the service at the funeral home. Burial will be at the convenience of the family in NY.


---
Modified - 11/30/2003
(c) Copyright 2002 Bigelow Society, Inc. All rights reserved.
Rod Bigelow - Director
< rodbigelow@netzero.net >
---
Rod Bigelow (Roger Jon12 BIGELOW)
P.O. Box 13 Chazy Lake
Dannemora, N.Y. 12929

< rodbigelow@netzero.net >