Russell Everett 11 BIGELOW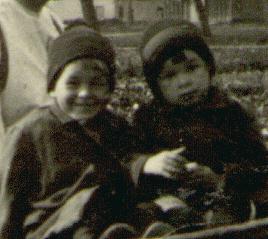 Roger and Russell: ca 1922


16314.13521.5 Russell Everett 11 BIGELOW, son of John Helmer 10 ( John 9, John 8, Jared 7,Ezra 6, Ezra 5,David 4, Lt. John 3,Joshua 2, John 1) BIGELOW and Pearl Eleanor HOFF (HAFF), was born 5 Feb 1919 Dannemora, Clinton co, NY. Married 9 May1946 in Trout River, Franklin co, NY to Helen Donahue, born 23 Oct 1920 and she died in 1982, and buried in Dannemora cemetery. Russell died on Sunday 10 May 1998 at CVPH Hospital in Plattsburgh, Clinton co, NY (also buried in Dannemora).
Children of Russell and Helen (DONAHUE) BIGELOW, all born Plattsburgh, Clinton co, NY:
16314.13521.51 Brenda, b 26 Feb 1947; m Robert Broomfield (now divorced)
16314.13521.52 Rusty (Russell Everett jr.), b 17 Jan 1951; m Susan Wrisley;
16314.13521.53 Darlene, b
16314.13521.54 Debra, b 5 April 1962; m Mark Bordeau; they now live in old homestead in Dannemora.
Sources:
Family records obit below
Latter Day Saints microfiche records
Census records;
Cemetery inscriptions.

---
Rod Bigelow (Roger Jon 12 BIGELOW)
8 Prospect Circle
Massena, N.Y. 13662

bigelow@slic.com Rod Bigelow at SLIC
BACK TO THE BIGELOW SOCIETY PAGE

BACK TO BIGELOW HOME PAGE