James 5 BIGELOW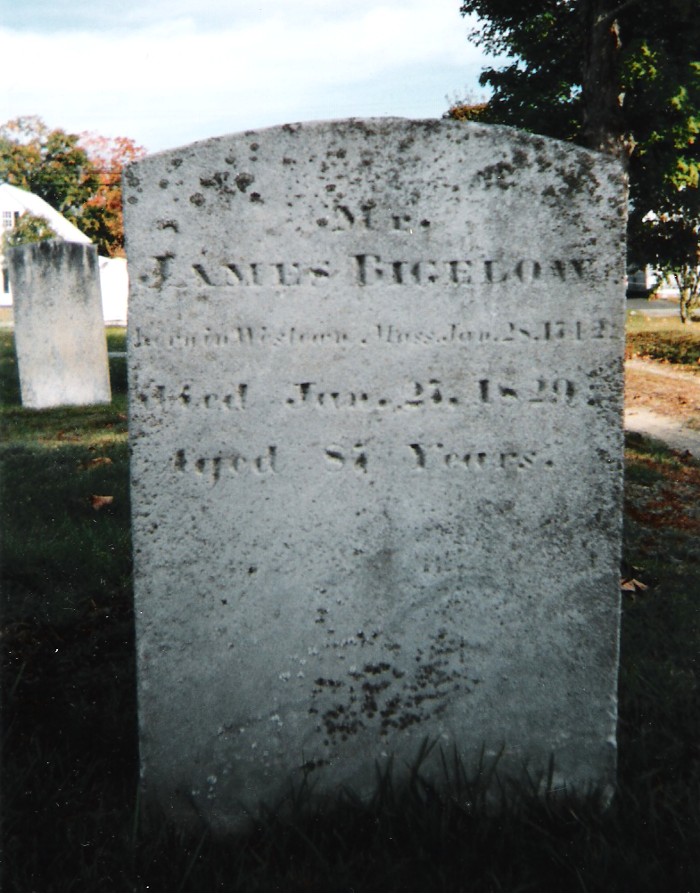 (james551.jpg) Southside cemetery, Skowhegan, ME
---

16251. James 5 son of James 4 (Jonathan 3, Joshua 2, John1) and Sarah ( __ ) BIGELOW. From family records we are informed that he was born "1 Jan 1743 Westtown," which is assumed to be Weston, while another grandson claimed he was born 26 January 1742 (28 Jan 1742 on headstone above). Family tradition says that this James was son of a roving man, and that little was known of him, or what became of him. Therefore, we assume this father to be James- 1625, the only Bigelow of the period whose dates, place of residence, and lack of definite information fit the case.
James Bigelow was taken by a family of another surname when very young. At the age of 16, he enlisted in the army in the French and Indian War, serving to its close. He again entered the service on 19 April 1775, in Col. Doolittle's Regt, and served at length during the entire Revolutionary War. He never collected either bounty or pension. On 31 November 1762 at Brookline, MA he married Mary Sawyer, her parents not given, born Kittery, ME 29 October 1740. They settled at Templeton, Worcester county, MA, where all their children were born. In 1786 they emigrated to the Kennebec Valley in Maine, then an unbroken wilderness, and settled the new town of Bloomfield, now Part of Skowhegan. Mary died there 29 May 1817; James on 27 January 1829 aged 87 yrs. Bigelow Mountain in Maine appears to get its name from James. Not true. (see note below)
1790 census: ME-Lincoln-Skowhegan-James Bigelow: 2-2-2-0-0.
Mass Sold & Sail or Rev War, Vol II:
Bigalow, James, Templeton. Corporal, Capt. William Warner's co., Col. Josiah Whitney's regt.; pay abstract for travel allowance, etc., dated Camp at Hull, June 18, 1776; also, pay rolls for service from May 15, 1776, to Nov.30, 1776; roll for Nov., 1776, dated Boston.
Bigalo, James, Templeton. Private, Capt. Fletcher's co., Col. Doolittle's regt; company return dated Winter Hill, Oct. 6, 1775.
Biglow, James, Templeton. Private, Capt. Joel Fletcher's co., Col. Ephraim Doolittle's regt., which marched on the alarm of April 19, 1775; service, 9 days; also, Sergeant, Capt. Manasseh Sawyer's co., Col. Dike's regt.; pay abstract for travel allowance, dated Dorchester, Feb.12, 1777; also, return of men in service from Dec.14, 1776, to March 1, 1777;
also, Capt. Willlam Henry's co., Col. Whitney's regt.; enlisted May 5,1777; discharged July 5,1777; service, 2 mos. 9 days, at Rhode Island.
Bigelow, James, Templeton. Capt. Joel Fletcher's co., Col. Ephraim Doolittle's regt.; receipt for advance pay dated Camp near Charlestown Road, June 8, 1775; also, Private; muster roll dated Aug. 1, 1775; enlisted April 28, 1775; service, 3 mos. 11 days; also, order for bounty coat or its equivalent in money, dated Winter Hill, Dec.25, 1775.

Children of James and Mary (Sawyer) Bigelow, all born Templeton county, MA:

16251.1t Betsy, b 1 May 1764; d 1 Aug 1846 Skowhegan ME; m ____ Solomon Stewart; res Skowhegan. 10 children.

16251.2t James, b 1 Jan 1766; death not given; m Betsey Davis; res Skowhegan, ME. 9 children.

16251.3t George, a twin, born 17 Jan 1768; d 22 May 1855 Bloomfield; m Mary Clark; res Bloomfield. 11 children.

16251.4 Mary, a twin, b 17 Jan 1768.; died young.

16251.5t Samuel, b 3 Nov 1769; d___ 1825 New Brunswick; m ___Rebecca Stewart (d 1841 Bloomfield); res Canaan, ME. 3 children.

16251.6t Ephraim, b 23 Mar 1772; d 10 Jan 1838 Columbia, Lorain co, OH; m (1) ca 1796 Esther Cobum, from whom divorced 1811; (2) l2 Jan 1812 Nancy Frink; res OH after 1811. Total 12 children.

16251.7 Molly, b 30 Dec 1774; d 26 Aug 1777 Templeton, MA.

16251.8t Abraham, b 20 Aug 1777; d 2 Feb 1848 St. John, New Brunswick; m ____Susan Emery; res Norridgewock, Canaan, and Bloomfield. 7 children.

16251.9t Polly, b l6 Aug 1779; d 19 July l834 Skowhegan,ME; m 4 Jan l810 James Pratt. 7 children.

16251.At Levi, b 22 Jan 1782; d 2 July 1868 Bloomfield, ME; m 8 Oct 1812 Sally Emery. 7 children.

Sources:
Bigelow Society,The Bigelow Family Genealogy Vol I, pg. 158-159;
Howe, Bigelow Family in America; pg 134-135;
Photographs from Aimee Bigelow < sea_aggie96@yahoo.com >
Abbe genealogy; vital records various towns, MA.
Notes:
From: "Dick Bigelow" < bigelow@pivot.net >
Rod, I was going through some old papers that had accumulated in my truck and found a slip of paper from a day when my wife and I had gone to my fathers grave in Skowhegan. We came across a few gravestones with "Bigelow" on them and wrote them down, knowing that my family had come from that area. We figured someday we would be able to work them into my genealogy. Some of them were in the line you sent me. Some I have no idea. I am sending them to you and maybe they will make some sense to you.

James (5)Bigelow d 1829 (this matches James 5 )
Robert Bigelow 1900-1966
Forest Bigelow 1808-1904
Rosco G. Bigelow 1867-1937 (w) Carrie E. 1869-1959 (this matches 16251.2771, son of Wilson 8 )
Levi (?15251.A)'s wife Sally d 1886 (yes this matches this Levi 6 )
Charles d 1853
Amasa Bigelow (this could be Amasa 7 , son of James 6 )
Benjamin Bigelow (this could be Benjamin Flagg 8 (1839-1919)
Vincent Bigelow (this could be son of Benjamin; (1872-1872) 16251.A11)
Charles Bigelow
Ephrim and Sally Bigelow (this could be Ephraim (7) )
Hannah 6-13-1794 to 9-4-1855 (this is Hannah 7 , dau of George 6 )

We plan on going back to Skowhegan and checking out some of these and looking for others. We really didn't have much time that day so we didn't get to look over the whole cemetary or write down some of the dates. I will let you know when we find any more. Dick
Note2:
Frank Vining BIGELOW-16251.27743; Frank said his branch of the family went up to the state of Maine, perhaps because his great great great grandfather James Bigelow had been up there with a regiment of the Massachusetts Militia. James was a Major and his job was to incept the British on their way down from Quebec to attack Fort Ticonderoga and then to NY. Unfortunately, the "old boy" got lost and climbed up what is now known as Mount Bigelow in Maine to try to find out where the British were. He took up the rear so they could not retreat back to Quebec and that was the end of the British Army of Invasion. There is a small town nearby Bigelow Mountain with a population of about 300 (?). Frank said he had to turn back to find the place because he had gone through the town and didn't know it. One of his family, according to Aunt "Carrie" took off for California and prospected for gold and struck it rich, perhaps he "put it in the Bigelow Bank of Ogden, Utah." Frank's grandmother had told him of an "Aunt Bell" in Oakland CA. Some names listed in Mother Lothrop and Aunt Carrie's album were: Maxwell; Ford; Aretta Bell; Wing/ Foss; Ladd; Atwood; Chapman and Knowles."
His letter was to Laurel Bigelow Barklow, Rte. 2, Bx. 450, Ontario, Oregon.
Source: Charles C. Bigelow, brother, 7225 S. W. 53rd Court, Miami, FL 33143, Sep 24, 1972.
Howe, "Bigelow Family of America".
Frank Vining Bigelow's letter 6 Feb 1963 to Society. He became a member of the Sons of the American Revolution in Washington, DC, in Connecticut #4231 through General David Humphrey's Branch. See DAR Vol 138 #137879.
---
Modified - 09/14/2004
(c) Copyright 2004 Bigelow Society, Inc. All rights reserved.
Rod Bigelow - Director
< rodbigelow@netzero.net >
---
Rod Bigelow (Roger Jon12 BIGELOW)
P.O. Box 13 Chazy Lake
Dannemora, N.Y. 12929
< rodbigelow@netzero.net >
BACK TO THE BIGELOW SOCIETY PAGE

BACK TO BIGELOW HOME PAGE