Artis 7 BIGELOW
---
15146.22 Artis 7 BIGELOW, son of Irad 6 , ( Nathan 5, John 4, John 3, Samuel 2, John 1) , and Sarah (DAY) BIGELOW, was born 26 January 1808 in Essex Co, NY and married at unknown date (1) Julia BOWERS, who died 20 June 1844, leaving seven children. He then married (2) Sarah Laurene SMITH,who was born 26 August 1829 in Peru, NY, and died 14 January 1909. She was the mother of his last nine children and outlived him many years. Artis died 11 September 1878 Clinton co, NY. He had been a farmer all his life. 16 children. Bigelow Mountain (see link) in Essex co, NY is named for Artis. His farm was at the base of this mountain (see below) and he owned most of the land on the north side. It is not much of a mountain, but very pretty in the fall. It is northeast from Mt. Poko-Moonshine, which is 5 miles south of Keeseville, NY. On some maps, and referred by some as Willsboro Mt.

Children of Artis and Julia (BOWERS) BIGELOW:

15146.221 Ezra, b circa 1832; d 10 Dec 1850; unmarried.

15146.222 Nathan, b circa 1834; d 26 June 1896; his marriage, if any unknown.

15146.223 a child who died young.

15146.224 Sabrina L., b 1836; d 01 Jan 1873; m in 1861 Wesley BURT. (see below)

15146.225 Adelia (called Della, and listed in census as Allelia), b 1839; death date not known; (see below)

15146.226t Wesley, born 1841; d 1922; m 14 Nov 1870 Martha ANDREWS.

15146.227 Julia Ann, b 1844 ; m Joseph B. COVELL; died 1927; In God's Acre Cem. is Julia Bigelow, 1844-1899, wife of Joseph B. Covell. Nettie J. Covell 1882-1882, and Gertude A, 1878-1892, their daughters. .(see below)

Children of Artis and Sarah L. (SMITH) BIGELOW:

15146.228 Laurene, b 1848; no additional information

15146.229 Adelaide, b 02 Dec 1850; d 13 May 1920; m 1874 her half-sister's widower, Wesley BURT. (see below)

15146.22At Edwin Charles, (Charles Edwin) b 10 June 1853; d 04 Nov 1900 Salida, CO; m 07 Oct 1879 Fannie GOUGH.

15146.22B Kate M., b 21 Feb 1856; d 05 Nov 1939; m her cousin, Edward Curtis BIGELOW (15146.313)This should read Edwin Curtis 8, son of Nicholas Curtis 7 BIGELOW, see back of his gravestone posted below.

15146.22C Welthia "Wealthy", b unknown date; d 1928; m Ambrose C. Calkins; 1 son known (see below)

15146.22D Ida, b 26 March 1865; d 01 April 1961; m S.A. HALEN.

15146.22E Angela, b 09 March 1865; d 01 Apr 1961; m _____ REYNOLDS.

15146.22F Artis Jr., b 03 July 1868; d 04 Sept 1938; m Hattie May WASHER.

15146.22G Sarah A., b 10 Feb 1870; d 10 Nov 1895; unmarried.

Most of the above lived in the vicinity of Essex, Jay and Chesterfield in Essex co, NY, or just over the county line in Peru, Clinton co, NY.

Sources:
Bigelow Family Genealogy Vol II page 32;
Bigelow Family Genealogy Vol I page 217;
censuses NY;
cemetery inscriptions Clinton and Essex co, NY;
Correspondence Schuyler Falls Historical Society
Correspondence between Bigelow Society historian/genealogist and town historian at Keeseville, NY,
who provided most of the dates above

Chesterfield census 1850 (#3369-3451) (Keeseville area):
Artis Bigalow 48 male NY farmer
Sally Bigalow 22 female NY
Ezra Bigalow 18 male NY farmer at school within year.
Nathan 16 male NY
Sabrina 14 female NY
Allelia 11 female NY
Wesley 9 male NY see Wesley 8 for more info.
Julia Ann 6 female NY
Louvisa 3 female NY
also a Samuel Bigalow mentioned in literature on this family, may have been the child who died young.
This is the back of the headstone of Nicholas Curtis 7 BIGELOW, in Peru cemetery, NY.

---
Note:
Subject: More Bigelow's
Date: Fri, 4 Jan 2002 21:03:26 EST
From: Nancy NANCYLLAMAR@aol.com

I was just going through the Cemetery book for the Peru Cemeteries. In the Peasleeville Cem (abt 3 mi from where I live)
is the Rev. J. B. Wescott /1811-1879, and his wife Welthia Bigelow (see almon7a.htm) 1818-1907. Also there is Cinderilla Emery, wf of Anson Wescott, d 8 Nov 1873@63. Cinderilla is part of my line. Is J. B. Anson's brother? Where does Welthia fit in?
In God's Acre Cem. is Julia Bigelow, 1844-1899, wife of Joseph B. Covell. Nettie J. Covell 18821882, and Gertude A, 1878-1892, their daughters.
Nancy


New Note:

Subject:

Wesley Burt

Date: 06/10/2004

From:

Michelle Moore < northern_girl2000@hotmail.com >

Hi Rod,

Here's another item I've come across while going through your site. It concerns several of the children of Artis BIGELOW 15146.22.

You have Sabrina L. married to Wesley BURT in 1861; she died in 1873. You then have him marrying secondly her sister, Adelia in 1874. It is, according to the 1880 Census, her half sister, Adelaide (b.02 Dec 1850) who married him in 1874. The census lists the following:

Wesley BURTT Self M 42

Adelaide BURTT Wife M 29

George BURTT Son S 13
Cora BURTT Dau S 12

Subrina BURTT Dau S 5

Ida BURTT Dau S 4

Myrtie BURTT Dau S 1

This shows that his first two children, George and Cora, from his first marriage, along with three children of the second marriage.

All the best,

Michelle Moore



Monday 08/04/2008 9:09:56am

Name:

John W. Taylor

E-Mail:

jwtaylor@cybermesa.com

Location: Los Alamos, NM

Comments: I have a Bigelow ancestor. One of my great grandmothers was

Adelia Bigelow

who died during or shortly after childbirth in 1863. She is buried in Clintonville, NY.

Her husband was Daniel Taylor and her children were John Wesley (1861)and Adelia (1863). I would appreciate any information about the family I could get.

She was my great grand mother and she died in 1863 as a consequence of childbirth of my great aunt Adelia Taylor (Pangborn) who died without issue in the mid 1930's and my grandfather John Wesley Taylor who died in Peru in 1929. Adelia Bigelow (Taylor) was buried in the Clintonville cemetery. I can get the exact details and will forward them to you. John Wesley's only child was Waldon D. Taylor (my father).
---
15146.22C
Welthia
"Wealthy" 8 Bigelow
, was born at unknown date, probably in Jay, Essex co, NY; d 1928 Keeseville, NY; m Ambrose C. Calkins;
They had at least one son:
1. Artis Leander Calkins, b 26 Sept 1886 Essex, Essex co, NY; d 1952; m 21 June 1915 Vera Mabel Stafford; (she was born in April 1895 at Harkness, Clinton co, NY; and died in 1965; Vera was the dau of Leon and Ida (Kirby) Stafford;
They had 3 children:
Cora E. Calkins, b ca 1916;
Marian L. Calkins, b ca 1919;
Donald S. Calkins, b ca 1921;
---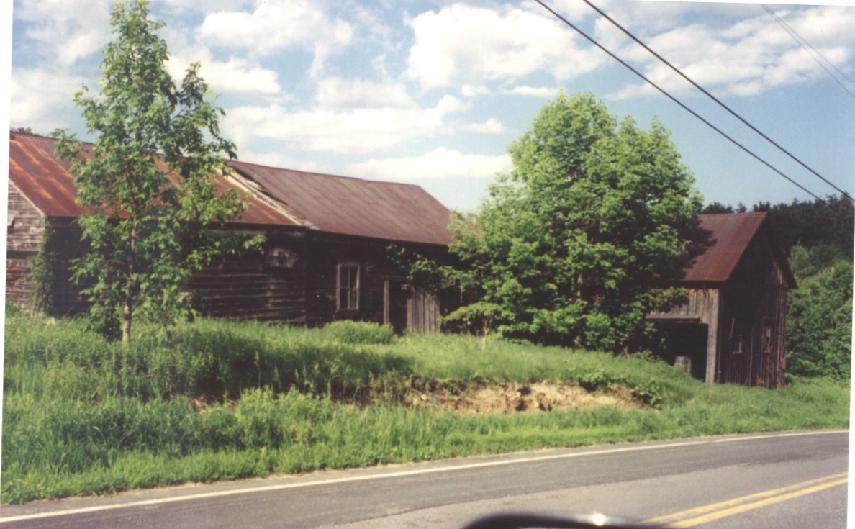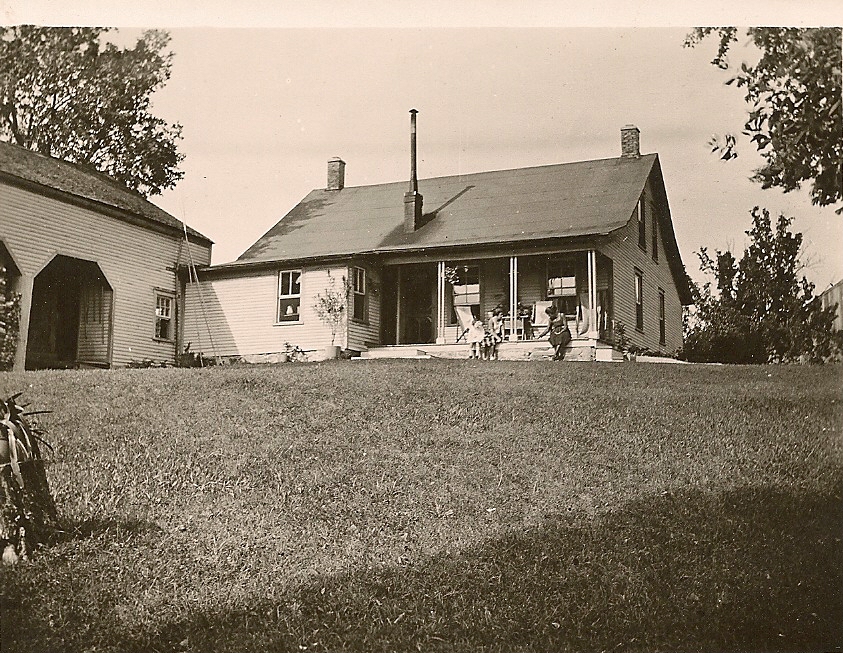 Photos above are Barn and House at base of Bigelow Mountain
I visited this house a few years ago, and it's still standing
I believe this house was also passed on to Wesley 8 Bigelow family..........ROD 2009
Photos from Ralph Howard 11 Bigelow
---
Modified - 02/20/2009
(c) Copyright 2009 Bigelow Society, Inc. All rights reserved.
Rod Bigelow - Director
< rodbigelow@netzero.net >
---
Rod Bigelow (Roger Jon 12 Bigelow)
Box 13 Chazy Lake

Dannemora, N.Y. 12929
< rodbigelow@netzero.net >