Irad 6 BIGELOW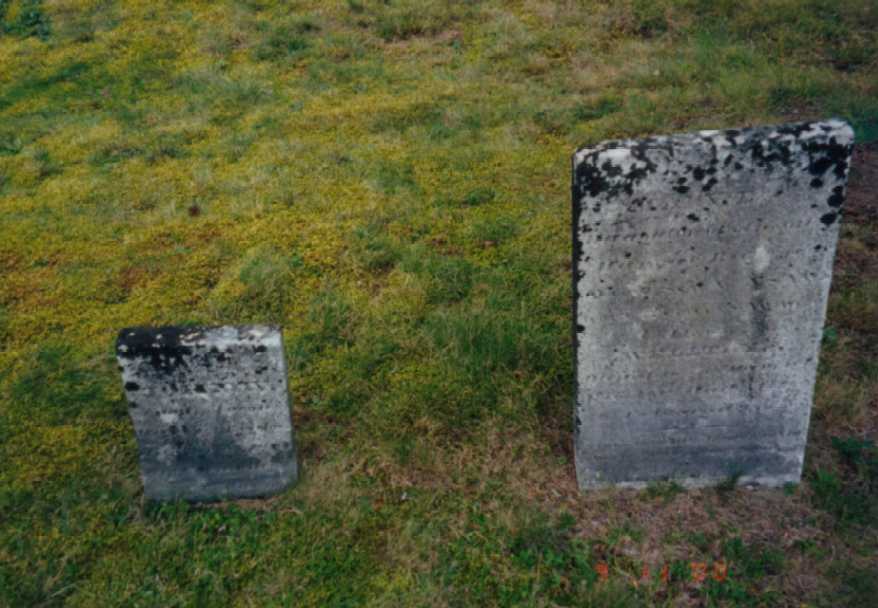 These two stones are near the son Anson 7 Bigelow in the Fairview cemetery, Black Brook, NY.
They are almost impossible to read, but are believed to be Irad 6 and Sarah W. (Day) Bigelow
---
15146.2 Irad 6 BIGELOW, son of Nathan 5 ( John 4, John 3, Samuel 2, John 1) , and his wife Mrs. Jesse BETTS, nee CURTIS, was born circa 1779, probably in western MA. The family moved to Pownal, VT and Washington co, NY prior to the 1790's, during which decade they moved to Clinton and Essex counties, NY. Irad died at Ausable, NY 21 May 1843, aged 63 years.
Irad was married, circa 1804, to Sarah W. DAY. She was born circa 1788, and died, also at Ausable, 09 December 1870, aged 82 years. they are listed on the U.S. census 1810 at Peru, Clinton co, NY; and on the 1820 and 1830 censuses at Jay, Essex co, NY. Comparing consecutive censuses, we assume there were eight children in all, five sons and three daughters. Howe's Bigelow genealogy mentions the five sons, but names only two. At this date it has been impossible to name the entire family, but from local records and from descendents, we can name the following four sons:

15146.21t Anson E., b 26 Feb 1805; d 26 Apr 1891; m Harriet M. BROMLEY; res Ausable, NY. 8 children.

15146.22t Artis, b 26 Jan 1808; d 11 Sep 1878; m(1) Julia BOWERS, who died 1844, and (2) Sarah L. SMITH, she born Peru, NY. 16 children.

15146.23t Nathan, b 30 Sep 1812; d 1 Jun 1884 Kalamazoo, Kalamazoo co, MI; m Elizabeth White. Moved to MI in 1860's. 5 children. Based on correspondence from James Nathan Bigelow, a great grandson of Nathan and grandson of Melville J. (son of Nathan 15146.23)see below

15146.24t Alexander Dallas, b ca 1824; d ca 1875 Visalia, CA; m Harriet Gilson See; res WI and CA. 6 children.

15146.25? Melville J., reported by Laurel Barklow (1974) to be fifth son and a businessman in Kalamazoo, MI. This appears to be incorrect based on note from James Nathan Bigelow

Note from James Nathan Bigelow: I notice Melville J. Bigelow, a businessman in Kalamazoo MI is assumed to be a brother of Nathan Bigelow, 15146.23. Melville J. Bigelow was my grandfather, and left in his handwriting a listing of his descent from John Biglo. In that listing Nathan Bigelow, son of Irad Bigelow is shown as his father. Nathan and Melville are buried in one of two Bigelow family plots in Mountain Home Cemetery in Kalamazoo. Elizabeth White, wife of Nathan is buried there as are both of Melville's two wives. Melville came to Kalamazoo before his father, ran a grocery store with his brother, and continued in various business enterprises including the Phelps-Bigelow Windmill Company and the Kalamazoo National Bank. His son Howard French Bigelow, my father was a professor at Western Michigan University.
By: James Nathan Bigelow (I'm told the Nathan in my name was for the Nathan Bigelow mentioned above). e-mail at jnpbigelow@worldnet.att.net

15146.26? Almira, born ??, information from Diane J. Hill of Cobble Hill, BC Canada: "I believe my ancestor, Almira BIGELOW, may be one of Irad's daughters. Almira married Lyman PARKHURST in Black Brook, NY and had a son named Irad Bigelow PARKHURST, who was born in 1843. I am the descendant of another son, Daniel, born 1845."
Bigelow Society mentions another wife? and 3 sons as well as Wealthia and Almira:
1.Obediah BIGELOW
2.John BIGELOW
3.David BIGELOW

15146.27? Welthia (1818-1907) m. J.B. Wescott - buried Peasleeville, NY

Note2:
Subject: Almira
Date:Time: 03/01/97
From: Diane J. Hill

I would like to correspond with anyone researching the line of Irad Bigelow of Clinton County, NY in the early 1800's. I believe my ancestor, Almira Bigelow, may be one of Irad's daughters. Almira married Lyman Parkhurst in Black Brook, NY and had a son named Irad Bigelow Parkhurst, who was born in 1843. I am a descendant of another Son Daniel, born 1845.

Diane J. Hill
4094 Balsam Drive, RR3
Cobble Hill, BC
VOR 1L0 Canada

Sources:
Howe, Bigelow Family of America page 477 ;
Bigelow Family Genealogy Vol I page 217;
censuses NY;
cemetery inscriptions Clinton and Essex co, NY;
Correspondence Schuyler Falls Historical Society which includes following:
Duane Hamilton Hurd: History of Clinton and Franklin Counties, NY (1880); J.W. Lewis & Co.:
page 244: Early Settlement of Town of Black Brook:
"Irad Bigelow came from Chesterfield soon after (Zephaniah Palmer who was first, before 1825) and located on the Jay side of the river, near the village of New Sweden. Some of his land lay in the present (town) of Black Brook. A wife and six children accompanied Mr. Bigelow, among whom was Anson Bigelow, who resided now at the Forks."( Ausable Forks, NY)
At that time Black Brook was part of Peru Twp.

page 246: 22 May 1840 under Highways those who resided in district #1 commencing on the west line of the town of Ausable.... together with number of days they had to work on the roads: Anson Bigelow overseer 16 days.

page 209: Under Town of Ausable: village of New Sweden included Anson Bigelow.
New Sources:
Yesterday, Today, and Tomorrow; A History of Black Brook, Ausable Forks, by Margaret L. Nolan
pub 1977 Denton Publications, Elizabethtown, NY.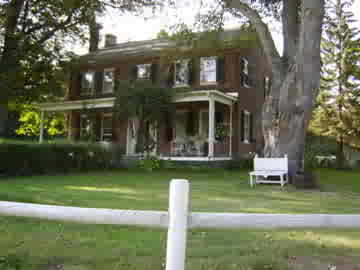 From: Post < postjo@yahoo.com >
Here is a recent photo of the Bigelow homestead--first deed to this house was from Irad to Anson in 1858. No information regarding what year the house was built. Thought the Bigelow family may be interested. This house is located 2 miles east of Ausable Forks Town of Black Brook.
From architectural details, it appears to be circa 1820's or thereabout.


---
Modified - 07/07/2007
(c) Copyright 2007 Bigelow Society, Inc. All rights reserved.
Rod Bigelow - Director
< rodbigelow@netzero.net >
---
Rod Bigelow (Roger Jon 12 Bigelow)
Box 13 Chazy Lake

Dannemora, N.Y. 12929

< rodbigelow@netzero.net >