Anson E. 7 BIGELOW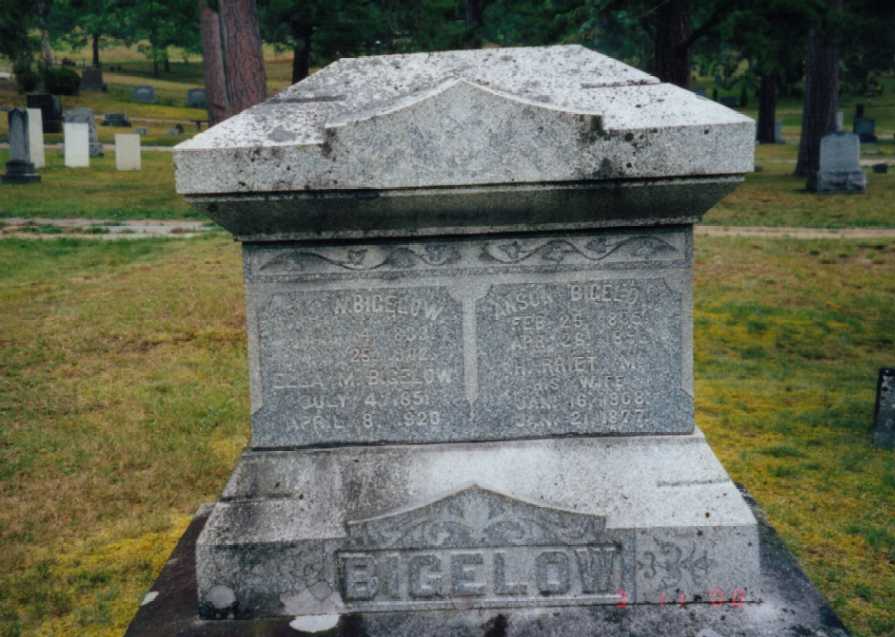 Legend on left front: Legend on right front:
IRAD W. BIGELOW ANSON BIGELOW
May 14, 1833 Feb 25, 1805
May 25, 1902 Apr 26, 1891
ELLA M. BIGELOW HARRIET M.: his wife
July 4, 1851 Jan. 16, 1808
April 8, 1920 Jan. 21, 1877
<BIGELOW>
small stones in front:
HARRIET ELLA IRAD (flowering bush) MOTHER FATHER
---
15146.21 Anson E. 7 BIGELOW, son of Irad 6 (Nathan 5, John 4, John 3, Samuel 2, John 1), and Sarah W. (DAY) BIGELOW, was born 25 February 1805 AuSable Forks, NY. About 1827, he married Harriet Bromley who was born 16 January 1808 and died 21 January 1877 (see below). Harriet was the daughter of Reuben and Esther (Hicks) Bromley. (see below) Anson was a farmer and in 1850 this family lived at Black Brook, Clinton co, NY. Anson died 26 April 1891. They are both buried in Fairview Cemetery, Black Brook, Clinton co, NY. (stone above) "Anson was listed as a trustee Aug 7, 1844 of the First Methodist Episcopal Church of Ausable Forks (also known as United Methodist Church)."
(source below)

Children of Anson E. and Harriet (Bromley) Bigelow:

15146.211 Ann Elizabeth, b 18 Jan 1828 Essex (or Clinton), NY; d 28 June 1907; m 25 Dec 1850 Capt. Edwin R. Follett. (see below)

15146.212 Eunice A., b 10 Aug 1830 Essex (or Clinton), NY; d 13 Nov 1922; m 28 May 1856 Rev.Charles C. Hart.

15146.213 Irad W., b 14 May 1833 Essex (or Clinton), NY; d 25 May 1902. (see stone above)

15146.214 Ester (sic) Lovina, b 20 June 1836; d 14 April 1911; m 05 Nov 1860 Emerson Featherston. (see stone below) E.W. Featherston, (son) was president of Bank of Ausable Forks; 1929-1935.

15146.215 Harriet M., b 06 Nov 1844; d ____ 1931. (on left side of stone above: "H.M.B.; 1844-1931")

15146.216 Sarah A., b 20 Nov 1847; d 08 April 1893; m 0l Jan 1869 Warren Dockum.

15146.217t Anson Eugene, b 20 May 1849; d 07 May 1927; m 10 May 1876 Jennie Eliza Buttrick, b 20 Oct 1854; d 12 Oct 1931.

15146.218 Ella M., b 04 July 1851; d 08 April 1920. (see stone above)

Sources:
Bigelow Family Genealogy Vol I ;
Bigelow Family Genealogy Vol II page 31;
correspondence between descendants and Bigelow Society historian/genealogist;
vital records of Clinton and Essex counties, NY.
New Note 11/15/05:

From Don Papson     
From Plattsburgh Sentinel February 2, 1877
OBITUARY.

    HARRIET M, wife of Anson Bigelow, died at their residence in Ausable 
Forks, N.Y., Jan 21, 1877, aged years and 5 days.
    The deceased was highly esteemed in this entire community. She was one of 
the oldest residents of the town. For many years she lived in peace and love 
with the Church, with God and mankind. She was a member of the Methodist 
Episcopal Church. although not an active member, yet she was consistent in her life 
and loyal to her church and interests. In her home especially, her piety was 
manifested, and her children cannot easily forget the impressions of good that 
she made on their minds by her consistent life and godly admonitions.
    She was called to pass through the fire of intense suffering, for nearly 
four months in extreme agony of body, occasioned by disease of the heart, yet 
in the midst of bodily anguish her mind was calm and composed. Often she 
longed to be absent from the body and present with her Lord. As she was about 
stepping out of time's scenes into the future, when language had failed, and the 
devoted daughters and sons were weeping, she shook her head "No."  as much as 
to say, "Weep not for me. I'm going home."
    Truly her tombstone may be engraved: "She died in the hope of a blessed 
resurrection."
    She leaves a husband, six daughters, two sons and a large circle of 
friends to mourn their loss, but they "sorrow not as those who have no hope."

"Anson Bigelow was born in Chesterfield in 1804 and came to the site of 
Ausable Forks about 1819" History of Jay, New York  FROM THE HISTORY OF ESSEX COUNTY
EDITED BY: H. P. SMITH PUBLISHED BY D. MASON & CO. PUBLISHERS, SYRACUSE, NY 1885. 

Fairview Cemetery
Village of Au Sable Forks, Town of Black Brook, Clinton co, NY
BIGELOW
Irad W. BIGELOW / May 14, 1833 - May 25, 1902 / 
Ella M. BIGELOW / July 4, 1851 - Apr. 8, 1920 / 
Anson BIGELOW / Feb. 25, 1805 - Apr. 26, 1891 / 
His Wife / Harriet M. / Jan. 16, 1808 - Jan. 21, 1877 / 
H.M.B. / 1844 - 1921 / 
Duane Hamilton Hurd: History of Clinton and Franklin Counties, NY (1880); J.W. Lewis & Co.:
page 244: Early Settlement of Town of Black Brook:
"Irad Bigelow came from Chesterfield soon after (Zephaniah Palmer who was first, before 1825) and located on the Jay side of the river, near the village of New Sweden. Some of his land lay in the present (town) of Black Brook. A wife and six children accompanied Mr. Bigelow, among whom was Anson Bigelow, who resided now at the Forks."( Ausable Forks, NY)
At that time Black Brook was part of Peru Twp.
page 246: 22 May 1840 under Highways those who resided in district #1 commencing on the west line of the town of Ausable.... together with number of days they had to work on the roads: Anson Bigelow overseer 16 days.
page 209: Under Town of Ausable: village of New Sweden included Anson Bigelow.
New Sources:
Yesterday, Today, and Tomorrow; A History of Black Brook, Ausable Forks, by Margaret L. Nolan
pub 1977 Denton Publications, Elizabethtown, NY.

Note:
From: Post <postjo@yahoo.com>
Date: 03/29/2004
Hi, just for a kick I typed in Anson Bigelow on the computer--what a surprise to find the listing.
My husband and I have lived in an old brick house outside of Ausable Forks for 23 years. We once
tried to trace back deeds at the county clerks, but found we got lost in the scribe of the day. 
Recently, a previous (short term) owner mailed me all the deeds up till she bought the place.  The
first mortgage deed was dated 1883 from Anson to Irad Bigelow, stating Anson had been a farmer and
lived on the farm "in his lifetime". Not sure if he built the house, or his father built the house
and what year.  I was wondering if you had any information--the place originally had 167 acres. 
(Old pictures of this house are greatly sought after if you know anyone who has some and may be
able to scan)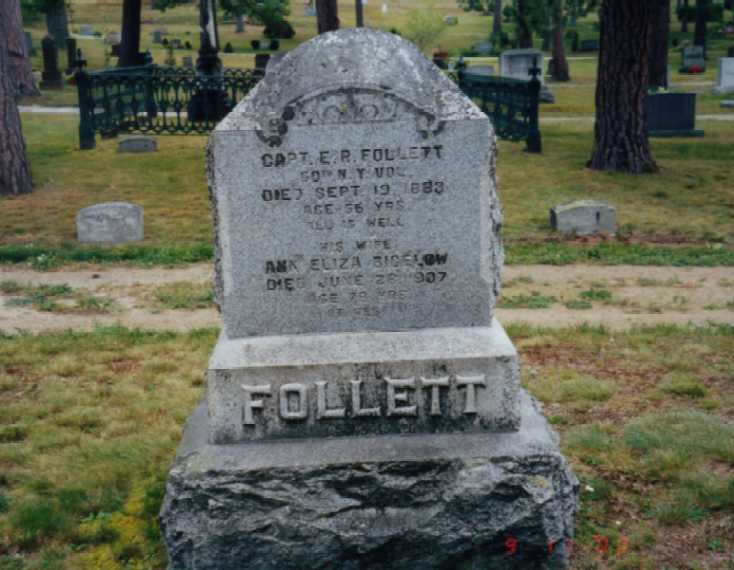 Legend (follett1.jpg):
CAPT. E.R. FOLLETT
50th N Y VOL.
DIED SEPT. 19, 1883
AGE 56 YRS
All is well
His Wife
ANN ELIZA BIGELOW
DIED JUNE 28, 1907
AGE 78 YRS
AT REST
<FOLLETT>
2002 Mail from Greg Furness of Mineville, NY:
"Edwin R. Follett, was co-editor with Wendall Lansing of the "Northern Standard" newspaper, published in Keeseville, NY from 1854 through 1860. "
Greg's research over several years has dealt with anti-slavery and "Free-Soil" activity in the North Country. The "Northern Standard" was a major free-soil publication, of which very few copies have survived.
---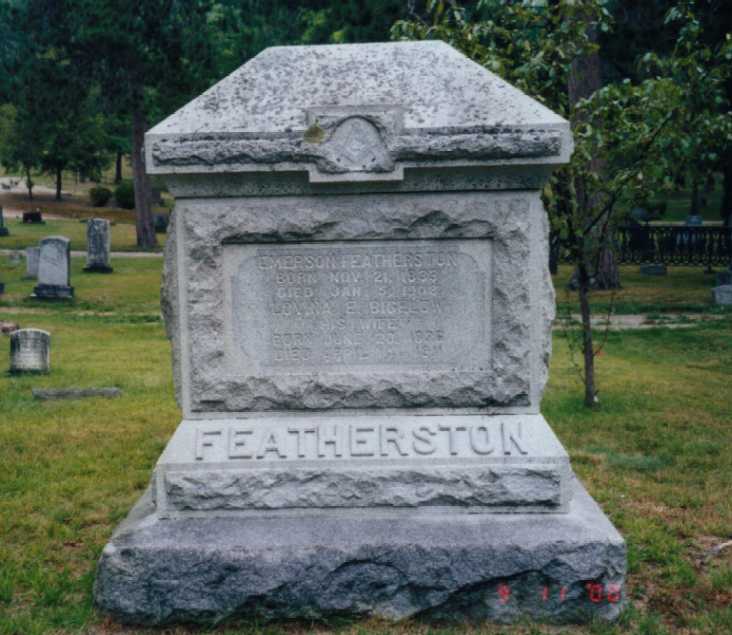 Legend2 (feather1.jpg):
EMERSON FEATHERSTON
BORN NOV. 21, 1833
DIED JAN. 5, 1908
LOVINA E. BIGELOW
HIS WIFE
BORN JUNE 20, 1836
DIED APRIL 14, 1911
<FEATHERSTON>
Four smaller stones in front of this stone labeled:
IRAD E. FEATHERSTON HIS WIFE MOTHER FATHER
1875-1932 LENA C. HARRINGTON
1877-1976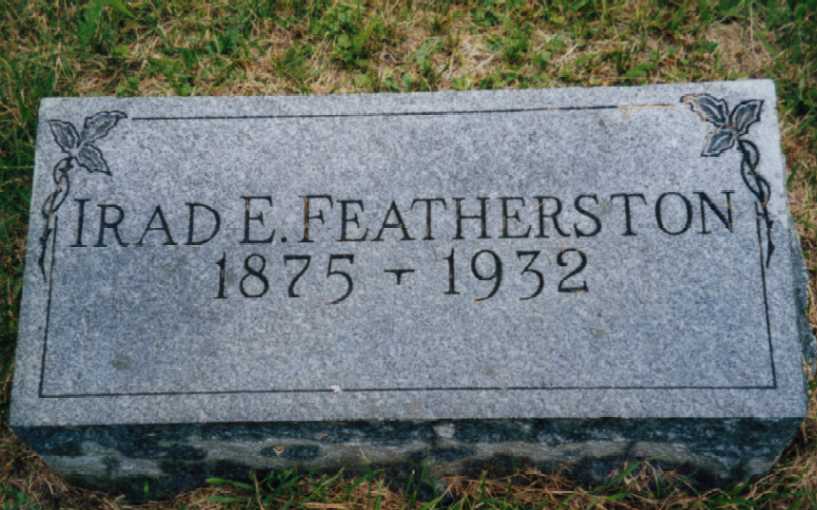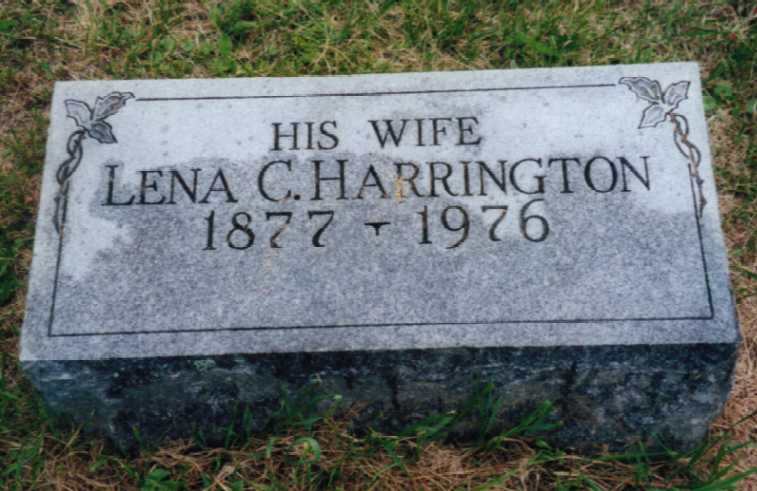 From Internet:
http://freepages.genealogy.rootsweb.com/~bromley/LUKE%20BROMLEY/pafg25.htm#1995C
605.
HARRIET BROMLEY
(
REUBEN
, CHARLES , WILLIAM , WILLIAM , WILLIAM , LUKE ) was born on 16 Jan 1808 in AUSABLE FORKS,NY. She died on 21 Jan 1877.
HARRIET married ANSON BIGELOW. ANSON was born on 25 Feb 1805. He died on 26 Apr 1891.
They had the following children:
+ 1359 F i ANNA ELIZA BIGELOW was born on 18 Jan 1828.
+ 1360 F ii EUNICE A. BIGELOW was born in Aug 1830.
1361 M iii IRAD W. BIGELOW was born on 14 May 1833 in AUSABLE FORKS,NY. He died on 25 May 1902.
+ 1362 F iv ESTHER LOVINA BIGELOW was born on 30 Jun 1836. She died on 14 Apr 1911.
1363 F v HARRIET M. BIGELOW was born on 6 Nov 1844 in AUSABLE FORKS,NY.
1364 F vi SARAH A. BIGELOW was born on 20 Nov 1847 in AUSABLE FORKS,NY. She died on 8 Apr 1893.
SARAH married WARREN DOCKMER on 1 Jan 1869.
+ 1365 M vii ANSON E. BIGELOW was born on 20 May 1849.
1366 F viii ELLA M. BIGELOW was born on 4 Jul 1851 in AUSABLE FORKS,NY.
247. REUBEN BROMLEY
(CHARLES , WILLIAM , WILLIAM , WILLIAM , LUKE ) was born in 1783 in DANBY,VT. He died on 06 Aug 1847.
REUBEN married ESTHER HICKS about 1803. ESTHER was born in 1783. She died on 16 Aug 1847 in CLINTONVILLE,NY.
They had the following children:
+ 602 M i CHARLES BROMLEY was born on 27 Sep 1803. He died on 20 Sep 1883.
603 M ii REUBEN BROMLEY was born in 1805 in GREENVILLE,WASHINGTON CO,NY.
REUBEN married ANN BRONSON.
604 M iii ALEXANDER BROMLEY was born in 1807 in GREENVILLE,WASHINGTON CO,NY. He died in 1833.
ALEXANDER married ROXY WOODRUFF.
+ 605 F iv HARRIET BROMLEY was born on 16 Jan 1808. She died on 21 Jan 1877.
606 F v LYDIA BROMLEY was born on 1 Mar 1810 in AUSABLE FORKS,NY. She died in 1893 in OAKLAND,CA.
LYDIA married HENRY EGGLESTON.
+ 607 F vi LOVINA BROMLEY was born on 1 Mar 1810. She died on 19 Feb 1864.
+ 608 M vii ICABOD BROMLEY was born on 11 Jan 1813. He died on 25 Dec 1876.
609 M viii JOHN BROMLEY was born in 1815 in GREENVILLE,WASHINGTON CO,NY. He died in 1871 in ARLINGTON HEIGHTS,CHICAGO,ILL.
JOHN married MARGARET WOODRUFF.
610 F ix ESTHER ANN BROMLEY was born in 1817 in AUSABLE FORKS,NY. She died on 16 Apr 1841.
+ 611 F x ELIZABETH JANE BROMLEY was born on 24 Sep 1827.
---
Modified - 05/19/2009
(c) Copyright 2009 Bigelow Society, Inc. All rights reserved.
Rod Bigelow - Director
< rodbigelow@netzero.net >
---
Rod Bigelow (Roger Jon 12 Bigelow)
Box 13 Chazy Lake

Dannemora, N.Y. 12929

rodbigelow@netzero.net

BACK TO THE BIGELOW SOCIETY PAGE

BACK TO BIGELOW HOME PAGE