Lyon Mountain Bulletin Board
---

Go to Page 1 of The History of Lyon Mountain.
Go to Page 2 of The History of Lyon Mountain.
Go to Page 3 of The History of Lyon Mountain.
Go to Mining History for The History of Mining in the North Country.
Go to Page 5 of The History of Lyon Mountain.(for article on Lyon Mt. and Mineville)
Also Mining for Souls 1, and St. Bernard's 1..and Oral History of Levi White,
Also see: History of Mining of Chateaugay Ore and Iron Company
Also see: Lyon Mt. Sketch page 1and The Town that refused to die



New Books available..... " Out of the Darkness": In Memory of Lyon Mountain Iron Men
More from Larry Gooley covering the mining accidents and the men who died in the iron mines of Lyon Mountain, NY

"Lyon Mountain: The Tragedy of a Mining Town"


You've done an incredible job with your site, and with spreading the word on North Country history. Many of the oldtimers that I've become friends with in Lyon Mountain don't have computers, so I have to tell them about it or print samples to show them. They are really proud of their heritage, so they love hearing that their hometown is known on the internet. We've been deeply involved in the village for some time now. Along with publishing our two Lyon Mountain books, we added a site dedicated to the village of Lyon Mountain, and so far it has raised well over $1000 in donations towards their Mining and Railroad Museum, which should be opening sometime in 2007?.

We had previously provided a link to your site among our links on the Lyon Mountain pages, and if you're at all interested, we'd be pleased if you decided to add us to your links. Our main site is

www.bloatedtoe.com

. My partner is in the process of adding Whitehall, N.Y. pages, and possibly increasing our Lyon Mountain pages.

We handled the publishing of Whitehall's history book, which is officially being launched on November 10, and we are beginning to offer our publishing services to others via a unique partnering arrangement.

Thanks,

Larry Gooley <goolyman@charter.net>



---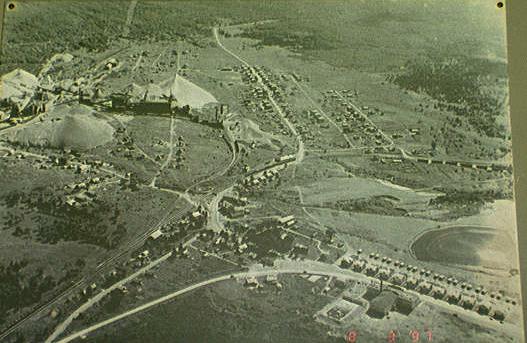 This is an aerial view of Lyon Mountain, taken by The Herald American in 1967.(This photo must have been taken earlier, but published in the paper in 1967)(see below)
You notice the mine and slag hills in the upper left. This was Republic Steel then. Also notice the High School in the lower right, now a minimum security prison.(see below)
---
Subject:
Lyon Mountain NY
Date: Mon, 11 May 2009 03:51:49 +0000 (GMT)
From:
dvandenbroek55@optonline.net
My dad and mom Rev. and Mrs. Cornelius Vanden Broek served the Methodist Church in Lyon Mountain in 1945, when I was born. He was instrumental in getting the Memorial Methodist Church foundation built.
Donald L. Vanden Broek
---
Subject:
Lyon Mountain
Date: Sat, 9 Jun 2007
From:
" tntbodyworks@juno.com "
Dear Mr. Bigelow,
I grew up in Lyon Mountain. It's such a beautiful place. When I go back to visit, I am amazed at the fact that growing up, I never
appreciated the beauty.
My grandfather was quite involved in the mines.
My father recently passed away. He was born and raised in Lyon Mountain. He was in his 80's. His heart was failing, but his mind
was still very sharp. He told me a story about a murder in Lyon Mountain when he came out of the service, which would have been
around 1945-1949. I have never heard about any murders in Lyon Mountain. Unfortunately, it was getting late and he said he would
finish the story tomorrow. The next morning he passed away.
Since you have done such a wonderful job with the history of Lyon Mountain, I wonder if you have come across any information regarding
a murder there. If you have I would be interested in knowing the details. When my father started telling us, he was very upset and
said it was someone very close to him. Lyon Mountain is such a small town and when I was growing up, everyone knew what everyone was
doing, so it's hard to imagine something that large never being spoken about.
I'd appreciate it if you would look into it and let me know.
Thank you,
Janet
---
Date: 03/18/2007
From:
Christine T. Wolfe (Dashnaw) whitewolfe55@aol.com
I was looking thru history of Lyons Mt. My dad was born there in in 1926. My grandmother was of the Pelkey family. I believe my dad worked in the mines there, also believe my biological grandfather was named Alexander Garrow. Later gram was to meet up with Jim Dashnaw, who also worked the mines, and my aunt and uncles were born when they moved to Scranton, PA.
I am trying to find out how I can get any info on my biological grandfather, I believe gram (since passed away at the age of 99 3/4yrs) said Alexander worked in the mines. Dad never knew his father, but I am trying to find if there is anyone who can get me this information--I was at Lyons Mt several years ago, spoke with a gentleman who lived at the top of the hill going to the mines, he resided on the left hand side, he remembered some information on my grandmother, but I was so excited to learn, that I forgot half of what he had told me. Can I find out if Alexander Garrow did work at the mine in Lyon Mt.--possibly a photo of what he would have looked like back then, I believe he passed on in 1971 and is buried in Plattsburgh, but I keep running into dead ends, and dad will not talk about it, dad is now 81 yrs old...I am just trying to find out alittle about my biological grandfather, thats all. Do not want to start up any hard feelings with an yone, just trying to see if I can get a photo of him possibly. My grandmother was also married to a gentlemen named Gokey, before she had my dad, she had a son, Donald "peanuts" Gokey. If you can help me or put me in the right direction to find out anything I would greatly appreciate it.
Thank you.
Christine T. Wolfe (Dashnaw)
email address whitewolfe55@aol.com
---
From: Bill Farrell jcfarrell@epix.net
03/30/2007
Dear Sir,
My name is Bill Farrell and I have been researching New York communities for over a decade. I am working on my second book, Places and Faces in New York State: Origins, Histories and Meanings, and would appreciate your help with Lyon Mountain. Is there a brief history on the community? Is there a picture of Nathaniel Lyon? And is Lyon Mountain Mining and Railroad Museum a reality?
Thank you for your help.
We will be returning to Fayetteviile, New York, on April 1 after wintering in PA.
My email address in Fayetteville is
wrfarrell@twcny.rr.com
Please contact me there from now until next November.
Respectfully,
William R. Farrell
---
Date: 01/10/2007
From:
Byron Drake < bdrake@cfl.rr.com >
My name is Byron Drake and I grew up in a house on Chazy Lake right next to Curly Chase's home (they owned a Gas Station in the town) and attended elementary school for 6 years in Lyon Mountain (which I heard is now a prison). Back in the 1970's as a kid I used to play on the hills of iron ore sliding down from the top and exploring the mine areas which was an adventure, a young person's imagination is unlimited. Seeing pictures of the power house and others brought all that back. I was friends with Timothy La Fountain and Troy Atkinson and reading the names of the yearbook from the 50's, a lot of the last names were the last names of kids I went to school with so evidently people who live in the town stay in the town. Du Brey, Cayea, Farrell, King, it goes on and on my kindergarten teacher's name was Mrs.
Petrashune. Everybody did know everyone and they probably still do. If anyone happens to read this and would like to e-mail me back please feel free…
---
Subject:
Lavigne/Perras
Date: Fri, 13 Apr 2007 19:52:36 -0700 (PDT)
From:
JAMES PERRO < jperro6@yahoo.com >
Rod
I was searching for St. Bernards and found your web site. I recently found out that my great-grandparents
were married in St. Bernards.(1891) They were Louis Perras from Hemmingford and Rose Lavigne. I haven't
been able to find out where Rose is from or anything regarding her family. I have found that her sister
was baptized in St. Edmunds in Ellenburgh in 1873. I was wondering if you would know anything about the
Lavigne family? Jim
---
Subject:
Italians at Lyon Mountain
Date: Sat, 08 Apr 2006 16:24:58 -0400
From:
ManfredReinnarth@aol.com
Dear Rod,
I had had a look on the passenger-records of Ellis Island on the internet and found that my great-grandfather and at least one of his brothers in 1904 travelled to "Lyon Mountain N.Y.". With them were a dozen of other italian labourers of the same little town next to Reggio di Calabria in the south of Italy. My grandfather, 87 years old, has no idea what his father was doing in the states.
My great-grandfather arrived at the 30th of March, 1904 at New York.
Please contact me, if you have any information on Italians working at Lyon Mountain in 1904. The same, if there setteled Italians from Reggio, Gallina, Cataforio o altri paesi dalla Calabria (the most southern part of Italy, next to Sicily) thanks a lot and compliments for your interesting homepage,
Manfred Reinnarth
Germany
My homepage:
http://hometown.aol.de/ManfredReinnarth/index.htm
---
Subject:
Mining For Souls
Date: Thu, 27 Apr 2006 19:48:22 -0400
From:
Mary and Rib < marimel@westelcom.com >
About 3 years ago, I wrote and asked you how to access the "Mining for
Souls" web site. I have tried to access this site recently to no avail.
Would you please advise me if this site is still accessible and, if so, how
I can bring it up?
I was born & raised in Lyon Mountain and still reside there. My
grandchildren are interested in looking at this site - hopefully, it's still
available. I found it extremely interesting.
Thank you for your help! Sincerely,
Mary (Grogan) Pageau marimel@westelcom.com
see
http://bigelowsociety.com/history/souls/souls1.htm
---
Date: 11/30/2006
From:
Stephanie Revely < revely_s@adelphia.net >

I was fascinated by your web site with all the wonderful historical photos of Lyon Mountain.
I was wondering if you knew, that photo of the Methodist Church, was that a recent building? My great grandparents were married in Lyon Mountain in 1892 at a Methodist Church.. I was just wondering if that could be the same building.
Thanks,
Stephanie Revely
See: http://bigelowsociety.com/history/souls/meth18.htm

---
Subject:
Lyon Mountain
Date: Mon, 26 Jan 2004
From:
RuthyAshline@aol.com
Hello
I got a computer for Christmas and I have been learning to use it. I was happy to find several things that interest me, including all the info on Lyon Mountain and also my families family tree. My Mom and Dad were Allen and Bertha Caswell and Allen (Bud) is my brother. He and my sister Betty graduated from LMHS. I attended there until I was in 8th grade and then the families in High Banks consolidated with Saranac. I would like to see something about the deaths in the mines as I remember my father working around the clock searching for the deceased. Is there any record of those fatalities? Hoping to hear from you soon.
Sincerely
Ruth Caswell Ashline
More:

Date: Fri, 13 Jul 2007 21:21:50 EDT
From:
RuthyAshline@aol.com
Hello, My sister Betty Caswell graduated from LMHS in 1944, my brother Bud graduated either in 1948 or 1949. I do see some of the old gang from LMHS even though I didn't graduate from there, I love to hear about the old days. Thanks for writing. Ruth C. Ashline. P.S. I married a guy from Dannemora and we now live in Beekmantown.
---
Subject:
lyon mountain ore mines
Date: Thu, 29 Jan 2004 23:45:05 EST
From:
Spinergy2002@aol.com
My name is Joe Begor, I'm a geology student at PSU. I was going over your web pages on the lyon mountain ore mines and i was curious if you had any further pictures from the late thirties, early forties of the mining operation. i am currently working on sediment research for my bachelors degree, and i have always been interested in this area. My grandfather, Fred Begor worked and was killed in these mines. It is too bad there is not more sites such as yours this is a very important history.
I have enjoyed reading your page.
sincerely;
Joe Begor
SUNY Plattsburgh.
---
Subject:
St. Bernard Church
Date: Sat, 3 Jun 2006 15:06:58 -0700 (PDT)
From:
Kathleen Thornton <kath818@yahoo.com>
Hi,
Would you have any info on birth and death records or where to direct me. My French Canadian greatgrandparents had 17 children and we've accounted for 13 still missing 4, several of their children were born in Lyon Mountain. Would you know what kinds fo records St. Bernard's Church might have?
Any help would be greatly appreciated.
Kathleen Thornton,
Pomfret, CT
---
Date: 10/03/2004
From:
Alice Robinson allie-girl < maytagteller@juno.com >
Mr. Bigelow, my name is Alice Robinson and I grew up in Lyon Mountain..My Dad Roy Robinson worked the mines for YEAR !!!! until they closed..I would love to see OLD pictures of the mines and if you have ANY of my Dad...I'm 49 now and I think we moved away in the 60's..We lived on Phillips Court, second house on the left next to Donald Marcoux?? the picture you have posted of people are people I KNOW!! I remember them as a child coming to our house...I loved that little town and the beauity of it...My sister and brothers would say I was CRAZY !!! being there was NOTHING to do in that little town...then again I was the baby of 8 kids....I have brought both my boys( 24 & 21) to Lyon Mountain to meet some neigbors that stillare alive and see where there Grandpa worked and I played as a child...I was "disappointed" to see the spring water "pipe" changed to a faucet!!!! and the big old house looked SO SMALL!!!!!
Alice Robinson "On both sides of the ray, life and love are eternal. Oh, thank you , GOD. Thank you. Thank you......
---
Date: 09/21/2004
From:  Vicki Bernica Fulmer   VAF730@aol.com

I emailed you last February and also mailed information to the Catholic Church in Lyon Mountain, NY trying to find out about my family history. I know you emailed me back to say you were in Florida and then I never heard from you and I forgot for awhile. I still have not heard from the church and still would like some answers. Here is part of the letter I sent to St. Bernard's Catholic Church in Feb, 2004.
Unfortunately our family name was changed by teachers in Omaha, Nebraska around 1910 so I can only give you as much information as I know.
My great grandfather came from Poland to work at the mines around 1895. A couple years later he brought his wife and daughter over. Here is the information I know.
My grandfather was born July 8, 1902 in Lyon Mountain. His name was John Edward Burnejka(?) now Bernica.
His Mother was Josephine Rawniski
His Father was Adam Burnekja(i) He died probably early 1904 in the mines. A tomb stone in the area found by relatives about 20 years ago shows an A. Bournako(?) who died in 1904. Not positive if that is him.
My grandfathers siblings were:
Christine born in Poland probably about 1893
Michael born in Lyon Mountain about 1898/9
Joseph born in Lyon Mountain about 1899/1900
Helen born in Lyon Mountain about 1904 after her father died.
All of these people are deceased at this time. We have tried to find them on the 1900 Census and other documents to no avail, partly because we do not know the correct spelling. If you have any records I would like a copy of anything you may have. I will list my address, phone number and Email address below. Thank you so very much. God Bless you on this day and always.
Sincerely,
Vicki Bernica Fulmer
1924 SW Arnold Ave.
Topeka, Kansas 66604
785-354-1469
VAF730@aol.com
Any information you can help me with would be appreciated. Thanks.Vicki A. Bernica Fulmer
---
Date: 09/04/2004


From:

RMacWat@aol.com

Greetngs: I have just discovered your Lyon Mt. website with its message board for which I have an inquiry: I believe my great grandfather T. Philemon Fifield was a hotelkeeper at Lyon Mt in the late 1800s. I wonder if there is any information re: him or the hotel. I know that at one time he also ran a hotel in Mooers (the old Fifield block) but family forebears also mention Lyon Mt. Any referral or information would be greatly appreciated. Bob in CT
---
Sunday 10/03/2004 7:53:56am
Name:
Alice Robinson
E-Mail:
maytagteller@juno.com
Location: Spartanburg,SC
Comments: I grew up in Lyon Mt. and found this web site...it blew my mind...the OLD pictures are of people my Dad worked with...if anyone has OLD pictures of the mines and my Dad (Roy Robinson) I would love to see them...I'm 49 years old now if that helps...lol...
thanks so much-feel free to e-mail me...
---
Subject:
Lyon Mt.
From:
Lou Ann <bernice@nycap.rr.com>
Date: 07/10/2004
Rod
I have just been to the Lyon Mtn site you have. I found it very informative. I do have a question. It seems that you have been doing a large amount of research. In your search for the history of the town and the mines have you come across anything about something that occured on Dec 24th 1908?. I have a great uncle whose tombstone reads. Died in Talksville Mine, Lyon Moutnain NY Dec 24th and the date is either 1907 0r 1908? I have not been able to find any old new articles etc.
Thanks for reading this even if you haven't.
Lou Ann
______________________________________________________________
Subject:
Lyon Mt.
Date: 29 March 2004
From:
Robert Armstrong < theboobis@hotmail.com >
I JUST SAW THE SITE ABOUT LYON MT. IT SEEMS PRETTY INFORMATIVE. TONY SHUSDA IS MY LATE GRANDDADDY'S BROTHER. (CHARLIE) MY GRAND-DAD USED TO TELL ALL KINDS OF STORIES ABOUT GROWING UP AND THEY WERE ALWAYS ENJOYABLE.
IT IS GOOD THAT THIS INFORMATION IS UP ON THE WEB TO LET PEOPLE SEE WHAT AND WHO BUILT THIS COUNTRY TO WHAT IT IS.
BOBBY ARMSTRONG , BRUNSWICK GA
---
Subject: Adirondack Iron Mining
Date: 10 Apr 2004
From: Ed Cavallerano <petros103@yahoo.com>


Hi Rod - I just found your webpage and was very impressed with the

photographs and history of Lyon MT. Until recently, I had been at St

Lawrence University working on a geology degree, but am now at U of NC.

While I was at SLU I had been collecting information on the geology and

mining history of the Adirondacks. Sort of a hobby I guess. Needless to

say your page is quite a resource! I've never seen first-hand accounts

from ADK miners - very interesting to read. I was curious to see if you

had any accounts / pics on the other mines in St. Lawrence County, esp.

Clifton and/or Benson.

Additionally, I wanted to ask if you would try emailing me a higher

resolution copy of Levi White's sketches. I'm having trouble reading some

of it on the computer.

If you have a chance to get over to the SLU campus anytime soon, there is a fantastic journal in the special collections at ODY - it is a November 1943 issue of

Mining and Metallurgy

devoted entirely to the Adirondack Iron Industry that may be of interest to look at. They do a run-down on all the mines that were open in the 1940's, and there are some great pics/info. If your super interested I've come across some other articles that may be of interest.

Thanks so much

Ed Cavallerano
---
Date: 15 Dec 2003
From:Gary Lafontaine <GaryLafontaine@skylinedisplays.com
Great to see all the comments and inquiries about Lyon Mountain.
My parents owned a camp on the Upper Lake of Chateaugay Lake. they bought 
the property from Mr. Blackmar.  It was located on what was apparently a 
parcel of land previously owned by Seth Thomas. My parents names are Dan 
and Charlotte LaFontaine. we were among a number of Canadians that bought 
cottages on the lake.  The last time I drove there, I saw that the Orban's 
still are there.  Supleys grocery store still stands. I don't remember if 
the Owliout tavern was there or not.  What ever happened to Trudy Kelly with 
the cardboard belly (thats what we called her) who lived in Lyon Mountain?  
Henry See Jr.?  Penny Chase?  Rose Chase?  Babe Kavanaugh?  Babe and Jimmy 
had a daughter, I can't remember her name but I wonder what ever became of her.  
How about the Terasavages? I remember the hotel in Lyon Mountain and the little 
variety store. Jackass pond.
I hope to hear from some who might know the wherabouts of some of the folks I 
remember way back when (late 1950's to 80's)
Thanks
Gary LaFontaine

---
Subject: Merrill , NY
Date: Wed, 17 Sep 2003 19:42:12 -0400
From: JB <dog.yankee@verizon.net>

I am tring to find out my family in that area. Blanch , is our last name. I am Jerry Blanch , and believe I am the last one, I have no brothers or sisters. I would like to know where to find this information. Anything would help. Thank you for reading this. I am living in plattsburgh , now.

---
Subject: Conroys on Lyon Mountain
Date: Fri, 11 Jul 2003 10:53:54 -0400
From: W. Keith Conroy kconroy@twcny.rr.com
Rod-
I've been researching Conroy genealogy and I have a great uncle Martin
Conroy who lived, at least during the 1950s, on Lyon Mountain. I know
very little about him except his wife's name was Grace, and I believe
they had no children. Martin died in a car accident around late 50s or
early 60s at the age of about 60. I believe he may have been employed at
the iron mine. I vaguely recall visiting them when I was a child in the
1950s. I have good information on his parents and siblings, but nothing
on him except the above. I would like to know where he and Grace are
buried, and whether or not they had children.
Any information you can offer would be appreciated. Reply please to
kconroy@twcny.rr.com.
Thank you.
W. Keith Conroy kconroy@twcny.rr.com

---

Subject: Chazy Lake 5
Date: Wed, 16 Jul 2003 09:14:54 -0400
From: Lorraine McIntosh <lakesideboatworks@westelcom.com>
Dear Rod,
I just found your web site and am very impressed and pleased to have a connection to it. I am the Town of Dannemora
Historian at present,but I need help to celebrate the 150th aniversary of the town's founding next year, which includes all
of the areas of your research. Plus, I have an interest in finding information on the boats that were on the lake and if any
one remembers about the YMCA boys camp located on the lake.
If anyone would want to volunteer for next years activities for the 150th please contact me at (518) 492-7010 or to assist
me in my research on the Lyon Mountain Baseball field and stadium built in 1932.
Thanks again for your web site!
Lorraine McIntosh
68 Garmish Street
Chazy Lake
New York 12935

---

Subject: GARROW
Date: Mon, 14 Jul 2003 08:50:03 -0400
From: "Donna Sanchez" <dsanchez@scandirect.com>
I DROVE THROUGH LYON MT. YESTERDAY, SO MY MOTHER COULD SEE WHERE HER GRANDFATHER WAS FROM.
SHE NEVER MET HIM, NOR DID HER FATHER, HIS SON. HER GRANDFATHER'S NAME WAS ALEXANDER GARROW. HE WAS A MINER. MY GRANDMOTHER GREW UP THERE AS WELL, THEN MOVED AWAY WITH MY GRANDFATHER AND ALEX STAYED IN LYON MT. DO YOU KNOW OF SOMEONE WHO MAY HAVE A PHOTO? OR INFORMATION ON HIM?
SEVERAL PEOPLE IN TOWN I SPOKE TO, KNOW MY GRANDMOTHER'S FIRST SON "PEANUTS"(HIS NICKNAME) AND HER AND HER SIBLINGS, SOME REMEMBER ALEX TOO.
THANK YOU
DONNA SANCHEZ

---
Subject: FW: Chazy Lake and Lyon Mt. inquiry
Date: 11 Feb 2003 07:31:40 -0800
From: "Linda Smith" <lingara@rockisland.com>
Rod, my father was born and Christened in St. Bernard's in Chazy
Lake in 1906. I am very interested in purchasing a book about the history
or the families of Chazy Lake. My relatives names were 'Varin'.
My grandparents were married in Lyon Mt. on Jan 1, 1900. They
were Henry Varin and Ida Dubrey.
Also, can you tell me how I can get records of Christenings
in St. Bernard's? Do they have e-mail or would you have an address
or some way I could contact them? I am also interested in census records
before 1900. There were so many Henry Varins, I am having a huge problem
figuring out which Henry Varin was my grandfather and g-grandfather.
I do have photos of several Henry Varins, though. My grandfather,
Henry Varin changed his name to 'Vaughn' after moving to Saranac Lake
around 1909.
I live clear out on an island (San Juan Island) off the Pacific
Coast of Washington state or I would go there myself. I still have family
in Saranac Lake that I am occasionally in contact with. I just
started genealogy about 3 years ago. I wish I had been more into it
when I was in New York in 2000. I would have spent some time visiting
Chazy Lake.
I am also in touch with Clyde Rabideau who used to be the mayor
of Plattsburg and has written the Varin history. Neither of us
can figure out our exact relationship. Any info you might have or any
book I might purchase could possibly give me a clue. Also, any records from
St. Bernard's Catholic Church could lead to some info.
I have enjoyed your website very much and forwarded the link
to my family ancestry site for them to view. Great job!
thank you
Linda Vaughn Smith
"A friend walks in when the rest of the world walks out."

---

Subject: Need your help
Date: Fri, 10 Jan 2003 22:09:54 EST
From: RCasavant@aol.com
Hello Mr. Bigelow
I have been searching for ancestors who lived in Lyon Mountain, NY. The name of the father was Trefile Gibeault (Gibault) (Gebo). His wife's name was Marie, but no maiden name was given. They had a son Edward who was born in Lyon Mountain circa 1892-1898. Can you tell me where I may call in Lyon Mountain, for this birth information? I cannot find a town hall or town clerk listed. Perhaps I may find this information through the Catholic church located there. Can you tell me where I might call to obtain the information I am looking for.
Thank you for you help.
Roger Casavant
Westminster, MA
By the way, you have a great and interesting web site.

---
Subject: Your Web page
Date: Fri, 18 Apr 2003 02:47:42 +0000
From: "wendy smith" <wjsmith90@hotmail.com>

Hi Rod:
Visited your Lyon Mountain web page and related sights. Our family had a cottage on the Lower Lake
(Chauteauguey (sp?)). I was wondering if you had any information about, what we called, "The house
of five chimneys." It was abandon and as I recall, not far from the sandbar. Everyone claimed that it
was haunted (back in the late 60s). I was wondering what the history of the place was?
The other ruin, was across the street from the Narrows bridge across a field and in back in the wood. It
was another old abandon house, with an amphitheater in the yard. That too, we claimed had a grave in
the middle. I was wondering if there is a web page or a book about the old homes that were on the lake,
and the spooks that come with them.
As I recall, the last time I was at the lake. I spoke with a lady (who I want to call Cameron), but I think
it was another family who had a nice cottage on the Upper lake. Anyway, she was gathering information
about the lake and I never found out if she put a book together (maybe her name was McKinnon).
Well, all this to say that I really enjoyed your web page keep up the great job.
Sincerely,
Wendy Smith (Camp site was Birchwood the Smiths) We were beside Lloyd and Claire (kids Steve and
Elaine) Bailey's old Camp back in the 60s and early 70s.

---
Subject: Lyon Mountain
Date: Wed, 5 Mar 2003 17:56:38 EST
From: WilsonWilfam5@aol.com
Hi Rod!
I'm a fourteen year old who lives in Lyon Mountain. I would like to thank you for doing such a great page on my
hometown. There is a lot of useful information. It's nice to know that somebody actually cares about it's history.
But I would like to know if you had any other older pictures of Lyon Mountain and the Mines. I can't seem to find
any and I'm very interested! I would greatly appreciate it if you could send me some! Thank You very much and
wonderful Job on the page!! keep it up! -Krista

---

Subject: iron mt.
Date: Sat, 1 Mar 2003 21:53:36 EST
From: Bob Lord RLORD333@aol.com
Hi,
what a site,,just found it ,
first time i ever saw the name olyer in print. my family lived in the iron mountain area and went to Spring cove n.y they
were involved with lumbering.
Phillip olyer bn 1822 mar. Lucretia Leach and there children including probably the henry olyer you mention . I have a
lot on the olyer line posted at rootsweb.com worlconnect but of course i do not have enough do you know of any church records in the area.
my mother was born in spring cove 1904 so the family stayed in the area for quite some time.
i never knew were they lived in iron mountain but have visited the ruins at spring cove near tupper lake, not much
there, just stone footings and the camp spring.
i am sorry just happy to find the olyer name some place other than our own records.
thank you,
bob lord
Johnstown,n.y.-Alva,Fal.
rlord333@aol.com

---
Subject: Lyon Mountain
Date: Fri, 28 Feb 2003 23:28:07 -0500
From: Robert McDonald <robantq-robmac@northnet.org>
Hi Rod;
I live in Brainardsville and was wondering were I might get a yearbook
from Lyon Mountain School from 1963. I purchased a Lyon Mountain ring
that has the initials BJB etched on the inside. Any Information would
be appreciated.
Thanks
Robert McDonald

---
Subject: Lyon Mountain
Date: Thu, 27 Feb 2003 11:40:42 -0700
From: "Scott Zimmer" < zimcon44@yahoo.com >

I noted posting on the Lyon Mountain Bulletin Board mentioning Bernard Rolich and Don Tolosky. I was born in
Lyon Mountain in 1944 - my father (Paul Zimmer) was the geologist at the mine and both my maternal grandfather and
uncle (Jack Scott Sr. & Jr.) also worked there.

I happen to have the Lyon Mountain High School yearbook for 1950, which was the graduating year for both Bernard
Rolich and Don Tolosky. I have had the entire yearbook scanned (60 pages plus the cover). I have cropped two
pages (to get reasonable file sizes for emailing) to show the entries for your grandfather (?) and uncle and the two
resulting jpeg files are attached.

I was in the kindergarten class in 1950 and we moved shortly thereafter, so I remember very little of Lyon Mountain.
However, at the 1950 May Ball, I was one of two "Crown Bearers" and I distinctly remember being absolutely terrified
when standing on the stage in front of all those people in the audience. Barney Rolich was the King and he put his
hand on my shoulder and whispered sufficient encouragement to get me through the presentation without an accident.
There is a picture of the May Ball in the yearbook showing king, queen, and court (including yours truly).
If interested, I would be happy to burn a CD and send the entire yearbook via snail mail.
Scott Zimmer
1719 West Hudson Drive
Tucson, AZ 85704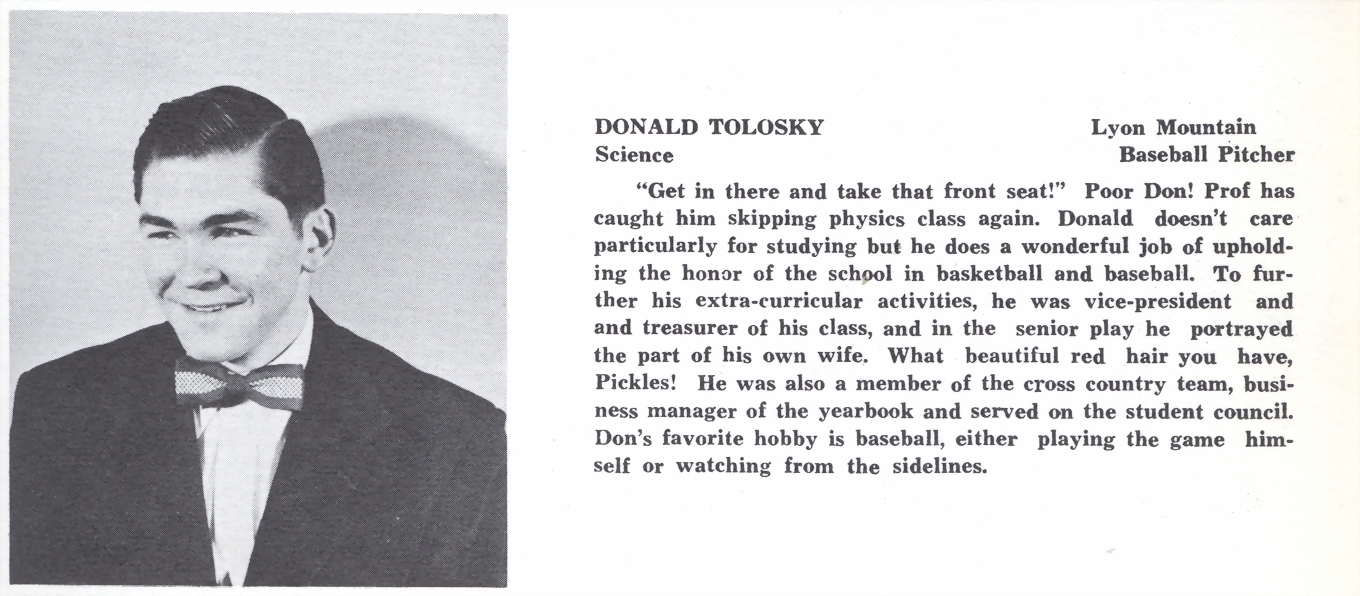 (dtolosky.jpg) reduced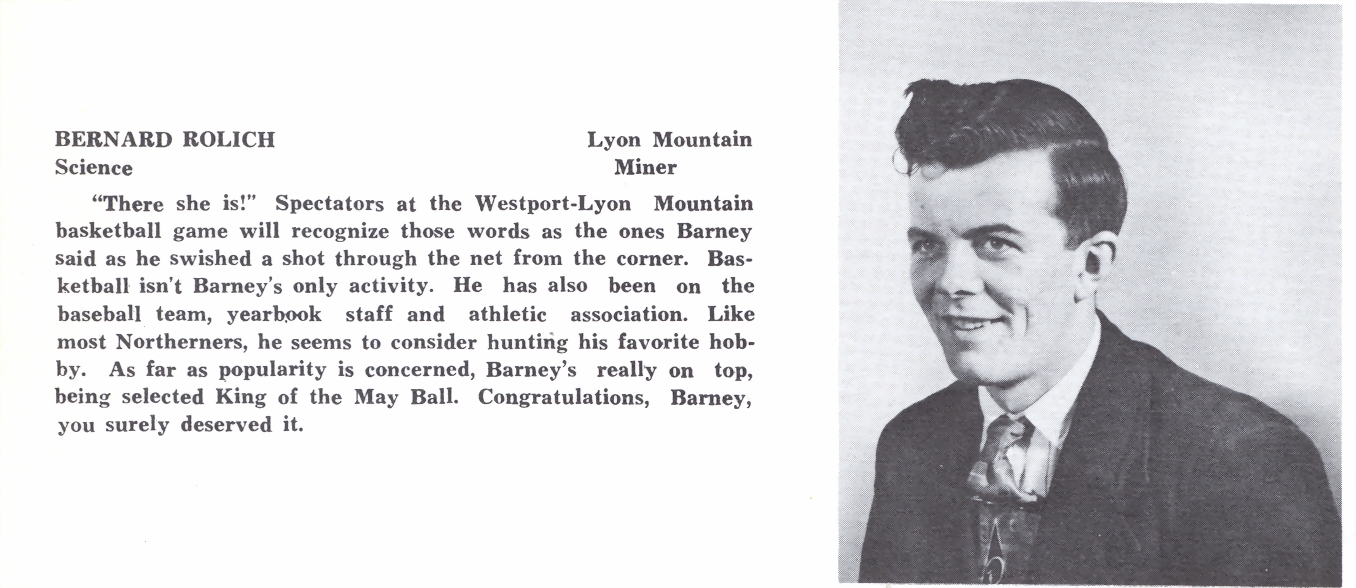 (brolich.jpg) reduced
---

Scott Zimmer wrote:
I have had some interaction with Tom Fortier, John Gadway, and Joe Yanulavich. I sent them several pages of the yearbook photos, each, and have gotten some in return.
Below is a list of all the names in the 1950 yearbook pictures. Again, if anyone is interested, I would be happy to pass the images along.The Lyon Mountain High School yearbook for 1950 contains pictures of: Faculty and staff (group pictures):
Jeanne Tolosky Ina Gregory Roy Christen
Mary Susnosky Mary Foran John Hamilton
Patricia Rolich Joseph Kaska Myles Lawlor
Rita Gonyea John Dennin Bernard Harrica
Vivian Butler Ann Tompkins Jean Hamelin
Margaret Kaska Janet Noel Winifred Petrashune
Marion Ryan Cecile Langey Senior Class:
Joseph Alexander Estelle Kline Mary Pegeau
Douglas Carron Elinor La Duke Myrtle Pageau
Allen Caswell Betty Jean La Mountain Royce Rodriquez
Farley Chase James La Mountain Bernard Rolich
Victor Du Brey Raymond Lancto Felix Siskavich
Elaine Gregory Betty Martin Teresa Supley
Theresa Hicks Clarence Martin Donald Tolosky
Doris Kelley Willaim Mincker (sp?)

Junior Class:
G. Brooks (f) Thomas Fortier (m) J. Olivan (f)
M. Burgoyne (f) D. Gadway (m) June Osborne (f)
B. Carron (f) G. Gadway (m) H. Shutts (f)
J. Collins (m) C. Lancto (m)
Joan Collins (f) M. LaDuke (m) Sophomore Class:
W. Bracy (m) M. Gonzales (f) Freda Sutton (f)
Gail Bruso (f) N. Kelley (m) S. Varin (f)
W. Canning (f) N. La Mountain (m) J. Welch (f)
B. Collins (m) J. Linney (f) J. Wells (f)
C. Defayette (m) A. Pageau (m) K. Wilson (f)
F. DuBrey (m) C. Powers (m)
William Durnin (m) Barbara Rolich (f)

Freshman Class:
I. Benjamin (f) E. Gillett (f) Geraldine Pageau (f)
Galen Bruso (m) C. Hicks (m) G. Rodriquez (f)
F. Cayea (m) R. Lancto (m) E. Secore (m)
Roger Cayea (m) S. McKenna (f) C. Varin (m)
Melvin Collins (m) C. Minckler (m) E. Vernosky (f)
M. Durnin (f) N. Osborne (f) L. Wells (f) Eighth Grade (group pictures):
Y. Ashline A. Farrell D. Secore
H. Begor J. Getavesky R. Siskavich
J. Begor M. Grogan B. Smart
J. Benware T. Grogan G. Varin
V. Bruce A. La Duke R. Varin
C. Bruso R. Linney P. Wells
R. Butchino J. Perry R. Whitney
C. Carron S. Pivetta S. Woodward
J. Carron S. Rodriquez
J. Evertsen M. Stevenson Seventh Grade (group pictures):
H. Alexander H. King M. Pereiro
T. Alexander A. La Duke G. Powers
M. Barber N. La Mare K. Rebideau (sp?)
W. Burgoyne J. McCasland M. Reed
P. Corral J. McKinney J. Supley
M. Defayette W. Marshall M. Tarasavage
A. Ducharme A. Martin C. Umber
S. Ducharme C. Nephew J. Varin
R. Gregory L. Osborne C. YasmentSixth Grade (group pictures):
E. Barber M. Kowalowski C. Rabideau (sp?)
M. Bracey S. La Duke C. Shusda
R. Butchino A. La Mountain D. Sutton
N. Canning S. Lancto B. Varin
J. Carron S. Marshall J. Varin
R. Corral L. Nephew A. Whitney
R. Evertsen C. Olivan C. Wilson
K. Gregory S. Osborne A. Yanulavich
B. Islas B. Pageau
P. Kerttu L. Parnell Fifth Grade (group pictures):
J. Bingel S. Gonyea R. Minckler
R. Caswell D. Gonzales B. Nephew
J. Cayea J. Gregory R. Pageau
H. Charland R. Gregory G. Parnell
S. Charland B. La Duke A. Pivetta
S. Chase R. La Duke J. Powers
L. Collins M. Lancto M. Rodriquez
R. Collins R. La Point C. Rounds
P. Drasco J. Linney T. Rounds
R. Evans D. McKinney P. Supley
J. Farrell J. McKinney M. Umber
R. Farrell T. Marshall G. Wilson
M. Getavesky (sp?) D. Minckler W. YanulavichFourth Grade (group pictures):
J. Ashline R. Kaska A. Osborne
P. Begor D. Kline G. Pageau
C. Blaise T. Kline P. Parnell
R. Butchino C. La Duke C. Powers
M. Canning H. La Duke R. Powers
F. Carron R. La Duke E. Siskavich
T. Carron S. La Duke J. Siskavich
F. Cayea J. La Fountain P. Sutton
S. Collins S. La Mountain J. Umber
E. Defayette G. La Point W. Wells
W. Gadway B. Lancto B. Whitney
H. Gillette J. Lawrence M. Vernosky
T. Gonzales J. Lawrence R. Wilson
J. Grew L. McCasland S. Wilson
P. Grogan D. McKinney J. Yasment
V. Healey A. Minckler
J. Islas P. Minckler Third Grade (group pictures):
T. Begor R. Collins M. La Duke
G. Benware P. Compeau C. La Mare
R. Butchino W. Dashnaw W. La Point
D. Bruso L. Farrell D. Marlow
J. Cayea B. Fifield J. Morse
W. Canning P. Gadway C. Rodriquez
B. Carron S. Getevesky (sp?) J. Rollier
R. Carron T. Golovach B. Von Wald
P. Chase D. Gonzales P. Wilson
R. Chase R. Gregory D. Woodward
L. Collins T. Kowaloski Second Grade (group pictures):
D. Alexander L. Gregory A. Robinson
J. Ashline G. Gregory L. Rollier
M. Benjamin R. Healey F. Shusda
C. Benware E. Islas R. Umber
J. Bracy F. Kelley D. Vidal
K. Canning L. La Duke J. Woodward
R. Charland C. La Fountain K. Woodward
A. Chase A. La Point M. Whitney
B. Collins F. La Point
J. Corral P. Pageau First Grade (group pictures):
N. Bassett M. DuBray S. La Point
R. Benware J. Facteau S. LeBlanc
R. Bingle S. Fifield J. Osborne
J. Bosjolie A. Gadway T. Nelson
I. Boyea R. Gillette T. Rodriquez
G. Caswell J. Gadway G. Sutton
H. Chase M. Gregory C. Wilson
P. Chase P. Kerttu M. Wilson
M. Collins P. King L. Wood
R. Defayette B. Kline
L. Dickerman T. Kowalowski Kindergarten (group pictures):
M. Benjamin M. Facteau R. Peters
P. Benware D. Fifield R. Petrashune
A. Bingel R. Golovach J. Robinson
S. Bracy W. Gonzales E. Rollier
D. Brooks E. Gregory G. Sutton
R. Butchino B. Healey A. Thompson
J. Carron T. Kelley R. Umber
R. Chase B. La Duke L. Woodward
E. Dashnaw J. Olivan R. Yanulavich
W. Denney F. Pageau S. Zimmer
---

Subject: Lyon Mountain
Date: Sun, 23 Feb 2003 12:46:24 -0800 (PST)
From: Jessica Cayea <jjcayea@yahoo.com>
Dear Rod,
I spent alot of my summer years on first street
right across from the sand piles with my aunt whom
lived to be in her mid-nineties (Mrs Clifford (Freda)
Cayea). The area is so rich in history and the stories
my aunt used to tell me were very interesting to me. I
was very suprised and happy to see that someone else
enjoyed that little community or at least cared enough
to learn about it. Thanks Rod.
Jessica J. Cayea 181/2 Main Street; Massena, NY

---

Subject: History of Lyon Mt. & Dannemora
Date: Tue, 20 May 2003 13:24:57 -0400
From: "Pat Breen" <Pbreen@pomfret.ctschool.net>
Dear Mr. Bigelow -
My son, Gregg, who lives in Arlington, VA recently sent me your website which I found very
interesting.
My husband, Michael Breen is formerly from Dannemora and I was from Lyon Mountain - my maiden
name was Patricia Grogan. We have been in CT since 1967 - moving here as a result of a transfer with
Montgomery Ward Co.
Mike graduated Dannemora High in 1956 and I graduated Lyon Mountain High in 1958. We have 5
children and 8 grandchildren.
Mike's parents were Leo & Dorothy (Keenan) Breen and lived in the three story yellow/cream colored
house across from the prision. The house is now vacant an in great disrepair. He has one brother
Timothy who now lives in So. Windsor, CT.
My parents were Dan & Lucille (South) Grogan and lived near the bridge in Lyon Mt. I have one
sister, Mary Pageau who still lives in Lyon Mt. and two brothers Bernard & Jim Grogan who also still
live in Lyon Mt. Jim just retired from the prison.
Thank you for all the work you put into creating the website - a lot of valuable information. I do have
the "Mining for Souls" book but did not have anything on the history of Lyon Mt. so found that very
interesting.
NOTE: Ex. 1 Home of Mrs. Mary Cordick in St. Bernard's Church - Catholic "Early Life in Parish" -
Mrs. Cordick is my great grandmother; James & Minnie my grandparents ; Catherine & Charlotte my
father's sisters.
GREAT! Thanks again.

---

Subject: Sequel to "Haunted Northern New York" - Clinton County Stories
Date: Tue, 11 Mar 2003 10:06:31 -0800 (PST)
From: Cheri Revai <hauntedny@yahoo.com>
My name is Cheri Revai, and I'm the author of "Haunted Northern New York," published last year by
North Country Books, Inc. "Haunted Northern New York" has been incredibly successful—going into
a second printing after just three months of being released and remaining in the #1 spot at Massena's
Waldenbooks (as well as other local book stores) for more than 7 months STRAIGHT. It's being very
well received, and the manager at Plattsburgh's Borders has asked me to return for a second signing
because the book is doing so well there.
I'm currently writing the sequel to that one—which is my third book—and I'm looking for
stories in your area that I can research and include. My first book included stories from
Franklin, St. Lawrence & Jefferson Counties, with just one or two from Clinton County.
I'd like to include many more Clinton County stories in this one.
Are there any haunted homes or businesses in your area that you have heard of? If so,
please let me know who I would contact to get more information, or send me the
documents (i.e. newspaper clippings, etc.) you have on file, and I will gladly reimburse you
for the cost of photocopying/ postage. I will also include you in my Acknowledgements
section for your assistance. Please let any hesitant homeowners know that they can remain
anonymous in their stories (as well as their address), if they desire. Businesses, on the
other hand, always enjoy an increase in business when they "go public" with their tales of
hauntings…..people are drawn to them out of curiosity; and this was proven by the
publicity they received
I'm looking forward to hearing from you. I'm hoping to send my final manuscript for the
sequel to the publisher by the end of April, so please reply as soon as possible. Thank you
so much for your time. Please check out my links below for more info about "Haunted
Northern New York."
Amazon link to book: http://www.amazon.com/exec/obidos/ASIN/0925168459/qid%3D1027602303/sr%3D11-1/ref%3Dsr%5F11%5F1/103-1708509-8471801
Web site: http://www.hauntedny.com
Adirondack Life Magazine review:
http://adlifedev.4lane.com/template/OnlineFeatureDetail?assetid=15281&preview=true
---

Subject: Inquiry
Date: Fri, 04 Apr 2003 12:43:38 -0500
From: Rib and Mary <marimel@westelcom.com>
A while back, I discovered a site called "Mining For Souls" which had
numerous photos and history of Lyon Mountain. I tried to access this site
again recently only to find it no longer exists.
I was under the impression that you created this site. I am interested
in gaining access again because pictures and articles pertained to my
family. I would like to show these pictures to my grandchildren.
If you are able to direct me to this site, I would appreciate it.
Thank you!
Mary (Grogan) Pageau
Lyon Mountain
E-Mail - marimel@westelcom.com
Mining for Souls 1, and St. Bernard's 1.........................ROD

---

Subject: Mining for Souls
Date: Thu, 17 Apr 2003 20:22:14 -0400
From: "Paul Blair" <pblair681@netzero.com>

Hi Rod and Greetings from Syracuse, New York,
My name is Paul C. Blair. I happened to stumble across your web-site recently. And quite frankly I bookmarked it and went back to it a few times. Excellent site!!
My father was born in Standish, New York (1913). And obviously the earlier generations of my family were one of many who worked the mines and/or timber trades throughout Clinton and Franklin County from the 1870's right on up to the 1930's.
What really grabbed my eye was the segment on St. Bernards, and St Michaels Churches (Mining for Souls).
To make a long story short I am particularly interested in the period between 1880 and 1900. I have a good portion of the generation from that period that just seemed to disappear from the face of the earth. As we all know there does not seem to be much in the way of Federal or State Censuses for that time period. And the churches have been somewhat helpful. So it was nice to see your article on St. Bernard's and St. Michaels Church.
I have two basic questions that maybe you can shed some light on. (1) Is there any literature or books that would cover the history of Assumption of Mary Parish in Redford, New York? I do have a copy of Births, Deaths, and Marriages, from 1853 to 1923, along with the Baptisms from 1853 to 1910. It has been rather invaluable to me in piecing together some of the earlier generations of my family line.
Question (2) would be, prior to 1900, would there possibly have been two townships of Saranac? One located just up the road from Redford and the one just below Dannemora. Or were they both one in the same.
I'm sure I could go on and on. But I think I have rambled on enough for now.

Paul C. Blair
Syracuse, New York

---

Subject: Lyon Mountain history wanted
Date: Mon, 31 Mar 2003 17:33:38 -0500
From: "Mary & Richard Ducharme" <m.a.ducharme@rocler.qc.ca>

Dear Rod Bigelow,
I was looking today at your Website for Lyon Mountain and found it enjoyable. I was wondering if you may have a previously unpublished article about that community that you would submit for consideration in The Antiquarian which is produced by the Clinton County Historical Association --of which I am editor. Space in the 2003 edition is already committed but I still have space for 2004 and I am interested in the heyday of mining there and the multicultural nature of the village that resulted. A friend of mine, Patricia (Gonzales) Vorabetz, once lived there, and I know her father died in a mine accident, leaving his wife and nine children without support. I also know that the effects of the 1918 Spanish Flu were particularly devastating there. You probably know of many similar human interest stories that would illustrate the everyday life of this small mining town.
You are also invited-- along with anyone else-- to submit an article about Lyon Mountain to the McMasters History Writing Competition which has a deadline of May 1. The prize for first place is $500.00 plus a framed certificate awarded at a special event at the end of May. I can send you further information if you are interested.
Also would you consider a linkage to the CCHA Website which is just getting on its feet? We are looking for quality Clinton County information like yours.
Please let me know.
Mary Anne Ducharme
too late I know, but write to her if you have something to submit...............ROD
website: info@clintoncountyhistorical.org
Email: craigallen@westelcom.com

---

Subject: Inquiry
Date: Fri, 04 Apr 2003 12:43:38 -0500
From: Rib and Mary <marimel@westelcom.com>
Mr. Bigelow
A while back, I discovered a site called "Mining For Souls" which had
numerous photos and history of Lyon Mountain. I tried to access this site
again recently only to find it no longer exists.
I was under the impression that you created this site. I am interested
in gaining access again because pictures and articles pertained to my
family. I would like to show these pictures to my grandchildren.
If you are able to direct me to this site, I would appreciate it.
Thank you!
Mary (Grogan) Pageau
Lyon Mountain
E-Mail - marimel@westelcom.com
see http://bigelowsociety.com/history/souls/souls1a.htm

---
Subject: hi!!!
Date: Fri, 4 Apr 2003 01:13:41 EST
From: Cardeadragon19@aol.com
I am an 19 female Plattsburgh NY and I am 1 out of a
group of 8 people that are interested in ghost hunting.
We heard stories about lyon mountain, about it being
haunted. We want to know if there are stories about
haunting in this area and we would love to read them.
please e-mail me back asap and let us know. thanks alot
anybody?................................ROD
---
Subject: Lyon Mountain
Date: Wed, 31 Jul 2002 21:57:10 EDT
From:Erin Rolich Kjrolich@aol.com

Dear Mr. Bigelow
I am 12 years old. My father was born in Lyon Mountain. My grandfather and
Uncle both worked in the mines. There name are Bernard Rolich that is my
grandfather and my uncle who is more known is Donald Tolosky. But alot of
people know him as Pickles. That is in fact his nick name that most people
from Lyon Mountain have.

Sincerely
Erin Rolich
Pickles Tolosky has been of great help in talks with Don Jackson and John Schaeffer, about Lyon Mt...................ROD
---

Subject: a question about merrill
Date: Mon, 2 Dec 2002 18:55:38 EST
From: Twizzler42884@aol.com

my name is ashley i am doing a research paper about merrill for my college english class and was wondering if you had
any information. i am looking for information about the amphitheater, the founders of merrill, and the owly out, i had
heard that it used to be a department store for merrill and lyon mountain. if you have any information that might help me
in my research project please let me know. thanks.
Twizzler42884@aol.com
see Souls 1,.................................ROD

---

Subject: Carter - in Lyon MT in 1906
Date: Fri, 18 Oct 2002 20:32:19 EDT
From: Dahlman1@aol.com

I am searching for my Grandfather's family. He was born in Lyon Mt in1906.
His father was Adelbert Carter - Mother Elizabeth Gregory. His name was
Thomas Earl Carter. Any help you could provide would be great. They don't
appear to be in the area by 1920
Thanks
Sheri

---

Subject: Standish Blast Furnace
Date: Tue, 18 Jun 2002 15:10:42 -0400
From: dsmith@lasalle.edu

Dear Mr. Bigelow,
I have greatly enjoyed your pages on Lyon Mountain and the surrounding area. I am beginning construction of an N-scale railroad layout based on what the Chateauguay RR might have looked like, if it had continued operating in its entirity into the late 1950's. One of my first projects is construction of the Standish Blast furnace complex. I am wondering if you have either additional references on the complex or suggestions as to people or organizations that I might contact.
I have already done the easy background research - a thorough seach of the web (how I found your site and photos at the NEB&W site) and reading Kurdish's excellent book on Railroads of the Adirondacks - but I would really like photographs or drawings of the structures associated with all of the smokestacks to one side of the blast stoves, any views from the side oppossite the skip loaders and highline, and any information on how the pig iron from the furnace was cast/transported.
I note that you have done some research at the Adirondack Museum, which was on my list of places to check out. Does your web site contain all they
have or would it be worth my while to go there and dig more?
If you have any material which you would be willing to share, I would happily pay for any costs associated with duplicating or mailing.
The Lyon Mountain mine complex is next on my list, so I would also be interested in additional information on it.
Sincerely,
Dave Smith

David Lee Smith, Ph.D.
Associate Professor of Geology, Environmental Science, and Physics
La Salle University, 1900 W. Olney Avenue, Philadelphia, PA 19141
http://www.lasalle.edu/~dsmith dsmith@lasalle.edu

---

Subject: Standish
Date: Wed, 16 Jan 2002 00:05:54 -0000
From: Brian La Fountain < Marilynl@tds.net >

Dear Mr. Bigelow:
I have written you before and forwarded old photos with your family name to you and you were
very happy to see them. I wonder if you might be able to post this letter on your very detailed
site. I am from Standish, N.Y. and went to school in Lyon Mountain, as did many of my relatives
and parents. All of my family names (La Fountain, King, Rascoe and Barber) are still living in the
Clinton county area and generations before carried these names in the same towns their families
live in today. I am very proud of my life there in the 60's and 70's and now live in Virginia (Hot
Springs). I am on a mission to see old photos (1960's and before) from Standish. I lived on Front
Street when it was a pristine and warm community of manicured lawns and people walking to
church every Sunday. Everybody worked hard and shared their lives. You knew everybody and
everybody was family regardless of name. My parents were wed in Lyon Mountain and had their
reception at the Standish firehouse. It is so very important to me to obtain photos taken in this
town and if anybody can help me, I will be more than grateful. I hope somebody shares my
passion about this once beautiful and somehow forgotten town where my heart resides.
Thank you so much,
Brian La Fountain
P.O. Box 149
Hot Springs,
Virginia
24445

---

Subject: Pashow Family History
Date: Tue, 25 Dec 2001 19:57:38 -0500
From: "Colleen Richardson" < crichar4@twcny.rr.com >
Dear Mr. Bigelow: I found your page from a simple search on the surname "Pashow" and was wondering if you have any
other details on the Pashow's mentioned here. I'm uncertain as to what town this is about as I know nothing of Mining,
just interested in finding ancestor connections to a "Mary (Molly) Pashow (1723-1807) of Norton Mass. She married
Richard Eason and they had 10 children. The couple both died in Franklin Co.
Any info you have would be appreciated. Thank you.

---

Subject: Present day ownership of the Mineville property.
Date: Wed, 12 Dec 2001 17:54:14 -0500
From: "Les Heymann" < lheymann@mail.transdata.ca >

Dear Rod,
I am doing some work to see if I can get someone interested in reprocessing the tailings area at Mineville. I came across
your article on the web and thought that you might be able to help me. I need to know where the mining lease records are
kept in that part of New York. Have you any idea?
Best regards,
Les Heymann

---

Subject: Lyon Mountain
Date: Mon, 17 Dec 2001 16:32:34 -0500
From: "Helen Hossley" < HelenH@Ensave.com >
Hello Mr. Bigelow,
My name is Helen Siskavich Hossley. I currently live in Burlington, Vermont and I am in the process of doing some research on my hometown of Lyon
Mountain. Don't you just love the internet? I want to thank you for doing such wonderful research. You've given me a jumpstart on my research.
Why am I researching? 1) Because I have a love of history and 2) I want to be able to better understand this dying town.
As a matter of interest, my brother David has leased the sand pile and the old mining buildings. He is building a processing plant for the sand
to be used in various applications -- sand blasting, pool filters, etc. His web-site is LyonBlast.com.
I forgot to mention: one of many things I found interesting was the fact that George Collins was given credit for finding the ore near Lyon
Mountain. My great-aunt Mabel born in 1899 near Chateaugay Lake was a Collins. She lived to be 95. She worked for Mr. Linney (apparently one of the managers of the mines) and then went to work for the school as a cook until she was forced to retire at the age of 70.
Sincerely,
Helen

---

Subject: Question
Date: Thu, 8 Nov 2001 22:38:58 EST
From: HambisCA@aol.com

I am doing a research paper for an Anthropology class at Plattsburgh
St. about Lyon Mountain and the Iron industry....the people, the life,
the dangers....how the area grew around it...all kinds of angles. Is
there any information that you can point me to or do you know anything that may
help?

Thanks
Mark Hamilton

---

Subject: PALMER HILL MINE
Date: Sun, 16 Sep 2001 11:13:22 -0700
From: "Bill Franklin" <wdf@home.com>

I just ran across your web site today and was really interested in
the Iron Ore mining history. Great job!
My GG Grandfather came from Cornwall England and apparently migrated
to the area about 1871 and left around 1879. I'm assuming he worked at the
Palmer Hill Mine as records I have for his children indicate they were born
at Palmer Hill. Can you recommend a local historical society, and/or
Methodist church I could contact in the area as I'm trying to obtain birth
records, photos, maps, nearest town to Palm Hill, etc.
I had no idea there were Iron mines in the area and hope one day to
visit for a first hand look. Just wish I lived closer so I could make
Motorcycle trip of it as I hear your part of the country is quite beautiful.
Thanks, Bill Franklin

---

Subject: LYON MOUNTAIN
Date: Sat, 7 Apr 2001 20:41:45 -0400
From: "Lyon, Rock H. GS (NAS Oceana)" < lyonr@nasoceana.navy.mil >
Mr. Bigelow,
My name is Rock Lyon. I currently reside in Chesapeake VA., but most of my family lives in north central Kansas.
For years I listened to my father talk of Lyon Mountain and how he would like to visit the area and learn more of the history, especially how it may pertain to our family. Unfortunately he passed away before he was able to
visit the area.
I was hoping you would be able to provide me with more information about Nathaniel Lyon or tell me where this information may be found.
Any help you may provide will be greatly appreciated.
V/R,
Rock H. Lyon, Battalion Chief
Navy Regional Fire Rescue, Hampton Roads
Virginia Beach Fire District, Dam Neck Site
lyonr@nasoceana.navy.mil

---

Subject: Weed
Date: Wed, 1 Aug 2001 16:19:01 -0700
From: "Veeser Bobea" <bobea.veeser@codetel.net.do>

I am preparing to publish a manuscript with Columbia University Press that includes several chapters about Smith M. Weed's investments in the Dominican Republic. I would like to illustrate the book with a portrait of Weed like the one included on your interesting website about Lyon Mountain.
Do you remember where you found the picture of Weed and whether or not it is still in copyright?
Thanks very much for your help.
Cyrus Veeser
Assistant Professor of History
Bentley College
Waltham, MA

---

Subject: Lyon name
Date: Sat, 14 Apr 2001 13:57:27 EDT
From: Carol Doyle Cd5758@aol.com
Rod,
I know I have asked before but I was wondering if anyone has found out any
family information on Nathaniel Lyon, for whom the Mt. is named after. He is
my great great great grandfather. I still have been unable to find anything
on his. I know that his daughter Martha married a man named Eli Bates and I
can work my way to the present from there. I can't find out Nathaniel's
wife's name or his ancestors. Thanks, Carol Doyle

---

Subject: Mining for Souls
Date: Wed, 19 Dec 2001 19:27:39 -0500
From: Darleen March < darleen@netheaven.com >
Dear Rod,
I've enjoyed your posting on the History of Lyon Mountain. I came to research your site due to my desire to obtain the original owner of my
current homestead. I have been trying to find the residence of Andrew Williams (founder of Chateaugay Ore), or a Smith Weed, Nathanial Lyons
(when he was in Saranac), Mr. John Moffitt who earned the Congressional Medal of Honor, or the Parsons (both Jackson, George or son Edmund.)
or others who might have built such a wonderful home.
Could you research the archives of your mind if any of the below sounds familiar? It is probably a long shot, as your studies are more on
Lyon Mountain; but I thought it worth an e-mail, plus I wanted to express my pleasure in reading some of your work. Thank you.
My home is a wonderful old 3-story field stone house in Saranac on the Saranac River, near the old Hamlet of Russia (or named Moffittville in
honor of John Moffitt. In the roof rafters, a Duncan Murphy wrote his name lavishly in the roof rafters. In a book called "The Saranac Valley" by Sarah Baker, Duncan was described as the President of the Boomer Union, and probably just a boarder in one of Mr. Parson's many boarding homes, or perhaps a visitors with a sense of character as he seems to be described as in the articles I've read. This stone house is the only one in Saranac NY, hence it must of cost of fortunate (at that time to build); hardy not the stature of a labor union president; but probably someone thinking he deserves notoriety. Hence, I have concentrated my efforts on people who might of had some importance to them. I have check with the local town historian and she could not help me; however, asked me to keep her informed of any findings as this house always interest her as well.
A plague just down the road reads: 1845-1892 Hamlet of Russia, Ironworks of Jackson Parson, Bowen-Williams, Cording Mill, Shingle
Mill, Starch Factory, Company Store, 1/2 mile west of High Falls. Moffittville or Russia (one in the same) had the force of Bowen & Signor, plus a saw mill of D.H. Parsons and a starch-factory of Lyon & Vose owned by Parson & Justin.
In some of the text I've read there was a homestead named "The Notch House" which is on the south bank of the river in Russia.
As you can sense, I'm confused. I have yet gone to the county records; but fear the deeds probably don't go back that far. I have only
recorded down five levels of ownership.
If you have any knowledge, or find this as a brain teaser as I do, I appreciate any relavant help. Thank you in advance.
Darleen March
87 Soper Road
Saranac, NY 12981
darleen@netheaven.com

---

Subject: Robert J. Linney
Date: Thu, 6 Dec 2001 22:48:56 EST
From: Jennifer L. Schendel Tiggerz1820@aol.com
I am the granddaughter of Robert J. Linney, brother of William Linney profiled in page three of your website. I am writing to you to inquire about my grandfather. I would like to know if you have any articles regarding my grandfather, or perhaps his father, and Lyon Mountain and the mines. I would appreciate any information that you might have.
Thank you for your time.
Sincerely,
Jennifer L. Schendel
Tiggerz1820@aol.com

---

Subject: Nathanial Lyon
Date: Mon, 12 Feb 2001 03:47:23 EST
From: Carol Ladue Doyle Cd5758@aol.com

I am looking for any ancestor information you may have available on Nathanial Lyon. My gggg grandfather is Nathanial Lyon, through his daughter Martha
Lyon and her husband Eli Bates. Eli and Martha had a daughter Martha bates who married Charles Mason, Charles was the Father of Katherine Mason who
married Joseph Ladue. Any help on this mans ancestors would be appreciated. Thanks, Carol Ladue Doyle

---

Subject: Lyon Mountain
Date: Wed, 09 May 2001 11:28:09 -0400
From:Chris Granger chris.granger@sympatico.ca
Your web site looks good. I was wondering what type of information youmay have on the Chateaugay Railroad that ran through there. My specialty is the New York Central's Ottawa line (near you and I), but I use to stay with my grandparents on Lyon Mountain in their cottage long ago in summer. I saw the old rail bed and I would like to add that line
to my files.
Chris Granger
Cornwall, Ontario

---

Subject: Info on Miners?
Recommend contacting Don "Pickles" Tolosky, who lives in Lyon Mt. Phone number is 518-735-4348. Don is a great resource regarding Lyon mountain town and mining operation history. Sorry no email.
also Don Jackson: StoneyD33@aol.com
and John Schaefer

---

Subject: Request for any information on Gordon Family of Standish, NY
Date: Sat, 6 Oct 2001 07:01:47 EDT
From: C.J. Foster Chunfa@aol.com
Dear Mr. Bigelow:
I have been researching my family tree and it seems my great Grandfather, Alexander Gordon either lived or was born in Standish. His father was Peter
Gordon and his mother, if I read his death certificate correctly was Catherine or C. Munsen.

My grandfather Herman Gordon is listed as having been born in Standish. Alexander is known to have enlisted in the 65th NY Vols during Civil War.

I will be traveling to Standish today to look around, but if during your research, you came across this family anything you have would certainly help my
quest.
I may be reached email at Chunfa@aol.com. Or via mail at: Clayton J. Foster, 8 Evergreen Drive, Bow, NH 03304.
Thank you in advance for anything you can provide.
C.J. Foster

---

Subject: Remillard
Date: Mon, 10 Sep 2001 20:03:39 -0400
From: "Edna Gray" < EdnaGray@msn.com >
I am searching for information on Olivette H. Remillard, daughter of Virginia Remillard, born in Lyon Mountain, New York around 1889. Any information you can provide would be appreciated. Thank you, and I really enjoyed your site.
Edna Gray

---

Subject: Regarding the web page you set up for St Bernards
Date: Sun, 26 Aug 2001 16:10:36 -0500
From: "nancy deluise" < ncossart@hotmail.com >
I was looking at your web page for St Bernards hoping to find some family history as both of my parents are deceased as well as all of my
aunts, uncles and grandparents. I was very surprised to find a picture with
my grandmother(Charlotte Grogan), my great-grandmother(Minnie Grogan)
and my great-great grandmother(Mary Cordick) when I first looked at your sight.
Thank you very much. I wanted to know if it would be possible to get a good copy of the picture for my self? It would mean a great deal to me
and my family. My mother was Julia Stacavich, Anthony's and Charlotte's daughter.

Thank You,
Nancy (Cossart) DeLuise
need help on pictures...........................................ROD

---
Name: Jenn Lafountain
E-Mail: jenn398@webtv.net
Location: Upstate NY
Comments:
I am doing research on Lafountains who settled in Lyon Mountain to work the mines. If anyone knows anything Please let me know! Great site!!

---

Subject: Lyon Mountain
Date: Wed, 11 Jul 2001 22:13:10 -0600
From: "Jan Couture" < chipmunka@westelcom.com >
Dear Rod--
My name is Jan Couture and I'm the sister-in-law of Earl and Clem Couture. Dave is my husband. I'm the historian for the town of Saranac and I also do a little searching for my own fun as well as for others. I have been asked to find out about a dairy that was in Lyon Mountain. It had guernsy cows and was called CAMP AIYUKPA (the spelling is
correct). I remember a big barn with cow stanchions (was it green?) on the Sunset Rd. Could this have been it????
Have you ever heard of this? How about any of your friends???
Thanks, Jan
I was talking to Roger Lafontaine today and asked him about the dairy. He said the dairy was owned
by a Williams, and was immaculate. It was on Sunset Rd. Besides milk, they also made very creamy ice cream. The ice cream was called AIYUKPA and was delicious. They sold it in Dannemora at Manions pharmacy (later Collins and now Frennette's store).......................ROD

---

Subject: photo info
Date: Tue, 10 Jul 2001 14:18:16 -0700
From: "Fortier, Thomas H."
Love your site on Lyon Mountain.
My father's family is all from that town. On your website you have a photo of his father, Henry Fortier. It was under "Mining for Souls" page 46=71. Thanks for the work you put into your site, it was a great trip into the past for all of us.
Tom Fortier

---

Subject: Lyon Mountain Powerhouse
Date: Wed, 11 Jul 2001 20:44:06 +0000
From: John Park stonerosepub@att.net
Dear Mr. Bigelow
Please allow me to introduce myself. My name is John Park, and I wrote/publish a book on mining heritage sites
called "A Guidebook to Mining in America". You might like to look at my webpage
http://stonerosepub.home.att.net.

By accident, I found your site http://pages.slic.com/bigelow/mine1.htm and associated pages, and found them very interesting.

Since most mining history sites have been oblitherated, I make a point of only including existing sites in my "Guidebook". However, I'll use any excuse (such as a historical marker) to include an interesting site and present its history.

If you know of any other sites that you think I should know about, I'll appreciate the info.
Best Wishes,
John Park

---

Subject: memories
Date: Wed, 25 Apr 2001 23:50:44 EDT
From:Sandra [ Gregory ] Crum RWCUST8576@gateway.net
I really enjoyed your web site, i grew up in ellenburgh center on the bradley pond road,my father was a fur buyer for many years and when he retiered we moved about 5 miles away to lyon mt. We lived at the top of what is now today called mine hill. i was showing my children pictures of what is was like there many years ago, they have been to lyon mountain many times over the past 5 or 6 summers and they are fascinated with the old mine buildings and the iron ore piles.we now live in myrtle beach sc. and we go to lyon mt. every year to visit my fathers grave at ST. Bernards cemetary. I've been
away from lyon mt. for about 16 years now and it really hasn't changed a whole lot, there are a couple of car dealers now and chases garage has gotton
bigger and johnny joes junkyard is now gone and apartment buildings are in it's place.but other parts of the town are still the same ,it's like going
home to a familiar place that i loved as a kid. one of my relitives ran greg's taveren for many years that is now gone from what i have seen from my
last visit. but the old railroad station is still there.things are slowly changing and lyon mt. is far from being dead. it will continue to survive as
long as there are people who love it. sincerely,
Sandra [ Gregory ] Crum

---

Subject: Lyon Mountain in 1900?
Date: Mon, 30 Apr 2001 19:02:15 -0400
From: Sharon Allen < msjallen@mediaone.net >

Would you happen to know how Lyon Mountain is listed on the 1900 census - or what town it might be part of? I've been going crosseyed looking at the online census images trying to find my great-grandparents and/or the
boarding house where they met (owned by a man named Dragoun or Dragounas).
Lyon Mountain is not listed by that name on the census...I can only assume it was part of another town at that point in time. Any ideas?
Love your website!
Sharon Allen
Town of Dannemora.......................ROD

---

Subject: Lyon Mountain, NY
Date: Sun, 15 Apr 2001 20:12:49 EDT
From: Matthew Hladik Bombardier720@aol.com
I am a geology student at Old Dominion University in Norfolk, Va. I am currently working on a research project about Lyon Mountain's iron ore. I found an article, "The Town That Refused to Die" on your web page and was wandering if you have any further information about Lyon Mountain or know of any place that I can get more information. If you can be of any help at all it would be greatly appreciated.
Thank you for your time,
Matthew Hladik
see Lyon Mt. page 1 for more links................................ROD

---

Subject: Miner Ancestor
Date: Sun, 25 Feb 2001 00:11:15 EST
From: William J. Marsden, Jr. WJMARSDEN@aol.com
Enjoyed your website. I have an ancestor who I think may have worked in the mines around Port Henry in the mid to late 1800s but I have had trouble confirming this. My ancestor, William J[ohn?] Rosborough was probably an Irish immigrant, though he may have come to the Port Henry area via Canada. Was there an influx of Irish immigrants to work in the mines in the 1800s? Do you know of any good genealogical contacts in the Port Henry/Mineville area? Any information you can provide will be appreciated. Thanks.
William J. Marsden, Jr.
marsden@fr.com

---

Subject: Tahawus ghost town
Date: Sat, 17 Mar 2001 05:46:27 -0500 (EST)
From: SHAWNFromNY@webtv.net (SHAWN REILLY)
Could you please send me any information on this abandoned town. Also its location from Saratoga NY . My mailing address is 208d turf trailer park, Clifton Park NY 12065, or e-mail me. Thank you

---

Subject: Father Lorrain of Lyon Mt.
Date: Mon, 12 Mar 2001 09:20:50 -0500
From: "TJ" < thowell@maine.rr.com >

I was wondering if Father Lorrain had any relations and who they are. I am trying to trace my grandparents
---

Subject: Web Page re Bigalow
Date: Fri, 2 Mar 2001 12:14:29 -0500
From: "John F. Johnson" < j.johnson@UPS.COM >

Hi, Was just reading your page about Lyon Mountain and was very interested. As a young boy I used to visit my great aunt in Lyon Mountain. They lived about 100 yards from the slag pile in what I presume was a company house. Her name was Louise Umber (nee Caswell). Later on, I heard that the slag pile had eventually swallowed up the house and the family moved to Peru.
My Great grandfather, George Davies was a manager at the old Chateguey Ore Company and lived in Standish. He passed away in 1905. My grandfather was a station master for the D&H in Standish, Lyon Mountain, Saranac Lake, and Au Sable Forks. My uncle Don Davies, who also worked for the D&H at one time, was a salesman for Metropolitan Life in Danemora. He lived across the street from the prison on the top floor and we could see some of the grounds of the prison from their window. My paternal grandfather George Johnson, was a manager for Chateguey in the 30's and 40's in Standish and later was transferred to a plant in Pennsylvania. Several years ago I visited Standish and was told the old train station was torn down and was rebuilt into a house on the corner (the only corner in Standish). I spoke to the owner who knew all my relatives, and even remembered me, although I had not lived there in 55 years and was a boy of about 4 when we left for Pennsylvania.
I was born in Plattsburgh, but my folks were living in Standish at that time. One time when I was 40ish living in New Jersey, I ran into quite
accidentally, the brother of the doctor who brought me into this world (Doc Kaiser of Standish). Small world.
I will delve further into your pages. Thanks for the insight on Lyon Mountain. I will put a link to you on my web page, which I use for mostly
family pictures... John Johnson, Valrico Florida web page:http://www.geocities.com/ausable37/

---

Subject: John Gadway VII [?]
Date: Wed, 1 Aug 2001 23:28:42 -0400
From: "John F. Gadway" <gadway@earthlink.net>

I stumbled across your page while looking for my own 'footprint' in cyberspace. I believe I am the
same John Gadway who is supposed to be a doctor with a practice in the Miami area. I earned a
Ph.D. from Tulane University in New Orleans in 1972, so some people call me "Dr. Gadway," but I am
not a medical doctor.

I was born in Homestead, Florida on February 14, 1943, only son of John Herbert Gadway, son of
John [M?] Gadway, of Chateaugay Lake, who had some kind of store in Merrill, I believe, back in the
20's. I didn't really get to know my father, who died June 23, 1947, in Homestead, but his sister, my
aunt Esther Gadway Shutts, used to tell me that I was the "seventh oldest son of an oldest son named
John." In 1978 I passed through Malone, NY, on my motorcycle, and found a Jim Gadway in the
phone book. His wife invited me out to their place south of town for supper, where I met Jim. His
wife, it turns out, was also a Gadway, and their family bible showed Jim went descended from a John
Gadway three or four generations back. So we were some kind of cousins. They were the first--and
so far--only Gadway's I have met in my 58 years who were not part of my immediate family.

I recognize my father as a sixteen-year-old in the picture of "Bands" by Joseph Kaska in Mining for
Souls, page 37, even though he is partly obscured by the person in front of him, because I have a
picture of him from that time. I don't recognize him in the picture on the next page, which was from a
year earlier.
John Francis Gadway

---

Subject: miner's
Date: Tue, 20 Feb 2001 08:17:43 -0800
From: "pierre collette" < pierre@surfglobal.net >
Dear Rod
My name is Carol Ann Brill.I lost my father Raymond Lavarnway in the mines. In 1951 I was only one year old when he was killed. My mother never talks about my father's side of the famialy. I was wondering if you knew him or would know if he had brother's or sister's living in the Mineville area? If you can't help me maybe you know somebody that can. Any information
will help. Thanks for your time. I will be using my boyfriend's e-mail addresss. We both live in Vergennes, VT. Thanks again carol!
pierre@surfglobal.net

---

Subject: Lyon Mountain
Date: Sat, 12 Jun 1999 09:05:06 -0400
From: "Bob Scott" < bob.scott@mindspring.com >
On the Index of Mining for Souls, all entries for St. Bernard's and United Methodist Church.
Thought you might like to know. We have the book, but would enjoy seeing it online.
Bob Scott
PS: I married the granddaughter of Catherine Ryan from Lyon Mountain. Owens Dale Grogan is Catherine's nephew. I knew Doc Keysor very well. A friend of mine forwarded the URL to me.

---

Subject: map
Date: Sat, 27 Jan 2001 22:50:57 -0500
From: "dennys001" < dennys001@email.msn.com >
I'm looking for a map of the mines at Lyon Mountain
(underground)........ do you have one or do you know where to obtain one?.........I read your article about lyon mountain that
was printed in 1967.....enjoyed reading it.........I also got your oops notice.......
Answer back at denny@001msn.com
denny@capital.net
thankyou
no maps, but have sketches. see Sketch1..............................ROD

---

Subject: Info on Miners?
Date: Tue, 21 Nov 2000 20:15:46 -0500
From: "Deborah Garrand" < dgarrand@primelink1.net >
My name is Deborah ( DeCoste ) Garrand. I live in Mooers, NY, Clinton County. My Grandfather worked for Republic Steel and a few Uncles. Do you have any specific information about any of the workers?
My Grandfathers' name is Fred A. Boyea from Ellenburg, NY---Other names ---Wesley Boyea---Edward Secore--Fred Roland Begore and son Lee Begore who both died in the mines. If you have any info and would share it with me, I would appreciate it. I have copies of two pictures of groups of men who worked in this mine that I could send to you if interested.
Thank You, Deborah Garrand

---

Subject: Lyon Mountian : the town that refuses to die.
Date: Sun, 30 Apr 2000 22:05:36 -0400
From: "Frank Caswell" < frankcas@northnet.org >

Hi Rod,
My name is Frank Caswell, I am one of the sons of Allen Caswell in the article written in the November 5, 1967 Hearld
American. My dad and I were going through some old boxes at his house and found the same article as is posted here on the internet. I told him I would try to find the article on the internet, and thanks to you I did.
I noticed you live in Massena, well both dad and I live in Balmat N.Y., just south of Gouverneur on S.R.812. Dad retired 2 years ago from Gouverneur Talc Co. a talc mine here in Balmat. I work at Zinc Corp. of America, a zinc mine, also here in Balmat. I guess, it's reasonable to say that mining runs in our blood.
What is your connection to Lyon Mountian? Thanks for the great site.
Frank Caswell
see: http://bigelowsociety.com/history/empire/empire1.htm

---

Subject: Can you help me?
Date: Mon, 26 Feb 2001 15:55:23 -0800
From: "Janet M. Collins" < jc71363@northnet.org >
Hi,
I'm an eleventh grade student and for an English project I choose to do a feature article on Mining in Lyon Mountain and I was wondering if
you could send me some information. Thanks so much.
Sincerely,
Billie Jo Collins
---

Subject: Lyon Mountain, NY
Date: Sat, 29 Jan 2000 11:11:11 EST
From: Sonia Medika Smedika@aol.com

Is there anywhere I can locate information on Lyon Mountain, N.Y. My grand-parents setteled in this area in the very early 1900's (1902-1911) John was an iron worker. I am attempting to find information on a church in that area that many of the Polish/Russiian immigrants may have attended.
Any infomation regarding this area may be very helpful for me in my research. Thanking you in advance,

Sonia Medika
smedika@aol.com
see Mining for Souls 1a Index .................................ROD

---
From: Joe Yanulavich E-mail JoeSeadog@fan.net
Reply-To: jyanula1@nycap.rr.com
Being from Lyon Mtn and looking at your pictures, I question the year on the aerial photo on page 2 of the photos. It says 1967 and it is definitely late 40's if not before. As you travel north in the picture just past the row houses after going up the big hill (Sweden)that runs paralel to the sand pile, Philips Court should be on the right. That development must have 25 or 30 houses in it that you can see from my fathers homestead
(last house in left going north). Its definitely not in that photo. Lyon Mountain is not as nice as it once was when I was a kid. Many proud people lived there and kept their houses up, knowing the blood sweat and tears that went into every stitch of the town. My Mom's father, George Bassett would be appalled if he saw his old house and the
condition it is in. Despite the constant pounding of ore sand the houses took, his place was always neat as a pin. If you hung laundry out for more than a couple hours, it came back with a black tinge in ore sand. Your pictures show a Lyon Mountain that I loved when I was a child growing up. We lived in Denver Colorado then, but traveled back to Lyon Mountain every summer to visit. Thank you for your pictures of Lyon Mountain..............joe
---

Subject: your website "LYON MTN"
Date: Sun, 17 Jan 1999 05:27:46 -0500
From: "P.Anthony McLeod" < TonyMcLeod@worldnet.att.net >
CC: "Joe & Debbie" < JoeSeadog@fan.net >
Hello, Rod:
I agree with my cousin Joe Yanulavich (your page two entry)... my mother was his father's sister so we have a lot of the same family memories.. the picture is older than 1967, because, in the 50's the houses were well along in years, so your picture was probably taken in the late 30's or early 40's....AND the ore sand pile is "WAY" smaller than I remember it!
Good to see someone is working on keeping the history alive! Tony McLeod

---

Subject: Lyon family
Date: Thu, 04 Feb 1999 22:16:35 -0800
From: Drew Roberts < kyack1@ibm.net >
Hello,
I am trying to locate a geneology for General Nathaniel Lyon. The reason being, my gggg grandfather, Josiah Osborn's wife was "Annie LYON" who was supposedly a "Cousin" of Gen. N. Lyon.
Any direction or info you can point me to would be much appreciated.
I know nothing else about Annie Lyon.
Josiah Osborn was born May 1, 1881 in either Connecticut or New York.

Best Regards,
Drew Roberts
kyack1@ibm.net
Roberts-Osborn Family Home Page:
http://www.geocities.com/Heartland/Fields/7468/

---

Subject: Rogersfield
Date: Thu, 19 Nov 1998 19:13:36 -0500
From: "Michael Gadoury" < budman@cyberzone.net >
I am looking for a place called Rogersfield, New York. All I know is that the deceased relatives mentioned Dannemora Prison as being in the area. I believe Rogersfield might be a village name in a town near the prison. Can you help?
Thank you Bonapart

---

Sources:
Adirondack Museum photos, Blue Mountain Lake, NY;
History of Clinton County, New York;

---
Rod Bigelow
Box 13 Chazy Lake
Dannemora, N.Y. 12929

rodbigelow@netzero.net