A Century-Mining for Souls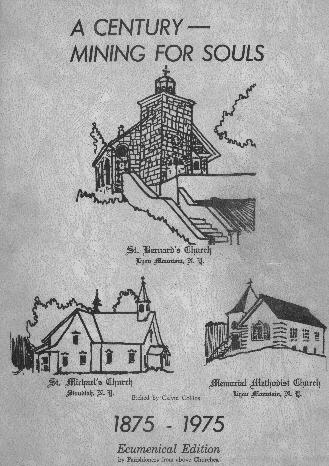 Index of A Century-Mining for Souls.


St. Bernard's-On-The-Rise - We call it -
That little church - that from its so slight eminence
Presides in simple dignity
Above the bustle of our mining town -


Just a soft splash of storm-washed red - it stands
Against the sombre background of the Adirondack trees
Yet near it, once I Heard - (Oh I am sure I heard)
The rustle of His golden gown -

It is not my church - if one stops to reckon things by sect and creed -
But as my simple household tasks I do
And as my sports and pleasures I pursue
Something within me breathes - 'Rejoice!
The sight of this small church
Has made you recognize - His Voice"!

by Margaret Nason


Lyon Mountain
June 1925 Before St. Bernard's red brick church was covered with grey permastone.
---
FOREWORD


This is a reproduction of the publication, " A Century- Mining for Souls - 1875 - 1975". It was produced in 1975 by Parishioners of the above pictured churches. Besides the churches' histories, it also contains history of the neighboring areas. History of the industries, schools, railroad, business, etc. are all included in this interesting book........ROD 10/26/99.


Lyon Mountain, N.Y.

"Lyon Mountain, in Clinton County, was named for
Nathaniel Lyon who came here in the winter of 1803
from Morestown, Vt. He crossed Lake Champlain on
the ice to Plattsburgh and then went by ox-sled to the
southern slopes of the mountain that hears his name.
His son, General Nathaniel Lyon, was a soldier in the
Mexican and Civil Wars and was killed in the battle
of Wilson's Creek in 1861.
Lumbering and iron mining were the early industries.
The iron mining is now under the control of the Cha-
teaugay Ore & Iron Company, which has one of the
modern plants of its kind in America. Here the ore
is mined, separated from the rock in the Williams Sepa-
rator plant and conveyed to the sintering plant where
it is fused to a cellular mass. It is then shipped to
Standish where it is converted into pig iron.

Both articles Taken from PASSENGER and FREIGHT STATIONS

volume by the Delaware and Hudson Company - June 1, 1928 pages 318-320


Standish, N.Y.
Standish, formerly named Williamsburgh, was set-
tled by two pioneer of the iron industry in that locality,
namely, Bowen and Williams, who constructed an iron
smelter here about 1873.
The property was acquired by the Chateaugay Ore
and Iron Company in 1881 and the place renamed
STANDISH by S.M. Weed after Matthew Standish, a
member of Mrs. Weed's family, and a sixth descendant
of both Miles Standish and John Alden."

---
Go to Page 2 of Mining for Souls.
Go to Index of Mining for Souls.

Rod Bigelow
Box 13 Chazy Lake
Dannemora, N.Y. 12929

rodbigelow@netzero.net

History Page

BACK TO BIGELOW HOME PAGE