Mining History
Highlights of mining history in the North Country:

Iron sand was mentioned in 1749 in writings by Swedish naturalist Peter Kalm while visiting Fort St. Frederic in Crown Point.

Phillip Skene, who founded Skenesboro in 1761 (now Whitehall), built the first ironworks on Lake Champlain.

In 1798, Plattsburgh namesake, Zephaniah Platt and associates erected and operated an iron forge at the mouth of the Saranac River.

Small iron works sprang up near the shores of Lake Champlain, Willsboro and other points, then ent inland to the Saranac Valley and Ausable Valley (Clintonville in 1810 or 1812).

Significant smelting shifted to Palmer Hill. The Palmer Hill Mine was developed north of Ausable Forks when a man trying to set up boundaries for a sheep pasture found iron ore.

Iron ore at Arnold Hill in 1806 was perceived as "virtually inexhaustible". It was gone in a couple of decades.

New Englanders and Quebecers came to the area during the early 1800's, when the iron industry converged from the north and the south. It was still fairly small scale, responding to local needs.

In Peru, a blast furnace (for an iron mine) was on the Little Ausable. All work was geared to local and regional markets. Important products of the time were boat anchors and horseshoe nails (developed in Keeseville).

Champlain Canal opened in 1832. This launched the North Country iron industry. It was isolated until then, with attempts geard only at locals. The iron industry became widespread. Isolation was broken down.

The Moriah iron-ore mining takeoff coincided with the opening of the canal. A host of new deposits were found. The town became foremost in iron-ore development.

Cedar Point Furnace opened in 1872, producing 20 tons a day, and 20 years later it produced 200 tons a day. Cedar Point Foundary was built in 1879. More buildings were built in the 1920's.

The Port Henry Iron Ore Co. was organized in December 1858.

Many small, early-producing mines opened in the 1800's in the towns of Elizabethtown and Westport.

Total ore production from mines in the Town of Moriah, from their discovery in 1869, was estimated at 1.1 million ons, with one-third of that amount produced during the lat six years.

Lyon Mountain iron-ore mining began in the late 1860's.

By the end of the 1800's, a lot of local ore mines were exhausted. Many mines were abandoned. Financial panics in 1837, 1857, 1873, and1893 brought financial ruin to some, while survivors grew stronger. After the 1873 depression, wages were reduced to $2.25 a day for a pit foreman and $1 a day for drill boys. This for a 10-hour day. Average daily wages climbed to $2.25 in 1912 and $3.33 in 1917.

Witherbee Sherman and Co. and Port Henry Iron Ore Co. were strong enough to survive depressions that ruined other companies.

Immigrants from England Poland, Hungary, Italy, and Spain came to the Champlain Valley communities of Mineville, Witherbee, and Port Henry.

Witherbee Sherman and Co. statistics: employment peaked in 1917 with 1,603 men; wages in 1920 were $4.94 a day; fatal accidents from 1911 to 1920 totaled 43.

Port Henry Iron Ore Co. ended mine production in 1923. Operations were acquired by Witherbee Sherman Corp. several years later.

Mines completely shut down during 1932-33, except for minimum pumping and maintenance, picked up in 1936-37.

The towns of Dannemora and Moriah were among the biggest mining operations in the 20th century.

Standish and Port Henry had blast furnace operations until the late 1930's.

Republic Steel appeared in the North Country during the late 1930's; in Moriah, 1937; Dannemora, 1939-40. Republic Steel bought the mines in what became known as theChamplain District.

Mining was intense during World War II. Miners worked around the clock to supply the necessary raw materials for planes.

Payroll in 1952 at the Morah mines was $4.058 million.

Mining profitability in the 1950's was unreliable because the demand was on-again, off-again, and the market tapered. Republic Steel sought lower-cost mining adventures in West Africa. Mines became deeper and deeper.

Today, Cedar Point is only the concrete blockhouse. Operations ceased in 1971, and 10 years later the remaining foundations were demolished, the elevated earth trestle leveled and the area graded.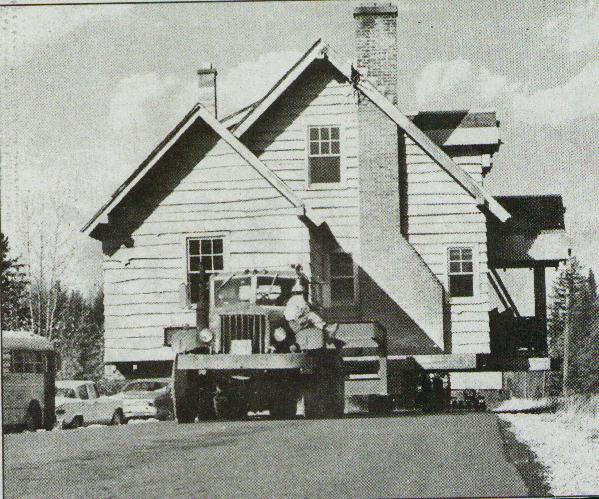 Mining expansion forced the entire village of Tahawus to be uprooted and moved to Newcomb in 1963.
Sources:
Lyon Mt Mine page;
Plattsburgh Press Republican; Jan. 3, 1999;
article by Louise Spring, Photos by Dave Paczak.
Also see:
Lyon Mountain page 1.
Lyon Mountain page 2.
Lyon Mountain page 3.

---
---
Rod Bigelow (Roger Jon12 BIGELOW)
P.O. Box 13 Chazy Lake
Dannemora, NY 12929

rodbigelow@netzero.net

BACK TO THE HISTORY PAGE

BACK TO BIGELOW HOME PAGE