John Emerson 8 BIGELOW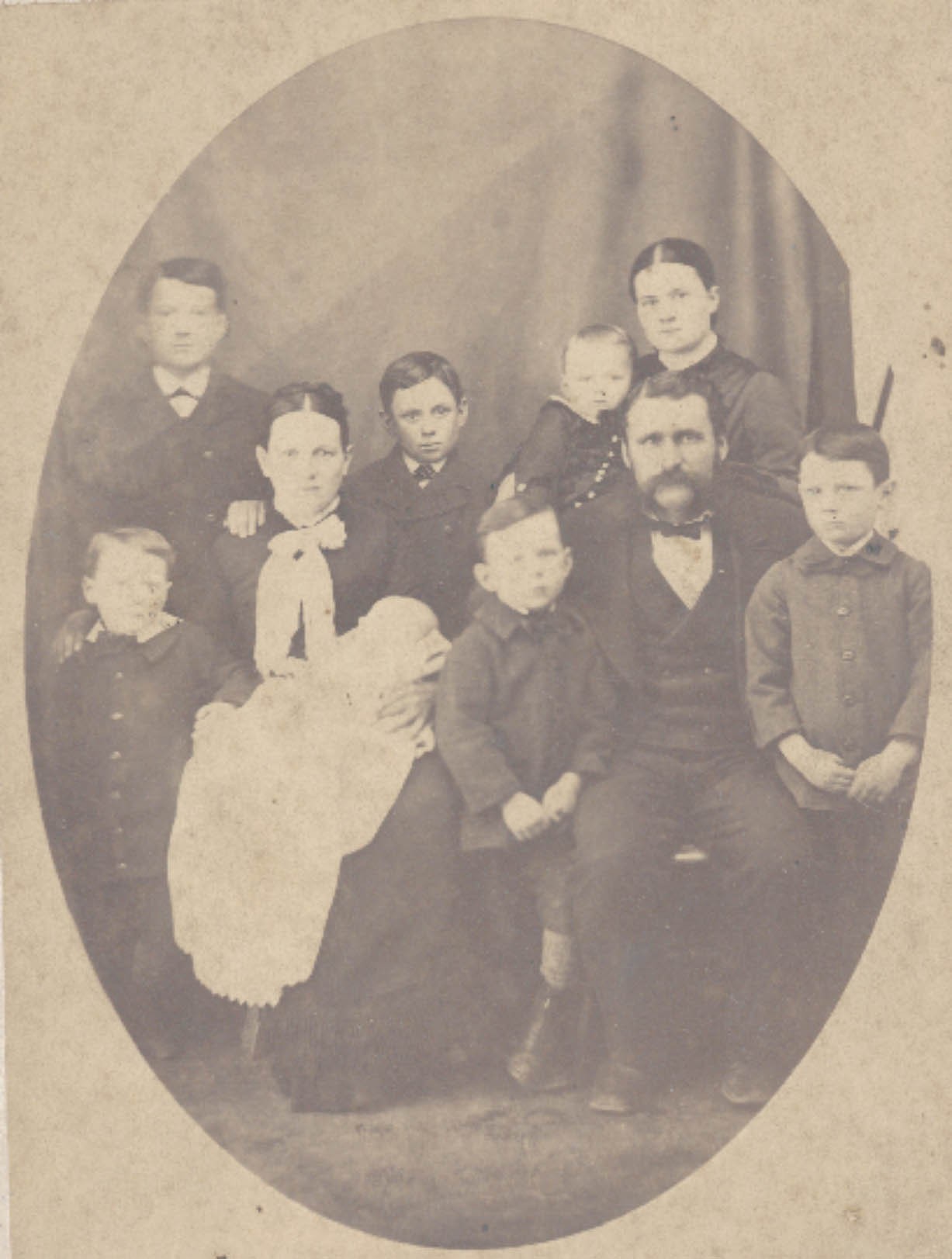 John Emerson 8 BIGELOW, Hannah (Blenkhorn) and Children
---
1592C.152 John Emerson 8 BIGELOW, son of Ebenezer 7 ( Ebenezer 6 , Amasa 5 , Isaac 4, Isaac 3, Samuel 2, John1) and Waite (SANFORD) BIGELOW, was born 21 February 1842 at Canning, Kings county, Nova Scotia. His marriage was on 21 June 1862 to Hannah Ann Blenkhorn who was the daughter of James and Maria (Spicer) Blenkhorn and born 18 December 1842 at Canning. As his father before him, John was in the shipbuilding trade and they resided in Canning all of their lives she dying there in 1925 and he in 1931 after raising a large family.

Children of John and Hannah (Blenkhorn) Bigelow, all born at Canning, NS:

1592C.1521t Minnie Beatrice, b 25 Aug 1862; d 05 Jan 1951 Wolfville, NS; m 21 July 1881 Nathan Eaton; 9 children.

1592C.1522t Owen, b 08 Feb 1865; d __ ; m__ 1890 Jenny Janet McKenzie; 3 children.

1592C.1523 Laura, b 26 Feb 1867; d 14 Nov 1867 Canning, NS.

1592C.1524t Joseph, b 06 Oct 1868; d 06 June 1950 Saskatoon, Sask; m Sept 1900 Minnie Mae Cameron; 5 children.

1592C.1525t Emerson John, b 24 June 1872; d 04 Jan 1942 Wimborne, Alberta; m 24 June 1903 Grace H. Patriquin; 3 children.

1592C.1526t Scott Sydney, b 21 Nov 1874; d 19 Nov 1965 Norwalk, CT; m (1) 06 May 1901 Clara Kennedy (Clara's original name: Anna Clara Guide, dgtr. of John and Mary ( __ ) Guide; after adoption she took the surname Kennedy); 3 children; m (2) unknown date, Amy Chisholm, 1 child. He lived in New York State in 1931.

1592C.1527t Halle Blenkhorn, b 10 June 1876; d 18 Feb 1949 Canning; m 28 Oct 1903 Mabel Spicer; 5 children.

1592C.1528t Alonzo Michener, b 20 May 1879; d 27 Feb 1955; m 03 Sept 1903 Jenny Elizabeth Spears; 8 children. He resided in Alberta in 1931 when his father died.

1592C.1529t Arnon J., b 13 Dec 1880; d 11 Feb 1926; m 25 June 1908 Laura May Miller; 1 dau

1592C.152At John Erle, b 14 Jan 1885 (02 Jan 1884?) Canning; d 08 Nov 1976 Windsor, NS; m (1) 31 Dec 1906 Violet Cecelia Thomas (who was born 01 Dec 1888 at Clarks Harbour, NS. She died 16 Feb 1969). She was daughter of Alfred and Ruth (Kenny) Thomas.) and m (2??) unknown date Addie _____;


Sources:
Bigelow Society,The Bigelow Family Genealogy, Vol II, pg 424-425;
Howe, Bigelow Family of America;
in depth research by descendant and correspondence with Bigelow Society;
family records;
Bigelow Society historian/genealogist records.
Addenda 2002 Volume II; Loring Bigelow:
Kings co, NS marriage records.
Descendant note:
My,father DOB 07-28-1896 was born in Clarkes Harbour Nova Scotia. I have reason to believe his real name
was Ralph Thomas. However he took his uncles name Percy Ralph Kenney when he went to live with his sister and her
husband in 1910/11 in Alberta Ca. His sister and husband returned to NS and remained . Their name was Earle Bigelow and
Violet Bigelow they spent many years at the Masonic nursing home in I believe Windsor NS. They had 2 children named
Vernon and Ruth.Vernon married and moved to Vancover,Ruth remained and married a gentleman who was a farmer and
was a MP for a number of years Prior to moving to the Masonic I believe Earle and Violet lived in Sheffield or Sheffield Hills
NS unfortunatly that is all the information I have. Regards , Ray H.Kenney E-mail auxkenney@compuserve.com from: Raleigh,NC.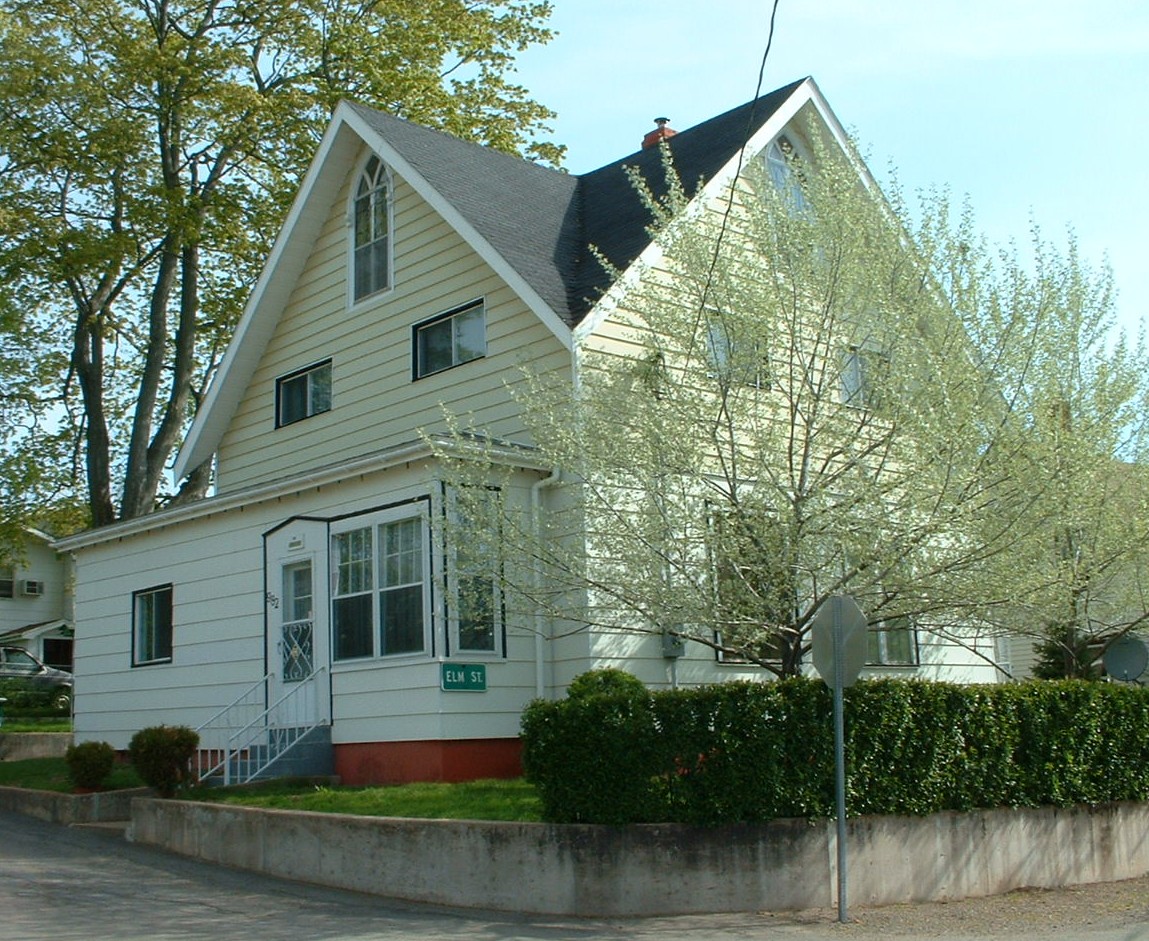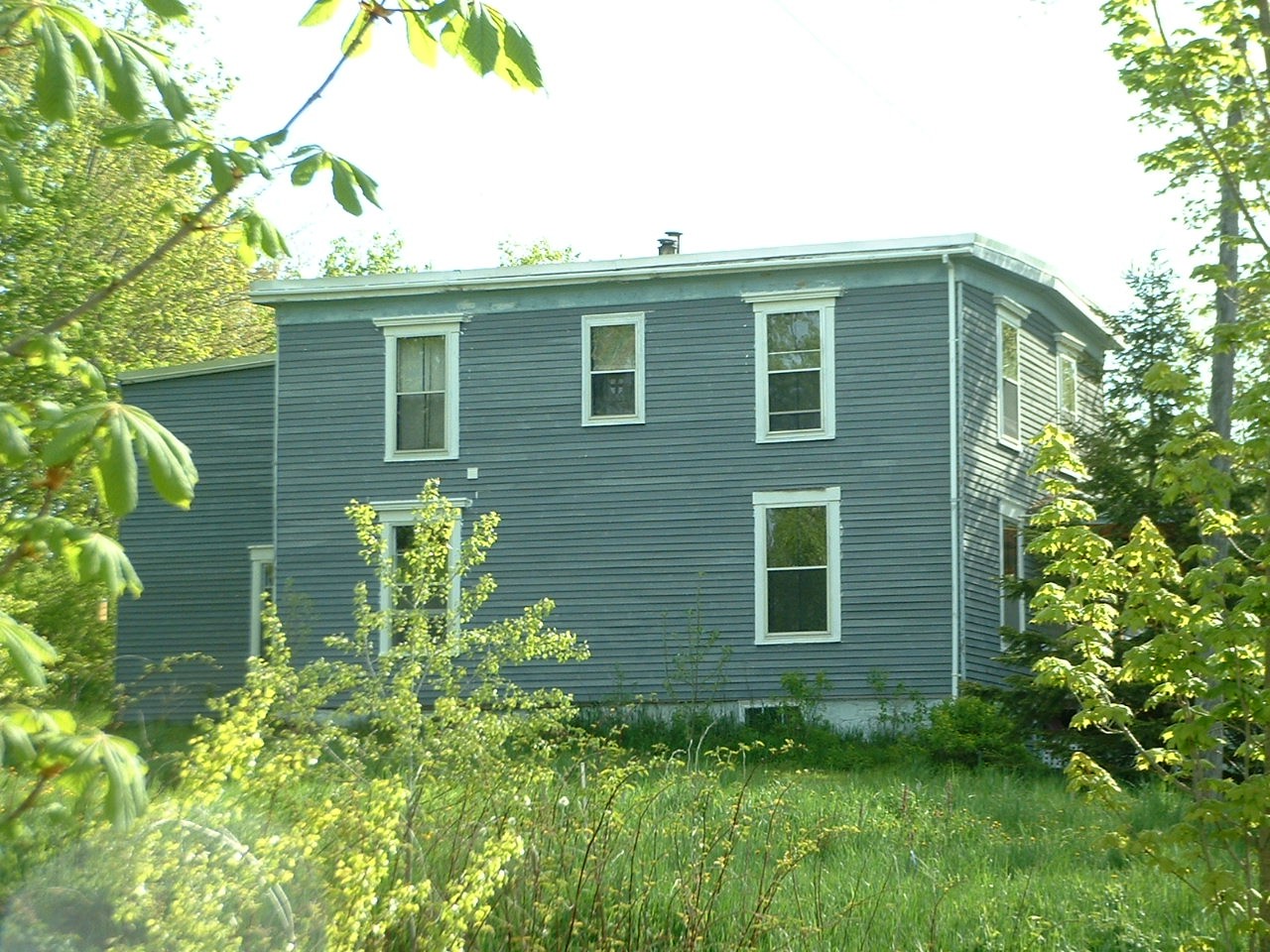 John Emerson Bigelow/Hanna (Blenkhorn)
982 Seminary Street, Canning (Top)
1169 Bigelow Street, Canning (Bottom)
These photos were from the 2002 reunion in Canning, NS. Larry Baxter and Tom Taylor placed these on a CD along with Bigelow ship pictures...............................ROD
Property History:
1) 1st House – John E. Bigelow – 1866 – 1888
2) 2nd House – Thomas Bigelow to John E. Bigelow – 1889
3) John E. & Hanna Bigelow – 1889 – 1921

---

Children of John E & Hannah (Blenkhorn) Bigelow

1) Minnie B. – 1862 – 1951
2) Owen - 1865 – 1951
3) Laura – 1867 – 1867
4) Joseph – 1868 – 1950
5) Emmerson – 1872 – 1942
6) Scott S. – 1874 – 1965
7) Halle – 1876 – 1949
8) Alonzo M – 1879 – 1955
9) Arnon – 1881 – 1926
10) John Earl – 1885 - 1976

---
Modified - 11/05/2008
(c) Copyright 2008 Bigelow Society, Inc. All rights reserved.
Rod Bigelow - Director
< rodbigelow@netzero.net >
---
Rod Bigelow (Roger Jon12 BIGELOW)
Box 13 Chazy Lake
Dannemora, N.Y. 12929

< rodbigelow@netzero.net >

BACK TO THE BIGELOW SOCIETY PAGE

BACK TO BIGELOW HOME PAGE