Eliphaz 7 BIGELOW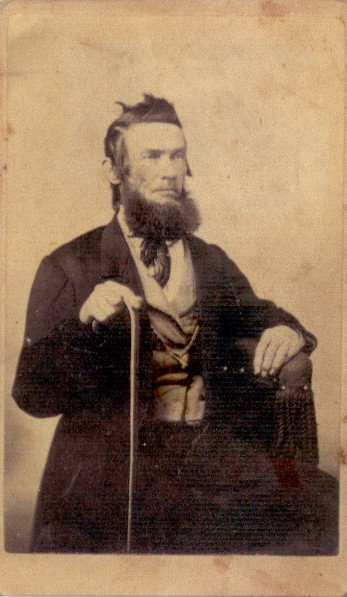 Dr. Eliphas 7 Bigelow (elip2377.jpg)
---
15923.77 Eliphaz 7 BIGELOW, son of Israel 6,Isaac 5 , Isaac 4 , Isaac 3, Samuel 2, John 1) and Eunice (KATHAN) BIGELOW, was born at Ballston Spa, Saratoga, NY on 20 October 1807. The family moved to Pennsylvania and he married (1) on 19 October 1828 Elizabeth Stucky. She was born 05 October 1809 in Dauphin co., PA and died 15 December 1836. He then married (2) Elizabeth Fife (see below) who was born 31 July 1817 and died 09 March 1846. Eliphaz married (3) Leah Weidman. (see below) (error: Waidman)(see below) She was born 24 January 1818 in Dauphin co, PA. She was the daughter of Jacob Weidman (b 4 Nov 1794; d 5 Nov 1836 Belleville, PA) and Barbara (Roop) Weidman (b 1 Sept 1799 Dauphin co, PA; d 9 June 1882 Belleville, PA). In 1888, she was living at McAlevy's Fort, PA and in 1900 was living with her son, Jacob, and died 13 June1902 Huntington co, PA. Eliphaz began the study of medicine and was in practice at the age of eighteen in Dauphin and Centre counties. In 1831, he moved his family to Mifflin county, PA and lived there until 1854, when he moved to Huntingdon county where he died, at Jackson township, 23 October 1868. He is buried with Leah at Presbyterian cemetery, Jackson. Eliphaz also had extensive farming interests, plus horses and cattle.

Children of Eliphaz and Elizabeth (Stucky) Bigelow:

15923.771t Israel M., b 02 April 1829 Dauphin co., PA; d 02 March 1911 Ennisville, PA; m ca 1850-1 Mary Young; res. Huntington co., PA; 10 children.

15923.772 John S., b 05 Jan 1831 Centre co., PA;d_____ Dauphin co.; m Catherine Davis. He was a physician in Huntington and Mifflin counties, PA. died young? (see below)

15923.773 Eliphaz W., b 25 April 1832 Mifflin co., PA; d 23 Oct 1833.

15923.774 Benjamin F. Bigelow, b 09 March 1834 Mifflin co.; d 21 April 1834.

Children of Eliphaz and Elizabeth (Fife) Bigelow, all born Mifflin county, PA:

15923.775 Mary E., b 0l Aug 1838; d __ ; m Samuel Johnson, d 1871; res. Huntingdon co., PA.

15923.776 Lebbeus Samuel, b 03 April 1840; d 29 July 1895 at Greenwood Furnace, PA; m Priscilla Alexander Randolph; res. Bellville, PA; was in Co. C, 45th Regt. PA Vols., during Civil War.

15923.777 Nancy K., b 10 Oct 1841; d ___ ; m Silas Miller, res. Sauna, KS.

15923.778t Lewis A., b 19 Feb 1843 d 27 May 1909; m Mary C. Hoover; res.. Huntingdon co., PA; 13 children.

15923.779t James Harvey, b 28 Sept 1844; d 17 July 1904 McAlevy's Fort, PA; m 24 Oct 1867 Sarah J. Cummins; res. McAlevy's Fort, PA where he was a physician; 6 children.

15923.77A Sarah Rebecca, b 03 March 1846; d 1888; m Alexander C. Hagan; res. Huntingdon co. (see below)
Note: Notice that an un-named son died the same day as Elizabeth Fife. Is this un-named son a twin to Sarah Rebecca?


Children of Eliphaz and Leah (Weidman) Bigelow:

15923.77B Jacob Weidman, b 13 Sept 1848 Mifflin co.; d __ 1917 ; res. McAlvey's Fort; unm. in 1888. (see below)

15923.77Ct Brown A. MD, b 25 Sept 1850 Belleville, Mifflin co, PA; d 15 March 1908 Belleville; m 21 May 1874 Jennie E. Tate; res. Belleville, a physician; 9 children.

15923.77D Barbara E., b 18 April 1854 Huntington co; d 13 Aug 1855; buried West Kish cemetery. (headstone)

15923.77Et Francisca Almira, b 06 Nov 1856; d 16 Mar 1946; m 03 Sept 1874 John Andrew Harmon; 10 children.

Sources:
Bigelow Society,The Bigelow Family Genealogy Vol II, pg 140;
Howe, Bigelow Family of America; p 346-347;
Biographical Encyclopedia of Juniata Valley, PA Comprising the Counties of Huntingdon, Mifflin, Juniata and Perry With Sketches of Prominent Citizens, pub. by J. M. Runk, PA 1897.
also from Forge Vol 17 NO. 3 July 1988.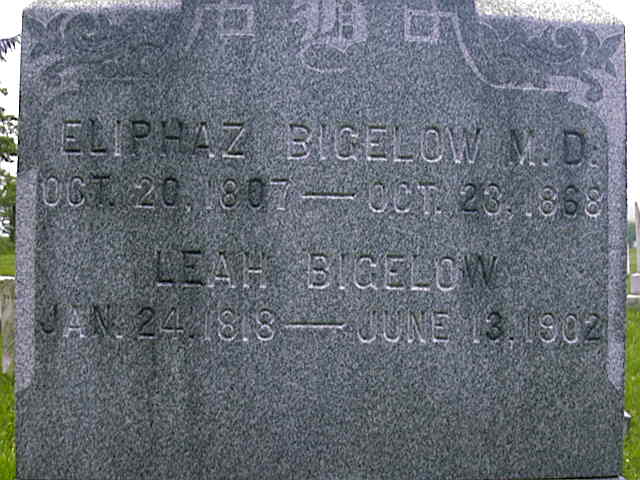 White Church, McAlvey's Fort
http://www.rootsweb.com/~pahuntin/mcfort-wh-ch.htm
New Note 01/21/05:
From: Daniel Bigelow
Email: bigelowfam@g2a.net
Date: 01/14/2005
Still a great site. Looking for info about Isaac III and his son Israel. Any one have some for me?
Also can't seem to find anything on Dr. Lebbeus Loomis Bigelow who moved from Mass. to PA.
Thanks for all the work you do on our family. I have concerns with the
Eliphas portion of my line. I found in census' from PA that there was an
Eliphaz D. and and Eliphaz C. According to the work I have, Eliphaz C. is my
ancester, but the dates on the census would have him too old to be in the
line where he is. Do you know much of this portion of the family?

photos from Bobbi Moist jeem@acsworld.com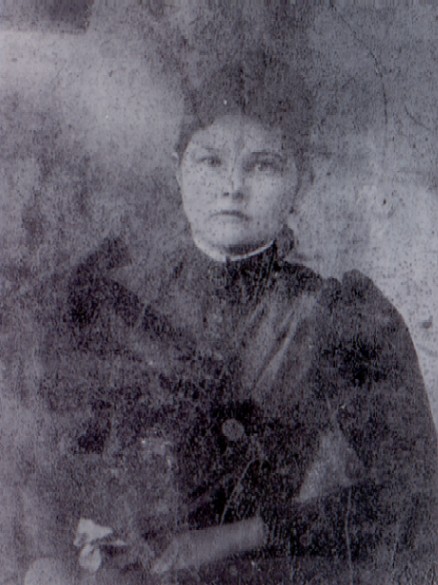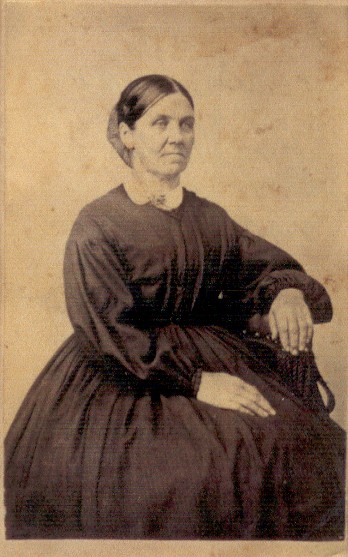 Elizabeth (Fife) Bigelow 2nd wife of Eliphaz (about 16 at time) Leah (Weidman) Bigelow 3rd wife of Eliphaz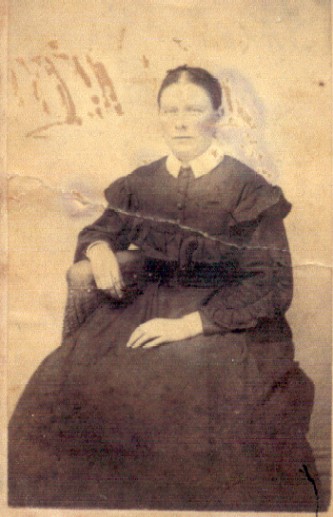 (sarah87a.jpg) Sarah Rebecca dau. of Eliphaz Jacob Weidman 8 Bigelow (jaco2377.jpg)
Page 2 for Eliphaz Bigelow
NoteB:
Subject: Eliphaz Bigelow Johnston
Date: Fri, 20 Oct 2000 23:21:56 -0400
From: "Steve & Jean Wall" < jwall98@home.com >
I have tried for many years to find the answers to my many questions. I have been trying for so long to find out
who my great grandfather was named after. His name was Eliphaz Bigelow Johnston. He was born in Huntingdon Co., Pa. His father was William Johnston, Mother Elisabeth Sarah Stelle. (I've only gotten their names from my gr-grandfathers death cert.) Up until last night I have had no luck looking up information on this portion of my family tree but last night I made an error typing in the name on the familysearch.com web site and putting in the first and middle name of my gr grandfather in the first and last fields, which gave me the information on Dr. Eliphas Bigelow.
I have been reading your "un official" Bigelow page (very impressive) and I have also found two other sir names
that I also have in my family tree. (Steele, Wadsworth). I have not yet found out what the link is and I was hoping you can tell me. I have been up against this brick wall for over five frustrating years. Unfortunately, there are no living Johnston's that are old enough to tell me any information that will help. I have picked their brains until they are mad at me.
also looking for Francesca Bigelow.
Thanks so much Jean Wall
Answer: Eliphaz Bigelow Johnston was probably delivered by Dr. Eliphaz Bigelow, thus the name. There is also the possibility that Mrs. Samuel Johnson ( Mary, daughter of 2nd wife Elizabeth Fife) may be the connection.
(see below)
Note1a:
Dr. John S. Bigelow son of Dr. Eliphas
Posted by: Bobbi Moist jeem@acsworld.com
Date: March 22, 2000 at 13:29:24
We have a lot of Bigelow info to share. Most all of it has been verified by going to cemetries and taking roll after roll of film. The one Bigelow I can't find after he left Mifflin and Huntingdon Co. is Dr. John S son of Dr. Eliphas. He married Catherine Davis from Dauphin co. He was born 1831. He was to have died in Lancaster or Dauphin Co. All I can find is that he died young. Bio book was wrote 1895 so his death was before 1895.
Note2a:
PAF notes of Jean Legereit Legrite@aol.com :
"Biographical Encyclopedia of Juniata Valley, PA Comprising the Counties of Huntingdon, Mifflin, Juniata and Perry With Sketches of Prominent Citizens", pub. by J. M. Runk, PA 1897.
"Eliphaz began studying medicine and was in practice at age 18 in Dauphin and Centre Counties PA. In 1831 he moved his family top Mifflin Co., PA and lived there until 1854 when he moved to Huntindon Co. where he died at Jackson Twp. Oct 1868. He is buried with Leah at Presbyterian Cem., Jackson, PA. He had extensive farming interests plus horses and cattle. 4 children m-1 6 by m-2, and 4 by m-3.
2 Mar 2000 e-mail from Doris Bigelow Scheidemantle (Augwedann@aol.com asking "Do you know of any info on Elizabeth Stucky who married Eliphaz (7) Bigelow.
Name: Anne New
From: Pittsburgh
Time: 2000-07-04 21:13:56
Comments: Hi, I enjoyed reading your genealogical research on Eliphaz Bigelow. My greatgrandfather, John Henry Varner,
served in the 45th PA under Captain William G. Bigelow, Eliphaz' brother. I have also discovered that Dr. William G.
Bigelow delivered my great grandmother's (Anne Latchford) first child to her first husband, Nicholas Everts. The Varners' and
Everts' lived in Huntingdon County. The Latchfords may have lived in Mifflin and Perry Counties. Did you come across any of
these names in your genealogical research? Also, do you know why William G. resigned his commission in November, 1862?
One more item, John Henry Varner wrote in his GAR book that one of his "closest comrades in service" was James H.
Bigelow (45th PA Inf.) Was James a son of William? Thanks for your time.

---
Note:
Subject: Elizabeth (Fife) Bigelow
Date: Thu, 28 Mar 2002 00:28:06 EST
From: Paul Huey PRHARC@aol.com
I notice in the charts in your Bigelow Family Site a reference to Elizabeth Fife, who died in 1846. I am curious about your information on Eliphaz Bigelow, whose first wife was Elizabeth Fife. I have an ancestor named Elizabeth Fife who came to America, but I don't even have her father'sname. Elizabeth married John Somerville, and their daughter Rebecca (born
1786) married my ancestor, Andrew Huey of Huntingdon County, Pennsylvania.
My Elizabeth (Fife) Somerville was born in 1754 and died in 1847 and is buried in Huntingdon County, Pennsylvania.
You mention also that your Eliphaz Bigelow resided in Huntingdon County, Pennsylvania, so there must surely be a connection between these Elizabeth Fifes. When did Eliphaz Bigelow marry Elizabeth Fife? Were their children?
Who were Elizabeth's parents? I believe the 1830 census of Huntingdon County lists a James Fife family, though I know nothing about them. In fact I know nothing at all about Elizabeth (Fife) Somerville except that she lived 93 years, and she came from North Ireland. She also had Somerville granchildren who lived on the Brandywine in northern Delaware.
Paul Huey
Cohoes, N.Y.

---

More:
Subject: Bigelow Family Eliphas and William G
Date: Wed, 25 Aug 1999 12:40:43 -0400
From: Kathy Waters szowat@bellatlantic.net

I have been researching the Weidman Family in Mifflin and Huntindon county Pa and have two relatives that married into the Bigelow family. Leah Weidman was the third wife of Eliphas Bigelow MD, and Martha Weidman married William G. Bigelow also MD. Do you have or need any info on this branch? I believe Leah and Martha were sisters to my ancestor Adam
Roop Weidman. Kathy Waters

---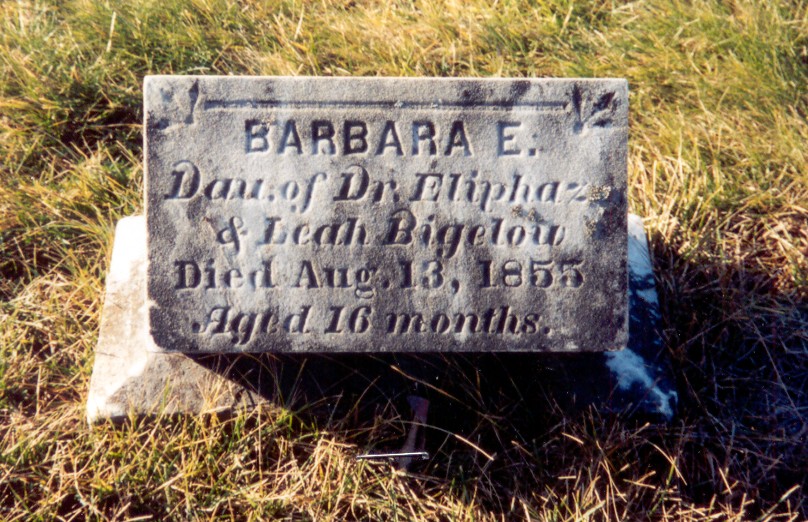 (barbe8.jpg)
Note:
Subject: William Gantz Bigelow
Date: Mon, 18 Dec 2000 20:05:48 -0500
From: Kathy Waters szowat@wi.rr.com
Rod, I just received a copy of Wm. Gantz Bigelow's civil war file. I also was sent a picture of Leah Weidman Bigelow and her husband Eliphaz Bigelow and one of William G. in Civil war uniform by a lady in Pa. My Weidman family is linked to Leah and Martha by their brother Adam. Let me know if this can help.
More: Sunday 09/05/2010 11:28:37am
Name: Kathy Waters
E-Mail: szowat@wi.rr.com
Comments: I have posted before but My e-mail has changed to szowat@wi.rr.com Sorry I missed the reunion, you were so close to us here in Pewaukee WI. Happy to share with family of Eliphaz and Leah Weidman Bigelow. Kathy

Kathy Waters.
More: 09/19/2001
Looking for anyone connected to this family.
Children: Sarah(m. David Sample),
Lebbeus( m. Junita Fitzgerald),
Jacob( m. Mary Wooding),
Daniel,
Laura,
William John,
Isaac Custer,
Altha Gans,
Almira Jane (m. Ross).
Their mother was Martha Weidman sister of Leah the third wife of Dr. Eliphaz Bigelow.
Both William and Eliphaz were Drs. Thanks
One thing that could be added is that under
Martha Weidman the wife of William Gantz Bigelow her parents were Jacob
Weidman and Barbara Roop. The same as the family of Leah Weidman and
Eliphaz Bigelow. Martha and Leah were sisters.

---
Modified - 09/05/2010
(c) Copyright 2010 Bigelow Society, Inc. All rights reserved.
Rod Bigelow - Director
rodbigelow@netzero.net
---
Rod Bigelow (Roger Jon12 BIGELOW)
Box 13 Chazy Lake
Dannemora, N.Y. 12929

< rodbigelow@netzero.net >