James Harvey 8 BIGELOW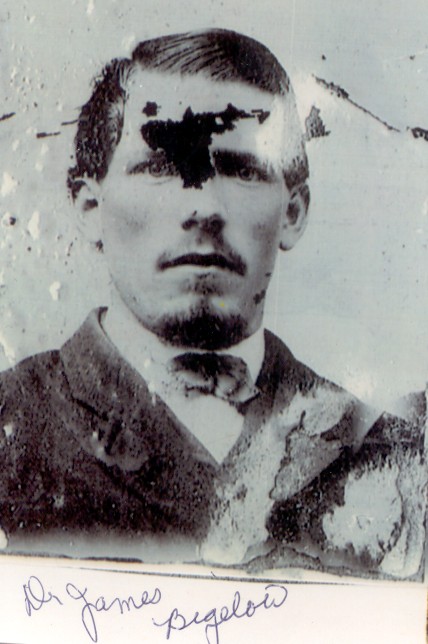 (james879.jpg) photo taken not long after return from Civil War
---
15923.779 James Harvey 8 BIGELOW, son of Eliphaz 7 ( Israel 6, Isaac 5 , Isaac 4 , Isaac 3,Samuel 2, John 1) and Elizabeth (FIFE) BIGELOW, was born at Belleville, Mifflin co., PA 28 September 1844. He enlisted in Co., 45th Regt., PA Vols during the Civil War and was in many battles and at the Battle of the Wilderness was taken prisoner and taken to Andersonville (GA) where he served seven months of suffering and cruelty losing more than sixty pounds of weight. He was discharged 07 December 1864 but later rejoined his regiment. In 1866 he began the study of medicine along with his father in Jackson township. He graduated from the University of Pennsylvania medical department in 1868 and practiced medicine thereafter being very interested in Civil War affairs as well as township and county interests. He had a farm of some 170 acres and was interested in raising horses and cattle. Just prior to his graduation from medical school, he married Sarah Cummins, daughter of John and Mary (Smith) Cummins. She was born 11 October 1844 at Jackson and died 23 August 1919 at McAlevy's Fort, PA his widow. "Doctor Jim" had died earlier -17 July 1904 at McAlevy's Fort. This was the area in which he had practiced medicine for many years. (see below)

Children of James and Sarah (Cummins) Bigelow:

15923.7791 John Cummins, b __1868; d ___ ; m 18 Sep 1894; Annie Irvin; 9? children.

15923.7792 Ada Zillah, b 18 June 1870; d 22 Aug 1945 Jackson twp.,Huntingdon Co., PA, McAlevy's Fort; m 13 Oct 1892 Thomas Milton McCall. (Source Ada, the Douglass's, Euclid, OH. (Loring Bigelow addendum 18 July1997).

15923.7793 James, b ca 1869; not on 1900 census.

15923.7794 Eliphaz Edgar, b 18 Sept 1871; d 13 Mar 1941; m aft 1900 Sara Araminta Eckley. 1 child known (see below)

15923.7795 Mary R., b Jan 1872.

15923.779? Claudia, b __ 1873; d __ 1940; m 6 Apr 1897 Clarence A. Jackson.

15923.7796 William H., b Aug 1873.

15923.779? Charles William, b ____ ; d __ ; m __ Virginia Tweet.

15923.7797 James T., b Nov 1874.

15923.7798 Frank Milton, b 28 Mar 1879; d 5 Feb 1951 Long Island, NY; m 24 Jan 1904 Lucy Alice Clark.

Sources:
Bigelow Society,The Bigelow Family Genealogy Vol II, pg 417;
Howe, Bigelow Family of America;
headstone;
Photo at top from Bobbi Moist jeem@acsworld.com (and notes)
Loring Bigelow addendum 18 July1997;
1880, 1890 and 1900 censuses;
Biographical Encyclopedia of Juniata Valley, PA
Including counties of Huntingdon, Mifflin, Juniata and Perry, pub. by J. M. Runk, 1897.;
Shared material from descendants of Eliphaz (15923.77) and other family members;
"The Valley and the Fort", booklet by Stone Valley Civic Group, 1978;
correspondence with descendants.

Descendant note:
Date: Sat, 10 Oct 1998 01:30:44 EDT
From: TRISHAYWRD@aol.com

My grandmother, who is 90, is the only daughter of Frank Milton Speer Bigelow who was the son of Dr. James Harvey Bigelow who was interred in Andersonville Prison Camp during the Civil War. My Uncle recently did an interesting paper about his civil war service and internment. Amazingly enough he did survive. I had no idea there was a Bigelow family organization. I'm tickled to find out there is and can't wait to tell my Grandmother.
Tricia Hayward
7303 Whernside Court
Lorton, VA 22079-1540.

---

Descendant note:
From: JBTuffNJ@aol.com
I used the index to look up my father's grandfather, James H. of McAlevy's Fort, Pa, -- blacksmith, doctor, Civil War vet (supposedly prisoner at Andersonville--his widow collected pension, but not listed at Andersonville) and he wasn't in the index. Should I be concerned? JoAnne Bigelow Tuffnell

---

More:
My BIGELOW data is currently in the form of notes and letters collected by my great grandmother Adda Timmons MOSS in the 1890's. Perhaps of greatest interest to you and other researchers is a copy she made of notes of an interview with Dr. Eliphaz BIGELOW (probably the Israel Eliphaz Bigelow whose bio is on your site.) He was a nephew of her grandmother Mary Milvina BIGELOW who had married William D. Daugherty. Her mother was Mary Dimmis Daugherty. Adda's uncle G. W. Darety (sic) conducted the interview. The notes include the family information on the CUSTIS (not CURTIS) family and it's connection to George Washington. I have been amazed that the misspelling of this name as CURTIS persists. Most history books speak of the CUSTIS family relations to Washington. In my mother's possession is a cloisonne and pearl pin that is supposed to have been owned/worn by Martha Washington. I have no documentation of this but have heard of this and the CUSTIS family since I was a child. My grandfather, Adda's son had told the story. Finding the notes was both exciting and disappointing. Exciting because it leant credence to the pin's story; disappointing because it showed no direct relation to the CUSTIS family. Eliphaz's notes also include the battle his greatgrandfather Isaac was supposed to have been in the Rev War. I too, have had no luck finding his service.
Marguerite Atteberry Emmons emmons@gte.net

---
Notes from Bobbi:
Dr. James Bigelow attended the public schools of Belleville, Mifflin County, and of Jackson Township, Huntington county. He worked on his fathers farm until he reached the age of seventeen. He then learned blacksmithing; while working at this trade, he enlisted at Belleville, in Co. C, Forty-fifth Pennsyvania, Cols. Walsh and Curtin,and Capt. Bigelow; the latter is now a doctor at Stormstown, Centre county. James Bigelow was in the battle of Fredericksburg, Va., Blue Springs, TN., Tennessee Station, the Siege of Knoxville and the battle of the wilderness. In the last -named engagement, he was capttured and taken to Andersonville, May 6, 1864. For seven
months he was in prison; treated cruelly, and suffering much; he lost more than sixty pounds of weight, during his imprisonment. He was discharged December 7, 1864, but was on parole up to the time of Lee's surrender, after which he joined his regiment in camp, but was in no more engagements. He was in the grand review at Washington, and was discharged July 15, 1865. In 1866, he worked on the farm, and began the study of medicine with his father; he also spent six months studying with Dr. William G. Bigelow (uncle), at Belleville. In the following year ,he studied and practised with his father in Jackson township, after which he attended lectures in the medical department of the University of Pennsylvania, Philadelphia, where he graduated in 1868. He then returned to his home, where he has ever since practised, and has an extensive circle of patients. Dr. Bigelow is a member of Cunnins Post, No.380, G. A. R., of Jackson township. He was a Democrat. Having been a resident of McAlevys Fort for twenty-seven years, he is greatly intrested in township and county affairs. He has built a fine dwelling, at a cost of $1,700; owns a farm of 185 acres and 85 acres of pasture land, and has to some extent interested in raising horses and cattle.
Source Biographical Encyclopedia of the Juniata,also civil war records.
In looking for info on James I come across a John Bigelow that died at Andersonville, and wonder about if James and him did they meet? Did they know one another the relationship would have been distant, but with the same last name it could have been very likely.

In early manhood he became a blacksmith.
James was a Doctor. He enlisted at Belleville, in Company C, Forty-fifth Pennsylvania Volunteers. Cols. Walsh and Curtin, and Capt. Bigelow at Stormstown, Center County. James Bigelow was in the battles of Fredericksburg, VA; Blue Spring, TN; Tennessee Station, The siege ofknoxvill and the battle ofthe Wilderness. In the last engagement, he was captured and taken to Andersonville, May 6, 1864. For seven months he was in prison; treated cruelly, and suffering much; he lost more than 60 pounds of weight during his imprisonment. He was discharged December 7, 1864, but was on parole up to the time of Lee's surrender, after which he joined his regiment in camp, but was in no more engagements. He was in the grand review at Washington, and was discharged July l5, 1865.
Burial: Brick Pres Mc/deWs Fort

---
Sarah Bigelow Obituary

Contributed for use in USGenWeb Archives by Tricia Hayward (mctrommer@aol.com)


USGENWEB NOTICE: Printing this file by non-commercial individuals
and libraries is encouraged, as long as all notices
and submitter information is included. Any other use,
including copying files to other sites requires
permission from the submitters PRIOR to uploading to
any other sites. We encourage links to the state and
county table of contents.
____________________________________________________________

Mrs. Sarah Bigelow

Mrs. Sarah Cummins Bigelow, wife of the late Dr. James H. Bigelow, a well
known physician of McAlevys Fort, Pa., died at the home of her daughter, Mrs.
Thomas McCall, at that place, Saturday morning, August 23rd, 1919. Mrs.
Bigelow had enjoyed reasonably good health during her declining years, since
the death of her husband which occurred fifteen years ago, until one year ago
last winter while staying with her son Eliphaz on the Beatty farm on East
Branch, when she had a very severe fall, from which she did not recover for
several months. During the last several years Mrs. Bigelow had spent
considerable time visiting her children in various eastern cities, where they
have been located. Her first visit from home was to visit her son Charles,
while he was living in Baltimore in 1913, and from there to visit her son,
Frank, in New York.

While at the home of her son Frank in New York, last January, she was taken
with a stroke of paralysis which effected [sic] the use of her left arm and
speech for a short time, and later losing the entire use of her limbs. Since
that time she has been unable to walk and has been under the constant care of
her daughter Claudia. Thinking that a change of climate might be helpful to
their mother in her weakened condition her children decided to bring her
home. She made the trip, accompanied by her son, Frank, and her daughter,
Claudia, on July 11. Mrs. Bigelow spent the first four weeks after her
arrival at the old home, but the last two weeks before her death were spent
with her daughter, Mrs. McCall.

Mrs. Bigelow was a daughter of the late John and Mary Smith Cummins. Her
father was a prosperous farmer of Jackson township, who died August 25th,
1879. She was a niece of the late Colonel Davis Cummins, a Civil War
veteran, and her grandfather, Charles Cummins, was one of the first settlers
in the valley, he being a native of the north of Ireland. Her grandmother
Smith's name was McAlevy, who was a descendant of old General McAlevy, the
founder of Stone Creek valley and McAlevys Fort, who made the trip
unaccompanied up the Juniata river in a small skiff from the eastern part of
the state. Upon his arrival at the Junction of Stone Creek where it empties
into the Juniata river near where the town of Huntingdon is now located, he
decided to explore the small stream which was alter called Stone Creek. He
continued his voyage in his skiff until he finally arrived at the point where
he settled and later established a fortification as a defense to meet the
attack from the Indians, from which the village derived its name. This
occurred early in the sixteenth [sic] century and at that time he was the
only civilized resident in this locality.

Mrs. Bigelow was a sister of the late Charles T. Cummins, Miss Ruth M.
Cummins and Mrs. Nancy Carey, all of whom preceded her to the spirit world.
She was also a sister of William Cummins, of Reedsville; Mrs. Maggie Bigelow,
of Belleville, and Mrs. J. C. Smith of McAlevys Fort. Mrs. Bigelow was born
October 11th, 1844, in the little log house now used as a stable for the
tenant house across the road from the farm house on what is known as the Long
Robert Cummin's farm, on East Branch. Her father and mother later moved to
the old homestead on the farm now owned by William Barr.

Mrs. Bigelow lived with her father on the farm until her marriage at the age
of twenty-three. Her mother died when she was about twelve years and her
father had three wives and raised a large family. Mrs. Bigelow was united in
marriage to Dr. Bigelow at the old homestead on Oct. 24, 1867, by her uncle
and pastor of the United Presbyterian church, the Rev. John M. Adair, whose
wife, Ruth Cummins Adair, was a sister of Mrs. Bigelow's father. Dr. Bigelow
was born at Belleville, Mifflin county, September 28, 1844. He was a son of
Dr. Eliphaz and Elizabeth Fife Bigelow. Dr. Israel Bigelow, his grandfather,
was a native of Vermont. He settled in Blain [sic] City, Ohio, where he
practiced medicine for the remainder of his life.

Dr. Jim, as he was known in the community, was at the time of his marriage to
Mrs. Bigelow, studying medicine under his father, and Mrs. Bigelow spent the
winter following their marriage with him in Philadelphia, while at College,
where he graduated from the University of Pennsylvania in the spring of 1868.
After returning home they went to housekeeping and occupied part of the log
house with his brother, Lewis, who was a blacksmith at the little furnace
near the old Samuel Mitchell farm. Dr. Bigelow assisted his father until his
death the following October, when he moved into one end of the house on the
old homestead and took up his father's practice. He purchased the home in
McAlevys Fort in the spring of 1869 where he and Mrs. Bigelow lived for the
remainder of his life which covered a period of thirty-five years. Mrs.
Bigelow kept the home after the Doctor's death and had lived there for fifty
years. To this union were born four sons and two daughters, as follows:
John Cummins Bigelow, who owns and resides with his wife, Mrs. Annie Irvin
Bigelow, and their family on the Penn Tenn farm in Spruce Creek valley;
Zillah Bigelow McCall, wife of Thomas M. McCall, who owns and resides with
their family on the old McBomey farm just north of McAlevys Fort; Eliphaz
Edgar Bigelow, who owns and resides with his wife, Minite [sic] Eckley
Bigelow, and their family, on the old McBurney farm, just east of McAlevys
Fort; Claudia Bigelow Jackson, wife of Clarence E. Jackson, of Pittsburgh
(Mr. Jackson is an equipment foreman of the Western Union Telegraph Company);
Charles Walter Bigelow, who married Virginia Sndnor [sic] Thweatt, of Baltimor
e, Md., resides in New York City, and has one son, Charles William Bigelow
(he is connected with the Western Union Telegraph Co. in the valuation bureau
as supervising computer in charge of summarizing and pricing the equipment
inventory now being made by the Interstate Commerce Commission); Frank Milton
Bigelow, who married Lucy Alice Clar, [sic] of Providence, R.I., has two
children, Irene Parsons Bigelow and Claude Illingworth Bigelow (he is
Division Equipment foreman for the Western Union Telegraph Co. in the eastern
division with headquarters at New York City. She also had 29 grandchildren
and 1 great-grandchild.

All of her children were with her when she passed away except her son, Frank,
who was on a business trip to Heartcontent, Newfoundland. He was notified by
cablegram and left there Saturday morning, August 23, arriving in Huntingdon
on Thursday morning. The trip enroute covered a distance of eighteen hundred
miles.

The funeral was held from her late home in McAlevys Fort on Thursday afternoon
August 28th, at 2:30, with interment in the United Presbyterian cemetery.

Mrs. Bigelow united with the Stone Valley Presbyterian Church when nineteen
years old, under the pastorate of her uncle, the Rev. John M. Adair, and
lived the life of faith until her death. The abiding nature of her faith was
paid a flowing tribute by the Rev. David E. Magill, of Homer City, who grew
up with her in our midst, and testified to her patient endurance under the
many severe trials that are the legacy of distinction.

The exceeding great worth of these mothers in Israel was emphasized by her
pastor, Rev. James Potter. What an inspiration they are to us and the
binding obligation of seeing the Master in the daily life of faith and
confidence led by them. Living epistles know and lead by all men. He
emphasized the leading of these epistles because the written word is largely
neglected. The greatest monument to her memory was to initiate her life of
faith and trust, and failure to follow her example was undue disrespect to
her memory, which was the thought her pastor endeavored to fix definitely in
the minds and hears of her loved ones left. In many parts of our land we
have men and women doing the Master's work, thanking the great head of the
church daily for these Godly mothers in our mountain homes, who lead the life
of faith and trust in Him. Truly one of these great ones has gone to her
reward.
http://ftp.rootsweb.com/pub/usgenweb/pa/huntingdon/obits/bigelow-sarah.txt
---
Note 10/03/07:
Date: Wed, 3 Oct 2007 23:04:13 +1300
Fwd: "Ken Mutch" <mutch@slingshot.co.nz>
From: "tony cairns" <tony.cairns@paradise.net.nz>
I have had an e-mail from a fellow New Zealander who has given me the following Bigelow -
The name is not in the Bigelow site and I was wondering if we have a connection back John Bigelow line?

Eliphas Edgar Bigelow He married Araminta Eckley.
Child of Eliphas Bigelow and Araminta Eckley is:

James William Bigelow. He married Ella J. Crownover 24 Dec 1914 in at Huntingdon County, Pennsylvania.; born 29 Oct
1891; died 01 Dec 1988 in Lewistown, Mifflin County, Pennsylvania.

Any help please
Ken Mutch

---
Modified - 07/29/2009
(c) Copyright 2009 Bigelow Society, Inc. All rights reserved.
Rod Bigelow - Director
rodbigelow@netzero.net
---
Rod Bigelow (Roger Jon12 BIGELOW)
Box 13 Chazy Lake
Dannemora, N.Y. 12929

< rodbigelow@netzero.net >