Brown A. 8 BIGELOW
---
15923.77C Brown A. 8 BIGELOW, MD, son of Eliphaz 7 ( Israel 6, Isaac 5 ,Isaac 4 , Isaac 3, Samuel 2, John 1) and Leah (WEIDMAN) BIGELOW, was born in Belleville, Mifflin co, PA on 25 September 1850. He married on 21 May 1874 Jennie E. Tate, the daughter of Nelson and Elizabeth (Stewart) Tate at McAlevy's Fort. She was born 16 August 1852 at McAlevy's Fort. Brown graduated from Jefferson Medical college in Philadelphia in 1874 and practiced medicine with his brother James H. at McAlevey's Fort for two years andf then moved to Sigleville, PA to practice medicine until 14 December 1882. At that time, he moved to Belleville to take up the practice of Dr. Eliphaz E. Bigelow (15923.73B) then just deceased. In August 1885 he was appointed to the Pension Board of Examining Physicians and served for several years. Brown died on 15 March 1908 at Belleville, and his widow on 07 February 1914.

Children of Brown and Jennie E. (Tate) Bigelow:

15923.77C1 Harry Alexander, b 07 Feb 1872 Jackson twp., Huntingdon co, PA, McAlevy's Fort; d ___ 1936;

15923.77C2 Maud Eunice, b 12 July 1873 Jackson twp., Huntingdon co, PA, McAlevy's Fort; d ___ 1914;

15923.77C3 Charles Tate, b 01 Apr 1877 Sigleville,, PA; d ___ 1900;

15923.77C4 Eliphaz Jacob, b 05 Dec 1878 Sigleville,, PA; d ___ 1900;

15923.77C5 Samuel Edward, b 05 Sept 1880 Sigleville,, PA; d ___ 1952; was a physician; AKA Edward Samuel.

15923.77C6 Frank Clay, b 11 Sept 1882 Sigleville,, PA; d __ 1906;

15923.77C7 Leah Elizabeth, b 13 Aug 1884 Belleville,, PA; d __ 1911 ;

15923.77C8 Ralph Brown, b 03 Mar 1886 Belleville,, PA; d __ 1919 ;

15923.77C9t Lebbeus Isaac, b 12 Jan 1888; d ___ 1977 Nogales, AZ ; m 28 Dec 1915 Mary Alice Schneck; 3 children. (see below)


15923.77CA James Albert, b 04 Jan 1890 Reedville,, PA; d 12 Mar 1922 Harrisburg,, PA; m 14 June 1919 Ethel Gibboney (b 08 Jan 1892 Reedville,,PA; d ____ )

Sources:
Bigelow Society,The Bigelow Family Genealogy Vol II, pg 140;
Howe, Bigelow Family of America; pg 432;
Biographical Encyclopedia of Juniata Valley, PA Comprising the Counties of Huntingdon, Mifflin, Juniata and Perry With Sketches of Prominent Citizens, pub. by J. M. Runk, PA 1897.
also from Forge Vol 17 NO. 3 July 1988.
correspondence with descendants and their family records.


My Grandfather is listed: He was Lebbeus Isaac "Ike" Bigelow - He died in our home when I was 12 (in Nogales, Arizona) I believe in 1977. I will double check.
Lebbeus was married to May Alice Schnack (my Grandmother) - together they had 3 children:
Elizabeth, James, and Charles
My father was Charles Bigelow b. January 15, 1925 - d. May 20, 2007
I have a lot more information that I can find and put together too. I have pictures and records and I was given the family Bible.
I will submit them to you however you wish so that they can be on the website - I just didn't know how to do this.
Please let me know.
this is much appreciated,
Thanks again,
Lucia Bigelow (Lucy) < lucybigelow@hotmail.com >


Note:
Subject: Eliphaz Bigelow Johnston
Date: Fri, 20 Oct 2000 23:21:56 -0400
From: "Steve & Jean Wall" < jwall98@home.com >

I have tried for many years to find the answers to my many questions. I have been trying for so long to find out
who my great grandfather was named after. His name was Eliphaz Bigelow Johnston. He was born in Huntingdon Co., Pa. His father was William Johnston, Mother Elisabeth Sarah Stelle. (I've only gotten their names from my gr-grandfathers death cert.) Up until last night I have had no luck looking up information on this portion of my family tree but last night I made an error typing in the name on the familysearch.com web site and putting in the first and middle name of my gr grandfather in the first and last fields, which gave me the information on Dr. Eliphas Bigelow.
I have been reading your "un official" Bigelow page (very impressive) and I have also found two other sir names
that I also have in my family tree. (Steele, Wadsworth). I have not yet found out what the link is and I was hoping you can tell me. I have been up against this brick wall for over five frustrating years. Unfortunately, there are no living Johnston's that are old enough to tell me any information that will help. I have picked their brains until they are mad at me.
also looking for Francesca Bigelow.
Thanks so much Jean Wall
Note2:
Subject: Bigelow
Date: Mon, 23 Oct 2000 20:16:22 -0500
From: "Barb Boese" < barbwire@midusa.net >
http://bigelow.simplenet.com/rod7/eli72377.htm
Clicked on the link for Francisca A Bigelow # 15923.77Et and I get an error message......
Barb Boese step-dau of Gayle Purcell Harman who was grdau of Fraancisca Bigelow.

Looking for the parents of Wilford, Burl, Merit and Montgomery Allen.

---

Israel 8 born 7 June 1825 in Adamsburg, PA was thus but six years of age when he traveled overland with his parents to Ohio. He remained on the farm until he reached the age of 21. During his late teens he studied medicine with the idea of going into medical practice, but for some unknown reason he instead took up a farm in 1847. Ten years later he was appointed postmaster of Plain City, and addition became a general merchant.
After Israel's retirement, he traveled East to visit relatives, meeting over one hundred Bigelows. He also visited his Custer* cousins (His Grandfather Custer had been a cousin of President George Washington)

* see note from Marguerite Emmons about the Spelling of the name --- 4/7/98

On June 27 1847, the same year he took up a farm, Israel married Betsy A. Smith, daughter of Capt. E.Crocker and Irena (Doty) Smith. Betsy was born 21 October 1828 in Washington County, Vermont. She died 28 January 1914 in Plain City, Israel having died July 17 1896.
Marguerite Atteberry Emmons emmons@gte.net

---
Note:
Subject: Bigelow Family Eliphas and William G
Date: Wed, 25 Aug 1999 12:40:43 -0400
From: Kathy Waters szowat@bellatlantic.net

I have been researching the Weidman Family in Mifflin and Huntindon county Pa and have two relatives that married into the Bigelow family. Leah Weidman was the third wife of Eliphas Bigelow MD, and Martha Weidman married William G. Bigelow also MD. Do you have or need any info on this branch? I believe Leah and Martha were sisters to my ancestor Adam
Roop Weidman. Kathy Waters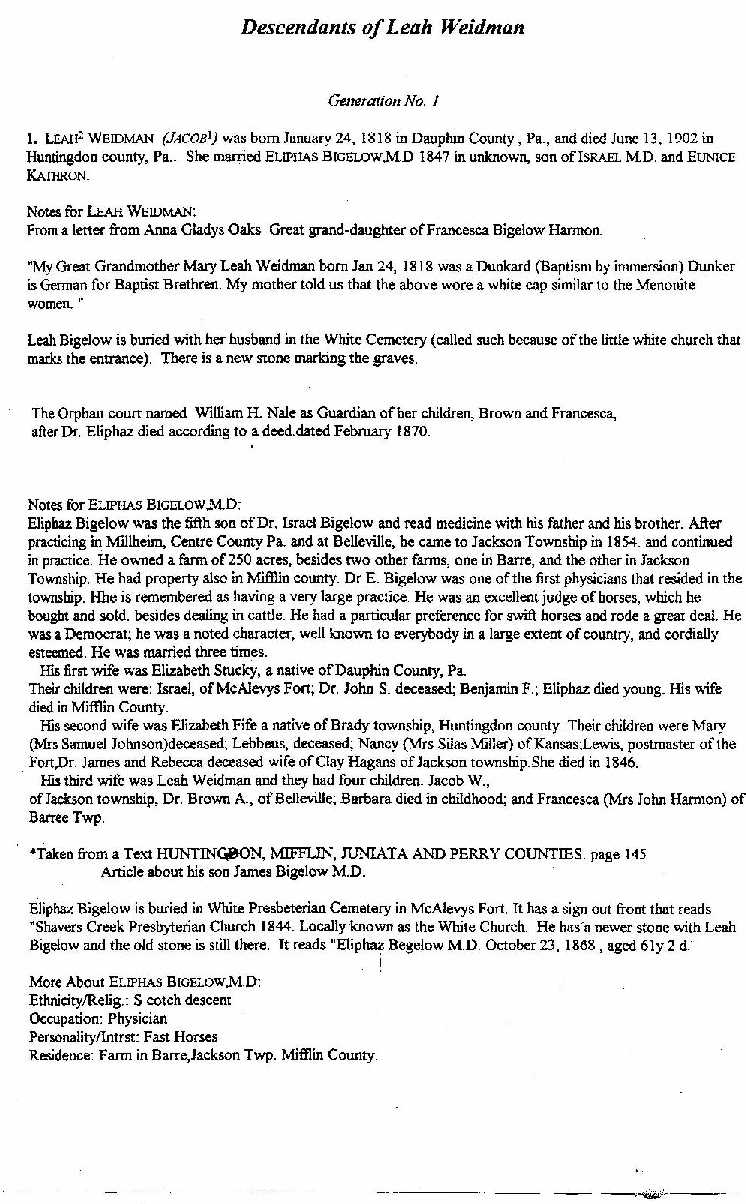 ---
Modified - 07/08/2010
(c) Copyright 2010 Bigelow Society, Inc. All rights reserved.
Rod Bigelow - Director
rodbigelow@netzero.net
---
Rod Bigelow (Roger Jon12 BIGELOW)
Box 13 Chazy Lake
Dannemora, N.Y. 12929

< rodbigelow@netzero.net >