Charles Nelson 7 BIGELOW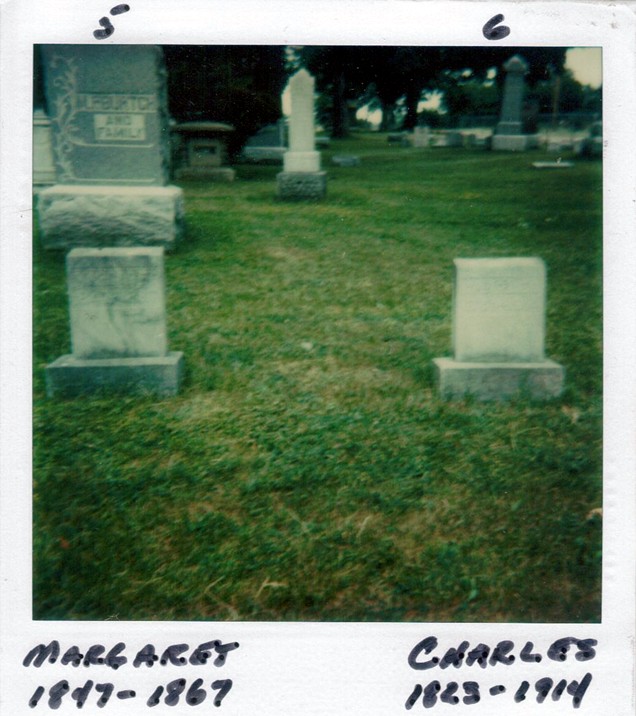 5. Margaret (Bigelow) Cole (1847-1867); dau of Charles Nelson


6. Charles Nelson Bigelow, (1823-1914)

Bigelow Graves at Oakwood Cemetery; Grand Ledge, MI


Polaroids by Gary Boulder of Charlotte, MI

---
15336.5E Charles Nelson 7 BIGELOW, son of Cornelius 6 ( Paul 5 , Cornelius 4, Samuel 3, Samuel 2, John1) and Persis (HARRIS) BIGELOW, was born at Chatham, Argenteuil, Quebec 19 May 1823. He married (1) on 17 March 1842 at Ashford, Cattaraugus, NY his step-sister Clarinda Wiltse (headstone below). She was the daughter of Andrew and Elizabeth (Proper) Wiltse and was born 28 November 1828 at Ashford. Clarinda died on Ol January 1892 at Oneida, Eaton, MI. He married (2) on 0l May 1894 at Grand Ledge, Eaton, MI Emma (Wise) Reed. Charles resided at Chatham until 1837, when he moved with his sister, Louisa (15336.5C), to East Ashford, NY. In 1854, he moved to Oneida, Eaton, MI, and farmed in that area until his death at Grand Ledge on 23 April 1914 (headstone above) . His wife, Emma, had preceded him in death.

Children of Charles N. and Clarinda (Wiltse) Bigelow, all born at Ashford:

15336.5E1t Ellen Persis, b 12 June 1843; d 24 April 1937 Chester, MI; m (1)12 Aug 1862 Horace Wickwire, 1 son; m (2)1905 George A. Bowser.

15336.5E2 Cornelia M., b 26 March 1845; d 01 Nov 1917 Oneida, MI; m 01 Jan 1901 Adolphus E. Edwards; no children. (headstone below)

15336.5E3t Margaret M., b 10 Dec 1847; d 22 June 1867 Grand Ledge, MI; m 09 June 1865 Emmett N. Cole; 1 child. (headstone above)

15336.5E4t Elisha C., b 12 Jan 1850; d 06 June 1928 McCarron, MI; m (1)12 Nov 1875 Sarah Brunger, (2) 07 Dec 1891 Tillie (Snyder) Foster, (3) 0l Sept 1920 Mrs. Jennie ( __ ) Fletcher; 7 children by Sarah.

Sources:
Bigelow Society,The Bigelow Family Genealogy, Vol II, pg 88;
Howe, Bigelow Family of America;
Descendants of Cornelius Bigelow, jr. (1798-184-); by Patricia (Mrs. Edward) Bigelow;
The Bigelow Family Genealogy, Vol I;
records of Bigelow Society historian/genealogist.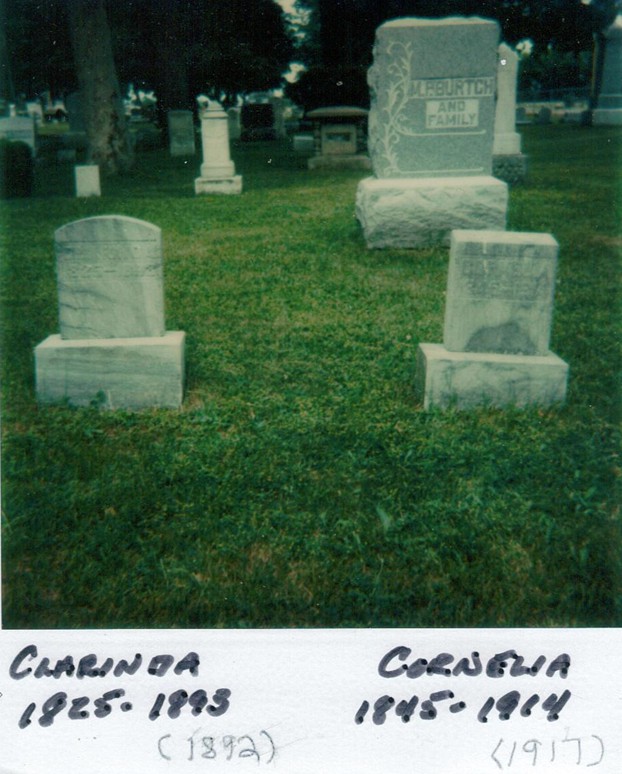 Clarinda (Wiltse) Bigelow (1825-1892), wife of Charles Nelson
Cornelia (Bigelow) Edwards (1845-1917); dau of Charles and Clarinda
Bigelow Graves at Oakwood Cemetery; Grand Ledge, MI
Polaroids by Gary Boulder of Charlotte, MI

---
Modified - 11/24/2008
(c) Copyright 2002 Bigelow Society, Inc. All rights reserved.
Rod Bigelow - Director
< rodbigelow@netzero.net >
---
Rod Bigelow (Roger Jon12 BIGELOW)
P.O. Box 13
Dannemora, N.Y. 12929

< rodbigelow@netzero.net >