January 2002 Bulboard
back to Present Bulboard

Subject: Old Bigelow Document
Date: Mon, 7 Jan 2002 19:37:20 -0600
From: "From Here To Eternity" <fhte2001@yahoo.com>

I bought an old document at an antique store with the surname Bigelow. I have attached it with this email. Also, I bought an old photo of a young man, across the front of the photo is the signature Poultney Bigelow. I laid it down in my office and need to find it again. When I do, I will scan it and email it to you. Enjoy the attached document

Blessings
Ashley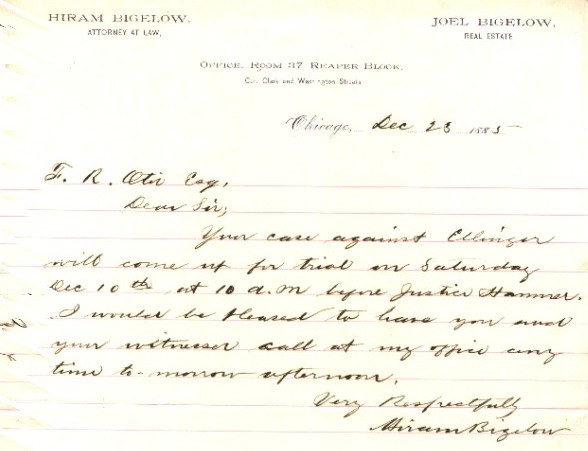 ---
Subject: OOPS!
Date: Tue, 8 Jan 2002 00:07:39 EST
From: RoseBIoom@aol.com
I am back. This is Arthur Hebert 1874
---

Subject:
Re: OOPS
Date:
Tue, 8 Jan 2002 12:28:58 -0800
From:
"tyrahutchens" <tyrahutchens@msn.com>
To:
"Rod Bigelow" <bigelow@slic.com>
References:
1 , 2




Hi Rod,

In the message prior to OOPS I inquired about the 12 July 1802 Amasa Bigelow
will referenced on the Bigelow Society Page.

Where was it filed? Orange County VT?
Is a copy or transcript available?

Thanks for your assistance.

Tye Hutchens

---

Subject: Change to new E-mail address
Date: Wed, 09 Jan 2002 22:05:44 +0000
From: "A Stump" <stumpgen@hotmail.com>

I am changing my e-mail contacts to a new e-mail site. I am not sure this
old one works that well and it is hard to get information.
<stumpgen@hotmail.com> is the old E-mail address.

The new E-mail is: <stumpgen@yahoo.com>
Arlyne M. Stump

---

Subject: Bigelow Information
Date: Wed, 9 Jan 2002 18:53:57 -0800 (PST)
From: Doug Bigelow <debaguley@yahoo.com>

Rod,
I got your email address from your website. I see on
it that your son played hockey at Utah State U. I
research Bigelows who participated in athletics and
would like to gather some info on his playing career.
I tried emailing him from the email address that you
provide on your site but it came back.
There have been many Bigelows who have played
collegiately and some professinally, Elliott played
for the Red Sox and Bob played for the Kings, Clippers
& Celtics.
Hope to hear from you
Thanks
Doug Bigelow

---

Subject: Genealogy Book
Date: Wed, 9 Jan 2002 19:47:35 -0800
From: "Pam Strand" <pams@QNET.COM>

Dear Rod,
I hope that you remember me. Have a question: is my information about Elizabeth Bigelow included in the second volume? I remember
the Bigelow historian, Mrs. Legerit(did I spell it correctly) contacting me through e-mail and giving her the information.
Gosh I don't know about your life but I get myself soo busy that I vaguely remember her saying that the info would be in the new book.
Do you know? Or, do you know how I can contact the historian??
Thanks
Pamela Strand

---

Subject:
Mary R. Bigelow
Date:
Wed, 9 Jan 2002 23:03:36 -0500
From:
"G.D. Peters" <cronish@nyc.rr.com>
Hi Rod-
thanks for replying to my message-board posting, it's very nice of you. I've actually been pouring through both Bigelow Society websites for weeks, as I just discovered this aspect of my ancestry. (I met my mother for the first time in 1990, and learned a little about that side of the family, which has been in Pennsylvania for many years.)
I am a writer (novels and short stories) and set my current novel in colonial Pennsylvania for this reason, and while researching the book I came across public records, and reached out for specifics in case my ancestors might be documented. She came back to me with my gg-grandmother's name (Mary R.) and the news that we are descended from the Bigelows, Biglos and Baguleys of old England. I plugged these names into a search engine and found the article on the Baguleys, and the Society sites.

I would like to join the Bigelow Society, but feel I should be able to document my descendancy first, and am surprised there are no records of Mary R.'s children. If you have any advice I will certainly be guided; meantime I'll keep digging from this end, though there is a sparcity of documentation for the Kauffman and Rhiver lines compared with the enormity of the Bigelow family.
p.s. I have 3 websites that I built and maintain, and would be happy to link your site on my links pages. The sailing site gets about a thousand hits a month, at www.2idiotsinaboat.com, and concerns to my efforts to sail around the world to raise money for children. My fiction site contains my published stories and novel excerpts (http://home.nyc.rr.com/fiction) and my journal is a general purpose site, and includes a tributes for Sept.11 and Veteran's Day, among other things (http://home.sprynet.com/~cronish/index.html). G.D.
---

Subject:
Re: Day family genealogy
Date:
Thu, 10 Jan 2002 13:19:54 -0500 (EST)
From:
stevenson111@webtv.net (Daniel Stevenson)
To:
bigelow@slic.com (Rod Bigelow)




The Bigelow and Coleman families are related. Family of John Coleman,
Jr., and Hannah Wright of Wethersfield, CT.

Possibly related to Vice President Aaron Burr; also Edwards family.



---

Subject:
Re: Bigelow Family
Date:
Fri, 11 Jan 2002 10:42:45 -0500
From:
Mary D Hicks <needleartist@juno.com>

I have written to you before, and I hope you will remember that I
have! I wrote concerning William Bigelow, father of my great
grandmother, Sarah. I was hoping to prove that he was a descendant of
Loring Bigleow. I have interesting news, that is a little sad for me
because I thought I had uncovered the Bigelow family as my own. I think
it may not be so, according to my latest findings.
I am beginning to believe that my William may have been the William
Bigelow who was living with Loring in the 1850 census, for Romulus, Wayne
Co, Mich, but that he had a name sounding very similar to Bigelow, and
thus was given that name by the census taker. I have found that he is in
the 1860 census for Detroit, Wayne Co, Michigan, married to a widow woman
named Electa Knowlton, and has 3 of her children with them. She was
apparently married to Stephen Knowlton in the 1850 Wayne Co census, and
he probably died somewhere between 1852 and the 1860 census. I
calculated the 3 children's ages from the census and the last one was
born about 1852 in Mich.
My great grandmother Sarah was born in 1861, according to every record
I have seen, even the ones she answered for herself. And, at my great
grandfather Frank Merritt's (Sarah's husband) funeral, according to his
obituary, there were Knowlton family members present--probably 1/2
brothers from her mother's first marriage. Another tidbit is that in the
household of William Bigelow and Electa there was a woman, age 80, whose
name was Sarah Murphy. I have grown up hearing that I was named for my
great great grandmother Mary Murphy, which is what it says in Sarah
Bigelow Merritt's (Bowhall was her second husband) death certificate for
her mother's name. I am now wondering if Electa Knowlton Bigelow was not
in fact Mary Murphy, or Electa Mary Murphy, or some such combination.
Either that or Mary Murphy was a sister to Electa and William was married
twice, but that seems very uncommon for the dates as they are mighty
close(1860 census & 1861 birth of Sarah)---but stranger things have
happened, so I won't rule that out until I am certain.
At any rate, it is my belief, at this time, that my William BIGELOW
was living with Loring Bigelow in 1850, married in 1859 just prior to the
census, as it says "married within the year", to a widow Electa Knowlton.
AND, because his name was so similar to Bigelow, he was given that name
and carried it forward the rest of his life and so did his descendants.
There are 2 places that say he was born in Germany and spoke German (the
1860 census when he was living, and the 1920 census for his daugther
Sarah Merritt), so I am thinking his name might have been BIGLER, or some
such variant that sounded like Bigelow. This, of course, is all
conjecture on my point, and now I must prove it!
At any rate, the woman I spoke of as being descended from Jarius
Bigelow, has consented to put her information on line. We have a few
conflicts in the next few weeks as I have family coming for the next
week, and then a minor surgery after that. She is in the process of
obtaining a job, and her computer is on the fritz. But, I have been in
contact with her, and she has promised to get back with me and post her
info online, even if she has to do so on my computer--which is great with
me as soon as the mess dies down around here.
I wanted to send her address as I am hoping that at least Anne and
Jean will contact her by snailmail, and get her involved in the Bigelow
Society. She is very interested, she just needs a nudge, and I am doing
that as best I can. Unfortunately, the only way to reach her by e mail
is through me (Mary Hicks needleartist@juno.com ), or by snailmail. She
has done a lengthy, and indepth research, of the descendants of Jarius
Bigelow, up to herself. She is:

Julie Fenner
112 Danny Ln
Mt. Morris, Michigan 48458
(810) 686-1109

Warmest Regards,
Mary Hicks
needleartist@juno.com



On Mon, 10 Dec 2001 19:25:28 -0600 "Anne Bigelow" <anne.bigelow@home.com>
writes:
> It wasn't me you were corresponding with but thanks for the
> information
> anyway - I can use it as a filler in Forge sometime. You may have
> been in
> contact with Rod Bigelow ( bigelow@slic.com ) who looks after the
> Bigelow
> Society website or Jean Legereit ( legrite@aol.com ), the Historian,
> who
> maintains a huge Bigelow database. If you haven't been in contact
> with them,
> I would try them as they may be able to hook you up with your
> ancestor. By
> the way, my e-mail address has just changed to anne.bigelow@shaw.ca
>
> Good luck with your research.
> Anne Bigelow
> Forge Editor
>
>
> ----- Original Message -----
> From: "Mary D Hicks" <needleartist@juno.com>
> To: <anne.bigelow@home.com>
> Sent: Monday, December 10, 2001 4:15 PM
> Subject: Bigelow Family
>
>
> > Dear Anne,
> > I don't recall--I think it was you I corresponded with earlier
> in the
> > past few weeks. I am trying to connect my William Bigelow with
> Loring
> > Bigelow of Romulus, Wayne Co, Mich. I have been digging at the
> Flint
> > Public library and came across someone doing the Bigelow family
> for the
> > Munday Twp, Swartz Creek, Mich, area. I found this information in
> the
> > census:
> >
> > Bigelow, William, 1900 Census, Michigan, Vol 21, ED14, Sheet 16,
> line 76,
> > Genesee Co, City of Flint, 1800 NR St.:
> > Bigelow, William, born July 1861, age 38, born Michigan
> > Sarah, wife, born July 1863, age 36, born Mich
> > Maude, daughter, born May 1887, age 13, born Mich
> > Frank, son, born Jan 1893, age 7, born Mich
> > Neill, son, born Dec 1897, age 2, born Mich
> > Lafrieda, daughter, born Jan 1899, age 1, born Mich
> >
> > Evergreen Cemetery Records:
> > William H. Bigelow, died January 27, 1933, Flint, age 71
> > son of Mr. & Mrs. James Bigelow
> > married Sarah Timmie, June 2, 1880
> > Surviving: 3 sons: Frank, Lansing, Mich; Harold, Grand Blanc, Mich;
> Neil,
> > Flint, Mich
> > 1 daughter: Freda Andrew, Flint, Mich
> > Unfortunately this is not my William Bigelow. BUT--this is
> William
> > Bigelow, son of James, grandson of Hiram Bigelow. Hiram was the
> son of
> > Jarious Bigelow and Lucinda Main. William's father, James
> Bigelow, had 3
> > wives, and it is my understanding that William's mother was
> Delilah
> > (Goulding) Parrish.
> > I couldn't bear to throw this information away, even if it
> isn't my
> > family. So, thought I would pass it on to you. I am going to try
> to get
> > the lady who I met at the library to give me the information on
> this
> > branch--she is descended from Jarius and Lucinda Main.
> >
> > Warmest Regards,
> > Mary Hicks
> > needleartist@juno.com
>
>

---

Subject:
Hannah Bigelow and Daniel Warren
Date:
Sun, 13 Jan 2002 19:05:57 -0600
From:
"M Wynn" <mwynn@cconnect.net>
Hello Rod,
I was wondering if you had documented proof of Hannah Bigelow and Daniel Warren's birth, death, marriage and their children?
(Namely, Samuel Warren and anything of he and his wife Hannah Beard.) If so, would it be possible to scan and e-mail me the copies of
proof with title page? Anything you could send would be greatly appreciated.
Thank you,
Mary

---

Subject:
BAD LINK.....
Date:
Sun, 13 Jan 2002 23:00:37 EST
From:
Russmanl61@aol.com

I tried to get to the NJ site but no go???? My great grandfather was James
Tella Bigelow (1810-1897). He died in Northern Fayette Co., PA and his
death certificate lists his father as Elias Begelow born NJ, and his mother
as Kathran from Germany. Jameshad a brother Joseph and they originally
worked on the "river" Doesanyone know anything????

---

Subject:
OOPs
Date:
Tue, 22 Jan 2002 08:44:42 -0700
From:
Phil Bateman <batemanpw@shaw.ca>
Hi Rod,
This link doesn't go anywhere:
http://bigelow.simplenet.com/rod/sil88313.htm
Thanks,

Phil Bateman

---

Subject: Bigelow update- Henry Veeder 's line
Date: Tue, 22 Jan 2002 11:58:27 -0500
From: Judy Archer <jarcher@encode.com>
Rod ,
I am contacting my Bigelow cousins to see if we can update your information.
I will fill in the few blanks of what I know .**new entries **
Julie Cushing(JR) has offered to update further her Agnes Katherine line ,
John Bigelow is on his boat somehwhere without records , so I hoping someone
will link me with his other sibs, and Margie Bigelow I have just asked
.Charlie Bigelow I have asked too re his kids and grandchildren . I need
to dig further for Harold's death date and Henry Veeder's correct death date.
Let me know if you want more details .
Judy Archer

Henry Veeder 9 BIGELOW
------------------------------------------------------------------------

1592C.2461 Henry Veeder 9 BIGELOW, son of James Edward 8 ( Isaac Newton 7 , John 6, Amasa 5 , Isaac 4, Isaac 3, Samuel 2, John1) and Henrietta Agnes (HOOD) BIGELOW, was born 6 November 1874 at Lynn, MA. On July 17,
1900 he married Mary Tupper, She born 21 Nov 1877 Bay of
Islands,,Newfoundland; and died May 23, 1960 at Victoria BC. She was the
daughter of John S. and Elizabeth (Waddell) Tupper. Henry was a lawyer,
practicing in Truro until 1907 when he moved to Regina, Saskatchewan. In
1918 he became Justice of the Kings Bench in Saskachewan. Henry also was
purported to die on 23 May 1960 in Victoria,BC (this is probably a mistake)
**(YES , he died about a year later )**

Children of Henry Veeder and Mary (Tupper) Bigelow:

1592C.24611 Sherburne Tupper, b 03 Aug 1901 Regina, Sask.; d 13 June
1993 ; m 08 May 1925 Helen Beatrice Cross d___ ; . **Tupper** was oldest of
seven children.(see note below)
They had one child:
1. Charles Cross, (see below)

1592C.24612 James Arthur Harold, b 29 Dec 1902 Truro,, NS; d bef 1974
Toronto ; unmarried.

1592C.24613 Agnes** Katherine**, b 18 Aug 1904 Regina, Sask., CA; d __ ;
m Eric Reddy ,**Gordon Cushing (d1951) and J. Fred Kennedy, dental surgeon
, died Oct __, 1989 Delray Beach,FL**
4 children
1Patricia Reddy d Fl
2 Jane Reddy m Brad Quakenbush d
3John Cushing m Julie Cushing div. d Ottawa,ON
Julie Cushing b 12 Dec 1962
John Cameron b Dec 31, 1969.
4 Cameron Cushing b 1946 d Sept, 2001, bur.in family plot,Nassau,Bahamas

1592C 24614 George Borden, b 27 Aug 1909 Regina, Sask., CA; d late 1999.
; wife** Virginnia.
They had
1. John G. Bigelow,** b. October 15,1934. was a senior pilot with
Pan-Am.** now retired,lives on his sailboat in the Mediteranean **. He
talked to Don Bigelow in Grand Rapids,MI in 1997.
married twice . Lives with third wife Norah Kathleen Murphy m August
13,1977.
2 children from 1st marr.David and Elizabeth, both live on Vancouver
Island . Elizabeth has five children .
2 children from 2nd marriageJohn and Kevin , both live in Minnesota .**

**2.Gina Bigelow b1948 ,lives in Florida , married _Foy

**3, Wendy b1939

1592C.24615 John Graham, b 06 Feb 1912 Regina. Sask.,CA; d ____ ; He
resided in Regina, NS or England? and was killed in an airplane accident
*while on duty with the RAF 3 Sept 1934 in Hawkinge ,Kent .**

1592C.24616 Mary Bedford, b 26 Apr 1916 Regina, Sask., CA;**m Robert
Montague Archer Jan 6, 1940 , Lived in Chambly and Richelieu P.Q. Worked as
administrative assistant at McGill University .Div . m. Charles Richard
Payan Jan 5,1974. Now lives in Oakville, ON
1.Judy Tupper Archer b Oct16,1944 Toronto, ON . m Michael Allen Westover
Jones Dec 7,1974 Toronto. no issue . Works as a visual artist and family
historian,and manages a family business Pianoscapes Inc. Lives in Orillia,
ON.

2.Caroline MacGregor Archer b Aug 15, 1946 Toronto,ON .m Robert Bruce Bell
July 1968 Chambly PQ .lives in Oakville,ON
one son Jeremy Cameron Archer Bell b 1 Feb1974,d 19 Feb 1974 Hamilton ,ON
3.John Bigelow Archer b Sept 26,1948,Montreal.PQ m Renate Sainsbury 4
Mar1989 div 1995.
Works in Cable repair for Telus ,Drayton Valley , AB
**d ___ ;

(see below)

1592C.24617 Alan Eaton, b 30 Sep 1918. Wife **Stella**; He resided in
Regina, NS. Had 4 daughters and a son Frederick who became a squadron
leader in the RCAF. One of his daus.**Mary** predeceased him. He died in
Victoria, BC.** One daughter Margaret, a furniture designer , m Eugene Rubin
lives in Rockville MD, has three children Elizabeth, Robert and Mary .**

Sources:
Bigelow Society,The Bigelow Family Genealogy, Vol II, pg 146;
Charles Cross Bigelow e-mail of 5 Nov 1997 ( bigelow@cc.UManitoba.CA )
Bigelow Book,. Vol.II 1996
Kings Co. Historical Soc., 2/22/97
Records of Bigelow Society historian/genealogist.
**Judy Archer**
some further details ,corrections, updates***
Judy Archer
Henry Veeder 9 BIGELOW
------------------------------------------------------------------------

1592C.248111.1 Charles Cross,*** 2 children from first marriage

Anne Kirsten b 2 Sept 1958 , Copenhagen ,Denmark

David Carleton b 2 Sept 1960 , NYC, NY

1592C 24614 George Borden, b 27 Aug 1909 Regina, Sask., CA; d late 1999.
; wife Virginia ***d Dec 1986 Victoria ,BC>***

1592C.24616 Mary Bedford, b 26 Apr ***1914*** Regina, Sask., CA;

---

Subject: Emery Family
Date: Wed, 23 Jan 2002 19:22:26 -0500
From: "Leo and Geraldine Goulette" <gerry@gwi.net>
I was very interested in reading the history of the Bigelows as I was researching my relative, Jonathan Emery, who housed Benedict Arnold in Fairfield in 1775. Jonathan Emery was a great, great, great grandfather of my grandmother, Mary Emery LaPointe, (born in 1865) My mother, Rose Alma LaPointe Beaulieu, had very good records of the Emery family going back to John Emery, son of John and Agnes Emery of Romasey, Hampshire Hauts, England in 1598.
As I read the article I wondered who it was who said that Col. Bigelow may have been stationed at the home of his relatives on his
maternal (Emery) side, Jonathan Emery. Jonathan Emery married Jerusha Barron in 1722. His wife died in Fairfield in 1781 and he then married a widow by the name of Whitten. I was brought up in Fairfield and still live in the area. It was very interesting to hear my mother talk about her relative, Jonathan Emery. The hill near his home is named Emery Hill (after him)and the Arnold Trail is very well marked for all tourists who are interested in history.
Sincerely,
A relative of Jonathan Emery's
see /rod/coltim4.htm ...........................ROD

---

Subject: Col. Asa Whitcomb's Regt.
Date: Mon, 28 Jan 2002 08:39:11 -0800 (PST)
From: Judith Kernan <newenglandgenealogy@yahoo.com>

In searching the internet for information on our ancestors, I found you site after a keyword search for Col. Asa
Whitcomb's Regt. I am interested in finding out more about the following information and am in hopes that you can
give me some direction:

Bennett, Thomas, Shirley.Sergeant, Capt. Henry Haskell's co., Col. James Prescott's regt., which
marched on the alarm of April 19, 1775; service, 7 days; reported enlisted into the army April 26, 1775;
also, Capt. Longley's co., Col. Asa Whitcomb's regt.; receipts for wages for Aug. and Sept., 1775, dated
Prospect Hill; also, company return [probably Oct., 1775].

If you would be so kind as to tell me where you found the information on Col. Asa Whitcomb's Regt. I am in hopes of
finding out more about the above Thomas Bennet/Bennett.
Thank you very much. Judith Bennett Kernan

---

Subject: Correction to web page
Date: Tue, 29 Jan 2002 17:35:59 -0500
From: "Holly Bigelow & Mathias Olivier" <twonittanylions@mindspring.com>

Hi Rod,
I was just browsing around and found a web page which contains some incorrect information.

http://bigelow.simplenet.com/rod9/how92254.htm

The children listed for Howard and Mary Kitchen Bigelow are actually the children of his brother Harry (my g-grandfather).
According to The Ide Family, Pennsylvania Branch, Vol. II, Howard and Mary had one daughter, Janice, b. 16-Jan-1836.

The information for Harry is almost all correct. ( http://bigelow.simplenet.com/rod9/har92253.htm ) My grandfather's correct
name is Merl Hawn, not Merl Vaughn, despite what his birth certificate says. The doctor mistakenly wrote Vaughn when he was
born.

FYI - Harry's date of death is 28-Sept-1987.

If the Society needs any information about the 10th-12th generations of this little branch, I would be happy to provide whatever
you need. I know my great-aunt Connie (Alyce Carlene Friedley) Bigelow worked with Patricia Bigelow for years to research our
branch. I have recently received a great deal of their correspondence and research and would be happy to help with current and
future generations in any way I can.

Thanks for your time,

Holly Beth Bigelow
Emmaus, PA
Tunkhannock, PA
twonittanylions@mindspring.com
http://bigelowsociety.com/rod9/how92254.htm
http://bigelowsociety.com/rod9/har92253.htm

---

Subject: Bigleow Society
Date: Sat, 26 Jan 2002 07:48:06 -0500
From: Elizabeth Clark <eclark02@snet.net>
Dear Rod,
I found the name of Bill Bigelow on this page of the BIGELOW Society
pages:
/rod9/jamesg9.htm
with a query about James Gamaliel BIGELOW
I looked all over the web site and couldn't find his query, so I
e-mail'd him only to have the mail returned as "User unknown".
Do you have another address for him or can you tell me what his query was?
Elizabeth Clark

Sponsor Archive CD Books Project - a non-profit project to make reproductions of old books,
documents and maps available on CD to genealogists:
http://www.archivecdbooks.org/

---

Subject: Soldiers under Command of Capt. James Oliver
Date: Sun, 27 Jan 2002 09:07:55 -0800 (PST)
From: David Case <decase17@yahoo.com>

I was on your site at
/rod/soldiers.htm

and noticed a "Jn Case" as one of the souldiers under
command of Capt. James Oliver. My ancester John Case
was in the area at the time. Do you have any other
information on this Jn Case. For example, age,
residency etc. I wanted to find a match if possible.
Dave

---

Subject: Rice family
Date: Sun, 27 Jan 2002 19:02:07 -0600
From: "spirit walker" <jrouse48@hotmail.com>

my name is john leroy rice
i am looking for any information on the rice family in ny state.
my great grand father came from there to w. va. married a margret had 3 kids in w.va.
then came to minnestoa were he had my grandfather frank rice they also had another son (john)and two girls(do not
have names). i have also been told there is native amreican blood in the family any help you can give i thank you for
now.
john l. rice
my e-mail is jrouse@emily.net

---

Subject: Joshua Cushman Bigelow
Date: Mon, 28 Jan 2002 19:38:36 +1100
From: Leslie Cushman Bigelow <biggs@ozemail.com.au>

re : Joshua Cushman Bigelow 16251.212t Born USA, married & died in Australia
Unable to access information from database
I am great grandson of above, my father Leslie William Bigelow, my grandfather Alphonso George Bigelow.
Leslie Cushman Bigelow

---

Subject: The DAYs
Date: Tue, 29 Jan 2002 17:52:28 -0500
From: Mike Stenger <mstenger@www.endicott.edu>
I don't know if you can help me, but I am searching my Day family. CT is close to NY and I don't have a clue about
anything on Alfred. If you can help I'd appreciate it. I am hoping to make a pilgrimage to NY and investigate.
Alfred Day born 1825 in ? - married Jane Custer born 1829
Rueben Augustus Day born 1851 in Fallsburg, NY - married Helen Granger Laird
James Arthur Day born 1881 in Cornwall, NY - married Bessy Mulhollen
Edna Day born 1916 - married James Sigourney
Jane Sigourney born 1938 - married Sam Stenger
Mike Stenger born 1970 -

Thank you,
Michael Stenger
---

Subject:
Date: Thu, 31 Jan 2002 08:18:46 -0400
From: Rick Wickwire < cfwickwi@bechtel.com >
/rod/ell865e1.htm

Greetings to the Bigelow family. My name is Rick Wickwire and I am listed as
a researcher of the Wickwire family on the url copied above. My email
address has changed and I am writing to ask if it would be possible for you
to change it on the website. My new address is cfwickwi@bechtel.com
<mailto:cfwickwi@bechtel.com>
The reason I noticed it is because we are making another effort to identify
the Horace E. Wickwire who married Ellen P. Bigelow.
Thanks for your help,
Rick Wickwire

---
---
---
Rod Bigelow (Roger Jon12 BIGELOW)
P.O. Box 13 Chazy Lake
Dannemora, N.Y. 12929

< rodbigelow@netzero.net >

BACK TO THE BIGELOW SOCIETY PAGE

BACK TO BIGELOW HOME PAGE