Colchester Cemetery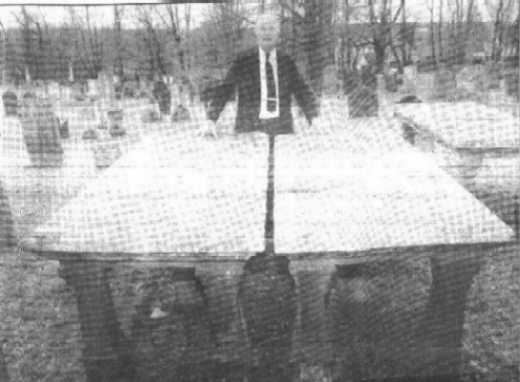 Peter Bulkeley of Bloomfield stands in the Colchester cemetery with elaborate table stones
that mark the graves of ancestors who were among early residents of the town.
---
This is an article about the Colchester cemeteries, where many Bigelows lived and died. There were no names on the entrances to the cemeteries, so I named them myself when I visited them on at least 3 occassions (11/04/94, a year later, and 1998). The one I named Colchester Common cemetery is the one referred to in the article below as the Old Colchester Burial Ground. It is off to the right behind a church and the "Day Academy", which are visible in some of the pictures. The Bulkeley family as mentioned is common throughout Bigelow genealogy. Lieutenant John 3 and wife Sarah built their elaborate house on Bulkeley Hill and Jonathan 5 served as a Corporal in Capt. Eliphalet Bulkeley's 3rd Co, 12th Regt., Connecticut militia. See those links for their headstones in this cemetery, as well as other Bigelow links listed below. This article below was published in the Hartford Courant about 1995.

Colchester puts its cemetery on the map

Colchester -- When Peter Bulkeley came to town four years ago to visit the Old Colchester Burial Ground, he found the colonial cemetery covered by knee-high grass, clumps of poison ivy and fallen branches. Bulkeley went home to Bloomfield and angrily wrote a letter to the editor of Colchester's weekly newspaper. he chastised the town for the condition of the historical cemetery where his relatives, among the founders of Colchester and members of one of the state's most prominent families are buried.
His letter awakened the community's spirit, resulting in a four-year cleanup effort that attracted business people, public officials and children. The work will culminate this summer when a colonial-style wooden fence anchored by stone posts is completed. (When I visited after this article 95?, very little work was done, but the grass was cut.) It will resemble the fence that surrounded the cemetery 150 years ago and will replace a rusted and weed-covered chain-link fence and now borders the burial ground. A tall, wrought-iron gate and a sign will welcome visitors to walk through the cemetery, located on a hillside behind the Colchester Federated Church, across from the town green.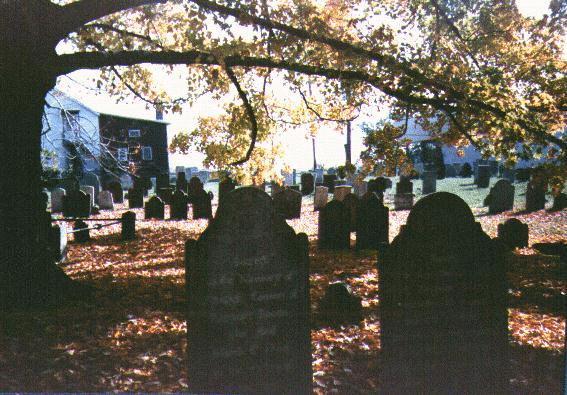 This photo shows Pierpont Bacon to the right; "died Dec 30, 1800; age 77 yrs";

and "Hannah Newton; Consort to Pierpont Bacon; died 1800; 77 yr of her age"

From Colchester cemetery records:
Bacon, Abigail, Consort of Pierpont, died Mar. 8, 1800, age.76 yrs.
Bacon, Pierpont, died Dec. 30th. 1800, age 76 yrs.

The people who founded Colchester are buried there, including Pierpont Bacon (and his "Consort" Hannah (Newton) above), a farmer who donated the money to build Bacon Academy, which became a preparatory school affiliated with Yale University. Town leaders hope this historic landmark will draw tourists and historians. "People travel long distances to see historical cemeteries in Hartford and Boston. We have a really great one in our midst," said Arthur Liverant, a member of the town's historical society, which is donating the new fence. "No one went into our cemetery because it was overgrown." But when the grass was cut and the poison ivy removed, even local people discovered some pieces of history.
A local historian working this month with a group of middle school volunteers found more than 75 unmarked gravestones believed to be those of black slaves, poor whites and Indians. The stones had been covered by years of sediment and neglect. Earlier this month Bulkeley watched town workers hammer some of the 4-foot-tall stone posts into the earth. The renovations will cost about $15,000. Bulkeley donated $5,000 from a family fund and challenged the town to match it. The Colchester Historical Society met the challenge. Descendants of some of the people buried there have made donations, and the Colchester Business Association is giving money for a sign.
Visiting the burial ground in Colchester was a tradition in Peter Bulkeley's family. His grandfather, Morgan Bulkeley, the governor and state senator for whom the Hartford bridge and high school are named, often drove to the cemetery from Hartford along the winding curves of New London Turnpike. Morgan Bulkeley's great-great-great-grandfather, Jon Bulkeley, the town's first minister, is buried under elaborate 6-foot table stones, their lives and deaths etched in Latin in the sandstone. John Bulkeley's stone is decorated with a helmeted knight and the faces of three bulls.
James A. Slater, a University of Connecticut professor who wrote "The Colonial Burying Grounds of Eastern Connecticut" in 1987 made note of the cemetery's condition in his book. "One senses a lack of community pride or awareness of a rich historical past," Slater wrote. "One should treat the poison ivy in this burying ground with respect." But he also wrote that the cemetery is one of the very old burying grounds and offers an unusual mix of stones carved out of granite and sandstone. Because of its location between Hartford and the shoreline, it drew artists' work from both areas, he wrote.
Local historians often wondered about the marker for George Evans at the bottom of the hillside, far from the majority of graves that surround towering ash and maple trees in the center. There appeared to be no other graves in that area. But Abraham Abdul Haqq, a local historian who specializes in black history, discovered that Evans, a black soldier who fought in the Revolutionary War, had not been buried alone. Under a few inches of grass and dirt, Haqq discovered unmarked gravestones believed to be for poor whites, black slaves and Indians. Haqq, who was working with a group of school children, said he is researching the names and backgrounds of the men and women who are buried beneath the unmarked stones. "I'm glad that these individuals' markers are finally being exposed. So much attention has been paid for years to the individuals at the top (of the hillside). Finally, people recognize there are people down here who need to be recognized," Haqq said.
Arthur Liverant's father, Zeke Liverant, a local historian who co-owns an antique shop just down the street from the cemetery, said people from as far as South Dakota have come into his shop looking for burial grounds. One of those travelers was Phillip J. Meek, senior vice president of Capital Cities-ABC Inc. in New York and president of its publishing group. He drove from Greenich with his daughter in 1991 when she discovered that some of their ancestors were buried in Colchester. They discovered they were related to the Chamberlain family, which included the town's first tavern-keeper, Meek said. Meek donated $2,000 to the cleanup. "I was so taken by it, that we wanted to be a part of it.
But it was not the money that got the cleanup going in 1991. It was volunteers who donated their weekends to work with the Colchester Community Action Committee. Now, the town crews keep the grass trimmed and pick up leaves and branches around the stones.......

Bigelow links:

163 ..... Lieutenant John 3 and family.
16352.3 ..... James 6
1635 ..... Asa 4 and children
16359.2 ..... children of Guy 6
16352 ..... Jonathan 5 and children.
159 ..... family of Sgt. Isaac 3 BIGELOW
Other family stones found: WRIGHT, OTIS, MUNN, KELLOGG, FOOTE, DAY, AVERY, PRATT, TAYLOR, PACKWOOD, SMITH, BRIGGS, GRAVES, WAYS, GILLETE, ISHAM, SKINNER, and others.

Sources:
Hartford Courant newspaper article;
cemetery inscriptions Colchester;
vital records of Colchester, CT;
also see: http://www.rootsweb.com/~ctnewlon/colchester.html
There is a partial listing of cemetery records at: http://www.rootsweb.com/~ctnewlon/colchestercem.htm
---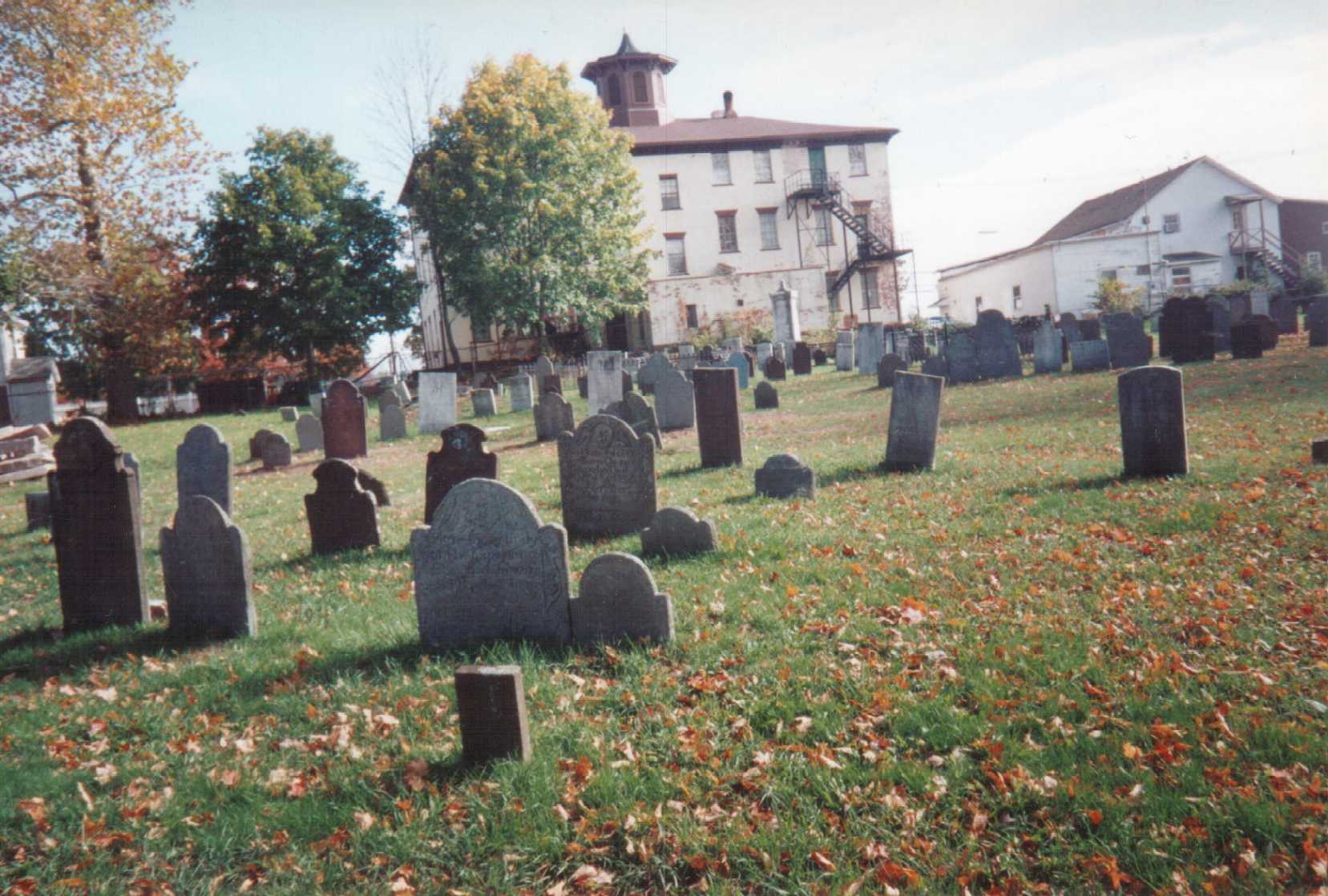 The picture above shows part of the church visible in the far left. The tall monument in the center rear is the WRIGHT plot and is in back of a large building, which is the "Day Academy"

See also:
Colchester Cemetery 302-1 (recorded 1934)(Old Burying Ground) = colcem1a.htm
Colchester Cemetery (Old Burying Ground)(NEHG Records) = colches2.htm
Colchester Records = colcrec1.htm
Colchester Marriages = colchmar.htm
Colchester Cemetery (Old Burying Ground) (NEHG Records 1888) = colches2.htm
Colchester Town History page 1 = coltown1.htm
---
Rod Bigelow
8 Prospect Circle
Massena, N.Y. 13662

bigelow@slic.com Rod Bigelow at SLIC

BACK TO THE BIGELOW SOCIETY PAGE

BACK TO BIGELOW HOME PAGE