Lebbeus Loomis 7 BIGELOW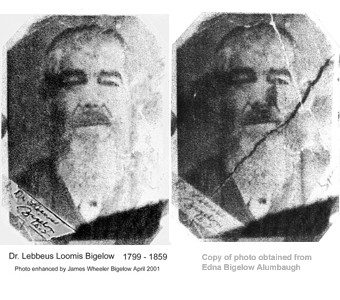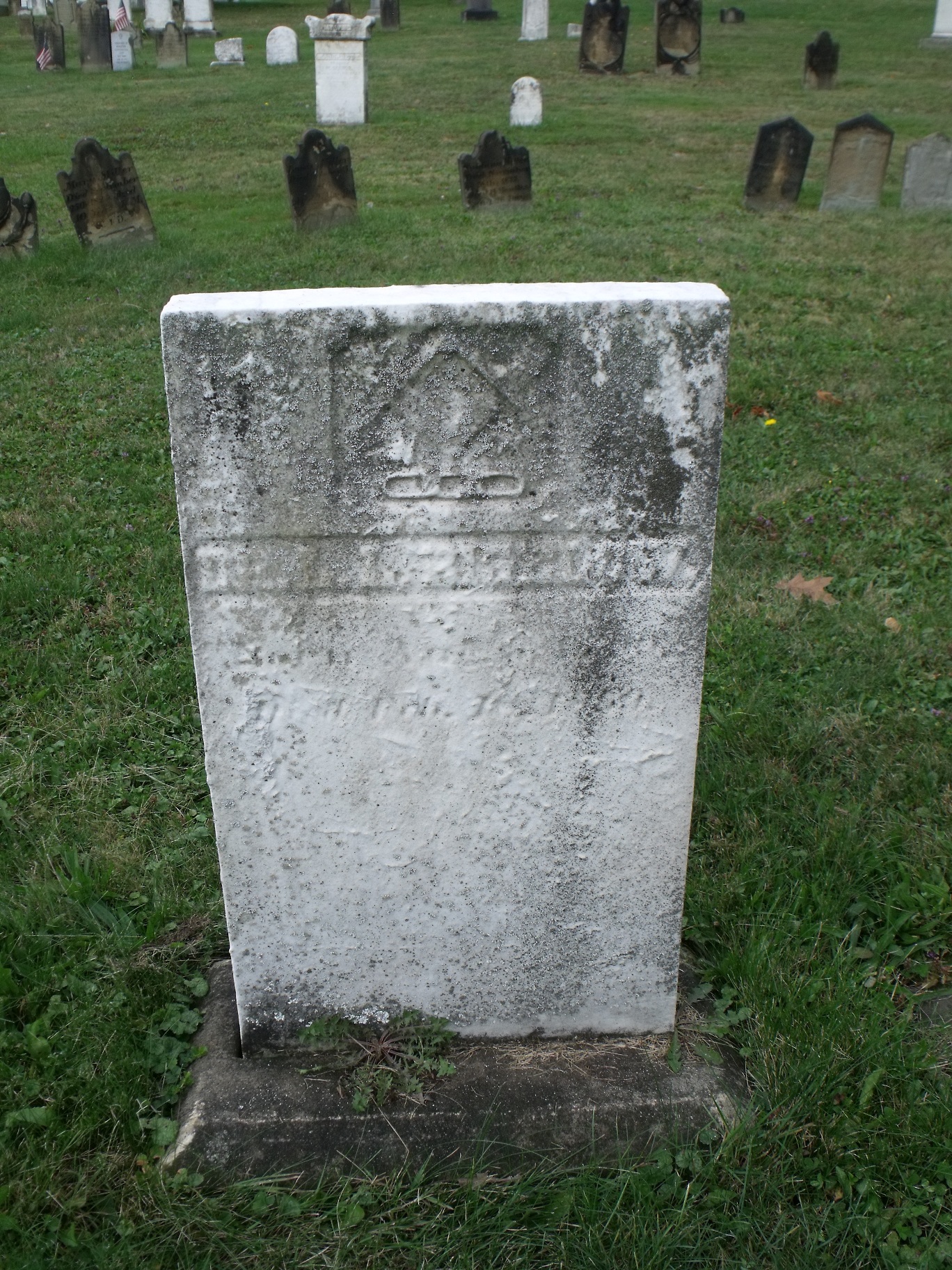 Brush Creek Cemetery, Irwin, Westmoreland County, PA.
---
15923.73 Lebbeus Loomis 7 BIGELOW (also Lummis), son of Israel 6,Isaac 5 , Isaac 4 , Isaac 3, Samuel 2, John 1) and Eunice (KATHAN) BIGELOW, was born on 05 April 1799 at Ballston Spa, Saratoga, NY. While a boy, his father moved the family to Center co., PA and there, on 31 August 1820 he married Elizabeth Custer who was born at Uniontown, PA on 13 September 1803. She was the daughter of George and Catherine (Leatherman) Custer. Lebbeus studied medicine and began practice in Greene county, PA and afterwards moved to Adamsburg, Westmoreland, PA where he was located for over thirty years. He was locally prominent in his profession, also served in politics. He was a member of the Reform Convention, in 1837, which met to revise the Constitution of Pennsylvania. He was elected to the State Legislature in 1851 and served three terms, was an active Mason as well as an Oddfellow. Elizabeth died in Belkeville, Huntington, PA on 29 September 1861, his widow. Lebbeus had died at Adamsburg on 10 February, 1859.
The Bigelow Society has used the name Custer in referring to wife Elizabeth, etc. Notes by Marguerite Atteberry Emmons dispute this .(see below) Not so sure now (see below) (another Custer heard from) not Custis

Children of Lebbeus L. and Elizabeth (Custer)Bigelow:

15923.731 infant son, b 14 Sept 1821; d ae 36 hours.

15923.732 Angeline, b 07 Nov 1822; d 07 Jan 1823.

15923.733t William Gantz, b 24 Dec 1823; d______ m (1)29 Aug 1850 Martha Wademan and (2) July 1871 Mary Ann Baker; res. Stormsburg, PA; 9 children.

15923.734 Juliana, b 06 Jan 1826; m Frederick Blocker; res. Altoona, PA.

15923.735t Lebbeus L., jr., b 05 Oct 1827 Adamsburg; d_____; m 03 Jan 1852 Priscilla Miller; res. Parker City, PA; 4 children.

15923.736 Theophilus, b 29 April 1830 Adamsburg, Westmoreland co, PA; d 10 May 1854; m 27 March 1852 Maria Rodesbaugh, d 1853, no children.

15923.737 Elizabeth, b 22 Oct 1832 Adamsburg; m (1)12 May 1852 John Fox who d 1854, m (2) 02 Jan 1854 Porter Shyock and (3) John Bulick; res. Tipton, PA.

15923.738 Lydia, b 22 March 1834 Adamsburg; d 26 April 1835. (Note: Marcus L. was also born 22 March 1834; (see below))


15923.739t Daniel K., b 11 Aug 1837 Adamsburg; d 12 July 1910; m Hannah Yancey; 10 children. (see below)

15923.73A Israel, b 17 Nov 1839 Adamsburg; d 09 July 1841.

15923.73Bt Eliphaz Custis, b 17 Dec 1841 Adamsburg; d 6 Aug 1882 Belleville, PA; m 16 Nov 1865 Eve Elizabeth Horton; 7 children.

15923.73Ct Isaac Leatherman, b 11 July 1844 Adamsburg; d 05 April 1925 Bentonville, AR; m (1) Mary Amelia Evans in 1862/63, (2) Mrs. Mary ( __ ) Shank and (3) Nancy Jane (Jeffers); 10 children.

Sources:
Bigelow Society,The Bigelow Family Genealogy Vol II, pg 139;
Howe, Bigelow Family of America;
records of Bigelow Society historian/genealogist.

From: willma mchugh <joeandme2002@yahoo.com>
Date: Thu, 3 Jul 2008
Subject: Mistakes
MARCUS L. (8) BIGELOW 15923.716 or 15923.738 AND WIFE Anna Margaret Davis BY SEARCHING U.S. CENSUS I FIND THEY ONLY HAD 5 SONS AND 3 DAUGHTERS....
MARGARET (MAGGIE) MARRIED ??? FERGUSON AND WENT TO MONTANA . AGE 18
LAURA DIED AGE 3
IDA DIED AGE 14
WILLIAM J WAS MY GRANDFATHER
CHARLES . HENRY . GEORGE. AND FRANK.. I FIND COROBORATING INFORMATION
TWO DIFFERENT CENSUS SHOW ANNA AS HAVING 8 CHILDREN, 6 LIVING...
APPARENTLY THE 2 YOUNGER MALES IN THE FAMILY PHOTO ARE GRANDSONS.
I CAN FIND NOTHING ELSE TO PROVE DIFFERENTLY AND BELIEVE ME I HAVE TRIED.....
WHAT I WOULD LIKE TO TRY IS AN INQUIREY AS TO WHAT HAPPENED TO MARGARET.... ARE THERE ANY DESCENDENTS OF HER AND MR FERGUSON???? I AM GOING TO SEE IF I CAN FIND ANY CENSUS TO CONFIRM HER IN MONTANA
THANK YOU FOR ANY HELP.... BLESSED BE... WILLMA MCHUGH

More fron Willma:
Subject: Bigelow Problems
Date: 30 Aug 2005
From: "Willma Bigelow McHugh" joeandme2002@yahoo.com
Willma Bigelow McHugh has asked that the following inquiry be placed in the Forge and on the Internet.
"Willma Bigelow McHugh, formerly of Pittsburgh, Penna., is hoping to locate one or more descendants of Marcus L. Bigelow (15923.726) and wife Anna Margaret Davis, of Armstrong Co., Penna. Together they had 10 children, all born and raised in Grapeville, Westmoreland Co., Penna. Grapeville is on the northwest corner of Jeannette, Penna.
1. Margaret A., b. 1867, married: ?? Ferguson
2. Henry F., b. 1869, married: Mary C. ??
3. Charles M., b. May 1870
4. Ida M., b. 1874, d. 1888
5.Laura C., b. 1877, d. 1880 (burned)
6. William James (15923.7266), b. 8 May 1879, d. 31 Dec 1994,
married: Edna Frances Kramer, Bertha Trautwine, and Lucille Parks
7. George L., b. 1881, d. 1923, married: Lena E(a)ston
8. Frank M., b. 1941, married: Bessie L. and Georgia Bell (Feld) Lavelle
9. Harry, no information available
There is another son in a family photograph, but no identity given.
Rootsweb. com shows a female, M.S.B., born about 1873. Does anyone know who she is?
I am also interested in learning if there is any truth in the story that states that Anna Margaret Davis was part Native American. Can anyone help?
And last, but not least, looking for the identity of Lafayette Bigelow, father of Marcus L., as recorded on his death certificate. His mother's name is Margaret Altman.
Thank you for any help and I am looking forward to a possible end to this mystery.
Signed: Willma Bigelow McHugh
Recent conversation (2021) with Willma:
After years of searching and working with genealogist from DAR and others, as well as DNA, we are more sure of of family lineage. My great grandfather, Marcus L. Bigelow, was thought to be son of Israel L. Bigelow. DNA evidence shows that Willma's cousins are a match with Daniel a legitimate son of Lebbeus Loomis. Lebbeus is the only Bigelow living in Westmoreland county where Margaret Altman, unmarried, was living and where her son, Marcus L. was born in 1834. Margaret's daughter Mary, born 1836 was married and claimed on her death certificate that her father was a Bigelow. Lebbeus Loomis was a fairly prominate citizen and his family would have been very sensitive to his having children by another woman.
DNA: Willma's 4th cousin J.P. is a match with Daniel , legitimate son of Lebbeus Loomis. Another 3rd cousin J.M. is connected to Israel and Eunice. A newer 3rd cousin is thr great great grandson of Lebbeus.

Note:
From: Daniel Bigelow
Email: bigelowfam@g2a.net
Date: 01/14/2005
Still a great site. Looking for info about Isaac III and his son Israel. Any one have some for me?
Also can't seem to find anything on Dr. Lebbeus Loomis Bigelow who moved from Mass. to PA.

---
Descendant note:
Thank you for taking on this work that Don worked with ever so diligently and whose death I, as well as so many others, deeply regret. I have recently constructed a family home page that I wish to share. It contains photos of my family, some collages of my family I created with Adobe PhotoShop that you may find interesting, and many of my essays from previous home pages. Visits, queries and comments (and information and help) from everyone are welcome. My (Bigelow) family roots, beginning with John 1Biglo who came to America in 1633 and following with Samuel 2, Isaac 3, Isaac 4 , Isaac 5 , Israel 6, Lebbeus Loomis 7 , Isaac Leatherman 8, Dollar Richard (9), and me (10) (James Wheeler Bigelow). My (Wheeler) family roots, beginning with Thomas Wheeler (1), William (2), Samual (3), James (4), John Marion (5), Flossie Fern (6), and me (7). Jim Bigelow E-mail "James W. Bigelow" <jamesbigelow@qwest.net> web page: The Family of Jim & Helen Bigelow
More from Jim:
Subject: Lebbius Loomis7 update
Date: Fri, 6 Sep 2002 04:29:21 -0700
From: "James W. Bigelow" < jamesbigelow@qwest.net >
Hello Rod,
I wish to update some of the files regarding relatives in my line, beginning with
Lebbius Loomis 7 Bigelow 15923.73. The update will be in the form of a
Descendant Note to replace the present note, which has outdated links, etc.
Also, I am attaching a photo of Dr. Lebbius Loomis I would like to have added to the page, should that be appropriate.
Updates on his descendants will follow later on. Thank you very much for all the good work. This is one heck of a project you have undertaken.
15923.73C93 James Wheeler Bigelow10
Descendant Note:
Thank you for taking on this work that Don worked with ever so diligently and whose death
I, as well as so many others, deeply regret. Researchers may find my web site interesting and
helpful. It contains photos of my family, some collages of my family I created with Adobe
PhotoShop and many of my essays from previous home pages. Visits, queries and comments
(and information and help) from everyone are welcome. My (Bigelow) family roots, beginning
with John 1Biglo who came to America in 1633 and following with Samuel 2, Isaac 3,
Isaac 4 , Isaac 5 , Israel 6, Lebbeus Loomis 7 , Isaac Leatherman 8, Dollar Richard (9),
and me (10) (James Wheeler Bigelow). My (Wheeler) family roots, beginning with Thomas
Wheeler (1), William (2), Samual (3), James (4), John Marion (5), Flossie Fern (6), and me
(7). Jim Bigelow E-mail jamesbigelow@qwest.net web page: The Family of Jim &
Helen Bigelow www.users.qwest.net/~jamesbigelow/.)

---

4/07/98--From Marguerite Atteberry Emmons (emmons@gte.net) :

My BIGELOW data is currently in the form of notes and letters collected by my great grandmother Adda Timmons MOSS in the 1890's. Perhaps of greatest interest to you and other researchers is a copy she made of notes of an interview with Dr. Eliphaz BIGELOW (probably the Israel Eliphaz Bigelow whose bio is on your site. He was a nephew of her grandmother Mary Milvina BIGELOW who had married William D. Daugherty. Her mother was Mary Dimmis Daugherty. Adda's uncle G. W. Darety (sic) conducted the interview. The notes include the family information on the CUSTIS (not CUTIS) family and it's connection to George Washington. I have been amazed that the misspelling of this name as CURTIS persists. Most history books speak of the CUSTIS family relations to Washington. In my mother's possession is a cloisonne and pearl pin that is supposed to have been owned/worn by Martha Washington. I have no documentation of this but have heard of this and the CUSTIS family since I was a child. My grandfather, Adda's son had told the story. Finding the notes was both exciting and disappointing. Exciting because it leant credence to the pin's story; disappointing because it showed no direct relation to the CUSTIS family. Eliphaz's notes also include the battle his greatgrandfather Isaac was supposed to have been in the Rev War. I too, have had no luck finding his service.

George Custer, Born Dec. 3rd 1744 Died Dec 17th 1829 aged 85 years & 2 days? (so stated by the notes)
His Wife Catherine Custer Born April 7th 1765 Died Sept. 22 1844 aged 79 yr 5 mo 15 da.
She was a daughter of Nathaniel Leatherman and Catherine Boyer.
They were married Nov. 28 1784
Their children were:
Daniel Custard Born Oct 18 1785
Susanah Custer Born Oct. 18 1787d 1873; married Daniel Moser.
Catherine Custer Born June 13 1790 married Samuel Littell.
Magdalene Custer, Born April 22 1793; d 27 May1881; m Thomas William Gans.
Joseph Custer Born Sept. 16 1797
Jonathon Custer Born Dec. 30 1798
Mary Custer Born Nov. 14 1801 married William Moser.
Elizabeth Custer Born Sep 13 1802 married Dr. Lebbeus 7 Bigelow..
Lydia Custer Born Apr. 24 1806 married Dr. D. K. 7 Bigelow ..
Custer Corrections above from Find a Grave


Father of George Custis:
Paul Custer born ____ Died Nov 10 1783
Sarah Custer his wife born ____ died Dec 10 1799
She was Sarah Ball a sister of George Washington's mother married at ??

Grand Father George Custer' first wife was a daughter of John Long. Her name was Susanah Long born May 13th 1755. died Oct. 17th 1781. and
Their Children:
____ Custis ____ 17__
George Custis Born July 30 1776
Sarah Custis Born June 16 1778 married James ____
David Custis Born Feb. 27 1780
Jacob Custis Born Mar. 13 1782
Hannah Custis Born Aug 11 178(4) married Samuel Ache Born Mar 5-1780.
Marguerite Atteberry Emmons E-mail emmons@gte.net

---

New Note:
Subject: Lebbeus Bigelow
Date: Thu, 16 May 2002 14:29:20 -0600
From: "Martin, Kim (Contr. Unitec)" <martinka@wsmr.army.mil>
I am the great granddaughter of George Custer Bigelow. Son of Daniel K. Bigelow and Hannah Yancy. For as long as I can remember I have been told that our family was related to General Custer. My grandmother has letters from General Custer to the family. I know there has been a decrepancy on whether Lebbeus Bigelow married a Elizabeth Custer or an Elizabeth Custis. I can asure you that he married Elizabeth Custer. General Custer and Elizabeth were cousins. Elizabeth's grandfather Paul Custer and General Custer's great great grandfather were brothers. I've been trying to get on portions of the Bigelow website but it comes back saying that slic.com and simplenet.com don't exist. Just thought you should
know.
Kimberly Martin
jacobmartin@iwon.com
505-678-2804
431 Atlas
White Sands, New Mexico 88002

New Note 03/16/06:
Subject: Custer over Custis
From: Lisarelli, Danial F. SSG 75DIV" < danial.lisarelli@usar.army.mil >
Sir,
It is true that General Custer and Elizabeth Custer Bigelow were cousins. My grandfather Floyd Ellsworth Bigelow Sr. told my mother this plus many other facts that I have independently confirmed. The Custis confusion comes from unknown sources. If you check the census it's all Custer. We were told that we were related to George Washington through the Custis line but we are related to Washington through Catherine Leatherman Ball. Custis was his wife's maiden name and a completely different family than G.A. Custer. Hope this helps.
SSG Danial F. Lisarelli
Public Affairs NCO
75th Division TS USAR
1850 Old Spanish Trail
Houston, TX 77054
You are correct.....Rod (see below) Find a Grave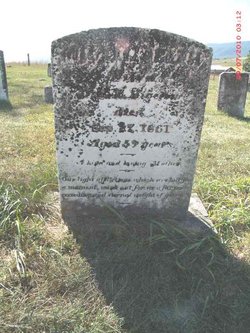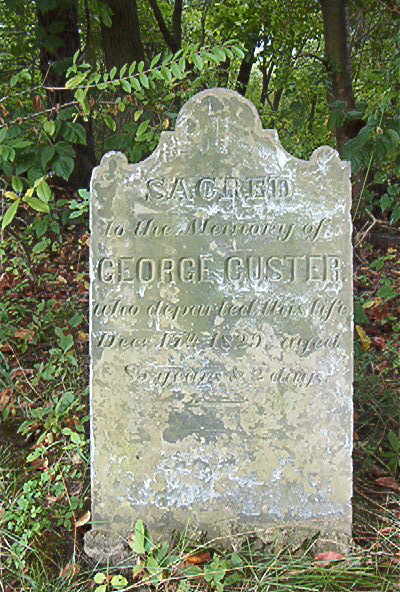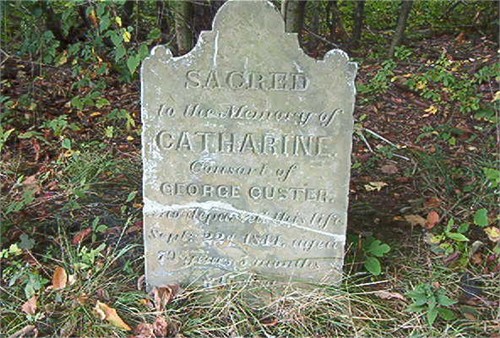 Elizabeth (Custer) Bigelow, dau of .......................................................George Custer and Catherine Leatherman
Mechanicville Lutheran Cemetery; Belleville, Mifflin County, PA & Grove Church Cemetery, Georges Township, Fayette County, PA

More Evidence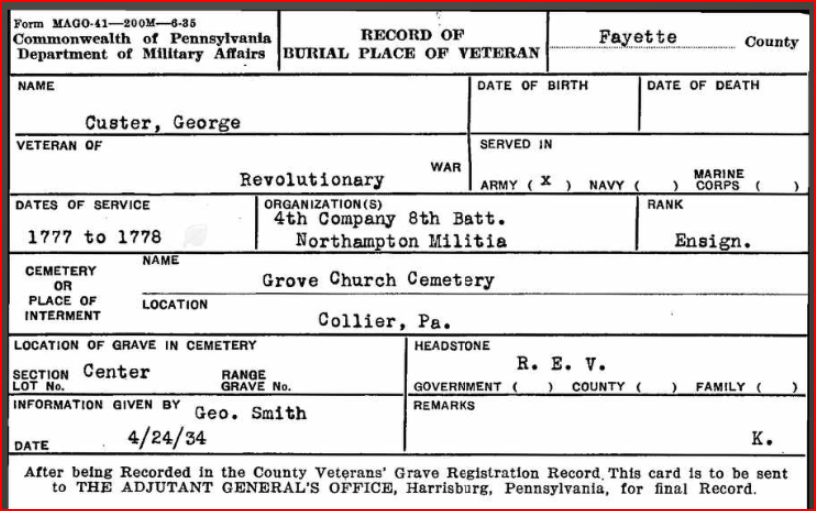 ---
Modified - 09/22/2022
(c) Copyright 2021 Bigelow Society, Inc. All rights reserved.
Rod Bigelow - President
rodbigelow@netzero.net
---
Rod Bigelow
Box 13 Chazy Lake
Dannemora, N.Y. 12929

rodbigelow@netzero.net