Hiram 7 BIGELOW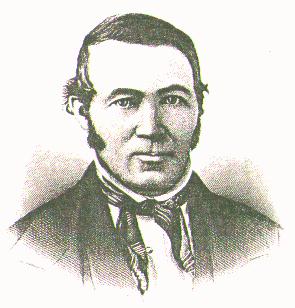 Photo above is Hiram 7 BIGELOW
---
16228.31 Hiram 7 BIGELOW, son of Joel 6 ( Joel 5,Benjamin 4,Jonathan 3,Joshua2,John1) and Cynthia (FISK) BIGELOW, was born at Newmarket, Ontario on 19 Aug 1803. When only about 2 years of age his father died and his sister, Levine, was born 7 months after her father's death. Hiram's mother remarried and worked on his stepfather's farm, who sadly neglected Hiram's education - he receiving only about 6 months education in all. After obtaining his majority, he went into the carpenter's trade, later into the milling business and land holder, became a town representative for a number of years. He had married on 12 Mar 1828 Mary ARMSTRONG. She was born at Manor Hamilton, Leitrim, Ireland, on 24 June 1810. She was the daughter of Simon and Margaret (PALMER) ARMSTRONG who came into Canada about 1820 from Ireland. Hiram, a successful miller and general store owner, died at Lindsay, Ontario, on 11 Dec 1853 and his widow, at the same place, on 14 Sept 1856.
Children of Hiram and Mary (ARMSTRONG) BIGELOW, all born at Lindsay, Ontario:
16228.311t Joel, a twin, b 09 Nov 1828 Tecumseh, Ontario; d 11 Feb 1896 Chicago; m 19 Apr 1856 Mary Ann DRYDEN; 2 children.
16228.312t Joseph, a twin, b 09 Nov 1828 Tecumseh; d 28 Jan 1917 Prince Albert, Ontario; m 02 May 1854 Elizabeth PAXTON; 5 children.
16228.313t Silas, b 22 Nov 1830; d 07 Mar 1895 Tecumseh; m 31 Jan 1863 Lydia Jane BATEMAN; 4 children.
16228.314t Susan, b 31 Oct 1832; d ____ ; m 03 Dec 1851 Samuel Wesley DAVIDSON; 15 children.
16228.315t Obadiah, b 04 Dec 1834; d 15 Dec 1912 Lindsay; m 21 Nov 1857 Lavina DAVIDSON; 3 children.
16228.316 Margaret, b 01 Jan 1837; d 19 Jan 1837 Lindsay.
16228.317 Thomas, b 07 Mar 1838; d 14 Nov 1858 Whitby, Ont; unmarried. (see photo)

16228.318t Nelson Gordon, b 22 Apr 1840; d 06 Nov 1892 Toronto; m 16 Sept 1874 Minerva Edna CALVIN; 5 children.
16228.319 Timothy, b 05 Apr 1842; d 27 Feb 1910 Brooklyn, NY; m 11 Jan 1874 Mary FOSTER, b 23 Apr 1855 England; no known children.(see below)
16228.31A Palmer, b 28 June 1844; d ___ Los Angeles, CA; m 03 Aug 1883 Elizabeth MUTH, b 21 June 1852 Frankfurt, Germany..
16228.31Bt Mary, b 10 Oct 1846; d 22 Mar 1936 So. Burlington, VT; m 24 Aug 1870 Richard NOTT; 7 children.
16228.31Ct John Fisk, b 26 May 1849; d 22 May 1930 San Francisco, CA; m (1) 03 Sept 1867 Anna SMITH, (2) 17 Aug 1878 Emma RULUFSON; 1 known child.
16228.31D Matilda, b 04 Jan 1852; d 27 July 1865 Port Perry, Ont.
Sources:
Bigelow Society,The Bigelow Family Genealogy Vol II, pg. 204;
Howe, Bigelow Family in America;
Records of Bigelow Society historian/genealogist.
Note:
Subject: Timothy Bigelow ( -1910 ?)
Date: Wed, 12 May 1999 16:55:57 +0200
From: Stefan Buddeberg <SBuddeberg@t-online.de>
My grandmother told me that my great-great grandmother emigrated to the United States about 1900. Her name was Selma Lehmann (Germany). In New York she married Timothy Bigelow. Maybe he came from Canada, but he worked in New York. Their daughter Ethel was born in 1906. But a few years later (1910 ?) Timothy and Selma died. At the age of 5 Ethel travelled alone to her grandmother in Germany. I don't know, If there were any relatives (or now descendants) of her in the USA. Can you help me? Thank You,
Kristin Freund
Kleiststr. 1
30163 Hannover
Germany
E-mail: 98912062@iks.ik.fh-hannover.de
oder
From Howe page 444-445.....................................ROD:
2353-3889. TIMOTHY BIGELOW, son of Hiram and Mary (Armstrong) Bigelow was born in Tecumseh, Ont., April 5, 1842; married, Jan. 11, 1874, Mary Foster, daughter of John and Mary (Smith) Foster; born in Malton, Eng April 23, 1855. He studied medicine and graduated at Columbia College, NY, and for some time practiced medicine in New York City. He afterwards became a reporter on The Brooklyn Eagle, and later a law reporter, and was the official stenographer at the famous trial, Tilton vs. Beecher, at the Court House, Brooklyn, NY, where they resided.
Note3:
Subject: Mary (8)
Date: 13 Mar 2004
From: TMatthew <kmcg1@prodigy.net>

this was where I was headed!
<>PS.... I'm enjoying reading about the Bigelows. Mary Armstrong, wife of Hiram Bigelow was a sister to my ggg grandmother. Especially appreciate the pictures! Tricia
---
>
---
Modified - 07/24/2010
(c) Copyright 2010 Bigelow Society, Inc. All rights reserved.
Rod Bigelow - Director
rodbigelow@netzero.net
---
Rod Bigelow (Roger Jon12 BIGELOW)
Box 13 Chazy Lake
Dannemora, N.Y. 12929

< rodbigelow@netzero.net >