Joel 8 BIGELOW
Joel 8 Bigelow (Picture taken Sept 15, 1883)
---
16228.311 Joel 8 BIGELOW, a twin son of Hiram 7 ( Joel 6, Joel 5, Benjamin 4, Jonathan 3, Joshua2, John1) and Mary (ARMSTRONG) BIGELOW, was born at Tecumseh, Ontario on 09 November 1828. When he was 13 his parents moved to Lindsay, Ontario and helped his father in his business and in 1850 established a general store at Port Perry along with his twin brother for a time and later owning his own store. In 1864 he moved to Milwaukee, WI and some time later to Chicago, IL and entered the mercantile business. He was burned out in the great Chicago fire of 1871. His second store in Chicago was also wiped out by fire in 1874. He died in Chicago on 11 February 1896 owning considerable real estate. His marriage was on 19 April 1856 to Mary Ann DRYDEN , the daughter of James and Abiel (GROAT) (see below) DRYDEN of Whitby, Ontario where she was born 07 September 1829. She died on 20 February 1909.
Children of Joel and Mary (DRYDEN) BIGELOW:
16228.3111 Hiram 9, b 18 Jan 1860 Whitby, Ont.; d 18 Dec 1901 Chicago; an attorney in Chicago. (see below)
16228.3112 Sarah Eliza, b 03 Feb 1868 Chicago; m Elias PATTERSON; res Chicago.
16228.311? There was a second son reported, who died unmarried .

Sources:
Bigelow Society,The Bigelow Family Genealogy Vol II, pg. 474;
Howe, Bigelow Family in America;
Forge, The Bigelow Society Quarterly; Jan 1999; Vol 28, No. 1; p 5;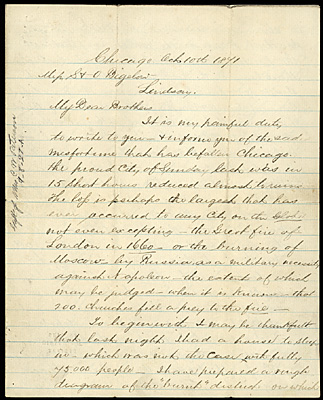 The letter above is written by Joel BIGELOW to his family reporting on the Chicago fire of 1871.

Read the whole letter on Joel Bigelow letter.or below. It is dated October 10, 1871,
and includes his own map of the burnt district. and the above web link.
See: Great Chicago Fire Page. for lots of letters of witnesses and photos. See the map and a short excerpt below.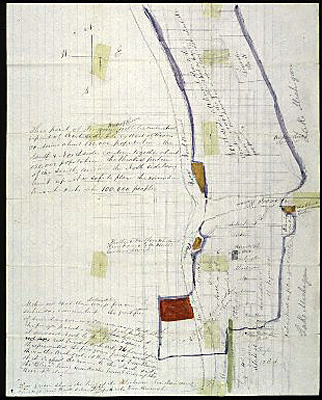 10 October 1871
My dear brothers,
It is my painful duty to write to you and inform you of the sad misfortune that has befallen Chicago. The proud city of Sunday last was in 15 short hours reduced almost to ruins. The loss is perhaps the largest that has ever occurred to any city on the Globe not even excepting--the Great fire of London in 1660--or the burning of Moscow by Russia as a military necessity against Napoleon--the extent of which may be Judged--when it is known--that 200 churches fell a prey to the fire.
To begin with I may be thankful that last night I had a house to sleep in, which was not the case with fully 75,000 people. I have prepared a rough diagram of the "burnt" district on which is shown my residence on 4th Avenue 175 ft south of Harrison Street which is practically the Southern boundary of the burnt district, there being on the North side of this street--not destroyed--a farm building in rear of Jones School corner of Clark and Van Buren Sts, a row of Brick houses 100 ft fronts--corner of 4th Ave & Harrison Sts, the Methodist Church N.W. Corner of Wabash Ave & Harrison Sts--and then between Wabash & Michigan Ave & North of Harrison Street one Block to Congress St except about 3 houses on N.W. Corner of Block. With these exceptions, Harrison Street from Lake West to Railway then South to Taylor is the Southern boundary of the fire. All North off it shown in the diagram for a distance of--four miles by 3/4 to l mile wide is in ruins--[what] saved me and this part of the city was the lines of freight depots [on] both sides of the track of the Michigan Southern & Chicago & Rock Island Railways. The freight depots on the West side of track were--low--built of brick and were destroyed the depots on the East side of track were also low Brick Slate roofs and no opening in the sides--this was a formidable barrier when it is known that these depots extend several blocks along the line of the Railway--thereby keeping the line of the burnt district on South side to the West of this Line between Harrison & Taylor Sts.
The loss includes every wholesale house in the City (except Fuller & Fullers Drug House). The Court House and contents including the Registry office for all the titles in the county of Cook including the city of Chicago. The Custom House, Post Office, Chamber of Commerce Armory all the principal Hotels--the Theatres, Museums, Opera House,--all the Bank & Insurance Offices--all the Newspaper Offices several Railway depots all the Bridges from South to North side-- two or three Bridges South to West side five Elevators, Gas & water works, are all in ruins. My store among the rest.
On this point I may say I am fully [covered] by insurance--in the Liverpool London & Globe Insurance Co for $6,000. The Company is reputed to be good having a paid up Capital of 17 Millions of dollars in gold and thought to be able to meet its liabilities.
I have on deposit in the 4th Nat. Bank $11,500--The Bank is said to be prudently managed--lending mostly on colaterals and having this morning took a look at its vaults it appears to me that the contents will be safe--I opened my acct. with the Bank at the request of Dr. C.V. Dyer one of its directors--when he made the request I told him that I was not aware of the standing of the Bank--but that if he would give me his personal hand for $20,000 guaranteeing the solvency of the Bank and that if they did not pay me my money upon demand he (Dyer) would do so to this he agreed and I hold his bond accordingly the Doctor is reputed to be good and supposed to be worth half a million or more--owns largely in outside real estate and some in the city, so that on the whole come what may I think I have prudently managed my affairs--my liabilities are about $5000--my cash is all on deposit--except $130.
There must be many lives lost. I have seen two today--at the Police Headquarters I am informed 30 are missing on North Side--there are so many reports one don't know what to believe--there are some who assert that it is a preconcerted plan by a lot of villains to meet here and burn the city--for plunder--I saw one party who says that two parties were caught in the act of setting fire to side walks in the West Division--and that they were both hung to lamp posts--the party asserted that he saw the bodies hanging--an acquaintance of mine says that he is reliably informed--that in the South Division two men has been hung and one shot. I have Just returned from the Police Headquarters and was informed that such reports are confirmed from reports brought in by Police officers. Though I am inclined to accept these statements with some degree of allowance.
The precariousness of the situation and hence the sensitive character of the citizens will be apparent when it is known that the supply of water is cut off by the loss of the water works, this applies especially to a large part of the West Division--where they cant get water on the south side we have the Lake on one side and the River on the other and our engines are not arranged forgetting our supplies to extinguish fires from this source yet it is better than none--and in a large City like this where fires are of daily occurrence, there being seven on Saturday last, and the Fire Alarm Telegraph being disorganized tenders our situation very precarious. It is said we have fire engines here brought during the progress of the fire by special trains from St. Louis, Milwaukee and several interior towns. This I believe is correct.
Railways are furnishing free passes to every person who wants to leave the city--5000 left on one train this evening. We hope to reduce the houseless and idle population. But we must protect ourselves from vagabonds who stay here for mischief. I am told that General Sheridan who is here has ordered from Omaha 1000 troop to patrol the City. Provisions are arriving from the country and are dispensed free at churches and Headquarters of Common Council which is at [the] Skating Rink near Union Park.
An ordinance has been passed limiting the price of 12 oz loaves of bread to 8¢ under penalty of $10. for each offence. The post office is opened in the Burlington Hall building corner of 16th Street and State Sts., the middle of this building was burnt out only 10 days ago leaving the East and West ends standing.
Show this letter to Palmer who knowing the Geography of the place, will be especially interested in it. I am writing Timothy and Mr. Drydens and have not time to write to Nelson hence you will oblige by apologising--to him for me and enclose to him this letter and he will return it to you.
We are all as well as could be expected after the excitement, we have gone through. My address is 119--4th Avenue. Joel
P.S. Don't you think it would be well to take advantage of the present to invest a little money out here?
( The picture below may have been his business?)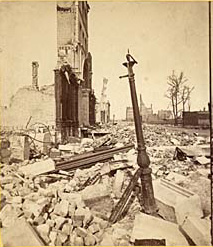 G.N. Barnard, Bigelow House, Looking North, 1871. Situated at the southwest corner of Dearborn and Adams, the Bigelow House was handsomely furnished and ready to open on October 9, 1871. Unfortunately, the fire intervened, making a total ruin not only of the building but also of its proprietor.
Joel immediately plunged back into business, only to have his store wiped out by fire again in 1874. Apparently this did not deter him, for when he died in Chicago on 11 February 1896, he was the owner of "considerable" real estate. His wife, Mary Ann, died on 20 Feb 1909.

---

Note2:
Subject: Old Bigelow Document
Date: Mon, 7 Jan 2002 19:37:20 -0600
From: Ashley < fhte2001@yahoo.com >
Greetings,
I bought an old document at an antique store with the surname Bigelow. I have attached it with this email. Also, I bought an old photo of a young man, across the front of the photo is the signature Poultney Bigelow. I laid it down in my office and need to find it again. When I do, I will scan it and email it to you. Enjoy the attached document
Blessings
Ashley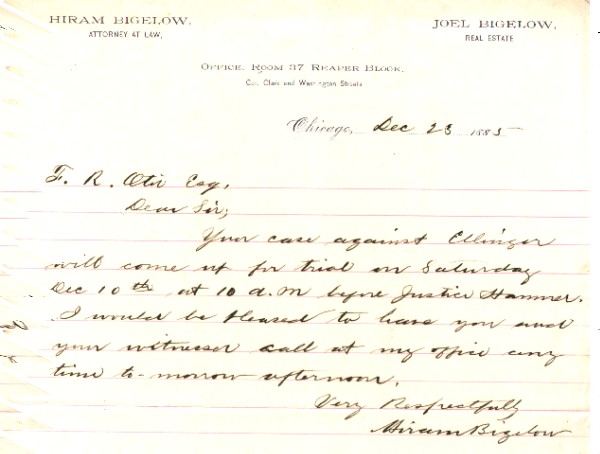 This appears to be a memo from Hiram 9, attorney, son of Joel 8 real estate.

New Note 01/13/07:
From: Mary Perison < rmperison@shaw.ca >.


We haven't met before , but came across your Family web site.

Very nicely done.

Our connection is ...Joel Bigelow, b.9 Nov.1828 in Tecumseh Ontario.,d.11 Feb 1896, in Chicago.

m. Mary Ann Dryden, b. 7 Sept 1829 , d. 20 Feb.,1909....

Joel wrote the Chicago fire letter....in his letter he refers to Mr Dryden...his father in law.

Don't how important it is to you....but thought I'd send you some info I have on Mary Ann's family, as it differs a bit from yours.

Am thankful for the additional info you had on this couple.

My source was Archivist, Brian Winter from the Whitby Ontario Archives. He also has a book called "Chronicles of a Country Town", Whitby Past and Present.

This is our lineage....you'll see the connection...altho very far removed.

William Groat born abt 1776 , died in Whitby 1813. married Lydia Huntington, born abt 1775. Lydia remarried ,

1 May 1817 to Samuel Munger of twp of York (now Toronto) She died 2 yrs later , in 1819.

I have copy of her second marriage record.

These 2 , are our BRICK WALL.....don't know where they were born or who there parents were.

There are writings among the GROAT researchers that ,Lydia Huntington is a descendant of Myles Standish, thro Amy Standish who married Simon Huntington , but so far have found no records to verify that.

When Lydia passed away ...she left the Groat children with Mr Munger who also had a young family, from his 1st wife ( Ruth Ray) who also died in 1813.

The Groat children were....Preston Groat, b. 1802, d., 1883, m. Lydia Marsh.

Standish Groat, b. 1805, d.1870, m. Catherine York.

Henry S. Groat, b. 1810in Whitby Ont., d. 27 May 1875 in Melvin Michigan. m. Mary Demaray.

(Henry Groat and Mary Demaray are our ggg grandparents)

Abiel Groat, b. 1811, d. 1831, while giving birth to daughter, Mary Ann Dryden. Abiel was married to James Dryden.

Daughter, Mary Ann married Joel Bigelow, merchant of Whitby, then later moved to Chicago, where he made a fortune in Real Estate.

May Ann's father, James Dryden, next married Elizabeth Marsh, daughter of Rev Israel Marsh of Whitby.

The Groat family call Mary Ann Dryden's mother Abiel, (not Abigail) but don't know of anyone who has any documentation...so

wondering if you had any on her. Her last name is GROAT...not GROST.

Catherine Groat, b.abt.1813 , m. Caleb Brooks.

We have been unable to find any documents or records ,regarding William and Lydia (Huntington) Groat...and we're wondering if it's because all these children were so young when both their parents died. Abiel was the oldest daughter at about age 8, in 1819, when her real mother died.

After growing up and marrying, Abiel may have received their rightful owner ship of any family records or photos.

Since her daughter Mary Ann (Dryden) Bigelow, was her only descendant, makes us wonder if there may be records etc in Joel and Mary Ann's family descendants some where.

Any info at all is a great find for me.....no matter how small.

Would love to hear from you.....I see you're in New York State.

We had a great trip to Buffalo NY, Boston area, just a few miles south of there, last fall.

Lots of Perison Cousins. Also a nephew , Thomas Mitchell, who owns the Binghamton Senators, farm team of the Ottawa Senators.

We live in central British Columbia, Canada....having a goods old fashioned snowy winter for a change.

Regards,

Mary Perison.




---
Modified - 07/24/2010
(c) Copyright 2010 Bigelow Society, Inc. All rights reserved.
Rod Bigelow - Director
rodbigelow@netzero.net
---
Rod Bigelow (Roger Jon12 BIGELOW)
Box 13 Chazy Lake
Dannemora, N.Y. 12929

rodbigelow@netzero.net