Nelson Gordon 8 BIGELOW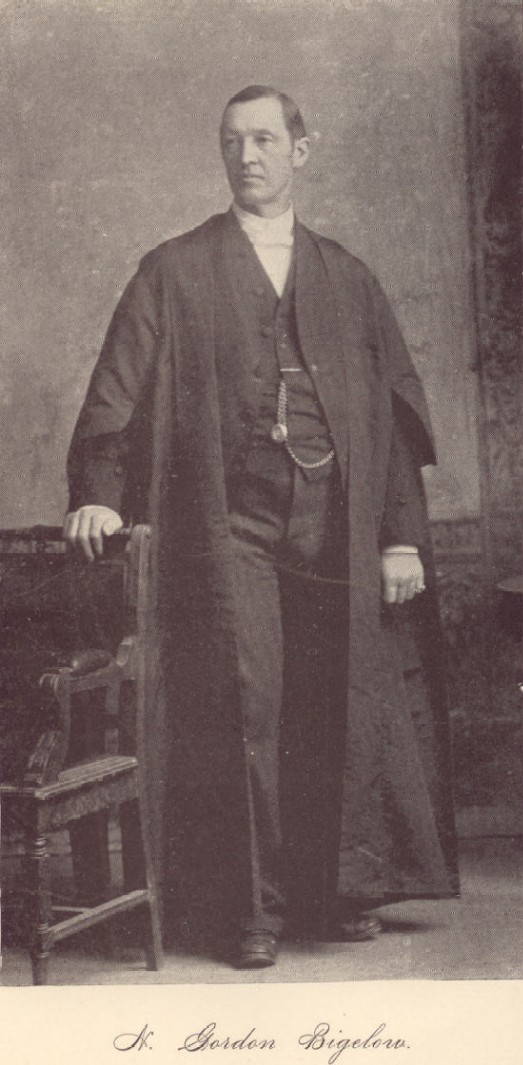 Photo above is Nelson Gordon 8 BIGELOW
from Howe.
---
16228.318 Nelson Gordon 8 Bigelow, son of Hiram 7 ( Joel 6 , Joel 5, Benjamin 4,Jonathan 3,Joshua2,John1) and Mary (ARMSTRONG) BIGELOW, was born at Tecumseh, Ontario on 22 April 1840 and married on 16 September 1874 Minerva Edna Calvin. She was bom at Garden Island, Ontario on 31 March 1853, the daughter of Dileno and Marion (Breck) Calvin. Nelson graduated with honors from Victoria University, Cobourg with a degree in Law in 1867. He practiced law in Toronto where he had a very large practice and was active in Academic circles. He was instrumental in producing Howe's genealogy. He died in Toronto on 06 November 1892. We do not have her death data, but she married in January 1893 ____ McDougall.
Children of Nelson and Minerva (Calvin) Bigelow, born in Toronto:
16228.3181t Nelson Calvin, b 01 Aug 1875; d ____; m 19 Jan 1903 Minnie Bradley.
16228.3182 Dileno Dexter, b 23 Jan 1877; d 28 Aug 1877;
16228.3183 Mary Edna Marion, b 09 Oct 1878.
16228.3184 Kalhleen Alice, b 10 March 1881; d 20 Oct 1881.
16228.3185 Hiram Palmer, b 27 Aug 1882; d 21 Jan 1883.
Sources:
Bigelow Society,The Bigelow Family Genealogy Vol II, pg. 476;
Howe, Bigelow Family in America; pg. 444; (see below)
Records of Bigelow Society historian/genealogist.

---
Howe:
2353-3888. NELSON GORDON BIGELOW, son of Hiram and Mary (Armstrong) Bigelow, was born in Tecumseh, Ont., April 22, 1840; married, Sept. 16, 1874, Minerva Edna Calvin, daughter of Dileno D. and Marion (Breck) Calvin of Garden Island, Ont.; born at Garden Island, March 31, 1853. Her father was a native of Vermont and had emigrated early to Canada, where he became a well known shipbuilder and lumber dealer. Nelson Gordon was educated at Victoria University, Cobourg, Canada, where he graduated with honors, receiving the degree of B.A. in 1864, M.A. in 1866, and the degree of LL.B. in 1867. Admitted to the bar in 1867 at Toronto, Ont., where he has since practiced. He is a Director of the York Law Association, and was appointed a "Queen's Counsel" in 1889 by Lord Stanley, Governor General of the Dominion of Canada. He is also a Senator of Victoria University, being elected by the graduates in law; is well known as one of the ablest lawyers in Toronto, and has a large and lucrative practice. A man of strict integrity, pleasant and genial in his intercourse, he has the respect and esteem of all who know him. He has rendered much valuable assistance in the preparation of this work. See engraving above. Their children were:

4809. NELSON CALVIN, b. Aug. 1, 1875.
4810. DILENO DEXTER, b. Jan. 23, 1875 (1877); d. Aug. 28, 1877.
4811. MARY EDNA MARION, b. Oct. 9, 1878.
4812. KATHLEEN ALICE, b. March 10, 1881; d. Oct. 20, 1881.
4813. HIRAM PALMER, b. Aug. 27, 1882; d. Jan. 21, 1883.
---
Modified - 07/25/2010
(c) Copyright 2010 Bigelow Society, Inc. All rights reserved.
Rod Bigelow - Director
rodbigelow@netzero.net
---
Rod Bigelow (Roger Jon12 BIGELOW)
Box 13 Chazy Lake
Dannemora, N.Y. 12929

rodbigelow@netzero.net