Samuel 5 BIGELOW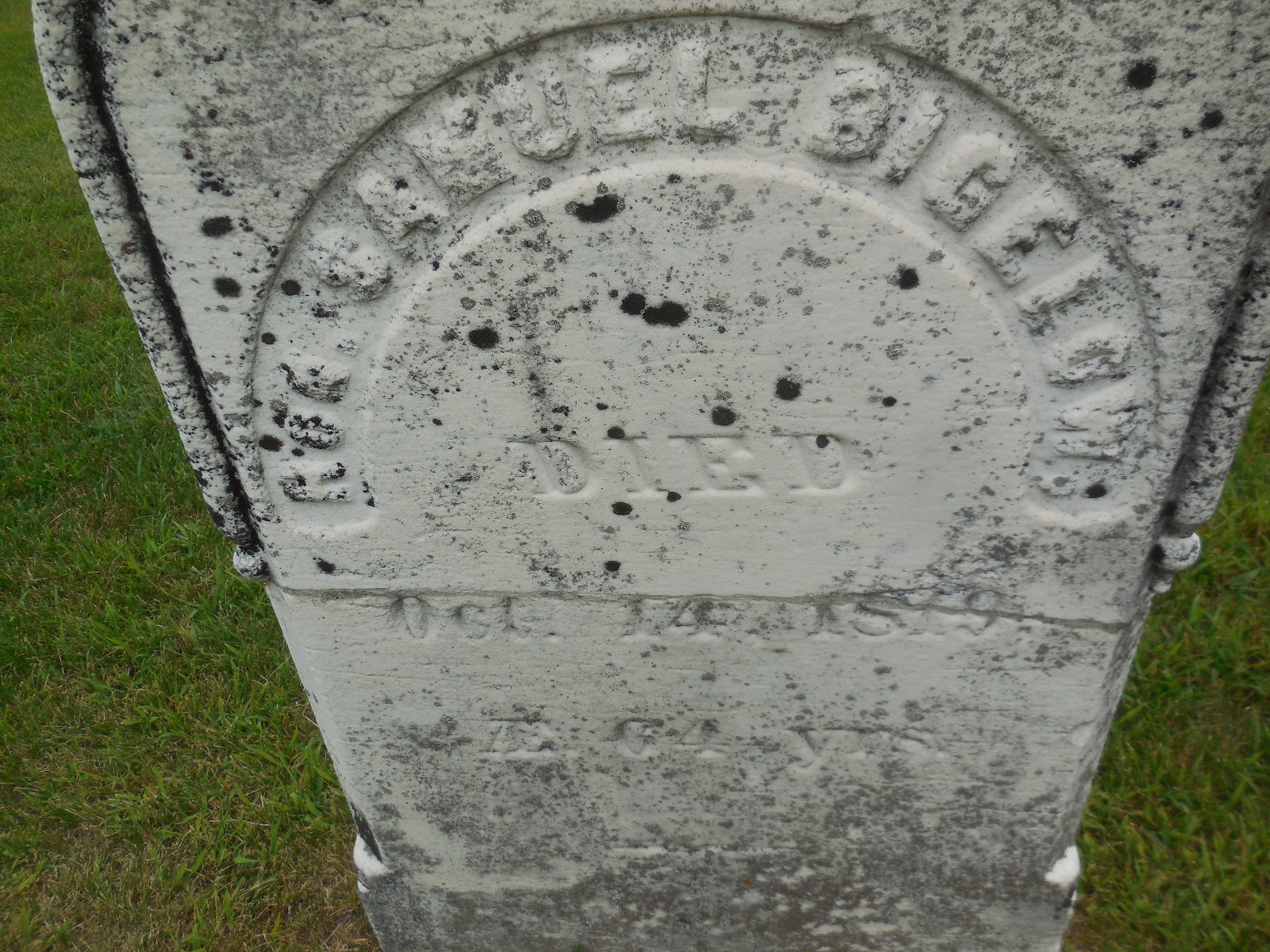 Streetroad cemetery, Ticonderoga, Essex County, NY


1555E. Samuel 5 BIGELOW, son of Abraham 4 ( Thomas 3 , Samuel 2, John 1) BIGELOW and his second wife Anna FISKE, was born 04 September 1773 at Weston, Middlesex county, MA. He was married, about 1790, to Mara Howe (Called Polly, Mary on her headstone?), born Deerfield, MA March 1755, daughter of __ & __ (Smith) Howe. He was a lawyer, and they moved to Ticonderoga, Essex county, NY. Samuel allegedly died Oct 1820, aged 48 years, according to a newspaper obituary.(Headstone: "Oct.14, 1819/ AE. 64."[must be "46"...ROD]) His wife survived until 11 May 1862.( Headstone: "May 4, 1862/ AE 87 yrs 2mo") Both are buried in Streetroad cemetery, Ticonderoga. (see below)

Children of Samuel and Mara (Howe) Bigelow:

1555E.lt Horatio Howe, b ca 1795 Enfield, CT; d 18 July 1862 S. Deerfield, MA; m ca 1823 Phebe Cook. 7 children.

1555E.2 Laura Strong, b ca 1798; d 22 Sept 1826, (AE 28 yrs.") Ticonderoga, NY; unm. (headstone: (see below)


1555E.3 Samuel Smith, b _____ 1800.

1555E.4t Stephen Van Rensselaer, called "Rance," b 16 Feb 1803 Ticonderoga, NY; d ____ 1875 Ticonderoga, NY; m __Feb 1835 Caroline Hay. 6 children.

1555E.5t Andrew Craig, b 2 July 1805 Ticonderoga; d 27 Mar 1875 Farmer, Defiance co, OH; m 5 Sep 1827 Eliza M. Hyde. 8 children.

1555E.6t Anna Havens, b 22 Oct 1807 Ticonderoga; d 31 Dec 1869 Ticonderoga; m 29 Oct 1826 Palmer A. Baker.

1555E.7 Letitia, b 06 Jan 1810; d 16 July 1853 (aged 42) Ticonderoga; m 06 Jan 1828 Melancthon Wilson(1805-1891).

Sources:
Bigelow Society,The Bigelow Family Genealogy Vol I, pg 126-127;
Howe, Bigelow Family of America;
vital records Enfield, CT; Deerfield, MA; Defiance co, OH;
censuses NY;
correspondence of family members.
Find a Grave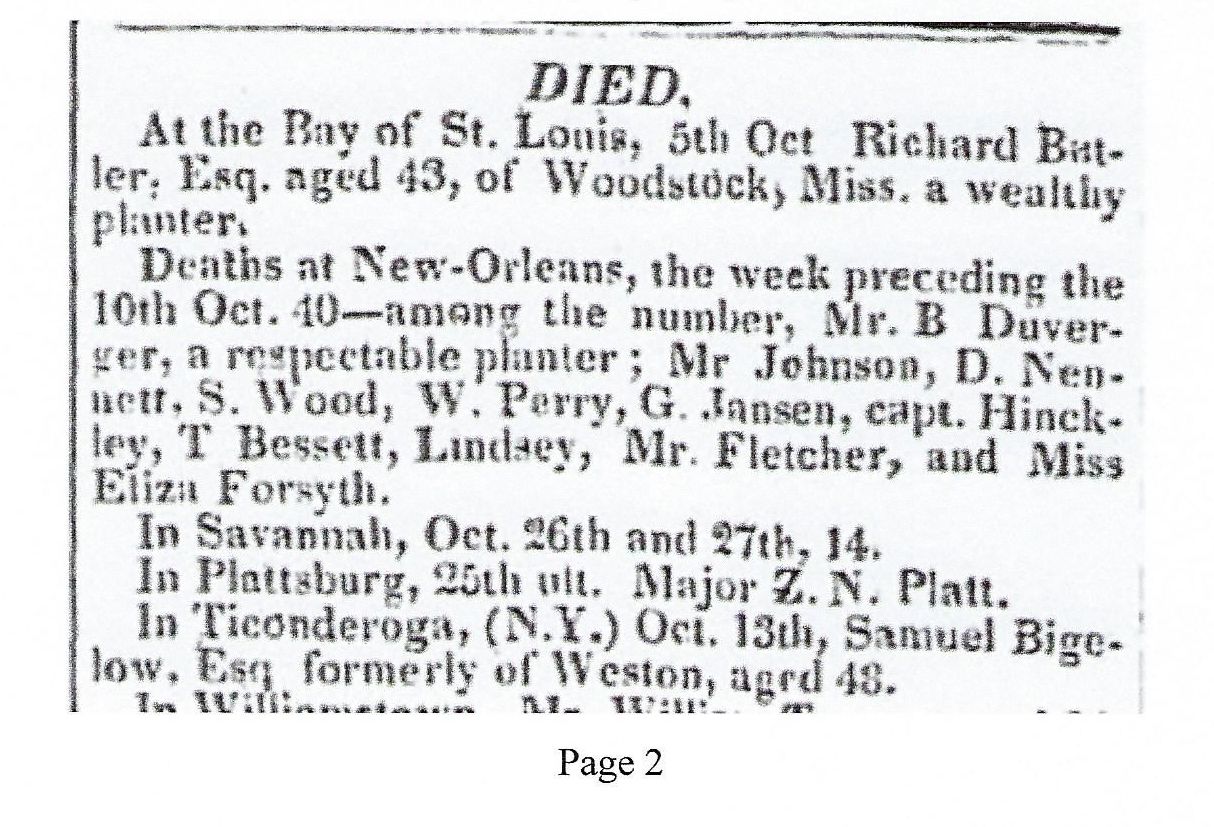 Descendant Note:
Subject: Samuel Bigelow and Mara Howe and family
Date: Sun, 10 Jan 1999 00:02:22 EST
From: Corttis@aol.com
Kenneth H. Chaffee Jr.
68 Plainfield, Rd
Hawley, MA 01339
phone 413-339-8475
Samuel d. 14 Oct. 1819, (gravestone), Ticonderoga, Essex, NY, He and his wife Mary, dau. Laura, and granddaughter Sarah A. are all buried in Streetroad cemetery Ticonderoga. The Samuel in the 1920 census is most likely his son.
Samuel's gravestone is inscribed: Hon. Samuel Bigelow/DIED/Oct.14, 1819/ AE. 64.
His wife's gravestone is inscribed: MARY/wife of /Hon. Samuel Bigelow/DIED/ May 4, 1862/ AE 87 yrs 2mo. (On several documents including deeds her name of choice is Polly, a nickname for Mary.
Dau. Laura's gravestone is inscribed: LAURA/daughter of/ Samuel and Mary Bigelow/DIED/Sept. 22, 1826/AE 28 yrs.
Sarah A. dau. of Andrew and Eliza (Hyde) Bigelow and granddau. of Samuel and Mary (Howe) Bigelow. Her stone is inscribed: Sarah A./daughter of/A. C. & E. M. Bigelow/DIED/Nov. 5, 1833/Ae 5yrs. 4 mo./ Of such is the kingdom of God.
[She is suposed to have died in a school fire.]
Son Horatio (H[owe] and not N.) Bigelow. His middle name is found on a legal in Probate Court records Greenfield, Franklin Co., MA. Horatio H. d. 18 July 1862, paralytic shock at West Deerfield and is buried in the Baptist cem., North Wisdom area of West Deerfield. The only stone for Horatio's family is one stone with the names and dates of the deaths of his three dau. who all died young.
Seeking parents and siblings of Phebe Cook, who m. betw. 1820 and 1830 Federal Census, most likely at Ticonderoga, Essex, NY, area. to Horatio H. Bigelow b. Enfield, CT or MA. b. ca. 1796.
Also seeking parents and siblings of Mary Howe b. Deerfield, MA, who m. Samuel Bigelow, b. 4 Sep. 1773, at Weston, son of Abraham and Lydia (Fisk) Bigelow.
More:
I went back to my Bigelow file and came to the following conclusion that Samuel Bigelow died 14 Oct. 1820 for the following reasons:
1. My wife and I repaired and cleaned the four stones in the Samuel Bigelow plot at Streetroad Cemetery at Ticonderoga, in Aug. 1997. So I have first hand knowledge of the stones. I believe the three adult stones were all erected about the same time and all close to the death of Mary. The three stones are all the same style, shape (round tops with a half round border, with close to the same measurements of W22 1/2" H42 1/2" W3" .
2. I have been able to date the style of the stones as of yet. But believe Samuel's was erected near the death of his wife, which would easily account for his year of death to be off by a year and his age to be recorded on the stone in error.
3. In the 1820 U. S. Population Census for New York, Essex Co., Ticonderoga, Samuel Bigelow is listed as head of family, aged over 45, with one male child betw. 10-16, one male child betw.16-18 , two males betw. 16-26 , two females betw. 10-16 , one female betw. 16-26, and one female 45 and over.
Note: in 1830 census white female 50-60 is living with son Stephen.

---
Modified - 12/09/2021
(c) Copyright 2003 Bigelow Society, Inc. All rights reserved.
Rod Bigelow - Director
< rodbigelow@netzero.net >
---
Rod Bigelow (Roger Jon 12 Bigelow)
Box 13 Chazy Lake
Dannemora, N.Y. 12929

< rodbigelow@netzero.net >

BACK TO THE BIGELOW SOCIETY PAGE
Back to Bigelow Home Page