Abraham 4 BIGELOW

# 1555. Abraham 4, son of Thomas 3 ( Samuel 2, John 1) BIGELOW and Mary (Livermore) Bigelow, was born Marlborough, Middlesex county, MA, 05 March 1713. He moved to Weston, MA. He m (1) 02 January 1736 Abigail Bullard, b 22 May 1718, daughter of Joseph and Elizabeth (Traine) Bullard. She died at Weston 23 May 1751. He then married (2) 24 October 1751 Anna Fiske, daughter of Nathan and Ann (Warren) Fiske. She was born, according to Bond, 08 December 1731 (NSDAR records give a different date). Abraham was prominent in the town, was elected Representative for the General Court 1755, 1759, 1764-1772, and served in various town offices. He died 14 March 1775 in Weston (see below). During the Revolution, his widow Anna lent sums of money to the town for raising of arms, and for such is honored by patriotic organizations. She died 23 October 1810.
Children of Abraham by his first wife Abigail Bullard, all born Weston, Middlesex co, MA:
15551. Isaac, b 30 Nov 1736; d 01 Jan 1749.
15552. Joseph, b 30 Sept 1738; d 25 Dec 1748.
15553. Abigail, b 01 Oct 1740; d 7 Jan 1749.
15554. Abraham, b 26 Feb 1743; d 20 July 1753.
15555. Jesse, b 17 Mar 1745; d 08 July 1745.
15556. Jesse, b 30 June 1747;d 12 Jan 1749.
15557. Isaac, b 02 May 1750; d 18 Apr 1777; graduated Harvard University 1769; was fitted for the ministry; unmarried. (see below)

Childrcn of Abraham by second wife Anna FISKE, all born Weston, MA:
15558. Abigail, b 10 Aug 1752; d 02 Nov 1786; m 31 Oct 1774 Rev. Thomas Prentiss of Medford. MA. No issue.
15559. Anna, b 04 Nov 1754; no death date; m 30 Nov 1773 Rev. Thomas Haven of Reading, MA.(see below)
1555A. Abraham, b 13 June 1758; d young.
1555B.t Amos, b 30 Sept 1760; d Nov 1794 Weston, MA; m 9 Jun 1783 Lucy Savage; res Weston. 5 children.
1555C.t Abraham, b _ Sept 1762: d Cambridge. MA 6 July 1832; m 22 May 1785 Hepsibeh JONES: res Cambridge, a lawyer; 4 children.
1555D.t John, b 14 Apr l765; d 1840's Seneca Falls, Seneca co, NY; married 14 Oct 1784 Lydia SPRING; res Seneca Falls; 9 children.
1555E.t Samuel, b 04 Sept 1773; obituary says d Oct 1820, age 48, but Howe gives Oct 1817; m ____ 1790 Mary Howe; res Ticonderoga, Essex Co, NY. 7 children.
Sources:
Bigelow Society,The Bigelow Family Genealogy Vol I, pg 57-58;
Howe, Bigelow Family of America; page 61-62;
NSDAR, Patriot Index;
early obits in NY;
Weston town & church records;
censuses NY.
Note:
Subject: Bigelow family history
Date: Sat, 11 Nov 2000 11:03:38 EST
From: Alan Jardine Ulrich AWJardine@aol.com

Good morning Rod. My name is Alan Jardine Ulrich and I am the church historian at First Congregational Church in Reading, Mass. I am getting ready to do a Church Youth Group tour of Laurel Hill Cemetery here in Reading next week. I did a search on Thomas Haven, our first minister here and found your site. I noticed under 15559 Anna wife of Thomas Haven in Reading, Mass. you did not have her date of death. Would you be interested in the transcription from her headstone?
I just came in from cemetery - a cold & wet day today. If I had seen your site earlier I would have already gotten the info for you. If interested I will send it along by next Sunday (19th) after my tour.
Regards Alan Jardine Ulrich

From Yankee Magazine "Tombstone"
"Here lie interr'd the remains of of Mr. Abraham Bigelow who for many years represented the Town of Weston in the Gen. Assembly of this Province: which Publick Betrustment he discharged with fidelity and Honor. In private Life he was a person of Justice & Integrity: a friend to Religion & Virtue. It pleased the author of Life to summon his Spirit hence on Satur­day Evening March 4th 1775 In the 62 Year of his Age. "
Abraham Bigelow lived the early Ameri­can virtues. He also knew in Weston, Mas­sachusetts, the unsentimental side of small town living — the petty jealousy, the politi­cal maneuvering, the intolerance. His blend of good and bad is probably much the same as that in 1978. The native— small-towner still grows up with this mixture, and half enjoys it.
But there is another vision of New Eng­land which has become an integral part of its image. Settling in those towns nowadays are people Abraham Bigelow could never have imagined; they come from un­dreamed-of corners of America. They are the outsiders. To them New England is fre­quently a fresh and uncomplicated ex­perience. Often they view their adopted home with the unalloyed enthusiasm of the convert. Perhaps for that very reason they can be as much an enrichment of the region as any Abraham Bigelow.

---
From: Bruce Harned < harnedbs@verizon.net >
15557 on your tree chart... I just found your website while researching a name I found in a textbook. I recently found a religious textbook that came from my grandparents home. The text is a text of psalms written in both Hebrew and Latin. The text was published in the late 1660's in Cambridge England. Inside the text there are several hand written names. The name Isaac Bigelow 1766 is one of those names. The common link in all the names I found was that they all were graduates of Harvard University and all in the ministry. Isaac graduated Harvard in 1769. The first name in the text has the date 1994 and the last 1772 or 1777. I suspect the text was used at Harvard for over 100 yrs, being passed from one student to another. The text was given to Isaac Bigelow by Andrew Eliot (great great grandfather of writer TS Eliot) Other names in the text are Timothy Cutler 3rd president of Yale and 1st Reverend of the famous Old North Church in Boston (of Paul Revere fame) Oliver Noyes 1694 well known in Boston clergy and politics. Rev Daniel Chaplin 1772 (Reverend Groton, Ma) who has ties through his wife to the Battle of Bunker Hill
Tombstone http://www.findagrave.com/cgi-bin/fg.cgi?page=gr&GSln=bigelow&GSfn=isaac&GSiman=1&GScid=2207880&GRid=18136437
Bruce Harned < harnedbs@verizon.net >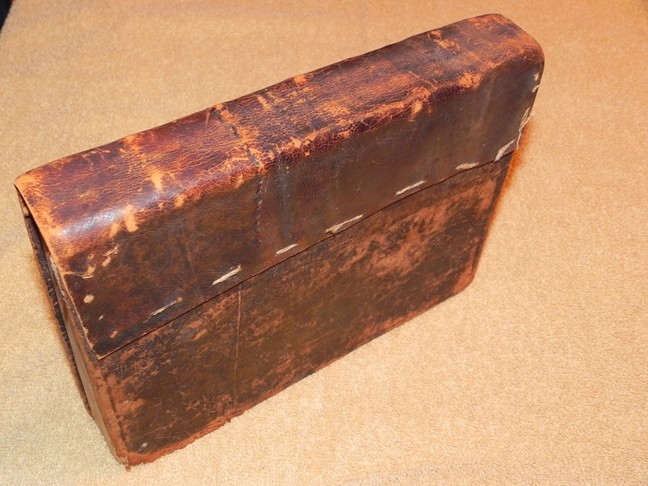 binding2.jpg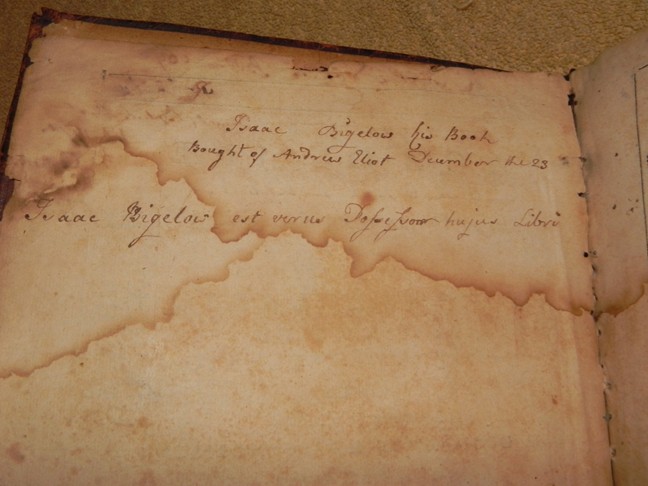 psalms2.jpg


psalms4.jpg

---
Modified - 10/22/2011
(c) Copyright 2011 Bigelow Society, Inc. All rights reserved.
Rod Bigelow - Director
rodbigelow@netzero.net
---
Rod Bigelow (Roger Jon12 BIGELOW)

P.O. Box 13 Chazy Lake
Dannemora, N.Y. 12929


< rodbigelow@netzero.net >