Jonathan Oakes 6 BIGELOW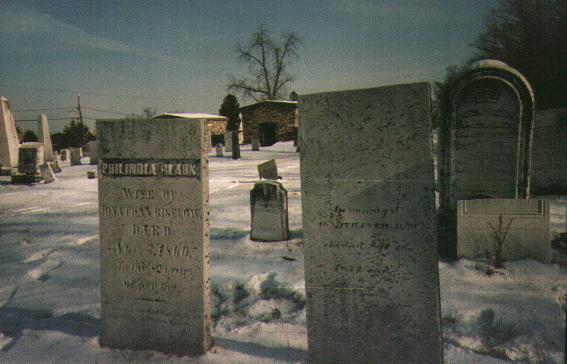 Philindia to the left and Jonathan to the right. Their son Austin is behind to the right
---
16164.4 Jonathan Oakes 6 BIGELOW, son of Nathan 5 , ( John 4 , Joshua 3, Joshua 2, John 1), and Elizabeth (OAKES) BIGELOW, born 23 (22?) July 1776 Ashburnham, Worcester co, MA. The family moved to Vermont and later to Crown Point, Essex, NY. Jonathan married circa 1798, Philandra CLARK, daughter of Edmund and Lois (_____) CLARK. They lived in Vermont a few years, then moved to Clinton County and settled in Peru, NY, where they died and were buried. A Captain Jonathan Bigelow first dammed the Ausable River in Keeseville, NY in 1808 to power a sawmill. Two years later, he was bought out. Not sure if this is the same Jonathan Bigelow (see below). By 1810 they had 3 sons and 2 daughters; in 1820; fourteen persons under 20 were enumerated in his household, though clearly not all his children. As late as 1840, although Philandra was then 60 years old, there were still children under 10 in the household.
Jonathan died 23 September 1835, and Philandra on 03 March 1860, aged 80 yrs. They are buried at Peru, Clinton co, NY. (see stones above and below) They had either 9 or 10 children, estimating from early censuses and from their grandfather Edmund Clark's will. This later document names 4 grandsons, then 5 granddaughters, all surnamed Bigelow, but due to the irregular and sparse punctuation it is unclear as to what were the daughters' names.
Edmund Clark's will gave to Philandra Bigelow a farm of seventy-nine acres "on both sides of the county road in Peru." The same acreage, on the deaths of Jonathan and Philandra, was to pass to grandsons Clark, Austin, Rensselear, and Ransom Bigelow, on condition they pay one hundred dollars each to "their five sisters, namely, Honey Cynthia, Ann Eliza, Marcia, and Rosaline." However, since Jonathan Bigelow had borrowed the sum of four hundred and thirty dollars from his father-in-law Edmund CLARK, the latter directed that first the grandsons were to pay Clark's executor whatever was still owed. Philandra was also given, in addition to the farm and buildings, one-fifth of the household goods and moveables of her parents, again only if Jonathan and Philandra had repaid the sum of $430 which was in 1825 still owed to Edmund CLARK.
(see new notes below)


Children of Jonathan Oakes and Philandra (CLARK) BIGELOW:

16164.41t Edmond Clark , called "Clark", b ca 1800 VT; d 22 Jan 1875 (aged 74–75); m Rhobe Sherman; 1850 res Clinton co, NY.

16164.42 Hannah, "Honey", born before 1810

16164.43 Cynthia, also born before 1810.

16164.44t Van Renssalaer, b 12 Mar 1806 Clinton co, NY; d 18 Apr 1880 Ionia co, MI; m Abigail PERRY; res 1850 Franklin co, NY, and at one time (1860) was in CA. 5 children.

16164.45t Austin , b 22 Sept 1805 or 1807; d 26 July 1883 Keeseville, NY; m(1) Hester Jane PARSONS, and (2) Mary ____? 5 children.including Charles Parsons Bigelow.

16164.46 Ann Eliza, (her headstone clearly has Amy Eliza), b 10 May 1814; d 06 Aug 1849 Peru, NY; m Robert TRAVIS.

16164.47 Maria or Marcia, b 08 Dec 1817 NY; d 31 Aug 1895 Peru, Clinton co, NY; m Herman H. TORRANCE.

16164.48 Rosaline Amanda, b 02 Dec 1820; d 18 Mar 1899 Elysian, LeSueur co, MN; m 2 Mar 1843 Ira MYRICK, son of Lavinia - 16164.22. 6 children.

16164.49t Ransom, b 1824; d 16 June 1890 Delta, CO; m Emeline LADD; res LeSeuer co, MN and CO. 7 children.

16164.4A possibly other children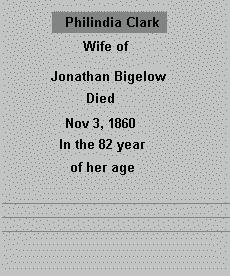 ........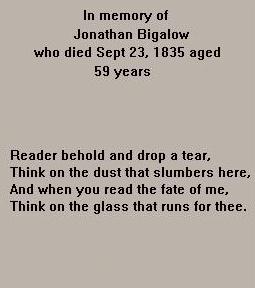 Notice the spelling on the stone is Philindia not Philandra. The inscription on the bottom of her stone reads in part "......Hath die in the Lord; For they shall see Christ."
There are other stones in the same area: (1)"Edmund Clark; died Sept 17, 1828; 78th year."(Philindia's father). (2) "Louis; wife of; Edmund Clark; died July 23, 1842; Age 82 yr 9 mos."
Also buried there are "Solomon Clark; died Oct. 30, 1870; Age 86 yr. 9 mos."...also another stone in bad shape that may be Patience but reads "Solomon Clark; died Aug. 3, 1849; 62 yr. 10 mos."( The Patience; wife of; may be obliterated)
Another stone lists the following children: "Philinda; dau of; Solomon & Patience Clark; 1809-1820// Almina; dau of; Solomon & Patience Clark; 1814-1814(dates obliterated only mos old)// Polly; daughter of; Solomon & Patience Clark; died Mar 3, 1841; Age 22 yr 10 mos."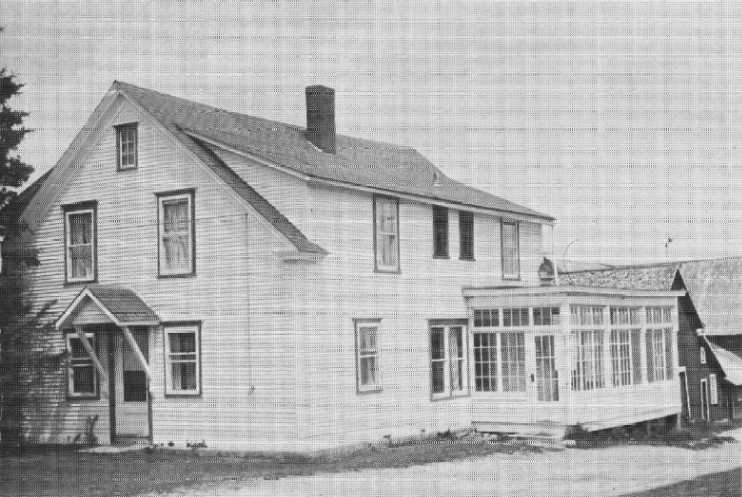 (bigack1.jpg)
Bigelow farm on Route 22; Peru, NY
Original owner: Jonathan Bigelow
Date: ca 1820
This was originally Edmund Clark's land and his son-in-law Jonathan Bigelow, built here, receiving land and buildings by will in 1828. Bigelows owned the farm off and on for years. Horace Ackley acquired it in 1861.
Sources:
Bigelow Family Genealogy Volume I page 301
Howe, Bigelow Family of America; pg 127 child only;
Oaks Genealogy
Ketcham and Wright, History of the Wright Family;
censuses, vital records and cemetery inscriptions NY, MI, MN, and CO;
correspondence with descendants.
Note:
Subject: Clark/Bigelow
Date: Thu, 27 Sep 2001 17:14:36 -0400
From: Carol White < cahwhite@attbi.com >
Hello Rod
I just stumbled across your web site while doing a search on Peru, NY. I noticed that you have a Nicholas Curtis Bigelow who married Ann Eliza
Clark in 1843. I'm trying to research the Elisha and Praxa Clark family of Peru. They had at least 3 children born there: Julius, Caroline
Mary Ann, and Luther Drury. Luther was born 11 Aug 1816 and married Elsie Maria Hawks 12 Jun 1844 in Peru. After that I have nothing more
on Elisha or Praxa - no marriage or death dates or anything.
We're going to be doing some sightseeing in Vermont (have a B & B in Swanton) and then driving over to the Peru/Plattsburgh/Beekmantown area
as that's where my relatives moved to. I was wondering if you can give me any hints as to perhaps a cemetery that was often used in perhaps the
mid 1800's in case Elisha & Praxa are buried in Peru or anyplace else I might look for local records. I'll be in Peru on a Sat.
Thank you so much for any help you might be able to give.
Carol White
New Hampshire
Janice Notes:
Jonathan Oaks BIGELOW, was born on 22 July 1776 in Ashburnham, Worcester Co., MA. He died on 23 Sep 1835 in
Peru, Clinton Co., NY. He was buried in Peru, Clinton Co., NY. He lived in Vermont and NY. In 1820 Census, 14 people
under 20 were living in his Household.
Jonathan Oaks BIGELOW and Philandra CLARK were married. Philandra CLARK (daughter of Edmond CLARK and
Lois) died on 3 Mar 1860 in Peru, Clinton Co., NY. She was buried in Peru, Clinton Co., NY.
Jonathan Oaks BIGELOW and Philandra CLARK had the following children:
+161 i. Edmond Clark BIGELOW (born about 1800).
162 ii. Hannah BIGELOW was also known as Honey.
163 iii. Cynthia BIGELOW.
+164 iv. Austin BIGELOW (born between 22 Sep 1805 and 1807).
+165 v. Van Rensselaer BIGELOW (born about 12 Mar 1806).
+166 vi. Ann Eliza BIGELOW (born on 10 May 1814).
+167 vii. Maria BIGELOW (born on 8 Dec 1817).
+168 viii. Rosaline Amanda BIGELOW (born on 2 Dec 1820).
+169 ix. Ransom BIGELOW (born in 1824).

---
Modified - 04/02/2022
(c) Copyright 2009 Bigelow Society, Inc. All rights reserved.
Rod Bigelow - Director
rodbigelow@netzero.net
---
Rod Bigelow (Roger Jon12 BIGELOW)
Box 13 Chazy Lake
Dannemora, N.Y. 12929

rodbigelow@netzero.net