Austin 7 BIGELOW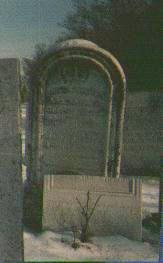 ......................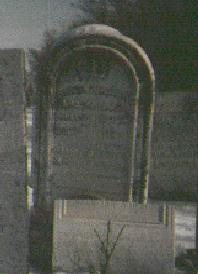 This is Austin's stone in Peru, NY - A blow up of the photo on the right
---
16164.45 Austin 7 BIGELOW son of Jonathan Oakes 6, ( Nathan 5 , John 4 , Joshua 3 , Joshua 2, John 1), and Philandra (CLARK) BIGELOW, born in VT on 22 September 1805 according to 1850 census. The family bible gives 1805 - see birth date of brother Van Rensselear. His death notice further conflicts as it states he was born in 1810! Bigelow Family Genealogy gives 1807. Information is lacking on Austin's marriage dates, but he was married twice: (1) Hester Jane PARSONS (PERSONS) born 08 January 1811 and died 14 April 1842; m (2) Mary D. Hayward, (see below) dau of Daniel Hayward and Lucy Pray Straight. Mary was born in Willsboro, Essex Co., NY 1823 in a stone house on Willsboro Point and died in Keeseville 28 January 1869. (she was 27 in 1850). Austin was a farmer and lived in Willsboro and Keeseville, Essex co, NY where he died on 26 July 1883 the widower of Mary who had died on 28 January 1869 at Keeseville.( Headstone found in Peru, NY--above and below) There are unconfirmed reports of Austin being involved in the Underground Railroad in Keeseville, NY. His house was behind the church in Keeseville, where hiding places were found for runaway slaves. His contacts are believed to be Bigelows in Troy, NY. His brother Van Renssalaer, was also involved in helping runaway slaves in New York State.

Children of Austin and Hester (PARSONS) BIGELOW, all born Essex county, NY:

16164.451 Edwin P., b 17 Apr 1831; d 28 Mar 1897 San Francisco, CA.(see Charles 8 link for travels and mining exploits of Edwin)

16164.452 Hester J., b 30 Sep 1832 Peru, NY - (one source states 1842 which we doubt); d 30 Sept 1899 Wadhams Mills, Essex, NY; m ?? SANDERS. (see below)

16164.453 Charles Parson, born 04 Oct 1835; d 28 Sept 1917 Alameda, CA; m 03 Apr 1870 Mary DeBinder; 4? children.

16164.454 Colonel Alanson, b 02 May 1837; d 05 Oct 1904 Chesterfield, Essex, NY; m Mary Ann IRISH? (see George Allen).

16164.455 George, b 1840; d 01 May 1862 Yorktown, VA (Civil War); unmarried.

Child of Austin and Mary D. (Hayward) BIGELOW:

16164.456 George Allen, b 21 Apr 1845 Plattsburgh, Clinton co, NY; d 24 Sept 1935 Restland, Dallas, TX; m Alta M. Carter; 1 child known;


Sources:
Bigelow Family Genealogy Volume I; page 301 child;
Bigelow Family Genealogy Volume II; page 187;
correspondence with descendant of Charles;
Oaks genealogy
Cemetery Inscriptions, Peru, NY
Note 2003:
Subject: Peru New York families-- Bigelow, etc.
Received: 1/25/03 5:41:26 AM
From: Jean Sanders Jespane@cs.com
I noticed in your Bigelow data that you have a Hester
who married an ?? unknown Sanders in Peru New York. That was very early to
be in the area; I know of my own family in that area and there were at
least two others in the area at the time turn of the century. Do you have any
more information on Hester than what is in the data base? This is a puzzle I
would like to work on. Jean Sanders
P.S. there is a Bigelow connection to my mother's family but they stayed in
MA... I am looking for the connection to my father's Sanders line.

---
From: Sandi Lee Craig < ewfarm@airmail.net >
Sent: Saturday, November 28, 2009 3:32 PM
Subject: Second wife of Austin Bigelow - Mary D. HAYWARD
Rod:
Last summer I was researching the names on the stained glass windows in Willsboro - at the Old Stone Church - Congregational Church for the 175th anniversary of the church. One of the names was Hayward - and a sister to the named person is Mary D. Hayward, daughter of Daniel Hayward and Lucy Pray Straight. Mary was b. in Willsboro, Essex Co., NY 1823 in a stone house on Willsboro Point and d. Keeseville in 1869. She is the "Mary _______" Austin Bigalow's second wife.
If Hester died 1842 - then your #16164.456 GEORGE ALLEN BIGELOW b. 1845 would be the son of Mary and Austin.
Since this was not the particular line I was working on I didn't try to find a marriage date. However, it would have been after Hester's death in 1842.
By the way -- Restland, Dallas, TX is a cemetery NOT a town. We live just up the road from the cemetery in Plano, Collin Co., TX.
More:
Forgot to mention that Mary D. Hayward is buried in the Hayward plot in the Gilliland Cemetery [Rt. 22 - Willsboro, Essex Co, NY] and her stones reads: under "Bigelow - Mary D. Hayward d. January 28, 1869 age 45 - wife of Austin {Bigelow}".
Sandi Lee Craig ewfarm@airmail.net

---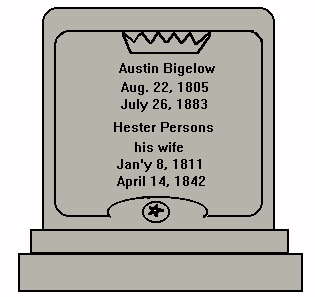 ---
Modified - 11/30/2009
(c) Copyright 2009 Bigelow Society, Inc. All rights reserved.
Rod Bigelow - Director
< rodbigelow@netzero.net >
---
Rod Bigelow (Roger Jon12 BIGELOW)
Box 13 Chazy Lake
Dannemora, N.Y. 12929

< rodbigelow@netzero.net >

BACK TO THE BIGELOW SOCIETY PAGE

BACK TO BIGELOW HOME PAGE