Rev. Asahel 7 BIGELOW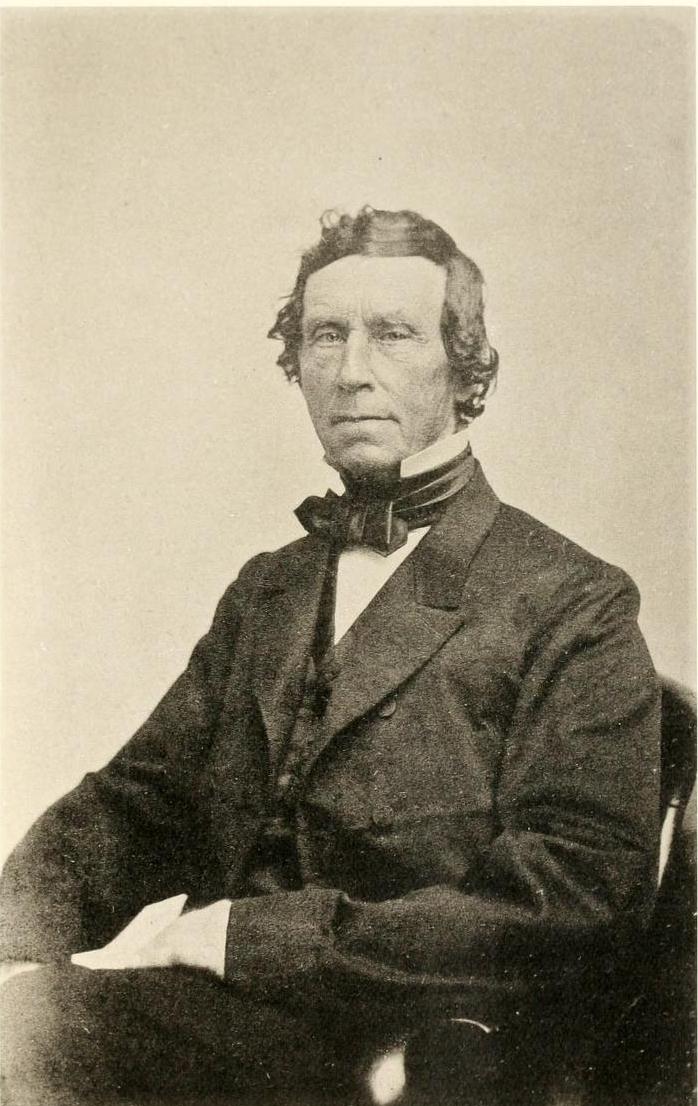 ---
15133.26 Rev. Asahel 7 BIGELOW, son of Andrew 6 ( Charles 5 , Joseph 4, John 3, Samuel 2, John 1), and Sarah (FAWCETT) BIGELOW, was born 14 May 1797 Boylston, Worcester, MA. In the Fall of 1817, and after working for a time for his brother Solomon in the blacksmith trade, he had earned $30. He walked 45 miles to Andover to begin a course of education and to prepare himself for college. He graduated from Harvard, 1823, and Andover Theological Seminary. He was ordained at Walpole, MA 12 March 1828 and stayed there 21 years and for 2 years represented that town in the State Legislature. Next he was installed over the church at Hancock, NH, (May 1850), where he held this position until his death 16 August 1877. He had married, in Boston, 15 September 1830 Dorcas Freeman Homes, daughter of Henry Homes. She was born 26 August 1810 in Boston. She died 27 April 1900 in San Francisco County, CA. Both are buried Pine Ridge Cemetery; Hancock, Hillsborough County, NH.


Children of Rev. Asahel and Dorcas (Homes) Bigelow, all born Walpole:

15133.261 Isabella Homes, b 13 July 1831; m 18 Aug 1856 C. W. Kitteridge; in late 1880's res San Francisco, CA.

15133.262 Henry Augustus, b 05 April 1833; early entered Williams College, but left due to illness; went to Pacific Coast engaged in mining in OR and AZ; chosen to first Territorial Legislature and other offices of trust; res Prescott, AZ in late 1880's; d 16 Dec 1892 Prescott; unm.

15133.263 Lucy Maria, b 17 March 1835; d 20 Sep 1903 San Francisco County, CA; m 14 January 1856 Adolphus Darwin Tuttle a merchant in Hancock, NH. (see below)

15133.264 Miranda, b 25 April 1838; d 16 Sept 1840 Walpole.

15133.265 Benjamin Franklin, b 31 July 1849 (1841?); d__ June 1879 Claypool, IN; m 28 Aug 1866 Mary Parker of Natick, MA; served two years in the navy during Civil War as Asst. Surgeon; practiced medicine in Claypool, IN, where he died.

15133.266 Charles Freeman, b 07 Sept 1845; m June 1883 Lucy Stickney; in late 1880's res. Cochituate, MA.


Sources:
Bigelow Family Genealogy Vol I , p 210-211;
Bigelow Family Genealogy Vol II ; pg 20;
Howe, Bigelow Family of America; pg 167;
Massachusetts vital records;
pension records;
e-mail from Fran Pitman, fpittman@techwarrior,net (8-2007), 642 Bonneau Lane, Mount Pleasant, North Carolina 29464, giving information of Andrew's descendants;
"A Prelude to Hancock's Second Hundred Years, by A. D. Tuttle;"
An article about Asahel was printed in the Bigelow Society Quarterly, "Forge," Jan 1977, Vol 6, No 1, pg 10 and another article in Jan 1988, Vol 27, No 1, pg 11;
Article sent Jan. 1977 FORGE, Vol. 6, No 1, p.10 by Adolphus Darwin Tuttle about Asahel from "A Prelude to Hancock's Second Hundred Years", contributed by reader Barbara Horne of Dover, New Hampshire. Asahel was "of Walpole, Massachusetts" and received a call to become pastor in Hancock, New Hampshire, 19 Mar 1850. In Sep.1817, age 20, he took his bundle and walked 45 miles to Andover to attend Phillips Academy and once told that he had 25 cents in his pocket when he started to get his education. He preached 6 months in Portland, Maine, then in Walpole, Massachusetts 25 years. Twice sent to the legislature. "He visited us often....once he came to see my brother who lived at the time at the homestead on Norway Hill and the talk turned to honey bees (my brother having quite a few hives.) "They fixed up an incline leading to one of the hives, covered it with a sheet and poured out the other swarm. Mr. Bigelow poked them over hunting for the queen to destroy it. I stood back at a safe distance. The bees crawled all over him. He was barehanded and without a bee hat. He said 1 or 2 'pinched him a little.' Once when he couldn't move a stone, working on the foundation of his barn, he straightened up and said 'I believe that stone is water-soaked.'

---
Ministers of Hancock; by Albert Moore
Hancock's first pastor was Reverend Reed Paige, fourth generation from Nathaniel Paige who came to this country about the year 1685. Reverend Paige was born in Hardwick, Massachusetts, in 1764. He graduated from Dartmouth College in 1786, married in 1794, and had eight children.
Mr. Paige's first visit to Hancock was probably in the autumn of 1789. Early in 1790 he was hired as a supply minister. At a meeting on October 5, 1790, a call was extended to him to settle in town as gospel minster. His letter accepting this call, writtenMay 7, 1791, followed , and on September 21, 1791, he was ordained. Mr. Paige boarded for a time and later built the village farm which still stands on the corner of Norway Hill and Bennington Road. His pastorate lasted twenty-five years. He died at the age of 52 on July 22, 1816.
Six years after Mr. Paige's death, a call was extended to Reverend Archibald Burgess who was born in 1790. He was graduated from Yale University in 1814, married in 1825 and had eleven children. I do not remember Mr. Burgess, but I have heard my mother speak of him often. He was a large man and took his religion seriously, was thoroughly in earnest, very sympathetic and kind. He served the Church twenty-seven years. Under his ministry several seasons of refreshing were enjoyed by the Church in which three hundred and fourteen persons were added to its membership. On account of ill health, he submitted his resignation which was accepted to take effect December 25, 1849. He died February 7, 1850.
On March 19, 1850, a call was extended to Reverend Asahel Bigelow of Walpole, Massachusetts, to become pastor. This was accepted April 10, 1850. He was a grandson of Joseph Bigelow, a captain in the Revolutionary War. Reverend Bigelow was born in Boylston, Massachusetts in 1797, married in 1830, and had six children. In September 1817, at the age of 20, he took his bundle and walked forty-five miles to Andover to attend Phillips Academy. He once told me that he had twenty-five cents in his pocket when he started out to get his education. He graduated from the Academy, Harvard College and Andover Theological Seminary. After his graduation, he preached six months for Dr. Payson in Portland, Maine. He received a call from Norton, Massachusetts, and about the same time one from Walpole, Massachusetts. He accepted the latter and remained in Walpole for twenty-one years. He was loved and respected by all and was twice sent to the Legislature. As a pastor in our town he was one of the finest men I ever knew.
He visited us often, and when he did so he always took an interest in our work, talking and advising. I recall one time when he came to see my brother, who lived at that time at the old homestead on Norway Hill.

---
Modified - 08/20/2021
(c) Copyright 2021 Bigelow Society, Inc. All rights reserved.
Rod Bigelow - Director
rodbigelow@netzero.net
---
Rod Bigelow (Roger Jon12 BIGELOW)
Box 13 Chazy Lake
Dannemora, N.Y. 12929

rodbigelow@netzero.net

BACK TO THE BIGELOW SOCIETY PAGE

BACK TO BIGELOW HOME PAGE