Amasa 7 BIGELOW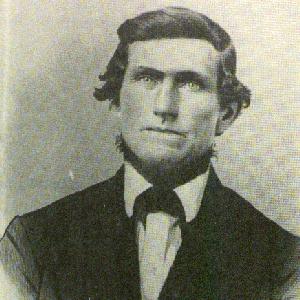 Amasa Bigelow
---
1592C.35 Amasa 7 BIGELOW, son of Daniel 6 ( Amasa 5 , Isaac 4, Isaac 3, Samuel 2, John1) and Emma (JOHNSTON) BIGELOW, was born at Horton, Kings, NS on 29 November 1811 and married at Richland county, OH, on 06 April 1837 Phoebe Boyce. She was the daughter of John and Jane (Walker) Boyce and born at Roxby, Lincolnshire, England on 28 February 1816. Amasa died at Topeka, Shawnee, KS on 19 June 1876 and she on 18 May 1901 at Linden, CA. (see notes)

Children of Amasa and Phoebe (Boyce) Bigelow:

1592C.351t Edwin Jonathan, b 13 Dec 1838 Honey Lakes, Walworth, WI; d 26 May 1918 Myrtle Point, Coos, OR; m 27 Jan 1872 Sacramento, Sacramento, CA Emma Elizabeth Greene; 7 children.

1592C.352 Emma Jane, b 26 March 1841 Honey Lakes; d 22 Aug 1908 Linden, CA.; m (1) Dr. C. Westfall, (2) 04 Nov 1868 Samuel J. Foltz at Lodi, CA.; 2 children.

1592C.353 Amasa William, b 06 Jan 1843 Honey Lakes; d 25 Feb1908 San Andreas, Calaveras, CA.; m 29 Dec 1884 Alzada Allison; no children.

1592C.354 Permelia Adelia, b 13 March 1845 Honey Lakes; d 1914 Azusa, L.A., CA; m 25 Dec 1860 Isaac Newton Stretch.

1592C.355 Marsalana Ann, b 25 Aug 1847 Honey Lakes; d 03 Oct 1868; m 26 Dec 1867 Henry 0. Patterson; 1 child.

1592C.356t John Boyce, b 0l April 1850 Columbia, Marquette, WI: d 16 Sept 1927 Selma, Fresno, CA; m 30 Dec 1875 Gridley, CA Sarah Elizabeth Wemple; 3 children.

1592C.357 Mary Elizabeth, b 13 Feb 1853 Columbia; d 10 July 1875; one family record states unm. another m 06 May 1873 Edward Jenkins.

1592C.358t Benjamin Franklin, b 16 May 1855 Chehelan Valley, OR; d 08 Dec 1936 Butte, CA; m (1)15 Dec 1877 Elizabeth Bissett d 09 Dec 1889, m (2) 24 Nov 1891 Jane Kepple; res. Butte co., CA; 8 children.

1592C.359 Emma Hallock, b 19 March 1858 Sonoma, Sonoma, CA; d Lodi, Sacramento, CA 11 Jan 1861; unm.

1592C.35A Nancy Rosella, b 17 Feb 1860 Santa Rosa, CA; d 19 March 1864 Lodi.

Sources:
Bigelow Society,The Bigelow Family Genealogy, Vol II, pg 150;
Correspondence with descendants and records of Bigelow Society historian/genealogist.
Bigelow Society Library Notes:
Amasa Bigelow was one of the older sons of Daniel Bigelow and must have been his assistant in building the first mill in Milwaukee. J. G. Gregory mentions "the saw-mill built in 1835 near what is now called Capitol Drive by Dr. Amasa Bigclow"-evidcntly confusing him with his father. (Gregory's "History of Milwaukee.") J. A. Watrous in "Memoirs of Milwaukee County" avoids the error by omitting the Christian name. He wrote, "The few pioneers of Milwaukee enjoyed good health and Dr. Bigelow turned his attention to the manufacture of lumber by putting up a sawmilll, the first in Milwaukee." The records show that Amasa Bigelow had many land dealings in LaGrange, In 1838 he bought of Leonard Gibbs. July I8, 1842, he received a patent signed by John Tyler for a fractional eighty acres described - E 1/2 NW 1/4 Sec. 36, price $200.00. This is on "Mill Lake" where "Stirlingworth" now stands and it was here that Amasa Bigelow" built the first saw mill in the town. Later he built a grist mill here and his home was located on this eighty. In 1846 he obtained a patent signed hy Jas. K. Polk for the NE l/4 SW 1/4 of Sec. 36. He had dealings with H. Birchard, Rachel K. Morris,Sam D. Stevens and others. He sold his mill to Adolphus D. Christian, and his mill farm to James Coates in 1851.
He had married Phebe Boyce before 1840 and had a family of girls and boys when he moved from LaGrange. His grand-niece writes that he moved to California with his sisters. His descendants are scattered along the west coast. We have no record of his birth or death.
---
Modified - 12/01/2009
(c) Copyright 2002 Bigelow Society, Inc. All rights reserved.
Rod Bigelow - Director
rodbigelow@netzero.net
---
Rod Bigelow (Roger Jon12 BIGELOW)
Box 13 Chazy Lake
Dannemora, NY 12929

< rodbigelow@netzero.net >