Ella Ree 9 BIGELOW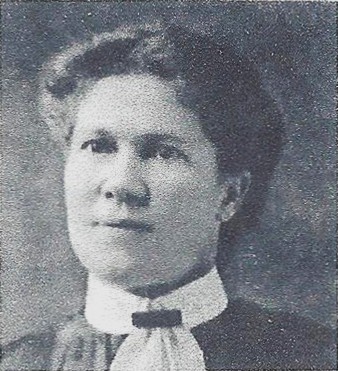 ---
1592C.3512 Ella Ree "Ellaree" 9 BIGELOW, dau of Edwin Jonathan 8 ( Amasa 7 , Daniel 6 , Amasa 5 , Isaac 4, Isaac 3, Samuel 2, John1) and Emma (GREENE) BIGELOW, was born 09 October 1874 in Gridley, Butte co, CA. She married 04 September 1895 Addison Harry Guerin. He was born 02 February 1869, the son of George Halsey and Priscilla (Dobinson) Guerin. Addison died 12 September 1926, and Ella died 09 Augusr 1946 in San Luis Obispo, San Luis Obispo, CA. They had 3 children which are mentioned in notes below acquired at the Bigelow Society Reunion of 1998. It gives a good account of life in this era, and ties in a number of families from Oregon.

Children of Addison Harry and Ella Ree (Bigelow) Guerin:

1592C.35121 Emma Guerin, b 24 Aug 1896 Coquille, Coos co, OR; d

1592C.35122 Lorin Halsey Guerin, b 05 July 1899 Eckley Coos co, OR; d

1592C.35123 Jean Guerin, b 18 May 1914 Myrtle Point, Coos co, OR; d


Sources:
Bigelow Society,The Bigelow Family Genealogy, Vol II, pg 427-428;
Bigelow Society records in correspondence with many family descendants;
personal contact with descendants:


"The Bigelow Society has Uncle Wells' account of the family coming back to Oregon and I have my mother's (Ella Bigelow Guerin) and Aunt Dora's (Bigelow Gearhart) notes and will add anything that Uncle Wells didn't tell.

Since Greene relatives already lived at Deer Park in Eckley there were some houses (probably more like cabins) that my grandfather, Edwin Jonathon Bigelow, and my grandmother, Emma Elizabeth Greene Bigelow, and their family could use until they could get something built. It was Uncle Bart Greene's homestead house.

Grandfather had to build a house for his family further up the hill and had to dig a well. This house was longer than wide and in the center he laid a rock foundation for a fireplace that he fashioned of galvanized iron.

I have a picture of the fireplace with the family sitting around while lead for bullets was being poured. Hulda Greene Svendsen painted it in watercolor from memory in 1946. I am grateful to Hugh Gearhart for giving me that picture along with 3 others that depict scenes of both the Bigelow and Guerin families.

To connect my 2 families - Guerins and Bigelows - I must give a little background on my father's side.

His parents, George H. Guerin and Priscilla Dobinson Guerin lived in Pennsylvania and since my grandfather worked for the Lehigh Valley Railroad, they moved alot and, in fact, ended up in Buffalo, New York in 1875. My father, the second son of 9, was born in Mauch Chunk, Pennsylvania (now Jim Thorpe) on February 2, 1869.

They had relatives in Oregon, grandfather's brother James and Capt. William Tichenor, my great-grandmother, Charlotte Tichenor Guerin's brother. In April 1876, they came by train from Buffalo to Oakland, California in 5 days with great-grandmother, Charlotte, and 6 little boys ages 9 years to 4 months. From Oakland to Port Orford by ship and from there by horse and pack animals, after a month's wait for the Sixes River to recede, to what was later Eckley. Eckley was named by Grandma Priscilla for friends in Pennsylvania.

They moved into very primitive conditions - no roads, post office, school, etc. Quite a change for my little English grandmother whose nice home in Pennsylvania had many conveniences for that time.

Their first home was a 12 by 12 cabin with a lean-to built on for a kitchen. Eleven of them lived there for 3 months until they had built a cabin 18 by 24 feet on their own claim. Their claim was very near Deer Park, but over the county line into Curry County. When the Bigelow clan came in 1888, they were soon acquainted and when Aunt Dora was born, Tom and Doc Guerin stopped in to see her on their way home from working down on Salmon Creek and took the news on down to the rest of the neighborhood. Baby girls were quite a novelty, seems most of the babies born in that country were boys. Annie Rebecca Guerin, the 8th child, had been born in 1880.

Aunt Dora lived with my parents until she was grown and when they moved to Myrtle Point, she finished the 8th grade then attended Myrtle Point High School one year and went on to Gravelford Adventist Academy and received her teaching certificate.

When my family was living in Eckley and my sister, Emma and brother, Lorin were young, I've heard many interesting stories about those times. Of course, I have only been told them as I wasn't born until 1914.

The water in the well where they lived was not good for drinking or cooking so they kept a large rain barrel on the porch under the rain spout. Emma at 2 1/2, fell into it and her toes caught on the rim. When rescued and stood on the porch, she said, " I'm only leaking".

The house they lived in was a 2 story house. Somehow a mother panther, who had three little cubs, was killed. My family raised them and they were quite mischievous. The folks had company one time, so put the cubs upstairs - there was no door at the top of the stairs. The cubs found the "chamber pot" and were batting it around when it rolled down the stairs, spilling the contents as it came downill The cubs were later given to a zoo.

I was really interested in Aunt Dora's account of washday there. My father would take some large coal oil (kerosene) cans down to the creek and fill them with water, then build a fire where a ring of rocks formed a support for the cans. When Mother had the house work done, she would bring galvanized tubs and the dirty clothes down in the wheelbarrow. There was a bench for the tubs. Some of the white clothes were boiled, then washed, then the colored clothes. A line for the white clothes was available and the coloreds were spread on bushes. Then Daddy would come in from work and help bring the clean laundry back to the house. When I was up to Eckley a few years ago, there were scrub bushes and himalaya berry vines there and I could just see the clothes spread on those bushes.

I think of my mother caring for her father, 5 brothers and a baby sister after their mother died and how hard she must have worked. Even after her marriage, Mother did all she could for her family. She frequently helped Aunt Grace, her brother Newton's widow.

Both sides of my family mention a little Irishman, Jimmy McGlone. My Uncle Tom Guerin told that when they came past his little "shanty" he was sitting up on the roof playing the "Pipes of Pan". When I think of him, I see a "leprechaun".
My parents were married in a double wedding ceremony at the Guerin--1½ family home and the ceremony was performed by Grandfather, who was a Justice of the Peace. The other couple was my Uncle Tom Guerin? and Anna Tichenor and the date was September 4, 1895.

--I have several newspaper clippings describing the wedding which was -THE social event for that little community of Eckley. The guests -coming from Port Orford and Gold Beach, rode horseback up the Sixes River the day before, danced most of the night in the Eckley school house then attended the 10 AM ceremony and the feast following. After resting up that day and night several of them rode the many miles to the mountain mines on the day after the wedding.

Just for your information, not as part of the story. I was born May 18, 1914 at our home on A Street in Myrtle Point to Harry A. and Ella Bigelow Guerin. I attended Myrtle Point schools, graduating in 1931, then attended OSU for 2 years. (It was OAC at that time.)

It was a very economically depressed time and there were no scholarships, grants-in-aid, etc. and very few jobs, so I was lucky to have 2 years. I then attended Stanford School of Nursing in San Francisco for 2 1/2 years, then married Lloyd C. (Duke) Davenport on September 20, 1935. We have 1 daughter, Shirley Jean, 3 grand-daughters and 5 great-granddaughters.

We have always lived on a ranch and Duke had a dairy herd for many years, then began raising beef and sheep after selling the dairy cows to one of our former 4H members.

We have been actively involved in 4H Club work for many years - I received my 50 year pin last year. Besides 4H, Duke was involved with the Coos County Fair and was on the Board for 35 years (president for 8). Duke died in 1992 of leukemia. Because of his long involvement in the Fair and 4H Club work, after his death, the 4H Building on the fairgrounds was named the Davenport Building.

I still live on the ranch with my daughter, who tends the sheep and loves them all (usually) and is my gofer and handyman girl.

I am ending my 51st year as a leader of the Twin Oaks 4H Club. We have 30 members this year in 5 divisions - beef, sheep, swine, dairy and small animals. Shirley, her daughters and most of her granddaughters have been 4H Club members. I now have a grand-daughter who is a leader in our club and her youngest daughter is a first year member."



---
Modified - 08/31/2009
(c) Copyright 2009 Bigelow Society, Inc. All rights reserved.
Rod Bigelow - Director
< rodbigelow@netzero.net >
---
Rod Bigelow (Roger Jon12 BIGELOW)
Box 13 Chazy Lake
Dannemora, N.Y. 12929

< rodbigelow@netzero.net >