Edwin Jonathan 8 BIGELOW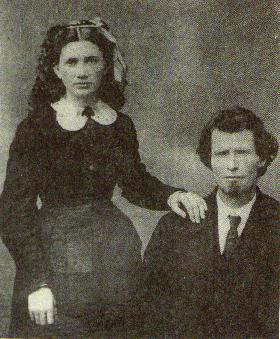 Emma E. Greene and Edwin Jonathan Bigelow
---
1592C.351 Edwin Jonathan 8 BIGELOW, son of Amasa 7 ( Daniel 6 , Amasa 5 , Isaac 4, Isaac 3, Samuel 2, John1) and Phoebe (BOYCE) BIGELOW, was born at Honey Lakes, Walworth, WI on 13 December 1838. He married Emma Elizabeth Greene who was the daughter of James and Martha (Jenkins) Greene and born 08 January 1853 at Otter Creek, Linn, IA. Edwin had come over the plains into CA by 1853. His marriage was at Sacramento, Sacramento, CA on 27 January 1872 and -by the late 1880's were living in OR. Emma died at Linden, San Joaquin, CA on 30 May 1892 and is buried there. Edwin died at Myrtle Point, Coos, OR on 25 May 1918.

Children of Edwin and Emma (Greene) Bigelow:

1592C.3511t Wells Edwin, b 02 Dec 1872 Lodi, San Joaquin, CA; d 14 Aug 1948 Medford, Jackson, OR; m 10 Feb 1902 Nellie Mae Wakefield; 4 children, including Laurel Alberta Bigelow, one of the early founders of the Bigelow Society.

1592C.3512t Ellaree, b 09 Oct 1874 Gridley, Butte, CA; d 09 Aug 1946 San Luis Obispo, San Luis Obispo, CA; m 04 Sept 1895 Addison Harry Guerin; 3 children.

1592C.3513 Barton Arthur, b 18 Oct 1876 Gridley; d 28 Sept 1914 Ft. Bragg, Mendocino, CA; bur. Myrtle Point, OR; unm.

1592C.3514 Charles Alfred, b 13 Nov 1878 Healdsburg, Sonorna, CA; d 04 Sept 1902 Hoquiam, Gray's Harbor, WA; bur. near Hoquiam; unm.

1592C.3515t Newton Ezra, b 0l Jan 1881 Atwater, Merced, CA; d 15 Aug 1914 Madera co., CA in farm accident; m 05 June 1912 Grace Lillian Ferguson; 2 children.

1592C.3516t Amasa William, b 02 Feb 1884 Atwater; d 17 May 1957 Coos Bay, Coos Bay, OR; m 25 Dec 1910 Bertha Celia Wade; 9 children.

1592C.3517t Dora Elizabeth, b 22 Aug 1888 Eckley, OR; d 11 July 1978 Myrtle Point; m 24 Feb 1909 John Neal Gearhart; 5 children.(1 son John Bigelow Gearhart was former pres. of Bigelow Soc. and attended 1998 Reunion in Bend, OR; He was born 20 Jan 1914 in Dora, Coos Bay co, OR; m 03 Jan 1942 Marian L. Anderson; 4 children listed: Louise, Eileen, John A., & Brice N.

1592C.3518 Emma Elizabeth, b and d 30 May 1892 Linden, San Joaquin, CA.

Sources:
Bigelow Society,The Bigelow Family Genealogy, Vol II, pg 427-428;
Bigelow Society records in correspondence with many family descendants;
personal contact with descendants.

---
Modified - 10/26/2008
(c) Copyright 2008 Bigelow Society, Inc. All rights reserved.
Rod Bigelow - Director
rodbigelow@netzero.net
---
Rod Bigelow (Roger Jon12 BIGELOW)
Box 13 Chazy Lake
Dannemora, NY 12929

< rodbigelow@netzero.net >