William Sturgis 8 BIGELOW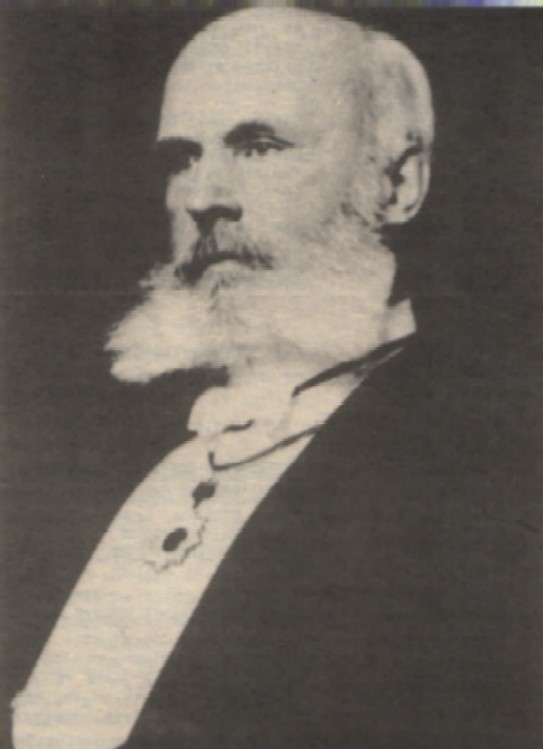 (sturgis8.jpg)
---
15572.311 William Sturgis 8 BIGELOW, son of Henry Jacob 7 ( Jacob 6 , Jacob 5, Jacob 4, Thomas 3, Samuel 2, John 1) and Susan (STURGIS) BIGELOW, was born 04 April 1850 Boston, MA. He died 06 October 1926 in Boston. Although unmarried we submit this of interest: William was a very learned physician/surgeon as were his father and grandfather. He graduated from Harvard in 1871 and attained his doctoral degree in 1874. He was a lecturer in surgery at Harvard and a surgeon at MA General Hospital, where, after retirement, he became a trustee. A long time friend of Theodore Roosevelt, he often entertained the President in his own home on Beacon Hill, Boston. Dr. William Sturgis Bigelow is best known in the world of art, because, through his extensive travels in the Far East and living in Japan for 7 years, he became an authority on and a collector of Japanese and Chinese art. He amassed a tremendous collection and in 1911 presented Boston Museum of Fine Arts with 25,000 items of painting, sculpture, porcelain, etc. He was a trustee of the museum. When he died, he left a trust fund to Massachusetts General Hospital.
William S., Henry Jacob and the grandfather, Jacob, all learned Physicians/Surgeons and the upper eight stories of the thirteen story Massachusetts General Hospital building are dedicated to these three generations of doctors.

More on: http://www.harvard-magazine.com/issues/so97/vita.html
See note for achievements of these 3 generations of Bigelows with MA general Hosptial.
See "Forge" Apr 1999, Vol. 28, No. 2,p. 28.
Article written by Thomas LaMarre for "Money Talk", a copyrighted production
of the American Numismatic Association, 818 N.Cascade Av., Colorado Spgs,CO
80903,e-mail ana@money.org, contributed by Phillip Bigelow, Bellingham, WA.
Related "Forge" articles:
Vol. 20, No.3, Jul. 1991,
Vol.21, No.2, Apr 1992,
Vol.22,No.1,Feb 1993.


The secretary of the Harvard class of 1871 once wrote to William Sturgis Bigelow requesting some news, "or a story." Bigelow replied, "Story? God bless you, I have none to tell, sir. Since '81 I have spent about seven years in Japan, when [sic] I saw a great many folks of high and low degree, got together some things of various sorts for the Boston Museum of Fine Arts...and learned a little about Eastern philosophy and religion. I have neither wife nor children, written no books, received no special honors and I belong only to the regular clubs and societies."
This extraordinary understatement combined Buddhist self-abnegation with the inner confidence of an affluent, private, and talented Boston Brahmin. In fact, those "things of various sorts"--numbering, according to one estimate, 26,000 pieces of painting, sculpture, ceramics, and manuscripts--formed the heart of one of the world's greatest museum collections.
As to the Eastern philosophy, he studied and then embraced Buddhism, as did his friend Ernest Fenollosa, A.B. 1874. Bigelow's 1908 Ingersoll Lecture at Harvard explained "Buddhism and Immortality" in scholarly detail, and was later published.
Bigelow was truthful in saying he had no wife or children, but not in denying that he had written books or received honors. Japan awarded him the Imperial Order of the Rising Sun, with the rank of Commander, the highest distinction bestowed in that country on persons not in official life (he wears it in the charcoal portrait above, drawn by his friend John Singer Sargent).

Bigelow was profoundly affected by the death of
his mother when he was three. (His Ingersoll
Lecture states that "Maternal love is the source
of all human virtues.") His father, the renowned surgeon Henry Jacob Bigelow, was
something of a martinet, and young William was evidently something of a rebel: his
report card from the Private Latin School in 1865 rated him twenty-second academically
in a class of 55, but fifty-fourth in "conduct."

After graduating from Harvard Medical School in 1874, Bigelow went to Europe. He
stayed five years, studying in Vienna, Strasbourg, and finally in Paris under Pasteur. He
brought back to Boston the new research on bacteria, and established privately one of
this country's first laboratories in that field. This displeased his father,who
wanted the line of distinguished Bigelow surgeons at Harvard and Massachusetts General
Hospital to continue. William was duly appointed surgeon to outpatients at the MGH. "Few men,"
wrote medical historian John F. Fulton, "could have less taste for surgery than the
sensitive Bigelow, and it was not long before he gave up all thoughts of practice."

In 1881, believing that the world was moving too fast and that much of life in Boston
was ugly, he went to Japan, following Edward S. Morse and Ernest Fenollosa, who were
among the first Americans to study Japanese culture. He later called the cruise to Japan
the turning point of his life. During his prolonged stay he studied, traveled, and collected the
treasures that the Japanese were discarding in their rush to become Westernized.

After returning to Boston in 1889, Bigelow devoted much of his time to the study of art
and Asian religions. He also entertained lavishly at his home at 56 Beacon Street, often
welcoming such College friends as George and Henry Cabot Lodge, Brooks and Henry
Adams, and Theodore Roosevelt, who regularly made Bigelow's home his Boston
headquarters. He became an active trustee of the Museum of Fine Arts and continued to
collect paintings, often consulting with Isabella Stewart Gardner. Reportedly somewhat
reserved in his dealings with the opposite sex, he once wrote to her coyly, in the third
person: "She is very attractive." At his favorite spot in America, however, a summer
house on tiny Tuckernuck Island, off the shores of Nantucket, he entertained men only,
and his guests wore pajamas, or nothing at all, until dinnertime, when formal dress was
required. A staff of servants provided food and fine wines; the library contained 3,000
volumes,"spiced with racy French and German magazines," one chronicler reported.
Henry Adams described Bigelow's retreat as "a scene of medieval splendor"; George
Santayana, A.B. 1886, may have modeled Dr. Peter Alden, the father of the protagonist
in The Last Puritan, after Bigelow.

The Boston Evening Transcript, the unofficial gazette of Boston's Brahmins, ran two
bold headlines on October 6, 1926. One told of Babe Ruth's still unexcelled feat of hitting
three home runs in a World Series game, but the larger headline reported the death of
William Sturgis Bigelow. His funeral, at Trinity Church, was conducted by his classmate
William Lawrence, the former Episcopal bishop of Massachusetts. His ashes were
divided. Half were interred in Mount Auburn Cemetery, which had been envisioned by
his grandfather Jacob Bigelow as a spiritually uplifting as well as "hygienic" burial site.
But the rest were buried by a Buddhist temple, overlooking Bigelow's favorite lake in
Japan.
Sources:
Bigelow Society,The Bigelow Family Genealogy, Vol II, pg 114;
Howe, Bigelow Family of America;
FORGE, The Bigelow Society Quarterly. Vol.6, No.2, pg 23-24
Encyclopedia of American Biography;
records of Mt. Auburn cemetery, Cambridge.
FORGE, The Bigelow Society Quarterly. Vol.6, No.2, pages 23 and 24, has an interesting article on William S. 8, Henry Jacob 7 and the grandfather Jacob 6 - all learned physicians/Surgeons and the dedication of the upper eight stories of the thirteen story Massachussette General Hospital building to these three generations of doctors.
From Guy Bigelow:
Referring to the book that was published by "Bob Vila's This Old House - 1981" following the TV program which covered the remodeling of Dr. Henry J. Bigelow's home in Newton, I find no specific address given for the property. It was, however, located on the top of Oak Hill which is a high point in the Newton area. Current maps of the area around Newton show a residential subdivision approximately 3 miles south and a bit east of Newton, city center. This may be the area where the old Bigelow house is located. More specific information might be obtained by contacting the Newton Historical Preservation Association or the Newton Chamber of Commerce. I have no information on contacting either of these organizations but you might search on the internet. Guy Bigelow
Note:
Tuesday 06/10/2003 7:29:55pm
Name: Isabel Bigelow
E-Mail: isabelbigelow@hotmail.com
Comments:
I am interested in William Sturgis Bigelow. Don't know if I am related but searching him got me to this page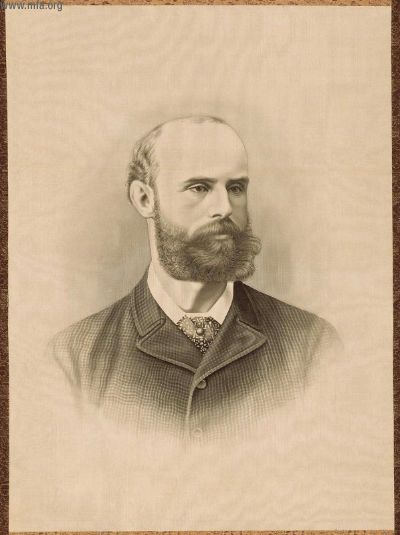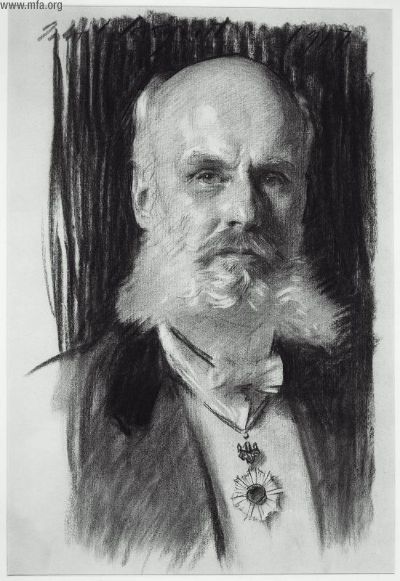 .
(/rod2005b/sturgis1.jpg) (/rod2005b/sturgis2.jpg)

From: http://www.yesterdaysisland.com/05_articles/satire/tucker.html

Tuckernuck's Resident Millionaire Buddhist
The Story of Bigelow's Bluff

Part I
--------------------------------------------------------------------------------
by James Everett Grieder
There's a stretch of coastline on Tuckernuck Island that has the unique distinction of being named for a person. Most places on the island are distinguished somewhat more pragmatically: North Pond, East Pond, South and North Shores; Bigelow's Bluff alone is a namesake. Never mind the fact that the particular spot so named is by now far out to sea — wherever that part of the shore terminates it will always be named after one of the most remarkable men to ever grace the island: William Sturgis Bigelow.

Born on April 4, 1850, William Sturgis Bigelow was the son Henry Jacob Bigelow and grandson of Jacob Bigelow, neither of whom were slouches in the "remarkable men" department themselves: Jacob Bigelow was a physician at Massachusetts General Hospital for twenty years (there's a wing named after him), established Mount Auburn Cemetery (which served as a model of sanitation for many later burial grounds) and, while at Harvard University teaching science, coined the term "technology"; his son, Henry, studied medicine under his father at Harvard, eventually becoming a professor there as well as chief of surgery at Massachusetts General. Perhaps his most far-reaching achievement was to sponsor the first public demonstration of the efficacy of anaesthesia in surgery (the artist Robert Hinkley captured the moment in his painting, "The First Operation with Ether" – Bigelow is the third man from the right, with his hand on his chest).

Plainly, Bigelow had some big surgical gloves to fill. Scion of the Scollay and Sturgis families as well as the Bigelows, Boston Brahmins all, great things were expected of young William, and he did indeed achieve greatness of a sort, although perhaps not the kind that his dour martinet of a father might have intended. William's mother died when he was three years old, an event that would have a profound effect on the sensitive young man. An indifferent student, Bigelow's report card in 1865 notes that he fell in the middle of his class academically but was next to last in "conduct." Nevertheless, Bigelow managed to graduate from Harvard Medical School in 1874 and immediately embarked for Europe for additional study, as his father had done during his days as a newly-minted student. While in Paris, Bigelow studied under Louis Pasteur, eventually returning to the United States with the latest research in the newly-created field of bacteriology; Bigelow would go on to privately fund one of the first laboratories in that field.

Upon his return to Boston in the early 1880s, Bigelow appeared to be on track for a distinguished career in medicine, following in the footsteps of his venerated father and grandfather. In the winter of 1881-82, however, Bigelow's life took a quite unexpected turn; he attended a series of lectures by Edward Morse, a professor of Comparative Anatomy and Zoology at Bowdoin College. A few years previously Morse had been invited to the Imperial University of Tokyo in order to organize a department of zoology; during a return trip to the United States, he gave a series of lectures on Japan at the Lowell Institute in Boston. These lectures captivated the interest of many of Boston's intelligentsia, including William Sturgis Bigelow, no doubt to the great alarm of William's father Henry.

Later that year, after declaring his belief that the world was moving too fast and that much of life in Boston was "ugly," Bigelow announced his plan to travel to Japan with Edward Morse and Ernest Fenollosa, a young Harvard Divinity student that Morse had recruited during an early trip to Boston. William, sensitive as he was, was never cut out to be a surgeon, and he probably would have left his pre-determined career path anyway. Entranced by the Japanese aesthetic and supportive of Fenollosa's efforts to conserve Japanese ancient temples and monuments, Bigelow determined that he had to see them for himself. One cringes to imagine the scene at the breakfast table when young William conveyed the news to his father — glacial doesn't begin to describe it. William's financial future was secure, however — he had inherited a massive fortune from his mother, who had been heir to the extremely wealthy Sturgis family of Barnstable on Cape Cod.

Bigelow and Fenollosa became quite close. Both men were ardent Japanophiles and amassed enormous collections: Fenollosa specialized in Chinese and Japanese paintings, while Bigelow purchased literally tens of thousands of pieces of lacquer ware, swords, statues, and wood block prints. However, theirs was more than simply the self-aggrandizing purchases of the mega-rich; they truly saw themselves as saving important pieces of Japan's past, at a time when few others took notice, including many Japanese themselves: at the time the island nation was rushing to modernize itself in the face of Western imperial power, and the old ways were deemed unimportant and not worth saving. In 1885, both Fenollosa and Bigelow converted to Buddhism, studying with a Tendai Buddhist master and dressing in Japanese robes (again, one can't help but wonder what that first trip home to the Bigelow family's townhouse on Beacon Hill must have been like).

Over the next few years Fenollosa and Bigelow played host to a number of Bostonians who, fired in part by Morse's lectures, visited Japan, eager to gain some insights into Buddhism. Among their distinguished guests were Isabella Stewart Gardner (an important art collector in her own right, whose home later became the Gardner Museum) and the author Henry Adams, who had traveled to Japan with his friend, the painter John La Farge. Adams was seeking escape in the Far East from the intense grief he felt over the recent suicide of his wife Clover. A short (further) digression away from the shore of Tuckernuck is necessary to detail the short unhappy life of Clover, which is intimately connected to that of Bigelow.

Clover's real name was Marian Sturgis Hooper; she was William's first cousin. Clover's mother, Ellen Sturgis Hooper, was a poet and a member of the Transcendental Club (her sister, Susan Sturgis Bigelow, William's mother, was also a member). Ralph Waldo Emerson regularly solicited poetry from her for his periodical The Dial, and Thoreau included the end of Hooper's "The Wood-Fire" in the chapter "House-Warming" in Walden. Ellen Sturgis Hooper often hosted gatherings of like-minded individuals at her home, where it would not have been unusual to see such luminaries as Ralph Waldo Emerson, Oliver Wendell Holmes, and Henry James. Quite an inspiring home for a sensitive young girl, or so it would seem; sadly, Clover's family had a tragic thread of mental illness and suicide that ran through the generations. Clover was present when her aunt (William's mother), Susan Sturgis Bigelow, died, allegedly from arsenic poisoning at her own hand, although tuberculosis was the polite reason given. In 1887, Clover's sister Ellen walked into an oncoming train, and in 1901 her brother Edward leaped from the third floor of his home, surviving briefly before eventually succumbing to pneumonia.

Clover was five when her mother died of tuberculosis; she was extremely close to her father, Dr. Robert Hooper. Both Clover and her sister Ellen often accompanied their father on visits to Worcester Asylum for the mentally ill, where they witnessed the dreadful effects of mental illness and the almost medieval state of psychiatric treatment at the time. Clover was deeply affected by the horrors of such confinement, and her surviving letters make it quite clear that she regarded suicide as preferable. On learning of the suicide of William Morris Hunt, who had painted a portrait of Henry Adams' father, she wrote "He has put an end to his wild, restless, unhappy life. Perhaps it has saved him years of insanity which his temperament pointed to." These experiences left Clover a shy, retiring nervous girl, fearful of being separated from her father for any length of time.

See Part 2 below to find out what happens to Clover …

Tuckernuck's Resident Millionaire Buddhist
The Story of Bigelow's Bluff
Part 2

There's a stretch of coastline on Tuckernuck Island that has the unique distinction of being named for a person. Most places on the island are distinguished somewhat more pragmatically: North Pond, East Pond, South and North Shores; Bigelow's Bluff alone is a namesake. Never mind the fact that the particular spot so named is by now far out to sea — wherever that part of the shore terminates it will always be named after one of the most remarkable men to ever grace the island: William Sturgis Bigelow.

Part II of this article, picks up just as William's first cousin, Clover, is about to marry…

Clover's prospects brightened, however, when she met the young Henry Adams. Adams, the grandson of John Quincy Adams and great-grandson of John Adams, was the heir of yet another prominent Boston Brahmin family, and was beginning to establish a reputation for himself as an author and historian in his own right. A marriage between these two was a favorable one socially, but, while there was apparently great fondness between them, Clover's nervous disposition eventually drove Henry into a (unconsummated) relationship with another woman, Lizzie Cameron, the niece of William Tecumseh Sherman. Their letters demonstrate their great, if frustrated, passion for one another; if Clover had any knowledge of the long-distance love affair she made no mention of it. Perhaps she was too immersed in worrying for her own health and safety.

While honeymooning in 1872 along the Nile, Clover suffered a nervous breakdown; this was the first time that she had been apart from her father for any length of time. Upon her return to Boston she discovered a passion for photography, but the limitations of her gender at that time, combined with a lack of support from her husband, resulted in her talents being limited to family portraits. The death of her father in the spring of 1885 sent Clover spiraling into a mental depression from which she did not recover. On December 6, 1885, Henry Adams found his wife lying on the floor, a vial of potassium cyanide — used to process photographs — by her side. A doctor was summoned, but it was too late. Clover was dead.

Adams' trip to Japan was an attempt to dull the painful loss. His friend John La Farge was the one who suggested the idea. La Farge had been a pioneer in collecting Japanese art and incorporating Japanese effects into his work, beginning in the 1860s (he also married Margaret Perry, the niece of the Commodore who had opened Japan to the West over the barrel of a gun). In 1869, La Farge wrote an essay on Japanese art detailing the asymmetry and heightened color of Japanese prints, which looked empty and unbalanced by traditional Western standards. The radical qualities of La Farge's art in the 1860s were more subtly incorporated into his work over the subsequent decades. Stunning examples of La Farge's work in stained glass (the brilliant coloring of which may have been influenced by his interest in Japan), may still be seen at Trinity Church in Boston, and he became increasingly involved in large scale decorative and mural projects, both for churches and the residences of America's newly-minted millionaires.

In 1886, La Farge was again embarking for Japan and asked his grieving friend Henry Adams to join him; perhaps a further incentive was the thought of seeing his late wife's cousin. Although not as smitten with the lure of the Orient was his companions, Adams was apparently deeply moved by images of Kannon, the feminine Japanese embodiment of the wisdom of compassion. When he returned to the United States, Adams commissioned the famed sculptor Augustus Saint-Gaudens to create a Kannon-inspired statue for his wife's grave in Rock Creek Cemetery, Washington, D.C. (La Farge's painting of Kannon by a waterfall may have served as inspiration for the artist). That statue is widely considered to be Saint-Gauden's masterpiece, and may be viewed to this day in Rock Creek Cemetery. If you visit, take a moment to remember poor Clover, please.

Bigelow returned to Boston in 1889, and devoted much of his time to the study of art and Asian religions; following in the footsteps of Morse he lectured widely on Buddhism, and played a key role in developing diplomatic and cultural relations between the U.S. and Japan. Bigelow donated his collection and expertise to the Boston Museum of Fine Arts as a trustee; he brokered the purchase of Fenollosa's collection through another Harvard doctor, Charles Goddard Weld (yes, as in former Governor Weld) and by the1890s, the MFA had one of, if not the pre-eminent collection of Far Eastern art outside of Asia. Its first curator was Fenollosa, who had returned from Japan with Adams and La Farge, and who was instrumental in establishing the collection.

A year after William Sturgis Bigelow returned from Japan, his father died following a carriage accident. In 1906 Bigelow purchased 56 Beacon Street in Boston, where Henry Adams, college chums George and Henry Cabot Lodge (cousins of the Adamses), and even Theodore Roosevelt could be found visiting. Roosevelt made Bigelow's home his Boston headquarters, and presumably it was there that Bigelow had an effect on U.S. foreign policy. No doubt aware that the manly Roosevelt would be less than impressed with highly lacquered teapots Bigelow instructed the Rough Rider in the finer points of Japanese culture by throwing him repeatedly using judo holds. Roosevelt was so impressed that he had a special Judo Room set aside in the White House — he also signed a treaty with Japan.

But what does all this have to do with a bit of shoreline on Tuckernuck? I was just getting to that — you needn't be in such a hurry! Bigelow would often escape from the heat and noise of Boston to his large, rambling summer "cottage" on the west end of Tuckernuck. Perhaps one of the few pieces of common ground shared by William and his father Henry Jacob Bigelow, literally, was their love for the island. Henry was an avid gunner and after visiting the island briefly had returned and rented a cottage, and then leased land, from Charles Dunham; in 1871 he had built a simple, boxy house on the land, even though the property wasn't really his. Bigelow suffered the misfortune of hiring my grandmother's great-grandfather, James Cochran Dunham, as his caretaker (my wife's family owns "Grandfather's House" on Tuckernuck — James Cochran is the eponymous grandfather, and former owner). Dunham contemptuously viewed the senior Bigelow as having more money than brains, and set out to take this "summer person" for all he could (thankfully, this attitude does not prevail today on Nantucket).

In 1871 Bigelow tired of the constant gouging and fired Dunham as his caretaker. Dunham, a true Tuckernucker, was not one to let an opportunity for a good feud to pass by, and began harassing Bigelow, denying access across his own property to the rest of the island and sending his sons out to chase the birds away that Bigelow was hunting. Bigelow sued Dunham and won; Dunham appealed and lost, and the fine was doubled. Unable to pay, Dunham was forced convey half of his farm to Bigelow. Bigelow also eventually purchased the land he was leasing and set about enlarging the building on it in order to accommodate his son William, their guests and their servants; he hired my cousins the Smiths and the Sandsburys to do the job. As with cousin Clover, both Henry and William had an avid interest in photography, and they took many pictures of the construction of their new house, and Tuckernuck at that time, including many members of my extended family.

In addition to his beloved photography, Bigelow kept careful track of the almost constant erosion of Tuckernuck's north and west shores: "...very heavy surf...6 to 10 feet cut off the bank," he wrote in 1904. "The last of the road around Robert [King Dunham]'s lot went, leaving about a foot to squeeze by on.....The smallest loss in any one year since was 10 paces; the largest 39." In 1908: "About 70 feet of bank cut off. Charley Brooks gives it eight years to the corner of the tennis court. I guess six".

Bigelow entertained many of his distinguished friends at his island retreat, including Roosevelt, Henry Adams, John La Farge, Senator Henry Cabot Lodge, and Bishop William Lawrence, who had been John La Farge's sponsor at Trinity Church in Boston. To get there they took a train from Boston to Woods Hole, followed by a three-hour trip on a side-wheel steamer to Nantucket, a bone-jarring wagon ride to Madaket, then a private boat jaunt to Tuckernuck itself. It was strictly a men-only affair, and his guests wore typically wore Japanese dress, or nothing at all, until dinnertime, when formal dress was required. A staff of servants, including cook and butler, provided food and fine wines; Bigelow had one room converted into a darkroom to develop photographs, and amassed a library contained 3,000 volumes to keep his visitors entertained when the weather turned foul. The collection, complete with racy French and German magazines (which probably would seem quite tame to us today) topped off an experience that Henry Adams described as "a scene of medieval splendor".

In his poem "Tuckanuck," dedicated to "W.S.B." (William Sturgis Bigelow), he describes the philosophy of the group:

I am content to live the patient day.
The wind, sea-laden, loiters to the land,
And on the naked heap of shining sand
Th'eternity of blue sea pales to spray.
In such a world no need for us to pray:
The holy voices of the sea and air
Are sacramental, like a peaceful prayer
Wherein the world doth dream her tears away.
We row across the waters' fluent gold,
And age seems bless~d, for the world is old.
Softly we take from nature's open palm
The dower of the sunset and the sky
And dream an Eastern dream, starred by the cry
Of sea-birds homing through the mighty calm.

These halcyon days were soon to end, however; in the late summer of 1909, George Cabot Lodge fell ill while visiting Tuckernuck, and before medical aid could reach him, he died. He was only 35 years old. Henry Cabot Lodge never returned to Tuckernuck and his friend's death affected Bigelow deeply. For several years he stayed away from his beloved island, finally returning after a three year absence — but the original spirit of joie de vivre had vanished. "It is inexpressibly sad here, since 'Bay' (Lodge) left," he wrote later that year..

In 1926, at the age of 76, William Sturgis Bigelow died. His body was laid in state in his Buddhist robes in his home at 56 Beacon Street in Back Bay; his funeral at Trinity Church was conducted by his classmate and friend William Lawrence, the former Episcopal bishop of Massachusetts. Bigelow's ashes were divided: half were interred in Mount Auburn Cemetery, the cemetery founded by his grandfather, while the other half were buried near Homyoin Temple in Japan, the site of his Buddhist initiation, overlooking Bigelow's favorite lake. In his will Bigelow left a fund to Harvard University for the advancement of Buddhist studies, but his accomplishments can never be measured by money alone. According to one estimate, Bigelow left 26,000 pieces of painting, sculpture, ceramics, and manuscripts to the Museum of Fine Arts in Boston, and is responsible as much as anyone for bringing the Eastern aesthetic to America. Through his tireless work he influenced creative souls as diverse as Ezra Pound and Frank Lloyd Wright, and through them countless others. Boston may have lost a fine doctor, but the world gained so much more in return.

There is a further, personal postscript to this story. Bigelow did make an exception to his "no women" policy – in 1898 he offered his Tuckernuck estate to his niece Mabel Hooper (Clover's surviving sister) who had married John Louis Bancel La Farge, for their honeymoon. They fell in love with the island, and their descendants remain there still. John Louis also met and befriended my great-great-grandfather, Erastus Chapel, of whom he said "everything about him is round, his legs, his belly, his arms and his shoulders, his head...and to top all, his little white hat"— the apple doesn't fall far from the tree, apparently, that being a fair description of this author. Erastus had purchased a lot from William Sturgis Bigelow in 1893 (part of the old Dunham property won in the lawsuit — what's more, Erastus married James Cochrane Dunham's niece), and built a house there. John Louis also mentions that Erastus was quite close to his son, whom he referred to as "the boy," even when the "boy" was forty years old; that boy was James Everett Chapel, whom I am named for, and who is the former owner of the house at 31 Union Street where I now reside with my family (the house now belongs to my great-aunt, Mary Chapel Humphrey, and her children).

As William had feared, erosion eventually claimed the Bigelow estate on the west end of Tuckernuck, including the house in 1944. Before that occurred, Mabel arranged to have Bigelow's old library transported from the west end to the east, where she had bought some property was building a new house, designed by her son Louis, who was an architect. In 1939 Mabel hired my great-grandfather, along with several other men, to move the building for her. They placed it on long timbers resting on wagon wheels, and over the course of a month moved it to the east end of the island. That library building was incorporated into the new house, and remains there to this day.

The La Farge family also sold a piece of the same Dunham property to James Everett Chapel, and it is on a portion of that property that my family's house, the Pond House, still stands. When I look out of the kitchen window of our little house, I can see Bigelow's Bluff; nothing physical remains to note the passage of this remarkable man, but his contribution to art and to history, and the strong bonds of friendship between his family and mine that remain to this day, provide a greater monument than any house or statue ever could.

I am deeply indebted to the patient research found in Wayman Coffin's book Tuckernuck Island, as well as the stories told to me over the years by my grandmother, Ruth Chapel Grieder, for much of the Tuckernuck information found here. For more information on Bigelow, La Farge and Boston's Japanese connection please check out The Great Wave : Gilded Age Misfits, Japanese Eccentrics, and the Opening of Old Japan, by Christopher Benfey.
Tuckernuck:
Bigelow & His Tuckernuck Retreat
by Frances Kartunen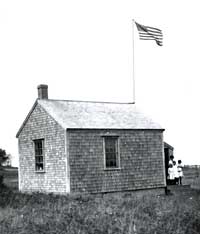 Tuckernuck School c. 1930s with 3 young girls and a teacher
courtesy Nantucket Historical Assn

Off Smith's Point, the extreme western tip of Nantucket, lie two small islands, Tuckernuck and Muskeget. Tuckernuck, the nearer of the two, is plainly visible from anywhere along Nantucket's North Shore, from Jetties Beach to Madaket. Its Algonquin name is said to mean "loaf of bread." Tiny, low-lying Muskeget is best seen from the air.
Both islands are off-limits to visitors, fiercely protected by their residents. In the case of Muskeget, the defenders are gray seals that have established a large breeding colony on the island. Tuckernuck's defenders are its property owners, who occupy the island's scattering of houses. There is no public land on the island, not even the beaches.
The fact that one needs an invitation to visit Tuckernuck has endowed the place with mystique. Most people who have lived their entire lives on Nantucket have never set foot on its shores, and those who have treasure the experience inordinately. People who have inherited property there constitute a minor aristocracy.
Tiny as Tuckernuck is, it is no stranger to factionalism. Wampanoags from both Nantucket and Martha's Vineyard traditionally retired to the island for fall duck hunting, and they also buried their dead there. Then, starting in the late 1600s, English settlers let livestock loose on the island. For a while in the early 1700s a little gang of Wampanoag sheep rustlers preyed on the introduced animals, but in a short time the Wampanoags' traditional hunting land had been lost to the English, who took the island over for farming.




Bigelow House on Tuckernuck.
courtesy Nantucket Historical Assn

By 1800 Tuckernuck was sustaining forty cows, while between eight hundred and a thousand sheep were cropping the fragile vegetation to the roots. Environmental degradation and rising sea levels have since joined forces to markedly reduce the area of Tuckernuck, and in the process to expose ancient burials that were intended for eternity.
There are no longer any year-round Tuckernuck residents, but until the twentieth century old settler families such as the Tuckernuck Dunhams and Coffins subsisted by farming, hunting, and fishing, while their children received basic education in the Tuckernuck School. Old Tuckernuckers were a close-knit society of cousins.
Enter yet a new group. Seasonal hunting remained excellent on both Tuckernuck and Muskeget, and in the late 1800s groups of recreational hunters from the mainland acquired land for themselves. Gradually their hunting camps and blinds evolved into retreats for Boston Brahmins and their friends. This was a privileged male society, as different as could be from the farm folk they were moving in on. Each side regarded the other as exotic.
At the beginning of the 1880s Henry Jacob Bigelow, son of Jacob Bigelow—botanist, surgeon, and Harvard Medical School professor—had a house built for himself on the western shore of Tuckernuck. A physician like his father, Henry Jacob was a surgeon and a pioneer in the use of surgical anesthetic. It was taken for granted that medicine would be the family profession, passed on from generation to generation. Henry had just one child, a son named William Sturgis Bigelow. William's mother died when he was still a child, and although he pleased his father by becoming a crack shot who could drop birds out of the sky with the best of them, his nature rebelled against the practice of medicine. Having earned a medical degree, he took off on an extended tour of Europe, not returning to Boston till he was 29. Two years later he escaped again by accompanying Harvard professor Edward S. Morse to Japan. Staying on for eight years, William Sturgis Bigelow studied Japanese culture, collected Japanese art, converted to Buddhism, and was decorated by the Emperor of Japan with the Order of the Rising Sun.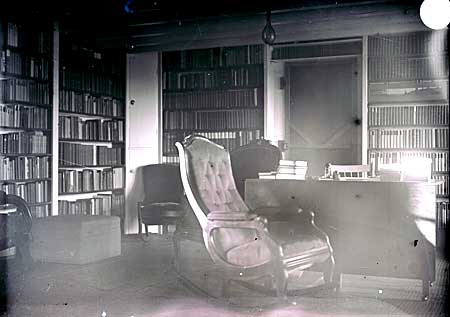 William Bigelow's library on Tuckernuck,
courtesy Nantucket Historical Assn

By now it was clear that this Bigelow would never practice medicine, nor would he give his father a grandson to carry on the family name and profession. Instead, he became a lecturer on Buddhism and Japanese culture at Harvard and cultivated a circle of men friends. Among them were Brooks Adams; Henry Adams, who married Bigelow's first cousin; Senator Henry Cabot Lodge and his son, who was known as "Bey" Lodge; John LaFarge; and Theodore Roosevelt. Edith Wharton would have liked to be part of their group, but finding herself excluded, she contented herself with sniping from the sidelines. Of Bigelow she remarked acidly that 'his erudition far exceeded his mental capacity."
All the men in Bigelow's circle dabbled in Buddhism, and much of the dabbling took place during summers at the Bigelow house on Tuckernuck. There Bigelow amassed a library of three thousand volumes, many in French and German, and some reportedly racy. Some were rare old volumes, and some were publications by Bigleows of past generations. Part of the collection dealt with the spiritual and the occult, and also included were French cartoon books poking fun at human nature. Visitors to Bigelow's Tuckernuck retreat were welcome to spend the day discussing metaphysics in their pajamas, while Bigelow himself favored his Japanese kimono. For breaks from intellectualizing, there was a waterside tennis court and a Japanese bath. Women were absolutely banned, and skinny-dipping was encouraged. From sweltering mid-summer Washington, D.C. Senator Lodge wrote of his impending visit to Tuckernuck, "Surf, Sir! And sun, Sir! And Nakedness! Oh Lord, how I want to get my clothes off!"
Bigelow's only house rule was that his guests had to dress for dinner. He set a good table with excellent food (often fresh-caught bluefish) and fine wine.
During these summers, Bigelow kept a journal that he called "Notes on the Universe and Kindred Topics as Seen from Tuckernuck." Then a pair of misfortunes cast a shadow over Bigelow's off-shore idyll. A friend named Trumbell Stickney died suddenly on the eve of a trip to the island, and in the summer of 1909, Bey Lodge suffered a seizure and died on Tuckernuck. Both were young men in their thirties. As Bigelow brooded over these losses, the encroaching sea took a bite out of the corner of his tennis court. Sensing that his house was now haunted, Bigelow abandoned Tuckernuck.
Upon his death, fifteen years after that of Bey Lodge, Bigelow was cremated. Half of his ashes were interred in the Mount Auburn Cemetery in Cambridge, and the other half were carried to Japan and interred by a Buddhist temple in Kyoto. His superb art collection became a cornerstone of the Asian collection of the Boston Museum of Fine Arts.
The eroding shore continued to creep ever closer to the Bigelow house on Tuckernuck, and at the end of the 1930s it was partly demolished and partly moved to the other side of the island, where it was incorporated into the LaFarge family house. The rarest and best of Bigelow's books had been taken to the mainland, but the rest remain on Tuckernuck with the LaFarge family.
Bigelow's Tuckernuck journal is now part of the manuscript collection of the Nantucket Historical Association.

From: Professor Grzegorz RACKI < grzegorz.racki@us.edu.pl >

Because of my historical/geological research, I would be grateful for your help in the query referred directly to the XIX century Bigelow family from Boston. There are two quotes of totally forgotten scientific paper:
In the 1903 book "The moon; a summary of the existing knowledge of our satellite", William Henry Pickering wrote (page 22): "Dr. W. S. Bigelow, of Boston, carried on similar experiments [i.e., concerning origin of lunar craters; GR], in which he fired pistol bullets into hardening plaster of Paris".
In the review article from 1924 ("Discussion of the Origin of the Craters and Other Features of the Lunar Surface", page 3), Daniel Moreau Barringer mentioned "an old paper .... written about fifty years ago by Dr. W. S. Bigelow".
However, bibliographic data were not provided in the literature sources, and I can not find more detail on this first in North America experiments in planetary geology, performed ca. 1875. This activity probably refers to William Sturgis BIGELOW (1850-1926); http://bigelowsociety.com/rod8/wil82311.htm, who was a very learned physician/surgeon, graduated from Harvard in 1871 and attained doctoral degree in 1874. He was a lecturer in surgery at Harvard, but became later an authority on Japanese and Chinese art.
I would be extremely grateful for any information about the "lost" achievement of the Bigelow family, maybe still to identify by the Boston community.
Excuse me for all the troubles,
Yours faithfully, Greg Racki, Poland

---
Modified - 12/09/2013
(c) Copyright 2013 Bigelow Society, Inc. All rights reserved.


Rod Bigelow - Director

rodbigelow@netzero.net

---
Rod Bigelow (Roger Jon12 BIGELOW)
Box 13 Chazy Lake
Dannemora, N.Y. 12929

rodbigelow@netzero.net