Jacob 6 BIGELOW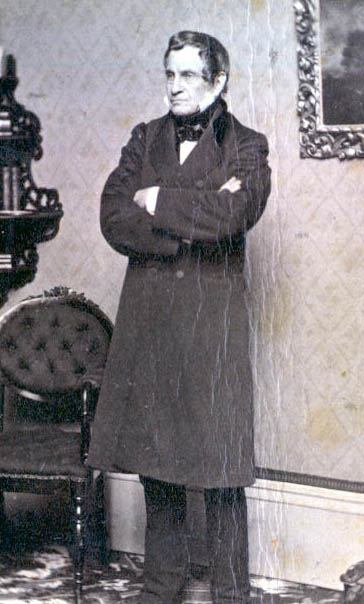 Jacob Bigelow (1786-1879) Physician, botanist.
---
# 15572.3 Jacob 6, son of Jacob 5,( Jacob 4, Thomas 3, Samuel 2, John 1) and Sarah (HEARTWELL) BIGELOW, was born 27 February 1786 (1787?) at Sudbury, Middlesex co, MA. He graduated from Harvard in 1806, then studied medicine at the University of Pennsylvania, Philadelphia, PA. For twenty years he was a physician at Mass. General Hospital, which today has a wing dedicated to him. From 1815 to 1855 Jacob was a professor of materia Medica at Harvard Medical School, and was president of the Mass. Medical Society for many years. Always interested in plant life, in 1812 he gave a series of lectures on botany at Harvard. He was the first American botanist to collect and systematize New England flora, and in 1814 published a book, Florula Bostoniensis. This text, dealing only with plants native to the Boston area, was a standard manuel of botany until the publication of Gray in 1848. Bigelow's interest in botany was activated by his need of herbals for medicinal use, and he next published, between 1817 and 1820, a 3-volume set, American Medical Botany. He also took part in preparing the first American Pharmacopoeia, and wrote its sequel, Treatise on the Materia Medica, 1822. (see below)
Jacob Bigelow's cheif contribution to medicine was his protest against ill-chosen drugs, and the over-use of drugs, particularly narcotics, and his objection to blood-letting as a cure. his (1835) Discourse on Self-Limiting Diseases proposed the theory that many diseases were better left untreated to run their course; Prof. Oliver Holmes judged this to be Jacob's chief contribution to medicine.
In 1832 there was an epidemic of cholera brought in from Asia. He went to New York as a member of a team to study the problem. Other accomplishments included holding the chair of applied sciences and teaching mechanics at Harvard, from which he invented the term "technology". In 1829 his lectures were published as Elements of Technology, and expanded in 1840 as The Useful Arts. From 1847 to 1863 he was president of the American Academy of Arts and Sciences.
He established Auburn Cemetery at Cambridge, MA in order to protect the health of the community (often imperiled by unsanitary burials), and insisted upon landscaping, and the erection of a memorial to the Civil War heroes.
He married in Boston, on 15 Apr 1817, Mary SCOLLAY. She born 14 Jan 1793, and died 27 July 1882. Blind from cataracts, and mentally impaired in his last few years, Jacob died 10 Jan 1879, and both are buried in Auburn Cemetery.
Children of Jacob and Mary (SCOLLAY) BIGELOW, all born Boston, Suffolk co, MA:
15572.31t Henry Jacob, b 11 Mar 1818; d 30 Oct 1890 Newton Creek, MA; m 8 May 1847 Susan STURGIS; res Boston and Newton Creek; an eminent surgeon. 1 son.
15572.32 William, died young.
15572.33 Mary, b 1821; d 1910; buried with parents in Auburn cemetery.
15572.34 Catherine, ___182?; d _____ ?; m _ June 1850 Francis PARKMAN. 3 children: Grace, Francis, and Katherine S. Parkman.
15572.35 James, died age 7.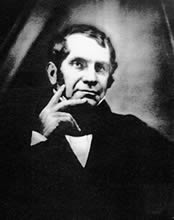 This photo was found in a book called American Portraits labeled:
Jacob Bigelow (1786-1879) Physician, botanist.

Sources:
Bigelow Society,The Bigelow Family Genealogy Vol I,pg 259-260.
Howe, Bigelow Family of America;
cemetery records Cambridge, MA;
Encyclopedia of American Biography;
also see page by Don Bigelow:
http://bigelowsociety.com/jacob6.html
Note:
Subject: BIGELOW, Jacob 1786-1879, Sudbury, MA
Date: Wed, 6 Oct 1999 21:33:13 EDT
From: Farns10th@aol.com
JACOB BIGELOW (1786-1879)
Biography:
Jacob Bigelow was born in Sudbury, Mass. on February 27, 1786; he has been variously described as the son of a Congragational minister and the son of a farmer. After obtaining his A.B. from Harvard in 1806, he went to the University of Pennsylvania, earning an M.D. in 1810. He practiced medicine by himself for a year without much financial success and then
began a practice in Boston with Dr. James Jackson in 1811. The following year he lectured on botany at Harvard with W.D. Peck; the interest shown in his lectures led him to compile his FLORULA BOSTONIENSIS, which was published in 1814. The following year he was appointed professor of materia medica at the Harvard Medical School, a post he retained until
1855. With Dr. Francis Boott he began work on a flora of New England, but this project was given up. From 1817-1820 he published AMERICAN MEDICAL BOTANY, for which he drew many of the plates and devised the means of reproducing them through a color aqua-tint process. A revised edition of the FLORULA BOSTONIENSIS, published in 1824, marks the end of Bigelow's period of greatest botanical activity.
As his work in developing a process for printing the plates of his AMERICAN MEDICAL BOTANY shows, Bigelow was also interested in mechanics. This interest led to his appointment as Rumford professor of the application of science to useful arts at Harvard from 1816-1827 and to the publication of his ELEMENTS OF TECHNOLOGY in 1829. In addition, Bigelow was active in the preparation of the first U.S. Pharmacopoeia, wrote on medical topics and on education, and played a major role in the establishment and design of Mt. Auburn Cemetery in Cambridge. Bigelow died in Boston on January 10, 1879.
References:
Bailey, L.H., Jr. "Some North American Botanists: V. Jacob Bigelow." BOTANICAL GAZETTE 8 (1883): 217-222.
Elliott, Clark A. BIOGRAPHICAL DICTIONARY OF AMERICAN SCIENCE: THE SEVENTEENTH THROUGH THE NINETEENTH CENTURIES. 1979.
http://www.herbaria.harvard.edu/Libraries/archives/BIGELOW.html
Note2:
Subject: Bible of Jacob Bigelow & Mary Scollay
Posted by: Nelson Harris
Looking for email for Nelson Harris
Message:
I have got an old family Bible, published in 1823, for Jacob Bigelow and Mary Scollay and
family. Anyone know of these people, interested in Bible. I am not connected to them.
Here is the information contained in the Bible:
Jacob BIGELOW - born Feb 27, 1787
Mary SCOLLAY - born Jan 14, 1793
married Apr 15, 1817
children:
Henry Jacob BIGELOW - born Mar 11, 1818
William Scollay BIGELOW - born Dec 17, 1819
Mary Anna BIGELOW - born Mar 10, 1821
Catherine Scollay BIGELOW - born Feb 20, 1827
James Jackson BIGELOW - born Feb 20, 1827
Henry J. Bigelow married Susan STURGIS on May 8, 1847; son William Sturgis
BIGELOW born on Apr 4, 1850
Catherine BIGELOW married Francis PARKMAN on May 13, 1850 ; children: Grace,
Francis, Catherine (birth dates in Bible)
Grace PARKMAN married Charles Pratt COFFIN on May 3, 1879 ; children: Francis,
Miriam (?), May (birthdate in Bible)

Catherine PARKMAN married John Templeman COOLIDGE on Sep 16, 1879;
children: Mary, Katherine, Louise (birthdates in Bible)

There are a number of death dates listed for the above persons, as follows:
William S. Bigelow - June 14, 1820
James J. Bigelow - Dec 26, 1835
Francis Parkman (son) - Jan 23, 1857
Mary Scollay Bigelow - July 27, 1882
Mrs. Catherine Scollay - Dec 30, 1848
Susan Sturgis - Sept 14, 185_ (34 years)
Jacob Bigelow, M.D. - Jan 10, 1879
Both Jacob Bigelow and his wife, Mary Scollay, are said to be buried at Mt. Auburn
Cemetery. There is no other location listed in Bible for any of these persons.

---

Subject: Jacob Bigelow
Date: Tue, 20 Mar 2001 15:21:35 EST
From: Dave Greenwood Djglowell@aol.com
Rod,
In the current edition of the Chemical & Engineering News (The Weekly magasine of the American Chemical Society) there is a series of articles on the U.S.Pharmacopia. In one of the Side Bars discusses the founders of the USP including Dr. Jacob Bigelow. If I remember correctly, he is included somewhere in the geneology of your website.
FYI, below I have pasted a copy of the article from the ACS website.
Dave Greenwood

IN THE BEGINNING
Bringing Order To Chaos

There were 23 states in the union when the first U.S. Pharmacopeia was published in December 1820. Physicians of that day could draw on hundreds of drugs to treat patients, though only a small number were actually useful.

In the early 1800s, the same drug often went by dissimilar names from one region to the next and was prepared in different ways by different doctors or pharmacists. A national pharmacopeia--a uniform system of preparing and compounding medicines--was envisioned as a way to bring order to the chaotic state of the existing materia medica. And three physicians, each with his own particular skills and interests, struggled mightily for three years to accomplish this feat.

PIONEERS (from top) Spalding, Mitchell, and Bigelow.
Lyman Spalding, interested in putting medicine on a more scientific footing, was among the first U.S. physicians to vaccinate patients and to keep careful public health records. He conceived the initial plan for the pharmacopeia and coordinated the effort. Polymath Samuel Latham Mitchell--widely recognized for his scientific writings; editorship of the first U.S. medical journal,Medical Repository; and successful political endeavors--contributed his organizing skills and influence in medical and political cliques. Jacob Bigelow, a professor of materia medica at Harvard Medical School, brought to the enterprise his interest in botany and plant drugs and his skills as an experienced editor familiar with the publishing process.

Though all three men were interested in chemistry, botany, and medicine, Mitchell--an ardent nationalist--also viewed the pharmacopeia as testimony to the U.S.'s national character and its intellectual independence from Europe.

Several state medical societies had already published pharmacopeias. A uniform national compendium required a harmonization of these various volumes into one acceptable to all.

To do this, Spalding, in 1817, suggested this scheme: The U.S. should be divided into four divisions, and each division should compile its own pharmacopeia, even if this merely meant adopting an existing one. Delegates from each division would then bring their documents to a national convention in Washington, D.C., in 1820. There, the documents would be melded into one national pharmacopeia that would acquire authority once it was adopted by the various medical societies. Spalding also suggested that the resulting pharmacopeia be revised every 10 years.

Spalding's scheme, acceptable to the existing medical societies, turned out to be an elitist effort. Fewer than 30 physicians participated in the two division conventions that actually convened. Only 16 delegates were selected by the divisions to represent them at the national convention. Eleven of the 16 actually made it to Washington, where they met in the ornate Old Senate Chamber of the U.S. Capitol building.

The 11 could not agree on a final document at the national convention. Instead, they haggled over the selection of drugs and preparations for the pharmacopeia and assembled a Committee of Publication to actually consolidate the various drafts into a national document after the convention adjourned. The first national convention also adopted a mechanism for revisions every 10 years, which occurred until 1970, when it was changed to every five years. (After 2002, it will be published annually.)

Spalding eventually compiled a rough draft of the national compendium, which Bigelow polished and shepherded through publication. The first "Pharmacopoeia of the U.S. of America" was published by the Boston publishing house of Charles Ewer and released on Dec. 15, 1820. It contained 263 pages plus indexes and was divided into five sections. (The current volume, published in 2000, contains more than 2,500 pages.)

A historical introduction and preface comprised the first section. Then came the materia medica, a primary list of 221 drugs considered to be efficacious and to be sold in shops of fully equipped apothecaries. A secondary list of 71 drugs from native American species but of dubious efficacy followed. Then came a section of weights and measures, followed by one containing 329 simple and direct preparations and compositions.

The first U.S. Pharmacopeia contained no chemical formulas, no chemical analyses, and no potency or purity standards. Instead, it attempted to foster "perfect understanding" between physician and pharmacist. By selecting the best drugs and their preparations and by giving them clear, concise names, the pharmacopeia aimed for uniformity in prescribing, manufacturing, compounding, and dispensing of the therapeutics of the day.
It was not well received. But it was the first step along the path to improving the public's health.

---
Modified - 10/15/2008
(c) Copyright 2008 Bigelow Society, Inc. All rights reserved.


Rod Bigelow - Director

rodbigelow@netzero.net

---
Rod Bigelow (Roger Jon12 BIGELOW)
Box 13 Chazy Lake
Dannemora, N.Y. 12929

rodbigelow@netzero.net