William Henry 8 BIGELOW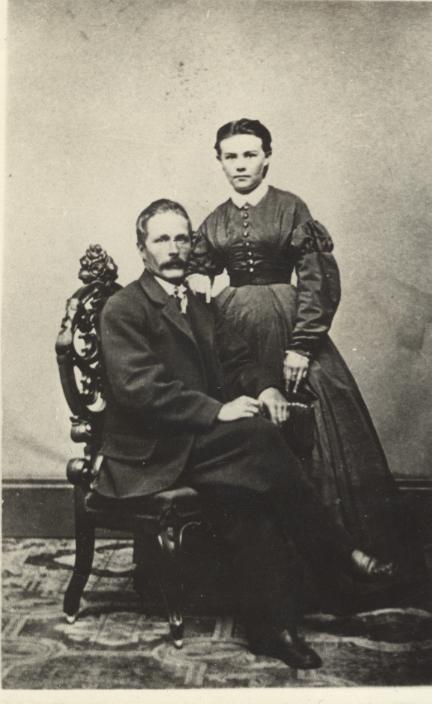 William Henry Bigelow, and wife Alice (Betts)after the Civil War. "Clyde"
---
159B1.172 William Henry 8 BIGELOW, son of Ferrand 7 ( Elisha 6 , Elisha 5 , Elisha 4, Isaac 3, Samuel 2, John1) and Caroline (HIBBARD) BIGELOW, was born at Eagle, Waukesha, WI on 13 June 1840 and married Alice M. Betts on 11 July 1868 at Eagle. She was born 01 April 1849. She was the daughter of Lucina Ewer Betts (b 26 Feb 1827) and Jonathan Betts. (see below). William and Alice moved from WI into IA. She died at Whiting, IA on 0l March 1927 and he probably died at the same place - on 16 September 1911 (this is in error). William died 08 September 1911 from best source. There used to be a dispute on info.
(see obit on page 2) (see page 3 for more photos)

Children of William and Alice (Betts) Bigelow:

159B1.1721 Luella Elizabeth "Lizzie", b 20 Feb 1869 Eagle; d 12 Dec 1953 (0l July 1953?); m 11 Oct 1889 Ernest H. Wilkins (Villius?)(see page 3).

159B1.1722t Franklin Thaddeus, b 15 July 1871 Eagle; d 18 July 1931 Whiting, IA; m 25 Dec 1878 Amy Hamilton; res. WI and IA; 9 children.

159B1.1723 Alice Ulissa, b 19 May 1876 Whiting, IA; d 31 March 1963 Yakima, WA; m 08 July 1898 Charles Clark Atwood. (see below)

159B1.1724 Edna Neverna, b 11 May 1879 Whiting; d 28 Oct 1957 (18 Nov 1966?); m 12 July 1899 Clyde Wesley Robbins.

159B1.1725 Sadie Mabel, b 13 March 1882; d 16 June 1958; m 25 March 1902 Clyde Polly.

159B1.1726 Zella June, b 16 June 1885 (86?) Whiting; d 14 Jan 1958 (06 July1959?); m 26 Feb 1908 Alan Williams.

159B1.1727 Eva Lucina, b 06 Sept 1888 Whiting; d 14 June 1958; m 08 April 1911 Hermon Hurley (not Harley)(see below)(see page 3).

Sources:
Bigelow Society,The Bigelow Family Genealogy, Vol II, pg 435;
Bigelow Society records from correspondence with family researcher and descendant;
Bigelow Society historian/genealogist records.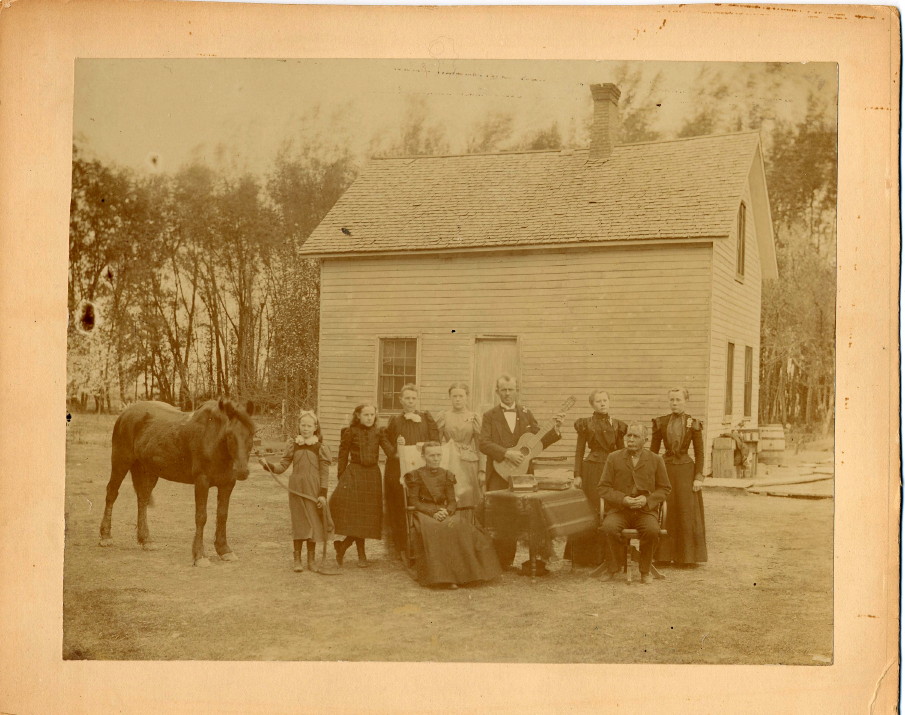 The William Bigelow family on the farm at Maple Landing, IA
My name is Karl Atwood and my grandmother's maiden name is Alice Ulissa Bigelow, daughter of William Henry Bigelow. And her mother's name is Alice (Betts) Bigelow. I have attached three pictures: 1. The Bigelow family on the old farm at Maple Landing, Iowa, 2. Alice as a young woman and 3. Alice with her mother, Alice (Betts) Bigelow. We have other pictures including some like that of "William and Alice..." and "grandma Alice..." shown on your website.
There are a couple of corrections that you can make to your website regarding my grandmother. She was born 19 May 1876 in Iowa and died at the age of 86 at St. Elizabeth's hospital in Yakima, Washington on 31 March 1963 (she did
not
die 28 Oct 1957). She married Charles Clarke Atwood in Monona County, Iowa on 8 July 1898. (She was
not
married to Charles Hamilton.)
Charles Clark Atwood (see below)
was born on 16 October 1869 and he was the pastor of the Christian Church in Chester, Nebraska. He died on 8 October 1918. They had one son, Henry Smith Atwood, who is my father. My father was a medical doctor in Yakima, Washington. My grandmother, Alice, had a second husband, Edward Marian Harrison, and they were married in Whiting, Iowa on 15 August 1923 or 1924 (year was not on marriage certificate). He was a farmer until he died on 13 January 1938. After that, Alice moved to Yakima to be near her son and grandchildren. In addition to the sisters and brother mentioned, my grandmother also had a little baby brother, Calvin Lee Bigelow who was born 18 September 1873 and died 26 April 1874. (Based on an entry in her birthday book.) There are other discrepencies which could be explored between what is listed for birthdays and deaths on the website and what is in my grandmother's birthday book. Her book shows that William Henry Bigelow died on 8 September 1911.
I remember some of the stories she told which some of you may have also heard.
Her mother Alice (Betts) Bigelow was a seamstress and sewed the epaulets on General Grant's uniform when President Lincoln appointed him a General. She also sewed stars on one of the important flags of The United States. I believe that it was one of the grandma's that played on the liberty bell when she was attending an elementary school. (see below for correction)
Maybe you remember a story about that. Anyway that is what I remember being told. My grandmother told stories about riding a horse to school and about three Indians that used to walk into their home unannounced in the Midwest and smoke a clay pipe that was left on the fireplace mantel by her parents for them to use. I think the Indians frightened her a bit. I remember that when she was living in Yakima, she wrote often to some of her sisters and cousins but we don't have any of those letters. She was very proud of her red hair which she bragged about still being red well into her eighties as well as having all her own teeth.
My wife has been working on our family genealogy and was excited to find your website. We may be interested in receiving the Bigelow news letter. Karl
More:
I had previously given you some incorrect information. We were reviewing some of the notes about the Atwood family and have now identified that it probably was my great-great grandmother,
Susana Elizabeth Clark Atwood, who was the seamstress that sewed-on General Grants epaulets, sewed stars on an early flag and played around the liberty bell at a young age in Philidelphia.
All my life I had been of the impression that these stories told to me by my grandma Alice were about a Bett's in her family! Anyway to keep things accurate, the following sentences should be deleted from my write-up on the website for William Henry Bigelow (8):
Thank you, Karl
More2:
Subject:
Hurley, Betts, Ewer, etc.
Date: Wed, 07 Nov 2007 14:02:30 -0800
From:
"KARL ATWOOD" < keaone@verizon.net >
Clyde,
I think there may be some confusion about Alice's parents. Mother of Alice M. Betts (1849) is Lucina Ewer Betts (born 2/26/1827). Lucina's husband is Jonathan Betts. My grandmother's birthday book entry looked confusing and has him born 7/18/1827 which we think is definitely not correct. An 1850 Census has him 35 years old. Another source,
http://archiver.rootsweb.com/th/read/WIWAUKES/2003-01/1042202781
, states that "Jonathan Betts ... born in Elsen, Norfolk, England, September 1813". I am not sure where this website got their information. The Oak Grove Cemetery website (given below) has Jonathan born on September 10, 1813 and died July 8, 1891. If you don't have firm dates for him, those are the dates I would use. Anyway the parents of Lucina Ewer are Eber Ewer(1808) and Abigail (1818).
The dates given in the Bigelow website for Abigail are not correct. The Oak Grove Cemetery website,
http://freepages.genealogy.rootsweb.com/~backyard/Cemetery_402.htm
,has the following dates for Eber & Abigail: Eber Ewer born on July 17, 1808 and died on Mar 17, 1848; Abigail Ewer born on June 9, 1818 and died on May 11, 1845. I hope that clears up the questions that you had about these dates.
We don't know Abigail's maiden name, but her daughter, Lucina, was born in New York. Maybe with some research you might be able to find out Abigail's maiden name by checking a New York census after 1827.
I sure do like those old names - Eber, Abigail and Lucina. Good luck on your project.
Karl
PS - Rod, you may want to correct the Bigelow website dates for Abigail Ewer that I had previously given.
From:
Clyde Rice
To: Karl Attwood ; Karl Atwood
Sent: Friday, November 02, 2007 8:13 PM
Subject:
Hurley, Betts, Ewer, etc.
Hi Karl!
Saw your post, (more than a year ago now), on the Bigelow site. Have a question, you say that Abigail Ewer died 3/16/1848, yet, Alice Betts, her daughter, was born in 1849.
It shows Eber Ewer and wife Abigail dying just one day apart, him 3/17/1848. I hope there is a mistake there, somewhere with Abigail.
I want to put a stone on my parents grave, giving all their linage, as far as I know it. That is 9 generations for dad, but only 3 for mom. That is direct paternal and maternal linage, for each, just like the DNA lines. Thought a stone more permanent that either a book or DVD. At least give some one some hints of what to look for!
By the way, the Eve Lucina Hurley, named after her mom, that your grandmother marked as "gone" is now the only one left of that generation! Both aunt Jane and uncle Jim, (James), died just over a year ago now.
Seems kind of funny, doesn't it? Well not really, I guess, poor aunt Eva has that apparently inherited mental problem and by far the worst of any of the girls. They have to keep her pretty well doped up these days, or she is a living terror, as I understand it.
Hope you are all well at your house!
Clyde Rice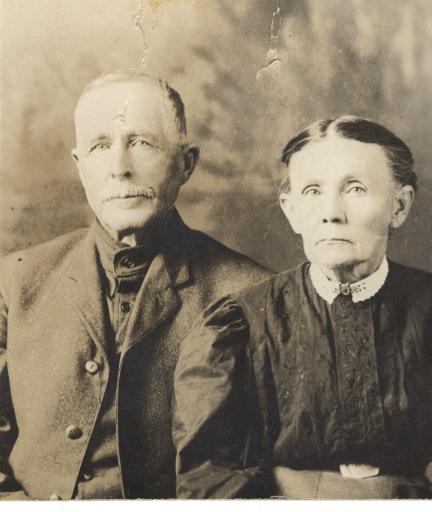 This is William and Alice, (Betts), later years. Alice outlived him by a number of years.


GG grandma Alice, after William Henry Bigelow was gone. "Clyde"

New Notes:
Subject: William Henry and Alice Betts
Date: 02/15/05
From: Clyde Rice < clideryce@starband.net >
Hi Rod!
My grandmother was Eva Bigelow, b. 1888, Whiting, IA. She married Hermon Hurley. She was the youngest daughter of William Henry Bigelow
and Alice Betts. Picture taken June 9, 1958, just a little over a year before she died. Clyde provided pictures on this page.
Clyde Rice (see below).
Descendant note: see also David Bigelow 10 Parkinson
Have you anything on Charles Hawkes Bigelow, who married circa 1845 to a Miss Briggs? Marriage was in Northhampton or Springfield MA. (I also have an extensive line in Briggs)
Just got some information on my Temple line, and several Bigelows tie in there also. Same for my Hoag & Haseltine lines.
I keep collecting folks. I take all branches of families, as one never knows when one will find a vital connection.
Will have to wait a bit for Ferrand's line. I didn't connect with cousin Lucille, so I do not have her branch yet. She is descended from Ferrand's youngest, Sarah.
I have Civil War service cert. for Elverton, William and Franklin B. ;all sons of Ferrand. Elverton and William both served most of the war. Franklin enlisted and was killed in the mine explosion at Petersburg, VA. Also have cert. for Francis A. Bigelow.
I also have letters Elverton wrote, one in 1865 when the armies were gathering around Washington DC to be mustered out. As soon as I can gather info., it would probably make an interesting article for the Forge.
I also have info. on Elverton's granddaughter Ethelyn Minerva Parkinson, dau. of Ethel Bigelow and James Nelson Parkinson. She is still living at 92. She made her career as a children's books author. This might also be of interest to the Forge. Her "double cousin" was David Bigelow Parkinson, son of Truman David Parkinson & Minnie Bigelow. There has already been an article about him in the Forge. Kathy Parkinson E-mail wraith@lakefield.net

---

Subject: Re: William Henry Bigelow link
Date: Wed, 2 Jan 2002 23:41:56 -0800 (PST)
From: Steve Wise < aljswise@yahoo.com >
Thank you so much for your prompt response. I have not showed my wife but she and her family will be thrilled. Her grandmother was Sadie M. Bigelow Polly. We would have all the information about the Sadie and her descendants if you desire to add to the website. The reason for my search was a claim by Sadie that her grandmother told her that she was a direct descendant of Pocahantas--a claim made by tens of thousands I know--and a matter that I kid my wife unmercifully about. It appears that that link is not from the Bigelow side of the family. I will be looking on the Alice Betts or Caroline HIBBARD side of the family next!
The referring page lists Bigelow, William Henry, #159B1.172,(1840-1911) m 1868 Alice Betts. This is my wife's great-grandfather and any information you would have about him and his ancestors would be appreciated.
Thanks again. Steve Wise
Noteva:
Subject: Bigelow Family
Date: 12/24/04
From: Clyde Rice < clideryce@starband.net >
Hello, there guys!
My name is Clyde Rice and I am a Bigelow descendant, through William Henry Bigelow's daughter, Eva, b. Sept. 6, 1888, m. Herman Hurley, (not
Harley!).
And I do believe you have her death date wrong, it was summer time, not Jan. I was in summer camp, IA. Air Nat. Guard, in Golfport, Miss. when
she died. It upset me that the family didn't notify me, I would have been back for the funeral! Either 1958 or 59, I will have to look it up. She
was my mother, Fern Mildred Hurley's mother.
And Steve, if you are looking into Alice Betts, please contact me! I just ordered a mtDNA test through Family Tree DNA. This is the DNA line,
traceable through the female line, daughter, to mother, to grandmother, to g grandmother and on and on! I need Alice Betts', mother's maiden name,
her mother's maiden name and so on! As far as possible, this gives some deep ancestry knowledge on this female line!
I believe Alice Betts' mother's maiden name might have been Elwer.
(In the past year, I did this same thing for the male, Rice surname side of my ancestry. We had been brick walled at the birth of my gg
grandfather, Ira James Rice, 1808, Greene Co. NY. for 40 years. This accomplished a great breakthrough, and I have now pushed it back 200 more
years, and at least 6 generations! It seems that the name wasn't always Rice, but Royce in CT. in the 1630's, and became Rice when my ggg
grandfather moved to NY! The same thing happened to a lot of Royce lines, I find out after the fact! The male is called the Y-DNA test as opposed
to the female mtDNA.) So, it does work! Up and coming technology!
Hey, if this should get through to only one of you, I hope the other can put me in touch!
Best wishes for the Holidays!
Clyde Rice

---
New 01/01/2006: From Karl Atwood

The following dates are listed in my grandmother's (Alice Ulissa Bigelow) birthday book for the William Henry Bigelow family:
William Henry Bigelow born 13 June 1840, died 08 September 1911
Alice M. Betts Bigelow born 1 April 1849
Sons & daughters:
Luella Elizabeth Bigelow born 20 February 1869, died 12 December 1953;
Entry for 17 November shows Earnest H. Wilkins - 1861, died 24 May 1936, brother-in-law; There are four other entries for Wilkins including one labeled nephew.
Frank Thadeus Bigelow born 11 July 1871, died 19 July 1931
Calvin Lee Bigelow born 18 September 1873, died 26 April 1874 (My baby brother)
Alice Ulissa Bigelow born 19 May 1876, died 31 march 1963;
Entry for 16 October shows Charles Clark Atwood - 1869, died 8 October 1918 (he was her first husband and my grandfather), and entry for 3 August shows Edward M. Harrison - 1865, died 13 January 1938, (second husband)
Edna Neverna Bigelow born 11 May 1879, died 28 October 1957; (next line shows Edna Neverna Robbins); Entry for 11 January shows Clyde Wesley Robbins - 1906; There are four other entries for Robbins including one labeled cousin.
Sadie Mabel Bigelow born 13 March 1882; Entry for 1 December shows Charles Clyde Polly - 1878 and labeled brother-in-law; There are eight other entries for Polly.
Zella June Bigelow born 16 June 1885, died 14 January 1958; Entry on 3 October shows Alvin Williams - 1879, Bro in law, Zella. Died 5 June 1961; There are five other entries for Williams which includes one labeled niece.
Eva Lucina Bigelow born 9 June 1888; There is an entry on 6 July for Eva Lucina Hurley 1928 and under the name is written "gone". There are eight other entries for Hurley, one of which is labeled nephew.
In addition to the above, the following Bigelow's are also shown in her birthday book:
Amy M. Bigilow (I am wondering if she could be Frank's wife?), Mary Jane Betts Bigelow (aunt), Cyril F. Bigelow (nephew), Bruce Owen(? it is hard to decifer middle name) Bigelow (Frank's son), Ruth Lenna Bigelow, Ralph William Bigelow, Harold Glen Bigelow. There are dates shown for these names also.
You may want to check the differences between the names and dates between my grandmother's birthday book with the source of those given on the website. I thought some of the first and middle names are quite interesting. You might want to include the middle names in the Bigelow website.
More from Karl:
My grandmother's birthday book did not list Eva Lucina Bigelow's husband. However she did have the following Hurley's in her book:
Eva Lucina Bigeow born 6/9/1888 (This date does not agree with Rob's website.)
Eva Lucina Hurley 7/6/1928, "Gone"
Lois jean Hurley born 11/30/1924, died 10/26/1938
Marjory Jaunita Hurley born 10/6/1918
Lorraine Jane Hurley born 12/20/1930
Hester Ann Hurley born 10/9/1922
Park Hurley born 3/28/1912 which she listed as her nephew
Mildred Fern Hurley born 1/1/1915
Bonnie Marie Hurley born 1/3/1913
James William Hurley born 3/24/1926
You can probably tell me something about most of these Hurley's.
The parents of Lucina Ewer Betts were Eber Ewer, 7/17/1808 to 3/17/1848 and Abigail, 9/9/1818 to 3/16/1848. My wife, Bernice, couldn't remember the source of this information.
Note 01/10/07:
From:
Alton White < aswhite3rd@hotmail.com >
My name is Alton S White. On your web site you have a note from Karl Atwood. I found it while googling "Henry Smith Atwood." In his note Karl states that Henry Smith Atwood was his father and that his Grandfather was Charles Clark Atwood. It would appear that Karl and I are cousins of sorts through Henry Smith Atwood (father of Charles Clark Atwood).
Henry Smith Atwood (Sr.) was married twice. First marriage was to Sarah Elizabeth Olney in 1850 in Boone Co. Ill. They had two sons Olney Henry and Jesse Sanford Reginald. I am a descendant through Jesse's daughter Maude Atwood. Sarah Olney was a descendant of Thomas Olney one of the founders of Rhode Island.
His second marraige was to Susanna Elizabeth(?) in the early 1860s probably in Missouri. The 1900 census says they had seven children but only four were still alive by 1900. The surviving children appear to be Joseph H., Charles (Karl's Grandfather), Clark Everett, and May. In 1850 Henry's occupation was listed as a Joiner (carpenter) while the 1870 census lists his occupation as Physician.
I went through all the above to illustrate that Karl Atwood and I more than likely share a common ancestor in Henry Smith Atwood, b Feb 1828, Ontario, Canada.
I have tried to locate Karl but have been unable to. If you would be so kind as to forward this to him or give me a way to contact him I would appreciate it.
Thank You,
Alton S. White III
Seattle, WA.
---

Modified - 08/21/2009
(c) Copyright 2009 Bigelow Society, Inc. All rights reserved.
Rod Bigelow - Director
rodbigelow@netzero.net
---
Rod Bigelow (Roger Jon12 BIGELOW)
Box 13 Chazy Lake
Dannemora, NY 12929

rodbigelow@netzero.net