Louis Barnes 8 BIGELOW
---
15146.333 Louis Barnes 8 BIGELOW, son of Daniel Folger 7 (Nathan 6 , Nathan 5, John 4, John 3, Samuel 2, John 1), and Charlotte (BARNES) BIGELOW, was born 16 May 1884 in Chicago, IL. He married on 16 May 1908 Frances Catherine Baker. She was born 07 December 1885 and died 18 December 1937. Louis Barnes Bigelow married second 21 November 1942 Katharine Underhill at Tunica, Mississippi. Katharine died 19 November 1974 from injuries in an automobile accident on 06 November 1974. She never regained consciousness. (DFB Bible) Louis died 16 January 1974 (DFB Bible) (others give death, etc as July 1945 (61 years old); residence Memphis,TN); 4 children. There was card in Daniel Folgers Bible that gave a baptismal date of 06 Jan 1885. (see below)

Children of Louis Barnes and Frances (Baker) BIGELOW:

15146.3331t Folger Hart, b 11 Dec 1908 ; d 29 Nov 2005 Lynchburg, VA; m 17 Aug 1940 Ruth Smith of Memphis, TN; living 2003 Lynchburg, VA; dau known: Judith Ann (Bigelow) Leslie; (see below)

15146.3332t Catherine Louise, b 29 Oct 1910 ; d ___ 1993; m 17 Oct 1936 David P. Tunstall; 3 children: David Robert, Daniel, and Richard Louis Tunstall; (see below)

15146.3333 Caroline F., b 16 Mar 1913 Chicago, IL; d 05 July 2003 Plattsburgh, Clinton co, NY; m 1963 George Gregorovius (1900-1968) in Jersey City, NJ; lived on Oak St. in Plattsburgh for many years; (see below)(see below)(and obituary)

15146.3334t Adele Frances, b 06 Nov 1914 ; d _____; m 16 Aug 1940 Harry G. Gragg; living 2003, Juno Beach, FL; 2 children known: Gerald Vincent and Frances Louise Gragg;

Sources:
Howe, Bigelow Family of America pages 477 - 478 child;
Bigelow Family Genealogy Vol II page 34 child;
New Note 2006:
From: Richard Tunstall rltunst@charter.net
Rod, unfortunately, my uncle, Folger Bigelow passed away in Lynchburg, VA - his father was Louis Bigelow and his grandfather was D F Bigelow. His daughter, Judy Bigelow Leslie and her two children Rick and Teri arranged the memorial service December 3, 2005. Judy's husband, Sam Leslie participated in the memorial service, as well as my two brothers (David and Dan), Dan's wife Jo, our cousin (Fran Gragg) and Folger's sister, Adele Gragg were able to attend the service. Folger was very intelligent, had a tremendous sense of humor, loved sports, was an avid tennis player and was a great ballroom dancer with his wife Ruth. We admired him greatly and he will certainly be missed.
Also, In our local paper this morning, they had an article about Cindy Bigelow, the new president and granddaughter of the Bigelow Tea Co originator, R C Bigelow. Is she any relation to us? see /rod8/wal86681.htm .....................ROD

Note:
Subject: Caroline Bigelow Gregorovius
Date: Wed, 11 Oct 2000 14:17:23 -0400
From: "Pat Zima" < patz@inna.net >

Quite by accident I stumbled upon your web page as I was researching my Grandfathers uncle, Ferdinand Gregorovius. I thank you for the information on D. F. Bigelow and Folger Bigelow. Aunt Caroline had given one oil painting to me and I inherited three others when my aunt, Dorothy Gregorovius died. I guess I should have begun by saying that George Gregorovius was my mother's brother.
We have lost touch and assume that Caroline has passed away. Is she buried with George in Plattsburgh?
Pat Zima or patz@inna.net
Caroline died 05 July 2003 in Plattsburgh CVPH; burial in Schuyler Falls ...............................ROD

---
Note2:
Subject: Geneology
Date: Sat, 16 Mar 2002 16:34:25 -0500
From: "Richard Tunstall" < rltunst@charter.net >
I did a google search on my great grandfather, DF Bigelow, and eventually came across your name. My Mother's father
was Louis Barnes Bigelow, who was DF Bigelow's son. My mother told the story many times of the tragic death of Folger
Allen Bigelow. I have paintings by both Daniel Folger and Folger Allen Bigelow.
I would like to hear from you.
New Note:
Subject: Another Tunstall
From: Jo Tunstall < jotunstall@earthlink.net >
Date: 07/19/04
I reached your site and the Bigelow Society site and was much impressed. I'm going to be spending days and days tracking down family members. Thanks.
I can send you some information on Folger A. Bigelow as soon as I dig into my files and have a chance to xerox what I have. He was the son of Daniel Folger Bigelow, the artist, and was, I think, an even better artist than his father. Unfortunately, he died in a gun accident when he was 24 and that was that. We have several of his paintings, including a charming one of what we think was his house and dog, done when he was only 14.
Cheers,
Jo Tunstall

---

Note4:
Subject: L H Barnes
Date: Tue, 28 Jan 2003 17:23:45 EST
From: T Eger Tibbz58@aol.com

I am trying to find out information on an artist by the name of L.H. Barnes. I came across this website for Louis
Barnes Bigelow and am wondering if this may be the same person. L H Barnes painted a portrait of my
grandmother in Savannah GA in 1944-45. He also painted portraits of Hollywood stars and the pope. He died a
pauper in Savannah, Ga, July 1945 he was 61 years old when he died. He was from Chicago and had been a
professor there. My father is trying to find information on L H Barnes. The obit he has of him said that no
family could be found when he died. My grandfather an officer in the Salvation Army in Savannah had been
taking care of him before he died.
Is this the Louis Barnes in your family tree? \ T Eger

---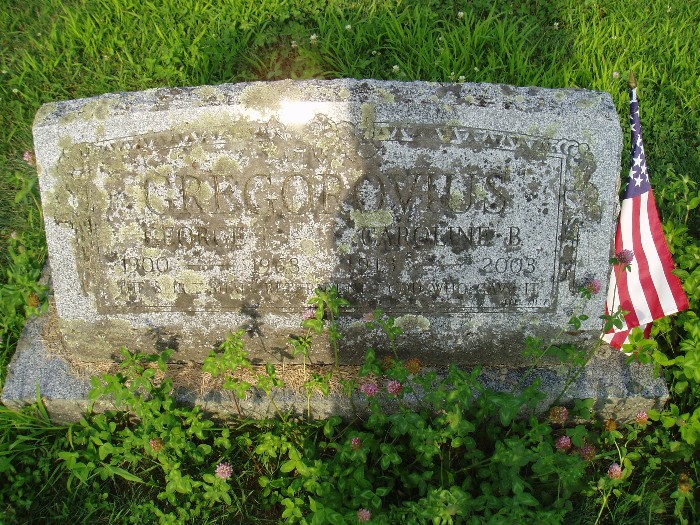 cemetery stone in Schuyler Falls- Oct 2005


Obituary 09 July 2003 Plattsburgh Press Republican; Plattsburgh, Clinton co, NY
Caroline F. Gregorovius
PLATTSBURGH Caroline F. Gregorovius, formerly of Oak Street, died July 5, 2003, at the
Champlain Valley Physicians Hospital
Skilled Nursing Facility (CVPH SNF).
She was born in Chicago, Ill., on March 16, 1913, the daughter of Louis and Frances (Baker) Bigelow.
Mrs. Gregorovius graduated from Memphis State University in 1935 and taught school for several years. She then received her Licensed Practical Nurse certificate from Putnam Memorial Hospital in Bennington, Vt., in 1956.
She married George Gregorovius in 1963 in Jersey City, N.J. George died in 1968, and Caroline later returned to Plattsburgh.
Caroline's paternal grand­parents were from Clinton County, N.Y., and Caroline always felt a great attachment to the area. Though Plattsburgh was far from her immediate family, she had many friends there, and she felt very much at home.
Caroline especially enjoyed working in hospital nurseries and after retirement she was employed as a nanny with several families in Plattsburgh. Caroline was a member of the First Presbyterian Church where she served as a deacon. She was also a member of the Presbyterian Women's Association; she was a regent of the Saranac Chapter DAR, where she was very active with the children's group; and she was past president of the Arthritis Foundation.
Survivors include one brother, Folger Bigelow of Lynchburg, Va.; and one sister, Adele Gragg of Juno Beach, Fla.
Her sister, Catherine Tunstall, died in 1993. Caroline is also survived by six nieces and nephews and many friends, including, her very dear and loyal friend, Judy Bunnell, who did so much for Caroline in her final years.
Caroline's family also wishes to express heartfelt thanks to the dedicated and loving staff at the CVPH SNF, where Caroline spent her last few years. Their highly professional and tender care was much appreciated.
Calling hours will be held on Sunday, July 13, 2003, from 4 to 6 p.m. at the R.W. Walker Funeral Home in Plattsburgh.
A funeral service will be held on Monday, July 14, 2003, at 9:30 a.m. in the First Presbyterian Church.
Burial will follow in the Schuyler Falls Cemetery in Schuyler Falls.
Memorial donations my be made to the First Presbyterian Church Building Fund, 34 Brinkerhoff Street, Plattsburgh, NY 12901,
the CVPH Skilled Nursing Facility or the Arthritis Foundation.

Caroline wrote an article on Daniel Folger Bigelow, the artist. It appeared in Adirondack Life and later in Forge......ROD
see /rod/folger5.htm ............

---
Modified - 01/11/2006
(c) Copyright 2006 Bigelow Society, Inc. All rights reserved.
Rod Bigelow - Director
< rodbigelow@netzero.net >
---
Rod Bigelow (Roger Jon12 BIGELOW)
Box 13 Chazy Lake
Dannemora, N.Y. 12929

< rodbigelow@netzero.net >

BACK TO THE BIGELOW SOCIETY PAGE

BACK TO BIGELOW HOME PAGE