Rev. Albert 8 BIGELOW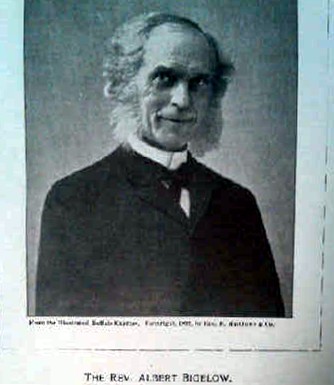 ---
16314.471 Rev. Albert 8 BIGELOW, son of Samuel Allen 7 ( Ira 6 , Ezra 5 , David 4, Lt. John 3, Joshua 2, John 1) and Maria (ALMY) BIGELOW, was born at Stafford,, NY on 11 October 1827. He married on 18 April 1853 Maria Storrs. She was the daughter of Lucius and Susan Young (Caryl) Storrs and born in Buffalo, Erie co, NY 23 December 1828. She died 07 December 1902 at Williamsburg,, NY (one source says Willimantic, CT). Albert was a Congregational Minister; Yale Class of 1852. He died 07 June 1892 Harrisburg, PA. (see obit below)


Children of Albert and Maria (Storrs) Bigelow:

16314.4711t Allen Gilman, b 14 Mar 1854 Stafford, NY; d 08 Aug 1897; m 30 Oct 1879 Genevieve Dayton Boyce; 2 children.

16314.4712 Walter Storrs, b 26 Sept 1857 Williamsburg,, NY; d 21 Feb 1899; m 15 Apr 1884 Harriet Fuller Frost, b 03 Oct 1859, dau of Ethan C. and Fanny M. (Warner) Frost; residents of Buffalo, NY, where he was engaged in the publishing business in the firm of Bigelow Brothers; no children;

16314.4713t Lucius Seymour, b 06 Sept 1859 (1861?) Homer,, NY; d _ Sept 1927 Buffalo,, NY; m 06 June 1888 Sarah Esther Harris; 5 children; (see below)

Sources:
Bigelow Society,The Bigelow Family Genealogy, Vol II, pg 500;
Howe, Bigelow Family of America; pg 452-453;
Bigelow Society records.
Note:
Subject: Rachel Allen wife of Ira Bigelow
Date: Sat, 10 Feb 2001 17:01:11 -0500
From: Susan Henderson < lohenderson@mindspring.com >

I am enjoying your web site. In fact, copying some of the details for a family member as I type. My family is descended from
Samuel Allen Bigelow. In fact Allen hasbeen the middle name of male family members for generations. Wanted you to know that family lore has it that Rachel Allen, Samuels mother, was the daughter of the great hero Ethan Allen. Have not confirmed it myself. Thought maybe you had run accross this in your research.
More:
My mother's maiden name is Bigelow.
Her line is
Samuel Allen Bigelow m. Maria Almy
Reverend Albert Bigelow(1827-1892) m. Maria Storrs (1828-1908)
Lucius Seymour Bigelow (1859-??) m Sarah Esther Harris (18??-1944)(family
founded Harrisburg,Pa)(Lucius Seymour had a brother, Allen Gilman Bigelow)
Allen Caryl Bigelow (1894-1985) m Charlotte Cook (1895-1973)(my grandparents)
My name is Susan Henderson


Rev. Albert Bigelow, was one of the group of ministers, who opposed Grover Cleveland during his campaign for President. This was the result of a scandal surrounding Cleveland concerning a child he fathered with Mariah Haltin. Much of this story is available in Google Books.


Buffalo Express Obit


THE REV. ALBERT BIGELOW


A Presbyterian Pastor who was also a Poet, Painter, Musician, and Historian. The Rev. Albert Bigelow, who died at Harrisburg, Pa., on Monday, June 27th, and whose familiar face is portrayed here, had the lovely character, poetic and artistic which was transmitted to his eldest son, the late Allen Gilman Bigelow. Both father and son had far more than the usual number of friends in Buffalo. The nature of the Rev. Mr. Bigelow's temperament is shown by the fact that he was not only a preacher but also a poet, painter, musician and historian. His musical ability was such that Dr. Lowell Mason, who was, perhaps, the best known American authority on music half a century ago, urged him in vain to go to Europe and make music his life work. At 18 he was chosen leader ot the large choir in the First Presbyterian Church of this city and director of the orchestra which took the place of the organ and was composed of Thomas Sears, Charles Butler, Lucius Storrs and William W. Young. Mr. Bigelow's gift for verse and his fine tenor voice made him famous at Yale, where he graduated in 1852.
During his senior year he was director of the Beethoven Society, of which all the best, singers of the college were members. He was also one of the editors of the Yale Literary Magazine—" Yale Lit.", as it was familiarly and fondly called—associated with Daniel C. Gilman, now president of Johns Hopkins University; Homer B. Sprague, now president of a North Dakota college; the Hon. W. W. Crapo of New Bedford, Ct., and C. C. Bliss of Bennington, VT.
It was Mr. A. M. Farnham who recognised his artistic ability and urged him to try his hand at painting in oil colors, with a result which surprised Mr. Bigelow whose estimate of his own ability was characteristically modest. Four of the portraits subsequently painted by him are now owned by the Buffalo Historical Society and hang in its gallery; they are the portraits of Judge Samuel Wilkeson and Judge Joseph C. Masten, Samuel A. Bigelow and Lucius Storrs. His most signal success in painting was a portrait of James Fenimore Cooper, the novelist. From a daguerreotype ot him, and two or three paintings of him by well-known artists, and from what he said he imagined M Cooper "ought to look like." through acquaintance with his works, Mr. Bigelow painted what was accepted by the family as the best likeness of the novelist.
When the printing house of The Messrs. Bigelow Brothers, at that time composed of Albert Bigelow's three sons, Allen Gilman, Walter Storrs and Lucius Seymour Bigelow, conceived and carried out the publication of two volumes of the Buffalo historical Society's papers, his was the task, gratuitously performed of editing the work in the most thorough manner. These two volumes remain a worthy monument to Albert Bigelow's ever-modest but never tiring love for Buffalo. While secretary of the Buffalo Historical Society he contributed several important papers which are among the most valuable in the Society's archives because of the scrupulous accuracy and untiring zeal that made them exhaustive and trustworthy records.
Mr. Bigelow's work as a pastor was, however, that to which the best part of his life was given. He had a most delicate purity of heart and a most fearless love of truth—anywhere and everywhere. His Christianity was too broad for sectarianism even in the earlier days, and in later life he hailed with joy the fast rising spirit of honest investigation that welcomes light from every source, believing not that the truth itself is new, but that man's knowledge of the truth is always growing. Mr. Bigelow spent the greater part of his 65 years in or near Buffalo, his father moving here from Stafford, Gene- County, when he three years old, and building the first brick dwelling on Niagara Street between the Square and Black Rock, now No. 204, which continued to be the family homestead until a few years ago. In 1853 he married Maria Storrs, a daughter of Lucius Storrs, and soon after took charge of his first pastorate—at North Bergen, N. Y. After serving parishes in Brooklyn, Homer, Jackson, Mich., and Silver Creek, an increasing deafness compelled him to give up pastorial duties, and in 1869 the family returned to Buffalo. Later he accepted resident charge of the Congregational Church at North Evans, a few miles west of Buffalo, where be remained until attacked by the malady that, after several years of manful struggle, overcame him.
---
Modified - 12/08/2013
(c) Copyright 2013 Bigelow Society, Inc. All rights reserved.
Rod Bigelow - Director
rodbigelow@netzero.net
---
Rod Bigelow (Roger Jon12 BIGELOW)
Box 13 Chazy Lake
Dannemora, N.Y. 12929

rodbigelow@netzero.net