Lucius Seymour 9 BIGELOW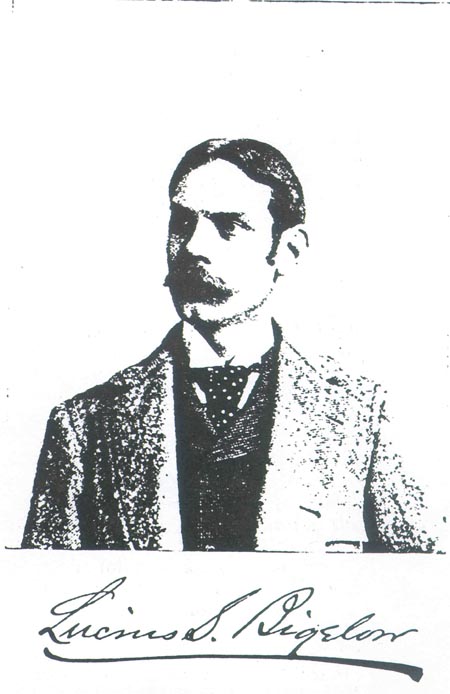 ---
16314.4713 Lucius Seymour 9 BIGELOW, son of Rev. Albert 8 ( Samuel Allen 7 , Ira 6 , Ezra 5 , David 4, Lt. John 3, Joshua 2, John 1) and Maria (STORRS) BIGELOW, was born at Homer,, NY on 06 September 1861 (one source says 1859). He married in Harrisburg,, PA, on 06 June 1888 Sarah Ester Harris, born in Harrisburg, PA on

10 May 1865

., dau of Dr. William H. and Katherine Elizabeth (Doll) Harris. She died 31 January 1944 at Stamford,, CT. This family founded Harrisburg,, PA, and Lucius was a publisher, and served in Spanish American War (Capt. 74th Regt. NY Vols) Lucius died _ September 1927 in Buffalo, Erie, NY. (see below)

Children of Lucius and Sarah (Harris) Bigelow:

16314.47131t Katherine Esther, b 27 Mar 1889 Poxtang,, PA; d _ Mar 1946 Tacoma, Pierce, WA; m 28 Dec 1913 Storrs Seymour Waterman; 2 children: Storrs Seymour Waterman, jr, and Katherine Esther Waterman;

16314.47132t Harris Storrs, b 10 Dec 1892 Poxtang,, PA; d _____ ; m 04 June 1932 Elizabeth Stuart Marot (b 25 May 1903 Syracuse,, NY); 3 children: John Harris, Allen Marot, and Harris Storrs Bigelow, jr. (see below)

16314.47133t Allen Caryl, b 29 May 1894 Poxtang,, PA; d __ 1985 ; m 08 Dec 1917 Charlotte Cook (1895-1973); 5 children: (see below)

16314.47134t Sarah Esther, b 20 Aug 1897 Poxtang,, PA; d ____ ; m (1) 12 Dec 1917 Karl Edward Wilhelm; 3 children: Edward Bigelow, Johanna Carl, and Sarah Josephine Wilhelm; m(2) 15 Mar 1952 Harlan M. Walker;

16314.47135t Lucius Seymour, jr, b 11 Oct 1900 Poxtang,, PA; d _____ ; m 17 Dec 1925 Hermine von Rarrell; (b 22 Apr 1900 Vienna, Austria, dau of Louis and Theresa (Kittinger) von Rarrell); Lucius was an artist who resided in Scotia, NY; one son Lucius Storrs Bigelow; b 26 Sept 1926 Buffalo; m 1954 Suzanne Russell, (b 1929) 4 children;

Sources:
Bigelow Society,The Bigelow Family Genealogy, Vol II, pg 500 child;
Howe, Bigelow Family of America; pg 453 child;
Bigelow Society records.
1925 Census Genesee co, NY
Pembroke West Main St.
Lucius S. Bigelow 65 US Publisher
Sarah H. " " 60 " ( previous DOB was 1884 in error)

16314.47132 Harris Storrs 10, b 10 Dec 1892 Poxtang,, PA; d _____ ; m 04 June 1932 Elizabeth Stuart Marot in Syracuse, NY. She b 25 May 1903 Syracuse,, NY, dau of Edmond Griscom and Grace M. (Fetherly) Marot;
3 children:
16314.47132.1 John Harris, b 24 Apr 1935 New York, NY; d _____ ; m 15 June 1957 Margie Ellen Hollar; 4 children: Diane Elizabeth, David Hollar, Linda Anne, and Lori Allen Bigelow;

16314.47132.2 Allen Marot, b 18 May 1937 Hartford, CT; d _____ ; m 16 June 1962 Joan Stevenson; 1 child: Dawn Elizabeth Bigelow;

16314.47132.3 Harris Storrs Bigelow, jr, b 07 Apr 1942 New York, NY; d _____ ;


Note:
Subject: Rachel Allen wife of Ira Bigelow
Date: Sat, 10 Feb 2001 17:01:11 -0500
From: Susan Henderson < lohenderson@mindspring.com > No longer current

I am enjoying your web site. In fact, copying some of the details for a family member as I type. My family is descended from
Samuel Allen Bigelow. In fact Allen hasbeen the middle name of male family members for generations. Wanted you to know that family lore has it that Rachel Allen, Samuels mother, was the daughter of the great hero Ethan Allen. Have not confirmed it myself. Thought maybe you had run accross this in your research.
More:
My mother's maiden name is Bigelow.
Her line is
Samuel Allen Bigelow m. Maria Almy
Reverend Albert Bigelow(1827-1892) m. Maria Storrs (1828-1908)
Lucius Seymour Bigelow (1859-??) m Sarah Esther Harris (18??-1944)(family
founded Harrisburg,Pa)(Lucius Seymour had a brother, Allen Gilman Bigelow)
Allen Caryl Bigelow (1894-1985) m Charlotte Cook (1895-1973)(my grandparents)
My name is Susan Henderson.

16314.47133 Allen Caryl 10 Bigelow, b 29 May 1894 Poxtang,, PA; d __ 1985 ; m 08 Dec 1917 Charlotte Cook (1895-1973);
5 children all born Trenton, Mercer, NJ:

16314.471331 Allen Caryl 11 jr, b 17 Oct 1919; d 27 Aug 2007 Charlotte, NC; unmarried (see obit below)

16314.471332 Margaret Cook, b 04 Oct 1920; d ____ ; m William M. Peterson; 1 daughter Charlotte Caryl Peterson, m 21 Aug 1965 Michael Morasco.

16314.471333 Charlotte Phyllis, b 12 May 1925; d ____ ; m Richard Trimpi; 2 children: Richard Hulse, and John Bigelow Trimpi.

16314.471334 Elizabeth Harris, b 25 June 1926; d ____ ; m Louis S. Stickney; res: Tucson, AZ; 4 children: Deborah Asher, John Harris, Louis S. jr., and Margaret Kim Stickney.

16314.471335 Katherine Doll, b 23 Sept 1929; d ____ ; m Michael Lee Welch; 3 children: Susan D., Linda L., and Pamela D. Welch.


From: http://maley.net/transcription
BIGELOW, Lucious S., general manager and secretary of the W. O. Hickok Manufacturing Company, Harrisburg, Pa., and its active head since the spring of 1888, was born in Homer, Courtland county, N. Y., September 6, 1859. During his childhood Mr. Bigelow lived in Homer, N. Y., Jackson, Mich., Silver Creek, N. Y. , and Buffalo, N. Y. At the last named place, he, as a youth, took a lively interest in the art of printing, and started in an amateur way a printing office, in a building adjoining the rear of the family homestead. Some time later he took into partnership a brother, now of Boston, then connected with one of the Buffalo banks.
Business increased, and by degrees this small office grew into prominence. It was removed into the business portion of the city, and conducted under the firm name of Bigelow Bros.. to which firm, later, a third brother, then connected with the auditing department of the F. and P. M. railway at East Saginaw, Mich., was admitted to partnership, the business having been again extended.
Later. the founder of this well-known concern, receiving a flattering proposition from a company of large lumber operators, took a responsible position with them which at times called him into Pennsylvania. During these trips into the Keystone State Mr. Bigelow met and subsequently married Miss Sarah Esther Harris, born in Harrisburg, and one of the few living direct descendants of John Harris, who settled on the present site of Harrisburg, and of John Harris, his son, the founder of the city which bears his name, and who gave to the State of Pennsylvania, for the site of a State house, the beautiful spot upon which that building now stands, and to the city of Harrisburg "Market Square," for market purposes.
Although Mr. Bigelow's lumber connections were in Tonawanda, near Buffalo, N. Y., the largest lumber shipping point in the world, he decided to live in Harrisburg, making that city the center of the territory which he controlled and conducted in the sales department of the business. During his early residence in Harrisburg ', Mr. Bigelow met many of the business men of that city, and receiving one day a request to drop into the office of one of these gentlemen, be complied, and was there told that the board of directors of the W. 0. Hickok Manufacturing Company had at a recent meeting decided to offer for his acceptance the position of general manager and secretary of that company. This suggestion was an entire surprise to Mr. Bigelow, since he had known nothing of the proposed plan, but his early training in printing and bookbinding having' well fitted him to conduct the mechanical end of the Hickok Company's business, which is the manufacturing of bookbinder's and paper ruler's machinery, and his experience in later years having fitted him to conduct the office, sales department and general business, he finally, after deliberation, decided to accept the offer, although in doing so he gave up a very desirable position and business. Certain suggestions made by the directors of the Hickok Company decided him to make the change. The business has prospered under Mr. Bigelow's management; its line of manufactures has received material additions, thus enlarging its field of usefulness and profit. The concern is doing a large foreign as well as domestic business. The recent addition of a bicycle department to the line of manufactures of the Hickok Company was purely the outcome of suggestions and investigations made by Mr. BigeIow. His untiring efforts, coupled with a highly expert assistant in the foreman of that department, whom he has secured from another city, bids fair to make of it a marked success. They will build the highest grade of wheels.
Mr. Bigelow is a stockholder in the J. H. McFarland Printing Company, a member of the Board of Trade of Harrisburg and the secretary of the Association of American Manufacturers. In his political views he is a Republican. He is a member of Market Square Presbyterian church and is solo bass in its choir. He is a trustee of the Paxtang Presbyterian church. The children of Mr. Mr. and Mrs. Bigelow are: Katharine, Harris Storres and Allen Caryl.
______________________________________

Allen Caryl Bigelow, Jr.
Allen Caryl Bigelow Jr. of 3518 Cypress Club Drive died August 27, 2007 at Presbyterian Hospital. He was the son of the late Colonel A. Caryl Bigelow and Charlotte Cook Bigelow of Princeton, New Jersey. He lived in that city until he moved to Charlotte forty-three years ago as Vice President of Transportation Fabric Sales for Collins and Aikman Corporation. He was a member of the Charlotte Country Club and the Piedmont Club. After retirement in 1981 he became an avid golfer and traveled extensively.
Known by his nickname 'Pic', Mr. Bigelow graduated from Taft School in Watertown, Connecticut where he lettered in soccer, ice hockey and tennis. He graduated from Princeton University with the class 1942 and was a member of the Cottage Club. He received his numerals in hockey playing first on the freshman and then on the varsity squads.
Mr. Bigelow served in the Army during WWII and was wounded in the Battle of the Bulge. He received the Purple Heart decoration for his wounds and was presented the Order d'Adolph of Nassau by the Grand Duchess Charlotte of Luxembourg for his service to that country.
Mr. Bigelow is survived by his two sisters, Elizabeth Stickney of Tucson, Arizona and Katharine Hammond of Atlanta, Georgia as well as ten nieces and nephews.
A memorial service will be held at 2:00 pm Friday, September 7, 2007 at Harry and Bryant Company 'Chapel in the Oaks', 500 Providence Rd. with the Reverend Deborah Conner officiating.
Memorials may be sent to Myers Park Presbyterian Church or the Harris Hospice of Presbyterian Hospital.
Published in the Charlotte Observer on 9/2/2007.


---
Modified - 12/21/2013
(c) Copyright 2013 Bigelow Society, Inc. All rights reserved.
Rod Bigelow - Director
rodbigelow@netzero.net
---
Rod Bigelow (Roger Jon12 BIGELOW)
Box 13 Chazy Lake
Dannemora, N.Y. 12929

rodbigelow@netzero.net