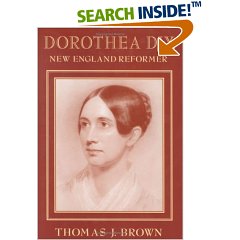 Reviews of above book:
Washington Times : [Dorothea Dix] is the story of a woman who held that 'a wholesome moral environment, with or without physicians, could restore the spiritual stability of the insane'...This 'moral treatment' of insanity was based on Miss Dix's religious view of life (she was a Unitarian). During her long life (1802-1887) she was an author of children's books, a teacher, a prison reformer, the moral and political force behind the creation of many mental hospitals, and superintendant of women nurses for the Union Army during the Civil War...[Dorothea Dix is] a sound scholarly biography of a formidable American woman.

Journal of American History : The strengths of Brown's biography are obvious: it is impressively researched and well written; it provides insights into Dix's career; and it offers a window into the complex cultural world of that era. The most original part of the book lies in the detailed analysis of Dix's failure to secure federal land grants to endow state mental hospitals and her abortive role as superintendent of nurses during the Civil War; both episodes illuminate the sources of her career and the fragility of her moral ideology. Brown's biography will appeal most to scholars seeking the define the character and ideology of mid-nineteenth-century social activism...It is clear that Brown has made in important contribution, and future scholars will profit from his insights.
--Gerald N. Grob

Journal of Illinois History : Dorothea Lynde Dix's singular career to improve the condition of the mentally ill has received a great deal of recent scholarly attention. Thomas J. Brown suggests that there is more to be said, and he traces her life in revisionist ways, quietly amending earlier accounts...Brown covers [her life] with rich insight and sensitivity to his subject. He writes convincingly and well. He is well versed in the historiography of American politics, gender relations, and social reform, and he uses them well to place Dix in her time and role. This is an excellent first book.
--Joel H. Silbey

Choice : The most famous American woman reformer of her time, Dorothea Dix was a monomaniac, possessed of a personality and manner that made friends sometimes prefer sinners to a saint. Nevertheless, Brown declines to psychologize. Grounded in a persuasively sober reading of Dix's voluminous correspondence and the papers of her friends...Brown stresses her commitment to the moral imperatives of Unitarianism. His perspective is particularly helpful when he positions within antebellum sectional conflicts over federal land policy Dix's long campaign to get through Congress a land-grant bill to aid state mental hospitals. And he offers a sympathetic account of Dix's Civil War volunteer work, when her expectation of being the American Florence Nightingale came so sadly to naught...If one must choose just one biography, his book should have the edge.
--A. Graebner

Contemporary Review [UK] : This biography of the great American reformer is a good reminder that not all influential women in nineteenth-century America were seething feminists who demanded revolution or nothing...This excellent biography uses an enormous range of materials and combines a balanced approach with a pleasant and readable style.

Journal of the Early Republic : This well written and copiously researched work presents a sympathetic and intimate portrait of one of the best-known reformers in antebellum America...What Brown presents is a surprisingly intimate portrait that still acknowledges Dix's many shortcomings--her limited view of women's rights, her blindness on the issue of slavery, and her lingering nativism. Despite Dix's personal limitations, however, Brown recognizes her many successes in convincing parsimonious legislatures to build asylums and putting the plight of the mentally ill on a national stage. Brown tells a story that is closely focused on Dix, but also manages to reveal valuable information about education, religion, medical professionalism, women's history and the political quagmire of antebellum America.
--Stephan D. Andrews

New England Quarterly : In his definitive biography of 'the country's most famous benevolent heroine,' Thomas J. Brown presents a compelling portrait of Dix's work as an advocate for the insane. No mere account of a New England 'busybody,' Brown's careful and thoughtful biography traces the life and times of a rigidly conventional woman who, through force of will, forged a most unconventional career.

Book Description

Dorothea Dix was the most politically engaged woman of her generation, which was itself a remarkable tapestry of activists. An influential lobbyist as well as a paragon of the doctrine of female benevolence, she vividly illustrated the complexities of the "separate spheres" of politics and femininity. Her greatest legislative initiative, a campaign for federal land grants to endow state mental hospitals, assumed a central role in the public land controversies that intertwined with the slavery issues in Congress following the Mexican War. The passage of this legislation in 1854, and its subsequent veto by President Pierce, touched off the most protracted effort to override a veto that had yet taken place.
An activist who disdained the women's rights and antislavery movements, Dix, an old-line Whig, sought to promote national harmony and became the only New England social reformer to work successfully in the lower South right up to the eve of secession. When war broke out, she sought to achieve as Superintendent of Women Nurses the sort of cultural authority she had seen Florence Nightingale win in the same role during the Crimean War. The disastrous failure of one of the most widely admired heroines in the nation provides a dramatic measure of the transformations of northern values during the war.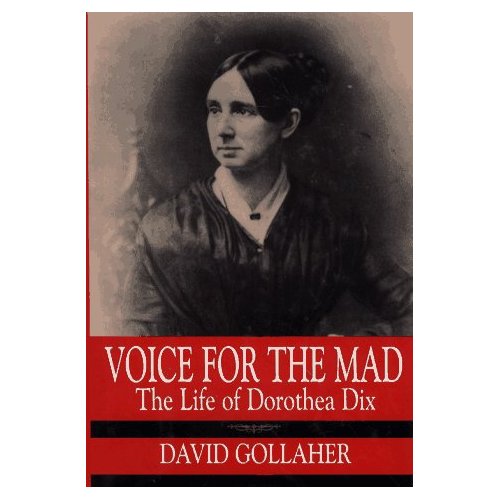 Editorial Reviews
From Publishers Weekly
With single-minded determination, Dix (1802-1887), a New England school teacher, succeeded in drawing national attention to the appalling treatment of the mentally ill. In this exhaustive study, Gollaher, president of the California Health Care Institute, describes Dix's investigations of jails and almshouses where the mentally ill were cruelly imprisoned in filthy conditions. Her detailed reports of these visits, some dramatically embellished, resulted in the founding of state asylums. She also campaigned unsuccessfully to have federal land set aside for national facilities. With the onset of the Civil War, Dix was appointed Superintendent of Women Nurses for the Union. Although she did not want the country to break apart, Dix's compassion for the mentally ill, according to this portrait, apparently did not extend to everyone: she didn't believe slavery was wrong, and she held a deep prejudice against Roman Catholics. According to Gollaher, Dix identified with the helplessness of the mentally ill because of an abusive childhood, and her commitment resulted in important reforms. Photos.
Copyright 1995 Reed Business Information, Inc.
From Library Journal
Dix (1802-87) has long merited a full-scale biography. Advocating a public responsibility for the care of the mentally ill, she founded a large number of asylums and lobbied for mental health reforms. During the Civil War, she organized Union nurses, although she never gained the credit awarded Clara Barton and Mary Bickerdyke. Her career offers an instructive counterpoint to those of women abolitionists and advocates of women's rights; while she was active in politics, she never questioned traditional gender-defined roles in American society. Gollaher, president of the California Health Care Institute, weaves his knowledge of mental health care throughout the text, although here and there it is difficult to distinguish between historical analysis and policy advocacy. Nevertheless, readers will find his rediscovery of Dix a blend of compelling reading and evenhanded assessments, though the appeal of this book to lay readers is limited.?Brooks D. Simpson, Arizona State Univ., Tempe
Copyright 1995 Reed Business Information, Inc.