James 5 BIGELOW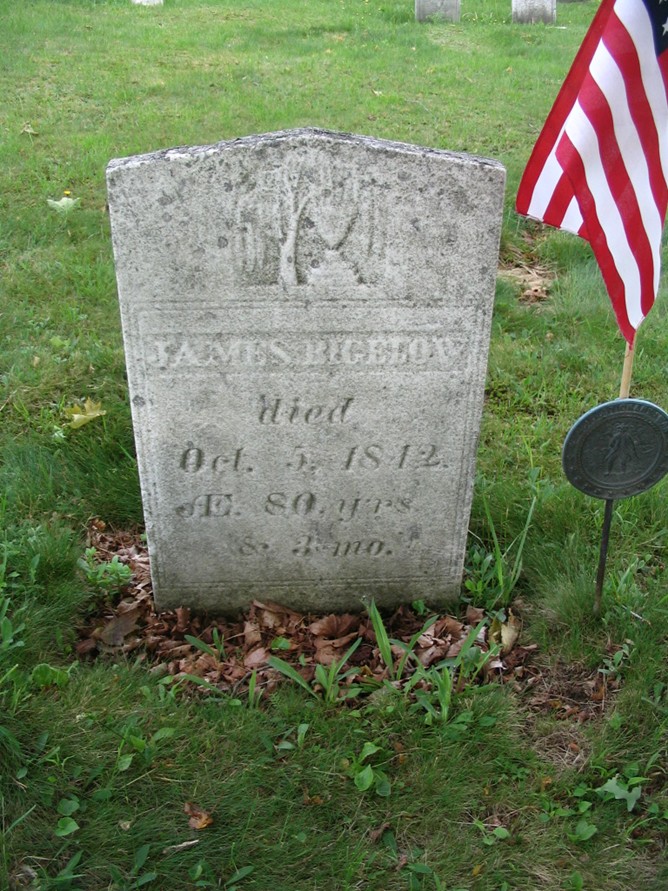 James Bigelow; died Oct. 5, 1842; AE 80 yrs & 3 mo.
Mount Pleasant Presbyterian Cemetery
---
14263. James 5 BIGELOW, son of Joseph 4 (Daniel 3,Daniel2, John1) and Sarah ( STEBBINS) BIGELOW , was born 07 June (July works) 1762 in Spencer, Worcester county, MA. He was a blacksmith by trade. When but 17 years of age, he entered the Revolutionary War, and served for some time until injured, after which he returned home, securing his brother Joseph as a substitute. (The injury was from a fall, incurred while building barracks.)
He was married in Spencer on 18 December 1783 to Mary GRAHAM, daughter of James and Jane GRAHAM; she was born in Spencer 06 June 1762. They lived a few years in Spencer, then briefly in Shutesbury, after which they settled at Chester a number of years. In 1808 he and his family removed to Mt. Pleasant township, Wayne county, PA, where he set up a blacksmith shop, and lived out his life. He received a military pension in his old age. He and his wife Mary died but a few hours apart, 30 September 1842 (see below) (on the same day??) 05 October 1842 (date not available (see above)). They are buried in the Presbyterian cemetery.
1790 census: MA-Hampshire-Shutesbury-James Bigelow: 1-1-3-0-0.
Mass Sold & Sail of Rev War, Vol II:
Bigelow, James, Spencer. Descriptive list of men raised to reinforce Continental Army for the term of 6 months, agreeable to resolve of June 5, 1780; age, 18 yrs.; stature, 5 ft. 1 in.; complexion, light; residence, Spencer; arrived at Springfield July 7, 1780, under command of Capt. Dix.
Bigelow, James, Oakham. Descriptive list of enlisted men; Capt. Crawford's Co., Col. Rice's regt.; age, 18 yrs.; stature, 5 ft. 4 in.; Complexion, dark; occupation, blacksmith; residence, Oakham; enlisted April 28, 1781; enlistment, 3 years.
Biglow, James, Spencer. List of men raised for the 6 months service and returned by Brig. Gen. Paterson as having Passed muster, in a return dated Camp Totoway, Oct.25, 1780; also, Private, Capt. Abram Watson's Co., Col. John Greaton's (3rd) regt.; muster roll for Oct., 1780; enlisted July 6, 1780; enlistment, 6 months; also, pay roll for 6 months men raised by the town of Spencer for service in the Continental Army during 1780; marched July 5, 1780; discharged Dec 17, 1780; service, 5 mos., 10 days.

Children of James and Mary (GRAHAM) BIGELOW:

14263.1 Sarah, b 19 Mar 1785 Spencer; d ____ ; m ___ John Tiffany. 9 children.(see note)

14263.2 Betsy, b 04 Oct 1787 Spencer; d 1862 Lebanon township, Wayne co, PA; m 23 Sept 1808 Seth Yale, known as "Squire." 11 children.

14263.3 Jonathan, called John, b 29 Nov 1789 Shutesbury, MA; d ___ 1884 Mt. Pleasant, Wayne, PA; m Lydia Yale; 8 children.

14263.4 Polly, b 11 Sept 1792 Chester, MA; d 1831 Bradford co, PA; m Stephen Partridge; 5 children.

14263.5 Patty, b 01 July 1795 Chester; d ____ ; m ____ Benjamin Fletcher.

14263.6 Tryphena, b 30 Apr 1797 Chester; d ____ ; m ____ Jonathan Miller, blacksmith of Mt. Pleasant, PA.

14263.7 James jr., b 30 June 1799 Chester; d 03 Aug 1800.

14263.8 Tryphosa, b 17 May 1801 Chester; d 1870 Towerville, WI; m 1822 Clayton Rogers (d 1869). (see below)

14263.9 James How, (probably Howe) b 28 Mar 1804 Chester; d 27 Nov 1878 Mt. Pleasant, PA; m Mary Ann "Rachel" Muzzey.

14263.A Thirza, b 1808; d __ ; m Richard DeLong; res Bradford co, PA.

Sources:
Bigelow Family Genealogy Volume. I page 98-99;
Howe, Bigelow Family of America; page 94 #89-244;
pension application James Bigelow;
various county histories of PA.
Grave photos from Sue Warren buggyflounder@hotmail.com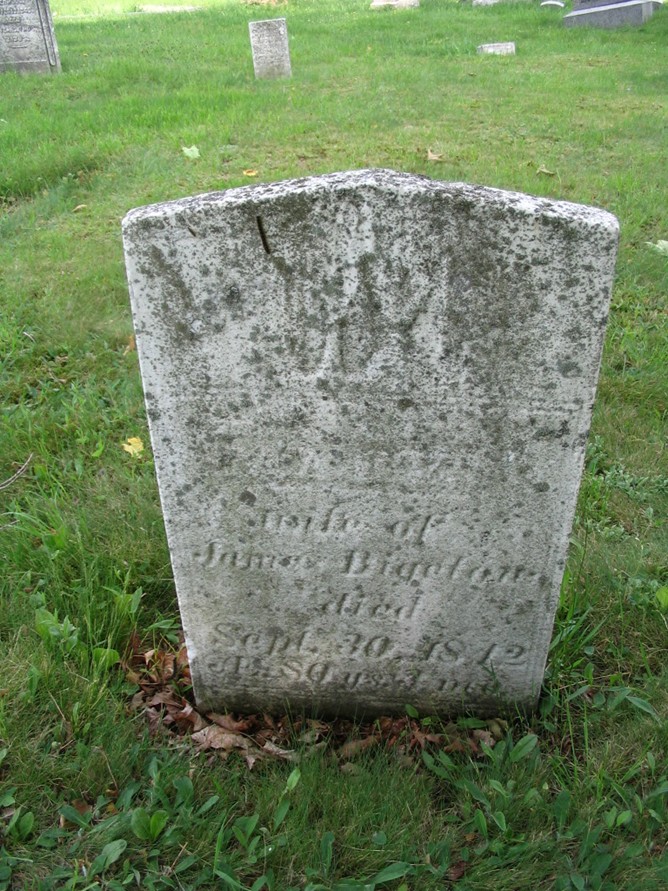 MARGARET?; wife of James Bigelow; died Sept. 30 1842; AE 80 yrs 3 mo.
The info that states they died hours apart may be wrong or inscriptions may be wrong
Note:
Subject: Tiffany cousin
Date: Mon, 25 Jan 1999 19:32:01 -0500
From: Dorotha Tiffany Adams < dta@echoes.net >
Great Bigelow Family Story. I was led to it by Don Wrighter in his search for Wrighters Lake,Wayne/Susq. Co., Pa.
Hozea Tiffany and family and John Tiffany and family of Attleboro, Mass.; on their way to Nine Partners (Harford, Pa), in 1792, stopped in Pleasant Mt. Pa, over a Sunday, to visit the Sam Stantons . John was so pleased with the area, he immediately bought land and built a cabin, a barn and the first frame house in Pleasant Mt. All Tiffanys are carpenters. Hozea went on to Harford and settled on land he had bought and built on in 1790 and became my GGGGgrandfather.
James 5 Bigelow ( he was a blacksmith) , his wife and family, settled at Pleasant Mt.in 1808. at what is now Bigelow Lake. James 5 Bigelow had a daughter Sallie ( Sarah 6 ), John Tiffany had a son John, and the two married in 1808. A rather unreliable source, claiming descent from John and Sallie, says Sallie was 24 and John 25 when they married. I don't know. John and Sallie had six children and I am sure they are all noted in your Genealogy. I found John and Sallie but will save the rest for another day.
Many Tiffanys descending from and including Sgt John sr, (Rev. war) are buried in the Pleasant Mt. cemetery, but at this time I do not think there are any residents. The Bigelows, on the other hand , still reside and farm in the black muck soil, the result of enlarging Bigelow Lake, and I wouldn't be surprised to find at least one blacksmith living on the farm.
Pleasant Mt. is some 15-20 miles from my residence in Carbondale, PA. I look forward to spending time with your wonderful Bigelow Web Pages.
Dorotha Tiffany Adams
Carbondale, PA 18407

---
Note2:
Subject: Tryphosa Bigelow
Date: Thu, 02 Aug 2001 09:17:06 -0700
From: "Sylvia Ross" < thistles@ocsnet.net >

Hello, I'm looking for any proof that Tryphosa Bigelow who married Clayton
Rogers was the daughter of James Bigelow of Massachusetts. Let me know if
you can help. Thanks,
Sylvia Ross
33305 Meadow Drive,
Springville, CA 93265

---
Note2:
Subject: Bigelow Society, family books
Date: Mon, 23 Dec 2002 12:24:49 -0600
From: Clyde J Getman <cjgetman@juno.com>


1. James 5 BIGELOW, son of Joseph 4 (Daniel 3,Daniel2, John1) was born 7 June 1762 in Spencer, Worcester, Massachusetts, and died 1842. He married Mary Graham. She was born 8 June 1762, and died 1842.

Notes for James Bigelow:
Matthews, History of Wayne, Pike and Monroe Counties (1886), p 649
James Bigelow moved from Spencer, Massachusetts to Wayne County in 1808, with wife and eight children.

1820, 1830, 1840, in Mount Pleasant as James Bigalow

Goodrich, History of Wayne County, Pennsylvania (1880)
"James Bigelow was the father of John and Howe Bigelow. His daughters were noted women. Esquire Yale married one, Jonathan Miller, Esq., one, Deacon Tiffany one, and Clayton Rogers, who removed to the West, another." p 204
-a Miss Bigelow was the first female teacher, p 247
-Stephen J. Partridge married a daughter of James Bigelow, p xv
More About James Bigelow:
Military service: Pvt, MA, PNSR
Occupation: blacksmith7

Children of James Bigelow and Mary Graham are:
2 i. Sally 6 Bigelow. She married Deacon John Tiffany.
+ 3 ii. Betsy Bigelow.
+ 4 iii. John Bigelow, born Abt. 1790 in Worcester County, Massachusetts; died 1884.
+ 5 iv. Polly Bigelow.
6 v. Patty Bigelow. She married Benjamin Fletcher.
+ 7 vi. Tryphena Bigelow.
8 vii. Tryphosa Bigelow. She married Clayton Rogers.
+ 9 viii. James Howe Bigelow, born 28 March 1804 in Massachusetts.
10 ix. Thirsa Bigelow. She married Richard Delong.
---
Modified - 12/04/2008
(c) Copyright 2008 Bigelow Society, Inc. All rights reserved.
Rod Bigelow - Director
< rodbigelow@netzero.net >
---
Rod Bigelow (Roger Jon12 BIGELOW)
Box 13 Chazy Lake
Dannemora, N.Y. 12929

< rodbigelow@netzero.net >