Rev. Andrew Frank 7 BIGELOW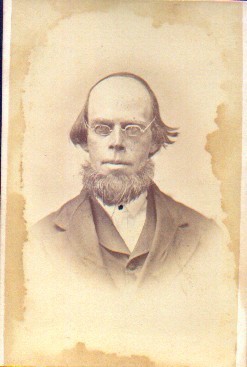 Rev. A.F. Bigelow; served in Ogdenburg, NY. (see below)
---

16228.91 Rev. Andrew Frank 7 son of James Call 6( Joel 5,Benjamin 4, Jonathan 3,Joshua2, John1) and Lucretia (FRANK) BIGELOW, was born at Plattsburgh, Clinton co, NY on 18 March 1824. On 12 December 1847 he married Marion A. Purmont (see below) who was the daughter of Richard and Sarah F. ( ___ ) PURMONT. She was born on 22 February 1822 at Plainfield, Sullivan co, NH. Andrew was licensed to exhort in 1839 when only fifteen years of age and licensed to preach in December 1842. He entered the Black River Conference 1844 and preached in towns of Northern NY some years for the Methodist Church. At various times, he had 14 parishes and lived in 14 towns. Failing health forced him to retire to Malone, Franklin co, NY where he died on 20 September 1887. His widow died there on 28 July 1891. (obit below)

Children of Andrew F. and Marion (PURMONT) BIGELOW:

16228.911 Amelia Albina, a twin, b 08 Dec 1848 Stockholm, St. Lawrence co, NY; d 12 Jan 1890 Malone, NY; m 13 May 1870 Egbert R. Magoon; 3 children. (see below)

16228.912 Aurilia Ermine, a twin, b 08 Dec 1848 Stockholm, NY; d 08 June 1853 Carthage, Jefferson co,NY. (see headstone)

16228.913 Sarah Lucretia, b 13 Feb 1851 Buck's Bridge, St. Lawrence co, NY; d 08 June 1853 Carthage, NY. (see headstone)

16228.914 Calista Viola, b 17 Nov 1852 Carthage, NY; d 23 Sept 1883 Malone, Franklin co, NY; m Marius MAGOON; no children.

16228.915 Ella Marion, b 18 Apr 1855 DePeyster, St. Lawrence co, NY; d 06 Oct 1863 W. Bangor, NY.

16228.916 Ina B., b 30 Dec 1857 Malone; d 18 Apr 1953 Malone; m 18 Dec 1878 Stanley L. PIERCE; 4 children.

16228.917 Blake Theopolis, b 24 May 1861 Bangor, Franklin co, NY; d 25 Nov 1906 Boston, MA; m 24 Mar 1896 Editha Elmira PIERCE; 5 children only have data on one. He was a medical doctor.

16228.918 Frank, b 29 May 1864 W. Bangor, Franklin co, NY; d 19 Oct 1943 Malone; m ___ Charlotte SHOOK; no children. He was an attorney and was blind.

Sources:
Bigelow Society,The Bigelow Family Genealogy Vol II, pg. 207-208;
Howe, Bigelow Family in America;
Research of Mary Ruth JUDD;
cemetery inscriptions West Bangor, and Malone, NY
New Note:
Subject: Rev. Andrew Frank Bigelow
Date: 26 May 2004
From: Lancaster, NY
From: Sheila (Goodfellow) Vester blueyedmomster@yahoo.com
Hello....I really enjoyed the photo of my great-great-grandfather, reverend Andrew Bigelow. One of his daughters, Amelia, was my great-grandmother. I am interested in any more photos of the Bigelow family and am also planning a trip to northern NY this summer and would be interested in meeting more Bigelows! Please feel free to contact me. thanks!


Notes: censuses 1800, 1810, Mary Ruth JUDD has contributed most of this material, and it is through her early research that I first became aware of James and Lucretia BIGELOW. I visited the Potsdam LDS Genealogy Research Center in 1994 and found a small file folder with her early notes, etc. She had made up an ancestral chart from Phoebe Ermina to John 1 , photocopies of old tintypes of the family, reprints of an article in Forge on Silas Wright, photocopy of Memoriam of Marianne (which recalls her parents), and a funeral sermon for Andrew Frank (which also narrates the life of James and Lucretia).
More:
Subject: Magoon
Date: Sun, 14 Feb 1999 08:08:47 -0500
From: " Mary Woodman " < mary.woodman@cwix.com >
Ran across this site looking for Magoon data. There is a misspelling of Egbert Magoon who married Amelia Albina Bigelow. Can that be corrected? If anyone is interested I can provide the ancestry for Egbert Magoon and also for Marion Purmort, wife of Rev Andrew Frank Bigelow. Thank you, Mary Woodman.

---

Book offerred at E-Bay 07/25/2001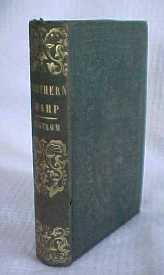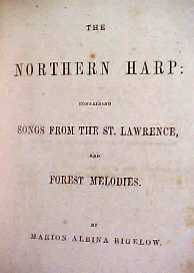 1854 The Northern Harp
By Marion Albina Bigelow
Title: The Northern Harp - Containing
Songs from the St. Lawrence and Forest
Melodies
Author: Marion Albina Bigelow
Description: A collection of poems and
verse with a Christian theme reflecting on
the beauty and surroundings of the
author. Such verses include - Ontario,
Distant View of the River, The Charms of
Autumn and many many more!!! Would be
of special interest to Northern New York
State historians and collectors.
Handwritten notation inside front cover -
"Presented to Mrs. Elisabith Strait, By the
Author, February 1857".
Condition: Hardcover, 400 pages, 1854,
Carlton and Phillips, New York, good
condition - yellowing discoloration and
spotting throughout, but structurally
intact with light wear.

Obituary from Franklin Gazette July-Sept 1891:
The death of Mrs. Marion A. Bigelow,
mother of Frank and Dr. Blake Bigelow,
which occurred last week, removes
from our midst a lady of many Christian
virtues and one whose poetic and literary
ability was well known and recognized.
Mrs. Bigelow was the author of several
volumes of poems, besides being a regular
contributor to several religious and
secular periodicals, and through a long
life of trial and adversity preserved a
simple faith and serenity of life which
won for her the sympathy and respect of
all who knew her. Her age was 69
years.


---

photo:
Subject: A. F. Bigelow
Date: Fri, 18 Jan 2002 00:36:54
From: "Mike Bentley" < micajk2@hotmail.com >
Hello.........I'm glad to see you researching your family and I enjoyed reading the information you directed me to. I have collected over 11,000 CDV photos from the 1860-1890 time frame and I enjoy trying to get these back to the proper families. here is a copy of the photo I will be mailing if you would like. It is 2 1/2 by 4 inches. Mike Bentley

---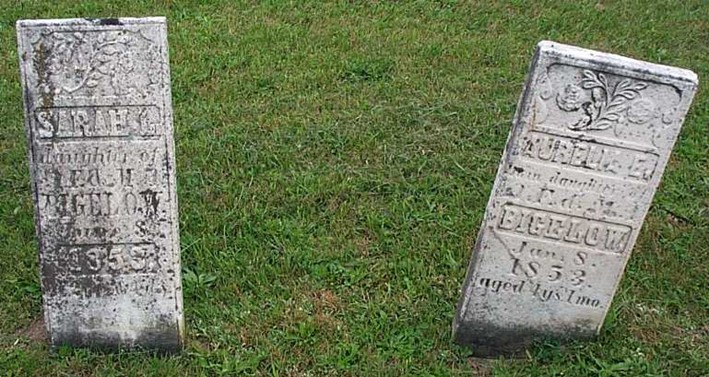 Sarah L. and Aurelia E. dau's of A.F. and M.A. Bigelow
Purmort Cemetery in DePeyster
Aurelia E., twin daughter of A. F. & M. A. Bigelow, died June 8, 1853, age 4 yrs 1 month
Sarah L., dau of A.F. & M.A. Bigelow, died June 8, 1853; age 2 yrs, 4 dys
---
Modified - 12/13/2008
(c) Copyright 2008 Bigelow Society, Inc. All rights reserved.
Rod Bigelow - President
rodbigelow@netzero.net
---
Rod Bigelow (Roger Jon12 BIGELOW)
Box 13 Chazy Lake
Dannemora, N.Y. 12929

rodbigelow@netzero.net